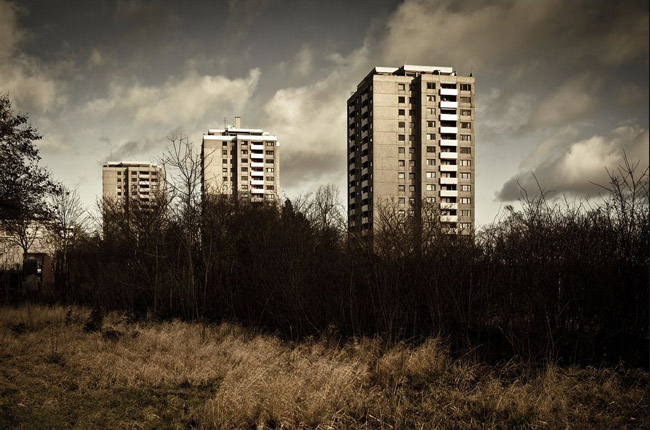 You're welcome to send your Live Wire news tips or suggestions to [email protected].
Live Wire: Quick Links

Florida's Revenue Gap Remains at $2 Billion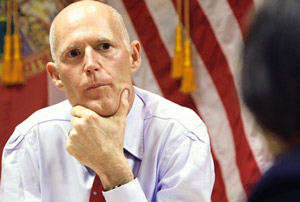 Jan. 13, 11:40 p.m.–State economists left their revenue estimate for the next year and a half all but unchanged Thursday, prompting renewed calls from the House for lawmakers to finish their budget on time despite the Senate leaders' hesitance to move too quickly. The new estimate issued Thursday changes the overall projection by $26.1 million — about 1 percent of the projected $2 billion budget shortfall and an increase of 0.05 percent in projected revenue. It includes an increase of $46 million in the estimate for the current year and a drop of $19.9 million for the fiscal year beginning July 1. House leaders swiftly pointed to the steady estimate as a sign that Senate President Mike Haridopolos should drop his public consideration of an extended session or a special session to deal with the budget shortfall. Haridopolos, R-Merritt Island, has said he's concerned that the numbers could still change dramatically between now and the summer. Lawmakers would normally work off of estimates developed shortly after the session opens in March, but needed an earlier figure for this year's session, which began Jan. 10 because of redistricting. "We will once again face many difficult choices as we craft a budget that reflects the House priorities," said House Appropriations Chairwoman Denise Grimsley. "Delaying these tough choices will not make them go away." House Speaker Dean Cannon, R-Winter Park, said that completing a budget by the end of the 60-day session would also help future job growth by giving business leaders certainty about the future. "There are inherent risks and uncertainty with any forecast, but none that can't be overcome with conservative budgeting, planning for contingencies and setting aside ample reserves," Cannon said. Forecasters are not set to meet again until the summer, though Baker told reporters they would be willing to do so again if lawmakers wanted fresh numbers. At the same time, she suggested that wasn't necessary.–News Service of Florida
Click On:

U.S. Marines Seen Apparently Urinating on Taliban Corpses in Video
Jan. 12, 12:18 p.m.–The Pentagon and the White House are rallying to control the fallout from the latest video showing acts of abuse or desecration of insurgents in the Middle East. The video (see below), going viral on YouTube and LiveLeak, among other sites, on Wednesday, shows four U.S. Marines urinating on three bloodied Taliban corpses. The act violates the Geneva Conventions. The video has not been authenticated: it can be a hoax. That was the case in the 2004 when photographs sold to Britain's Daily Mirror showed what appeared to be British soldiers urinating on an Iraqi prisoner. Those photographs surfaced around the same time as the photographs from Abu Ghraib, which showed quite authenticated and much broader cases of Iraqi prisoner abuse, torture, humiliation and desecration by U.S. soldiers. The Pentagon, however, is reacting to the video of urinating soldiers on the assumption that it is authentic. In Afghanistan in 2010, the Times reports, "a rogue group of Army soldiers killed three Afghan civilians for sport in a series of brutal crimes that rattled the military's higher ranks and angered the Afghan government. Photographs of the soldiers posing with the men surfaced last year. The soldier accused of being the ringleader of the group, which patrolled roads and small villages near Kandahar, was convicted of three counts of murder by an American military panel in November." On Wednesday, Secretary of Defense Leon E. Panetta said in a statement posted at the Department of Defense's website that he had seen seen the footage and found the behavior depicted in it "utterly deplorable. I condemn it in the strongest possible terms. I have ordered the Marine Corps and I.S.A.F. Commander General John Allen to immediately and fully investigate the incident. This conduct is entirely inappropriate for members of the United States military and does not reflect the standards or values our armed forces are sworn to uphold. Those found to have engaged in such conduct will be held accountable to the fullest extent." Marine Corps Gen. James F. Amos has ordered that that the Naval Criminal Investigative Service "pull together a team of their very best agents and immediately assign them responsibility to thoroughly investigate every aspect of the filmed event." A Marine Corps statement about the video released yesterday said "the actions portrayed are not consistent with our core values and are not indicative of the Marines in our Corps. This matter will be fully investigated. The International Security Assistance Force also released a statement strongly condemning the actions, which it called "disrespectful, … inexplicable and not in keeping with the high moral standards we expect of coalition forces."
The video:
Click On:
Panetta Orders Investigation of Video, Vows Accountability
Karzai, NATO, McCain condemn urination video

Flagler Foreclosures Highest in Florida in November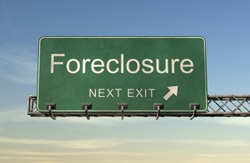 Jan. 12, 8:30 a.m.–Flagler County's foreclosures topped Florida in December, with 272 homes recorded in one degree of foreclosure or another, compared to 149 in November. Flagler's rate of one out of every 182 homes in foreclosure is the highest in Florida, though nominally the number of homes in foreclosures is low compared to, say, Marion County, where 591 properties are in foreclosure (one in every 276) or in Orange County, where almost 1,500 properties are in foreclosure (one in every 310). In St. Johns County, there were 163 properties in foreclosure in December, a rate of one in every 530. In Volusia, 539 properties were in foreclosure for a rate of one in every 539. In Florida, there were 174,611 homes in foreclosure, with an average foreclosure sale price of $119,800. The more homes are in foreclosure, the lower prices tend to go, which suggests that even though the real estate market in Flagler and Florida has been seeing more activity, prices have not yet bottomed out. Lower prices ripple into lower values, with consequences for state and local governments' property tax revenue. Another drag on the market: the length of time a home spends in foreclosure before a bank takes it over. That period has grown to 806 days, third-highest in the nation after New York (1,019 days) and New Jersey (954 days). The national average is below 350 days. Looking back, 2011 may have been a lull a mere lull in the foreclosure crisis because, as the Los Angeles Times reports today, "the real estate market was in 'full delay mode' last year on foreclosures as banks worked to correct legal problems with procedures in many states," according to experts. In coming months, "dealing with the foreclosure process, from issuing notices of default to selling repossessed homes, is likely to push housing prices lower this year before the real estate market has a chance to recover." There are some 3.5 million delinquent mortgages in the country. The number of homes in actual foreclosure is lower. The overall number of foreclosures in 2012 is expected to remain below that of 2010, when it peaked around 2.8 million. Here's RealtyTrac's foreclosure heat map for Florida:
Click On:

Obama's Approval in Florida Dips to 42 Percent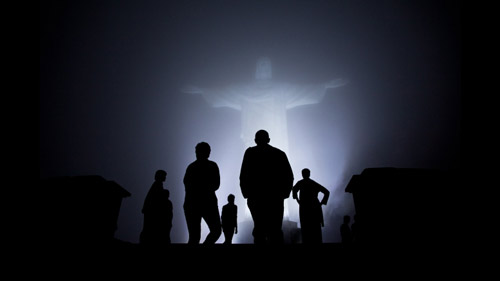 Jan. 11–President Obama's approval in Florida is down to 42 percent, down from 44 percent in August, according to the latest Quinnipiac University poll (released Wednesday morning, Jan. 11). Obama's disapproval in Florida is at 52 percent. That's quite close with his national ratings. Gallup has him today at 43 percent approval and 490 percent disapproval–not good numbers for a man seeking reelection. If the election were held today, Quinnipiac found, Obama would lose to Mitt Romney, 46 to 43 percent. If Obama faces Rick Santorum, he would defeat him, 45-43. But by polling standards the numbers mean that the races are too close to call. "Florida is among the most important swing states in the country and if the election was today President Barack Obama would have difficulty winning its electoral votes," said Peter A. Brown, assistant director of the Quinnipiac University Polling Institute. "But the election isn't for 10 more months so he has plenty of time to turn things around. Nevertheless, President Obama needs to mend fences in the Sunshine State, especially among men, whites and those voters without college degrees. The difference among voters by age is especially striking." In his matchup with Romney, the president wins 84 percent of Democrats, 47 percent of independent voters and only 4 percent of Republicans. By comparison, Romney takes 9 percent of Democrats. The president carries women 46 – 41 percent, but loses men 52 – 40 percent, "a yawning gender gap," said Brown. The president carries voters 18 to 49 years old 51 – 39 percent, but loses 49 – 40 percent among voters 50 to 64 years old and loses 53 – 39 percent among voters over 65. "The problem for Obama is that those over 50 make up 62 percent of the electorate, compared to the 35 percent who are under 50," Brown added. Obama also has a negative 45 – 50 percent favorability among Florida voters. Quinnipiac University surveyed 1,412 registered voters from January 4 – 8, with a margin of error of +/- 2.6 percentage points. Live interviewers called land lines and cell phones.
Click On:

Legislators File Bills That Exempt Online Booking Companies From a Portion of the Bed Tax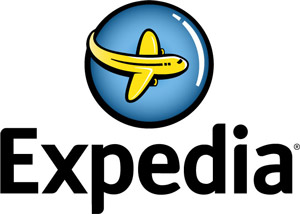 Three Republican lawmakers have filed bills that will refuel a debate about the amount of hotel taxes that online travel companies should pay. Rep. Jason Brodeur, R-Sanford, and Senate Majority Leader Andy Gardiner, R-Orlando, filed identical bills (HB 1393 and SB 1888) Monday that would make clear companies such as Expedia and Orbitz do not have to pay a disputed portion of bed taxes. Sen. Thad Altman, R-Melbourne, filed a similar bill (SB 1748) last week, though he said he opposes the online-travel industry on the issue. The companies, which serve as middlemen between hotels and travelers, charge customers for room rentals and fees related to providing the service. The dispute centers on whether the companies should have to pay taxes on the total cost, or only on amount that goes for room rental. Brodeur and the online-travel industry contend that taxing the total amount would effectively lead to collecting a "services" tax. But opponents say the bills would be unfair to hoteliers who get taxed on the full amounts that they charge customers. "This makes for a very unlevel playing field, from a tax perspective," said Carol Dover, president of the Florida Restaurant & Lodging Association. The dispute has led to lawsuits involving online travel companies and numerous counties. Altman said he filed his bill for the procedural reason of ensuring that the Senate would have a bill available if the House passes a measure dealing with the issue.
Click On:

Romney Opens Double-Digit Lead in Florida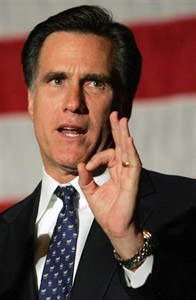 Republican presidential candidate Mitt Romney has opened up a double-digit lead in Florida three weeks before the presidential primary, a new Qunnipiac University poll released Monday found. But more than half of GOP voters remain not completely committed, the poll also found. Romney is at 36 percent, 12 points ahead of nearest challenger Newt Gingrich, who would get 24 percent of the votes of those polled. Rick Santorum, who essentially tied Romney in the Iowa caucuses last week is in third in the Quinnipiac Florida poll, with 16 percent, followed Ron Paul at 10 percent and Texas Gov. Rick Perry at 5 percent. Jon Huntsman got 2 percent in the poll, which is of likely primary voters and was conducted Jan. 4-8. The survey polled 560 likely Republican primary voters on land lines and cell phones, and had a margin of error of plus or minus 4.1 percentage points. Still, 54 percent of respondents said they could still change their mind. The Florida primary is Jan. 31. "The primary is three weeks away and the results from New Hampshire and South Carolina could shake things up in the Sunshine State," said Peter A. Brown, assistant director of the Quinnipiac University Polling Institute. "With more than half of voters saying they might change their minds and more than 50 percent of them backing candidates perceived as more conservative, Romney could be vulnerable if those voters settle on one candidate." –News Service of Florida
See Also:

From Politico: "Forget his specific rivals. The biggest threat to Mitt Romney is hitting now and set to fully detonate in South Carolina: It's the Bain bomb. While conservatives look unlikely to unite around one alternative to Romney, the campaigns themselves are uniting around the theme that the former head of Bain Capital looted companies, tossed people out of jobs and is now exaggerating his success at the venture capital firm. In the context of this moment in American politics, in which frustration with the privileged is boiling hot, the attack, from Republicans on one side and the Obama campaign on the other, will test Romney. If he ends up looking more like an opportunist who profited for the few than like a man who created jobs for the many, it's hard to imagine his polls numbers won't drop. […] Newt Gingrich, fresh off accusing Romney of "looting" companies, is about to see his friends spend $3.4 million in South Carolina, much of it hitting this theme. Rick Perry, who in December put out an ad slamming Romney for making "millions buying companies and laying off workers," is already in the state, stepping up the campaign he's trying to salvage there. Romney will continue to benefit from the splintered field, which might mitigate the coming barrage. But it also means the attacks will continue on multiple fronts at once, including the DNC and the 27-minute movie set to be released by the Gingrich-friendly super PAC Winning Our Future that promises to "highlight just four of Romney's many targets. Four businesses and the thousands of employees who work there," according to a trailer released on YouTube on Sunday." The full story. Watch the trailer:
See Also:

The Deficit and National Debt Don't Matter. Much.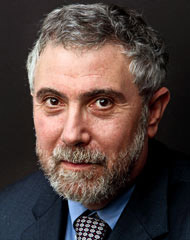 Paul Krugman doesn't like the analogy. From his column: "Deficit-worriers portray a future in which we're impoverished by the need to pay back money we've been borrowing. They see America as being like a family that took out too large a mortgage, and will have a hard time making the monthly payments. This is, however, a really bad analogy in at least two ways. First, families have to pay back their debt. Governments don't — all they need to do is ensure that debt grows more slowly than their tax base. The debt from World War II was never repaid; it just became increasingly irrelevant as the U.S. economy grew, and with it the income subject to taxation. Second — and this is the point almost nobody seems to get — an over-borrowed family owes money to someone else; U.S. debt is, to a large extent, money we owe to ourselves. This was clearly true of the debt incurred to win World War II. Taxpayers were on the hook for a debt that was significantly bigger, as a percentage of G.D.P., than debt today; but that debt was also owned by taxpayers, such as all the people who bought savings bonds. So the debt didn't make postwar America poorer. In particular, the debt didn't prevent the postwar generation from experiencing the biggest rise in incomes and living standards in our nation's history. But isn't this time different? Not as much as you think. It's true that foreigners now hold large claims on the United States, including a fair amount of government debt. But every dollar's worth of foreign claims on America is matched by 89 cents' worth of U.S. claims on foreigners. And because foreigners tend to put their U.S. investments into safe, low-yield assets, America actually earns more from its assets abroad than it pays to foreign investors. If your image is of a nation that's already deep in hock to the Chinese, you've been misinformed. Nor are we heading rapidly in that direction." The full column.
See Also: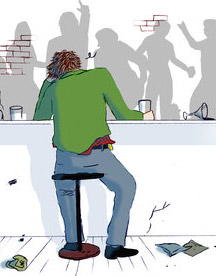 Peg O'Connor, who teaches philosophy and gender, women, and sexuality studies at Gustavus Adolphus College, blogs at The Times: "I introduce the notion of addiction as a subject of philosophical inquiry here for a reason. I am a philosopher, yes, but I am also an alcoholic who has been sober for more than 24 years ― only the last four of them as part of a recovery program. I am often asked how I got and stayed sober for those first 19 years; it was because of philosophy, which engendered in me a commitment to living an examined life, and gave me the tools and concepts to do so. My training in moral philosophy made it natural for me to wrestle with issues of character, responsibility, freedom, care and compassion in both work and life. Philosophy has always been about the pursuit of knowledge, but one that included the higher aim of living a good and just life. This pursuit has involved examining the nature of just about everything. Socrates's guiding question was "what is it?" The "it" in question could be justice, piety, beauty, courage, temperance, or knowledge. […] How might philosophy approach or provide us with a better understanding of addiction? Socrates would ask, "What is it?" He would not be alone. Psychiatrists, psychologists, chemical dependency counselors and people in recovery programs the world over are constantly asking this question. […] With the cave allegory that Plato offers in the "Republic" to draw the line between appearance and reality, we have a potentially powerful tool for understanding the crisis of the addicted person. Briefly, Plato's allegory is this: There is a cave in which prisoners are chained facing a wall. They cannot move their heads and therefore cannot look sideways or behind; they only can look forward. Behind them are a burning fire and a half wall where puppeteers hold up puppets that cast shadows. To the chained men, the shadows are real; they have no conception of the objects that cause the shadows. Appearance is mistaken for reality, and thus there is no real knowledge. […] This allegory is richly wonderful for understanding addiction, relapse and recovery. Most people who become addicted become enchained to their drug of choice. […] Yet for many reasons, some people begin to wriggle against the chains of addiction. Whether it is because they have experiences that scare them to death (not uncommon) or lose something that really matters (also not uncommon), some people begin to work themselves out of the chains." The full post.
See Also: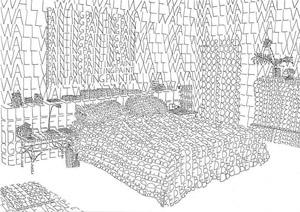 Ben Zimmer in Visual Thesaurus: "As the selection of the American Dialect Society's Word of the Year approached, a certain air of inevitability had begun to surround occupy, the word revitalized by the Occupy protest movement. And sure enough, when the assembled throngs met in Portland, Oregon, where the ADS held its annual meeting in conjunction with the Linguistic Society of America, occupy emerged victorious as the Word of 2011. […] ((2008: bailout, 2009: tweet, 2010: app). […] Allan kicked off the Most Useful category, where nominees included occupy, humblebrag (expression of false humility, especially by celebrities on Twitter), FOMO (an acronym for "Fear of Missing Out," describing anxiety over being inundated by information on social media), and tablet (lightweight portable computer with a touchscreen to input data). I was pleased that humblebrag, a personal favorite, came out the winner in this category, after a runoff with occupy. The O-word would of course have its moment later on. In the Most Creative category, the choices were colorful, to say the least: bunga bunga (name for sex parties allegedly involving former Italian Prime Minister Silvio Berlusconi) […] Next, we mulled over candidates for Most Likely to Succeed: Arab spring (popular uprisings in Middle Eastern countries), cloud (online space for the large-scale processing and storage of data), and tiger mom or tiger mother (an exceedingly strict parent, after Amy Chua's memoir, "Battle Hymn of the Tiger Mother"), with cloud winning the vote." See the full post. And here's the video of the event:
See Also:

From Houdini's Appleton History biography: "Houdini was able to perform his difficult feats by remaining in excellent physical and mental condition. He pushed himself relentlessly. To develop his capacity for holding his breath, Houdini installed an oversize bathtub in his house so that he could practice regularly. Through extensive training, he was able use his left hand nearly as well as his right. While casually chatting with friends, he would perform card and coin tricks without looking at his hands, or tie and untie knots in pieces of rope with his feet. Determined to stay on top of the entertainment field, Houdini refined techniques he had already mastered and continually developed new and more daring escapes." Watch:

Dave Brubeck visited Moscow in 1997 and played for the the faculty and students of the Moscow Conservatory. Then this little gem of a moment, so unique to music, happened:
See Also: