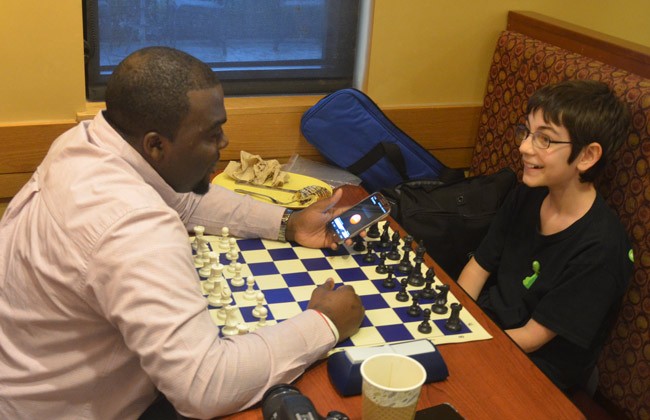 Today: high around 80, lows in the upper-60s. Details here.
Today's fire danger is moderate. Flagler County's Drought Index is at 397.
Today's tides: at the beaches, at the Intracoastal Waterway.
Today's document from the National Archives.
The OED's Word of the Day: Trophonian, adj..
The Live Community Calendar
Today's jail bookings.
Today's Briefing: Quick Links

Note: all government meetings noticed below are free and open to the public unless otherwise indicated. Many can be heard or seen live through each agency's website.
This morning's Technical Review Committee meeting was cancelled.
The Flagler County Tourist Development Council meets at 10 a.m. in board chambers at the Government Services Building. The council will be asked to consider a $40,000 tax subsidy for the four-day Florida Outdoors Association conference at the Hammock Beach Resort next September, four times the amount awarded last year. The Flagler Chamber of Commerce is asking for $2,500 to underwrite its Creekside Festival fundraiser and $1,500 to underwrite Restaurant Week. This will be the first meeting chaired by Barbara Revels, the county commissioner, who takes over for Nate McLaughlin after three years.
See Also:
The Flagler County Contractor Review Board meets at 5 p.m. in board chambers at the Government Services Building.
Closure note: Wadsworth Skate Park to close December 15-16: "We will be painting the ramps and performing maintenance inspections," said Parks and Recreation Manager Frank Barbuti. "It is just the Skate Park that is closing. The remainder of the park will be open." The Skate Park will reopen on Thursday, December 17. Wadsworth Park is a 45-acre park located at 2200 Moody Blvd., Flagler Beach. Its amenities include: a 60,000 square foot fenced dog park; lighted soccer fields; racquetball, tennis, volleyball and basketball courts; two picnic pavilions; an elevated boardwalk; and a canoe launch. For more information, call Flagler County Parks and Recreation at 386-313-4020.
The Bulow Parks Historic Alliance members and friends will meet at 6 p.m. in the Annex of the Flagler County Historical Society, 204 East Moody Boulevard, Bunnell. For information call 386-437-5338.

Little League Discovers Palm Coast Rules: Money-Making Tournaments Come First: Palm Coast Little League, a non-profit representing 550 players and 200 volunteers, was arbitrarily booted off the fields it uses at Indian Trails Sports Complex by the Palm Coast city administration to accommodate a for-profit tournament for two weekends in April in May, and possibly another organization in late March, despite a contract between the league and the city that lays out a process for such circumstances.
Man Accused of Shooting at Second Chance Rescue Attempts Suicide With a Handgun: Gilmore's 74-year-old wife told deputies her husband suffers from Huntington's disease, that he had recently found out he had cancer, and had been overwhelmed by his arrest days earlier. He'd been making statements all day about "ending it all," according to the incident report.
Leander Shaw, Florida's First Black Chief Justice, Is Dead at 85: Perhaps Shaw's most controversial decision was a 1989 opinion that he wrote striking down a law requiring minors to get permission from their parents before having abortions. That decision, based on a privacy right in the Florida Constitution, led to an unsuccessful effort to unseat Shaw when he came up for merit retention in 1990.
Checkmate: Luka teaches me a lesson: The Observer's Jeff Dawsey sat down with Luka Tristam (son of FlaglerLive) for a few chess games Sunday and lived to tell about it. "In the last few months, I've fallen in love with chess again," Dawsey writes. "I've probably played more games online in the last few months than I've played my entire life, and my uncle, Theodis Dawsey, taught me at 6 six years old." He then writes of his encounter with Luka. They split four games.

Note: Most proceedings below can be followed live on the Florida Channel.

Justice Summit: Numerous state lawmakers will take part in a "Justice Summit," hosted by the Florida Smart Justice Alliance. Among the lawmakers expected to participate are Rep. Kathleen Peters, R-Treasure Island; Rep. Dennis Baxley, R-Ocala; Rep. John Cortes, D-Kissimmee; Rep. Dane Eagle, R-Cape Coral; Sen. Greg Evers, R-Baker; Rep. Heather Fitzenhagen, R-Fort Myers; Rep. Joe Geller, D-Aventura; Sen. Audrey Gibson, D-Jacksonville; Rep. Julio Gonzalez, R-Venice; Rep. Gayle Harrell, R-Stuart; Rep. Kristin Jacobs, D-Coconut Creek; Rep. Chris Latvala, R-Clearwater; Rep. Charles McBurney, R-Jacksonville; Rep. Ray Pilon, R-Sarasota; Rep.Gwyn Clarke-Reed, D-Deerfield Beach; Rep. Darryl Rouson, D-St. Petersburg; Rep. Jimmie Smith, R-Inverness; and Rep. Cyndi Stevenson, R-Saint Johns. (8 a.m., Hyatt Regency Sarasota, 1000 Boulevard of the Arts, Sarasota.)
Gov. Rick Scott, First Lady Ann Scott and Lt. Gov. Carlos Lopez-Cantera will take part in a Christmas basket food drive. (9 a.m., CAMACOL Tower, 1401 West Flagler St., Miami.)
The Florida Commission on Offender Review will consider numerous parole cases involving crimes committed in the 1970s and 1980s. (9 a.m., 4070 Esplanade Way, Tallahassee.)
The Florida Citrus Commission will meet. (1 p.m., Florida Department of Citrus, 605 East Main St., Bartow.)
–Compiled by the News Service of Florida and FlaglerLive

In Coming Days in Palm Coast and Flagler:
Click on the links for more details:
Dec. 17: The Flagler Beach City Commission holds its meeting at the city fire station, 320 South Flagler Ave., at 5:30 p.m., because of water-main issues at city hall.
Dec. 19 and 20: Performance of Handel's Messiah at First Church of Palm Coast, 91 Old Kings Road North, 4 p.m. each day: The Edward Waters Alumni Choir, along with the First Church Choir, will give performances of the oratorio, and feature Nathaniel Shropshire, III, bass; Francesca Scott, alto; Irma Marria Adams, soprano; and Drickus Horne, tenor. Tickets are $20 per person. To order call the church at 386-446-5759.
Dec. 19: Starlight Half Marathon and 5K, Central Park in Town Center, Palm Coast.
Dec. 21: Ribbon-cutting ceremony at the Princess Place Preserve stables, hosted by the county commission, 2 p.m.

Click on the link for more details.
Students Pitch ER Ideas to Florida Hospital Flagler Leadership:
Environmentalists, civic groups and businesses appeal to Florida Legislature for real waterway protection
Take-Out, Groceries, Pills, Booze? Palm Coast Delivery Factory Will Get It To You
Flagler County gears up for next free Citizens Academy

Bashar al-Assad's crimes against humanity, caught on camera https://t.co/A5Tu9Lu8Py pic.twitter.com/4ETmeFryTc

— The Economist (@TheEconomist) December 16, 2015
Pretend Trump, Carson, and Cruz were your only choices for president. Who'd you pick? https://t.co/YRzBFJwkcQ pic.twitter.com/ELQxtwUGH6

— Slate (@Slate) December 16, 2015
Fewer people were sentenced to death in 2015 than in any year since the '70s https://t.co/3NyKCTnoiJ pic.twitter.com/6lGoxrR2Tv

— HuffPost Politics (@HuffPostPol) December 16, 2015
47% in US say the federal gov't should have a major role in advancing space exploration https://t.co/yim0lTirrD pic.twitter.com/ew8psqLYog

— PewResearch FactTank (@FactTank) December 16, 2015
He shut down a highway to propose to his girlfriend…and has now been charged with a crime: https://t.co/iY1cy2ZK0N pic.twitter.com/dsDlR9OO4S

— CNN International (@cnni) December 16, 2015
Airbus and Qatar Airways debut a carbon fiber plane that curbs jet lag: https://t.co/ghYdtnflrA pic.twitter.com/HmsbRwJf6q

— Fast Company (@FastCompany) December 16, 2015


Palm Coast Construction and Development Progress Reports
The following is an update of ongoing construction and development projects in Palm Coast, through Dec. 4:
Christ the King Evangelical Lutheran Church and School, 1 percent done: Located at 5625 North US Highway 1, the school received a Development Order for a new 13,794 sq. ft. early learning center to be located on the south side of their 8.6-acre site. The architecture of the new one-story building will be very similar to the existing church and school facilities that are located just north of the proposed new building.
Holland Park, 38 percent done: The new 8″ water main was flushed and pressure tested. Installation of fiber inner duct. Conversion was made from well irrigation to reuse irrigation. Irrigation installation continues. Surveying for roadway, sidewalks, and basketball court continues.
County's I-95 Interchange Matanzas Woods Reclaim Water, 76 percent done: Retention ponds are being excavated and fill continues for the ramps. (Not in the Dec. 4 update.)
Palm Harbor Parkway Roadway Extension, 32 percent done: The City Fiber Optic cable was removed to allow the demucking to continue north on Forest Grove. The Fiber Optic cable will be replaced when the new force main is installed. Installation of stormwater pipe continues. (Not in the Dec. 4 update.)
Colechester Bridge, 92 percent done: The new 6″ water main is now in service and the old water main on the bridge is being removed.
North Old Kings Road Extension to Matanzas Woods Parkway, 19 percent done: Asphalt was installed on the new section of roadway adjacent to the old roadway at the intersection of Old Kings Road and Forest Grove. (Not in the Dec. 4 update.)
Island Walk Shopping Center Phase 1, 93 percent done: Water mains behind the Island Doctor and Bealls have been chlorinated for 2nd day bacteriological samples. (Not in the Dec. 4 update.)
Old Kings Road Force Main 83 percent done:: Contractor has completed the Force main up to the pig launch points and restored the site and trail. The area for the pig flush was completed and flushing has started.

Road and Interstate Construction:
Forest Grove Drive connection to Palm Harbor Parkway to be closed starting Dec. 18: Effective Friday, Dec. 18, the City of Palm Coast will be closing the Forest Grove Drive connection to Palm Harbor Parkway. This road closure is required as part of construction operations for the Palm Harbor Parkway extension, which is currently under construction. Palm Harbor is being realigned and extended to connect directly with Matanzas Woods Parkway where it intersects with Old Kings Road. Message boards will be placed to advise motorists and other travelers of the upcoming change, and a public meeting has already been held for residents living in that area. Both the Palm Harbor extension and a separate extension of Old Kings Road are being built in preparation for the new Interstate 95 interchange to open next June at Matanzas Woods Parkway. As part of the projects, traffic patterns around Matanzas High School will be changing. One goal is to turn Forest Grove Drive back into a residential street as it was originally intended to be. The upcoming road closure of the Forest Grove Drive connection to Palm Harbor Parkway is part of that project. Forest Grove will be turned into a cul de sac on that end. Once the separate Old Kings Road extension is completed, in June 2016, the Forest Grove Drive access to the high school will be closed because it will no longer be needed. Instead, motorists and other travelers will get to Matanzas High School via the new signalized intersection at Matanzas Woods, Palm Harbor and Old Kings. For more information, please contact Palm Coast Communications Manager Cindi Lane at 386-986-3708 or [email protected].

Bach Festival: The Six Brandenburgs Performed by the Munich Bach Orchestra, Conducted by Karl Richter
[Note: From now until New Year's, we celebrate the holidays with Bach every day.]
It doesn't get much better than this: no period instrument affectations, no fear of fuller orchestras, Richter takes to Bach at full-pleasure throttle. A classic performed by a class act.
See Also: