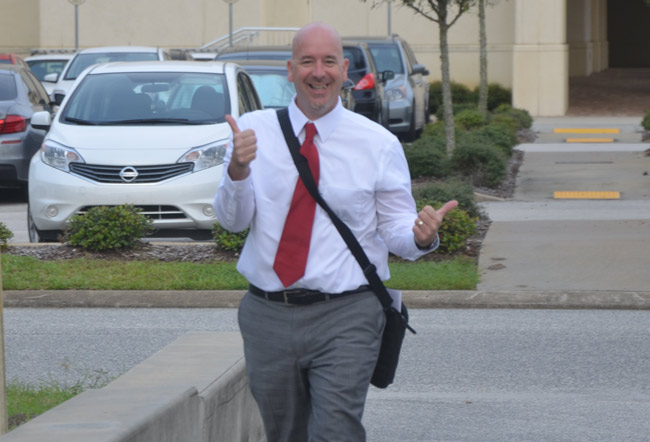 Today: high in upper 70s, low in upper 60s. Details here.
Today's fire danger is low. Flagler County's Drought Index is at 153.
Today's tides: at the beaches, at the Intracoastal Waterway.
Today's document from the National Archives.
The OED's Word of the Day: hapax legomenon, n..
The Live Community Calendar
Today's jail bookings.
Today's Briefing: Quick Links

Note: all government meetings noticed below are free and open to the public unless otherwise indicated. Many can be heard or seen live through each agency's website.

The Flagler County School Board holds a 9 a.m. executive session–out of public view–to discuss strategy in union negotiations. That session will immediately be followed with a workshop in TRaining Room 3, on the third floor of the Government Services Building. Workshop items include discussions of the evaluation tools for the superintendent and the school board attorney–the only two employees the school board itself hires directly–a discussion of the establishment of a Ben Carson Reading Room at Old Kings Elementary, and a discussion of the three bids submitted for the Belle Terre Swim and Racquet Club, none of which met the criteria for the request for proposal, because none were non-profit, as required. Chuck Nies will also discuss the delapidated state of student bathrooms at Matanzas High School. The school board meets again at 4 p.m. in board chambers at the Government Services Building for its regular bi-weekly meeting. At 6 p.m., Superintendent Jacob Oliva and Board Chair Colleen Conklin deliver the 2015 State of Education address.
Palm Coast Animal Control holds its monthly hearings at 1 p.m. at the city council meeting room, City Market Place.
The Flagler Beach Planning and Architecture Review Board meets at 5:30 p.m. at Flagler Beach City Hall. The board will discuss, on direction from the city commission, yet again amending the ordinance that controls elevations of homes in flood zones. The commission wants to scrap higher elevations.
The Palm Coast City Council meets at 6:30 p.m. at the Palm Coast Community Center. Aside from several routine items, City Council member Steven Nobile is expected to make a motion for the establishment of a charter review process. The likelihood of the council going along is slim.
National Night Out, the annual event designed to build closer ties between police and community, is scheduled at Palm Coast's Town Center starting at 5 p.m., through 8 p.m. See the story for details.
Palm Coast Wood Carvers Open House and Art Show, showcasing their work from 5-7 p.m. in Room 109 of the Palm Coast Community Center.

USA Today's Alan Gomez to discuss immigration and its role in 2016 presidential election at Flagler College Forum: USA Today immigration reporter Alan Gomez will discuss recent attempts to change the nation's immigration laws, why they failed and how immigration has become a central issue in the 2016 presidential debate at the Flagler College Forum on Oct. 6. His presentation, titled "Immigration in the 2016 Elections and Beyond," takes place at 7 p.m. in the Lewis Auditorium and is part of the Forum on Government and Public Policy's "Road to the White House" theme leading up to next year's presidential election.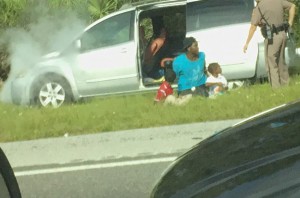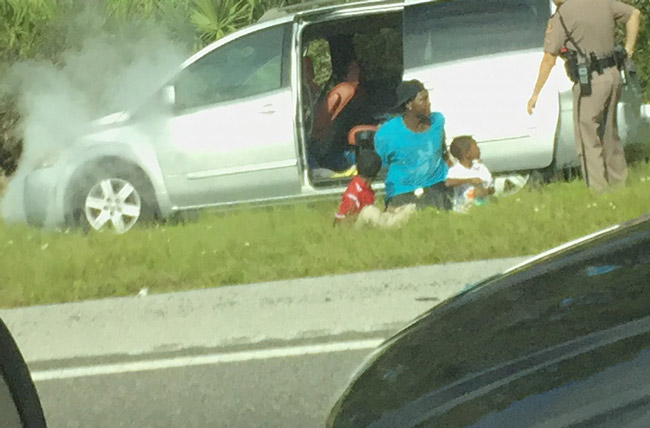 A Man, His 2 Sons and Their Dog Are Caught In Cop Chase of Felon, Fugitive and Stolen Car: All Frederick President wanted was a safe ride to South Carolina with his two young sons and their little dog. He didn't know that the people he hitched a ride with included a 16-time convicted felon, that a loaded gun was in the vehicle, as was a crack pipe, and that the vehicle—a van—had been stolen in Orlando. After a dangerous chase through Palm Coast that ended on I-95, President was briefly detained in the grass by the side of the road, in handcuffs, his two sons on either side of him, as cops chased after the driver and a passenger.
3 Flagler Emergency Operations Specialists In South Carolina as Part of Incident Team: Flagler County Fire Rescue Operations Chief Mike Bazanos, Captain Richard Bennett, and Laura Nelson, a Mitigation Planner at Flagler County Emergency Management, arrived in Columbia, the South Carolina capital Sunday afternoon, after a trip that took twice as long as it normally wood because of closures to long stretches of the Interstate system from water damage. The seven-member team is working from the state capital at the moment, pending re-deployments to any county emergency operations center that needs the help.
Flagler County continues moratorium on transportation impact fees: "For the third time in three years, Flagler County commissioners voted not to collect a transportation fee applied to new developments. But this time, they lifted the suspension of a parks and recreation" impact fee, the News-Journal reports. (The News-Journal's story is paywall-protected, but see background here.)
At Pink Army Flag-Raising, a Shaved Head Attests to Cancer's Ravages, and Hopes: The signature event in Flagler is Sunday's 5k Pink Army run that starts and ends in front of Florida Hospital Flagler. Last year that event alone raised $13,152 for the local hospital's breast cancer fund. The run usually draws upwards of a thousand runners and walkers and strollers.
St. Augustine Beach commissioners reject cellphone tower proposal: In an echo of cell towers' rising difficulties in Flagler, too, St. Augustine Beach commissioners unanimously voted Monday night to deny a proposal for a 150-foot, camouflaged cellphone tower in Hammock Dunes Park, the Record reports. The tower would have been located "on A1A Beach Boulevard between the Anastasia Plaza shopping center and the Whispering Oaks Subdivision. The 6.1-acre park was purchased in 2005 for $2.5 million. It is zoned as park and recreation, and would have required a land use change if the proposal was approved." (Story paywall-protected.)
We asked and you responded. View our reader-submitted photos of Hurricane Joaquin's effect http://t.co/0ewpKHvbRV pic.twitter.com/IfvxEy9EvJ

— news-journalonline (@dbnewsjournal) October 6, 2015

Note: Most proceedings below can be followed live on the Florida Channel.

Unconcealed weapons: The House Criminal Justice Subcommittee will consider a proposal (HB 163), filed by Rep. Matt Gaetz, R-Fort Walton Beach, that would allow people with concealed-weapons licenses to openly carry firearms. The bill also calls for other changes in gun-related laws, including giving direction for judges to use "strict scrutiny" when reviewing laws dealing with the right to bear arms or self defense. (9 a.m.)

The House Education Appropriations Subcommittee and the House Higher Education & Workforce Subcommittee will receive presentations about performance funding in the Florida College System and the State University System. The Education Appropriations Subcommittee is expected to hear from Madeline Pumariega, chancellor of the Florida College System, and a panel of the system's Council of Presidents. (Education Appropriations Subcommittee, 9 a.m., House Office Building. Higher Education & Workforce Subcommittee, 3:30 p.m.)
Public Service Commission: The House Energy & Utilities Subcommittee will discuss a law passed this spring that calls for changes at the Florida Public Service Commission and in the utility industry. The law, in part, limits future Public Service Commissioners to three consecutive four-year terms, requires utilities to notify customers of the best available rates and prevents electric utilities from charging higher rates through extensions of billing cycles. (9 a.m.)
Medical marijuana: The House Health Quality Subcommittee will receive an update about how the state is carrying out a 2014 law that allows the sale and use of non-euphoric types of medical marijuana. Backers of the law said it could help patients such as children with severe forms of epilepsy, but the cannabis remains unavailable, at least in part because of delays stemming from legal disputes. (9 a.m.)
Corporate tax cut: The Senate Banking and Insurance Committee will take up a proposal (SB 76), filed by Sen. Dorothy Hukill, R-Port Orange, that would increase the corporate income-tax exemption from $50,000 to $75,000. Increasing the exemption would reduce — or even potentially eliminate — tax bills for businesses. (10 a.m.)
Commercial leases tax cut: The Senate Community Affairs Committee will consider a series of issues, including a proposal (SB 116) that calls for reducing a tax on commercial leases from 6 percent to 5 percent. The proposal, filed by Sen. Dorothy Hukill, R-Port Orange, is a priority for some business groups. (10 a.m.)
Combat veterans: The Senate Military and Veterans Affairs, Space and Domestic Security Committee will take up a proposal (SB 128), filed by Sen. Wilton Simpson, R-Trilby, that would help combat veterans and their families get mental-health and substance-abuse services. The bill would direct the Florida Department of Children and Families to help establish the "Florida Combat Veterans' Care Coordination Program." (10 a.m.)
The Florida Supreme Court will take up five cases, including issuing a public reprimand to Seminole County Judge Debra Krause because of an improper Facebook post. Krause also agreed to a 30-day suspension after an investigation by the state Judicial Qualifications Commission about whether she violated judicial canons. The case stemmed from a Facebook post when Krause's husband, Mitch, was running for circuit judge. Debra Krause thought that one of her husband's opponents, Susan Stacy, was mischaracterizing facts and asked people on Facebook to "flood" Stacy's campaign site. (9 a.m.)
Pipeline in Marion County: The Federal Energy Regulatory Commission will continue holding a series of public hearings about pipeline projects that would bring natural gas from Alabama to power plants and other customers in Florida. One of the pipelines would run from Alabama to Central Florida, while another would link to Southeast Florida. NextEra Energy, the parent of Florida Power & Light, is a key player in the projects. (6 p.m., Dunnellon Middle School, 21005 Chestnut St., Dunnellon.)
Gov. Rick Scott is scheduled to start a three-day trip to New York to try to recruit businesses to Florida.
–Compiled by the News Service of Florida and FlaglerLive

In Coming Days in Palm Coast and Flagler:
Click on the links for more details:
Oct. 10: The Women's Missionary Society of First Church has scheduled the monthly food giveaway for Oct. 10, 1-3 p.m., at 91 Old Kings Road North, Palm Coast. For more information, call Jeroline D. McCarthy, 386-446-5759.
Oct. 10: Saturday Evening with the Artists at the Flagler County Art League: This is the League's signature event, an open-themed art show where Flagler artists show off their best work, their newest work, their most recent forays into other mediums or their latest artistic exuberances. The exhibit's popularity has a traditionally high rate of artist participation and creativity. Judge for the show is artist/sculptor Harry Messersmith. City Marketplace, 160 Cypress Point Parkway, Suite 207C, Palm Coast. 386-986-4668.
Oct. 11: Pink Army 5k Run/Walk for Breast Cancer, 7:45 am at Florida Hospital Flagler. Gather your family, friends, coworkers, neighbors and run or walk in honor of those who have battled and continue their battle against breast cancer. Proceeds from the Pink Army Run/Walk go to the Florida Hospital Flagler Foundation to educate and support women of Flagler County.
Oct. 12: The City of Bunnell will be having a brief, dignified retirement ceremony for 90 American Flags collected in their flag disposal boxes this past summer. Everyone is invited to attend the ceremony in the back yard of the City Public Works Facility at 301 Tolman Street in Bunnell. The ceremony will start at 10 a.m. and will include a brief reading of the proper way to retire a flag, reciting of the Pledge of Allegiance to the Flag by attendees, followed by a controlled burn of 90 properly folded retired flags.
Oct. 14: The Bulow Park Historic Alliance meets at 6 p.m. in the Recreation Hall of the Tomoka State Park. Plans for the October 30 Candlelight Trail Walk and other events will be discussed. For information call 386-437-5338.
Oct. 17: The Bulow Parks Historic Alliance's monthly Trail Maintenance Day, to prepare for the October 30 Candlelight Trail Walk. Workers are asked to meet at the Trail head at 9 a.m. wearing gloves, hats, appropriate clothing and carrying bug spray. Water will be provided.For information call 386-437-5338.

Police, Fire and Emergency Notes:
Assessors with the Commission for Florida Law Enforcement Accreditation (CFA) will visit FDLE beginning Nov. 3 as part of the accreditation process. Assessors will examine FDLE's policies, procedures, management, operations, and support services in addition to conducting interviews and visiting offices. FDLE must comply with more than 80 compliance standards to receive accreditation. As part of the on-site assessment, agency members and the public are invited to offer comments to the assessment team. Comments must address the agency's ability to comply with CFA standards. A copy of the standards is available through FDLE's Public Information Office. Comments can be made by email: [email protected] or snail mail, CFA, P.O. Box 1489, Tallahassee, Florida 32302.
The CFA Assessment Team Leader is Deputy Chief Joe Monteagudo with Key Biscayne Police Department. Other team members are Ms. Maureen Buice with Fort Myers Police Department and Sergeant Kevin Engelhardt with Palm Beach County Sheriff's Office. Regional office visits will be conducted in Pensacola by Deputy Chief Rick Hawthorne with Gulf Breeze Police Department, in Jacksonville by Ray Beltz with Jacksonville Sheriff's Office, and in Miami by Luanne Smith-Horton with Coral Springs Police Department.

The City of Bunnell will be having a brief, dignified retirement ceremony for 90 American Flags collected in their flag disposal boxes this past summer. Everyone is invited to attend the ceremony to be held Monday, October, 12th, 2015, in the back yard of the City Public Works Facility at 301 Tolman Street in Bunnell. The ceremony will start at 10:00 AM and will include a brief reading of the proper way to retire a flag, reciting of the Pledge of Allegiance to the Flag by attendees, followed by a controlled burn of 90 properly folded retired flags.

Obama to protect of hundreds of square miles of tidal waters http://t.co/TkOMUNCsi3

— CS Monitor (@csmonitor) October 6, 2015
House prices have risen in 21 out of the 26 economies we track http://t.co/xmw0l5M3Pd pic.twitter.com/OKaezjmNjA

— The Economist (@TheEconomist) October 6, 2015
The finest late-night segment on U.S. gun violence belongs to who else but John Oliver http://t.co/0qXn6tuWGi

— Salon.com (@Salon) October 6, 2015


Palm Coast Construction and Development Progress Reports
The following is an update of ongoing construction and development projects in Palm Coast, through Oct. 2:
Palm Coast Parkway Six-Laning is 94 percent done: Contractor has placed the new 6″ reuse main into service and has prepared the old line to grout filled. Work in median continues and landscape along project continues.
Holland Park, 33 percent done: The old sewer system has been removed. Dewatering of wetland area continues. 75% of roadway thru wetland has been excavated and is being backfilled. Extended water line around pavilion 3.
Palm Coast City Hall at Town Center, 94 percent done: Contractor has placed concrete around valve collars and identifying tabs. Wire testing has been completed. Carpet and Tile in (Phase 1) of the project is 95% complete. Furniture installation in Phase 1 first floor 80% complete.
County's I-95 Interchange Matanzas Woods Reclaim Water, 76 percent done: Retention ponds are being excavated and fill continues for
the ramps.
Palm Harbor Parkway Roadway Extension, 26 percent done: De-mucking continues thru wet areas for new roadway.
North Old Kings Road Extension to Matanzas Woods Parkway: City did not update.
Island Walk Shopping Center Phase 1, 93 percent done: Water mains behind the Island Doctor and Bealls have been chlorinated for 2nd day bacteriological samples.
Old Kings Road Force Main – Master Pump Station, 33 percent done:: All but 1 directional drill has been installed and 9,000 ft. of direct bury pipe has been installed.
Grand Haven Sales Center on Colbert Lane, 36 percent done: Site stormwater has been installed and a construction trailer is on site.

Road and Interstate Construction: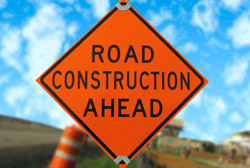 Palm Coast:
Flagler County Road 302 is Closed to all but local traffic as repaving began on June 7 and the roadway will be closed to all but local traffic. Others will be required to detour around County Road 302 using State Road 100. The roadway will be closed for 90 days, or until early September.
Volusia: I-4 Widening from SR 44 to east of I-95, Monday and Friday, 7:00 a.m. – 5:00 p.m., Eastbound/Westbound shoulder closing. Sunday through Thursday, Eastbound and Westbound lane closures as needed from 8 p.m. to 6 a.m. Thursday, 9:00 p.m. – 5:30 a.m. EB road closure between Canal St./SR 44 and I-95 with detour at US 92 exit ramp.Motorists should be aware of traffic shifts near Canal St./SR 44.
County Road 304 Project Map and Description

Comment of the Day (From the Comment Section):
None worthy of note today.

Enrique Granados (1867-1916): Poetic Waltzes, performed by Albert Flotats Crispi at the piano

Tweets from https://twitter.com/PierreTristam/lists/flaglerlive