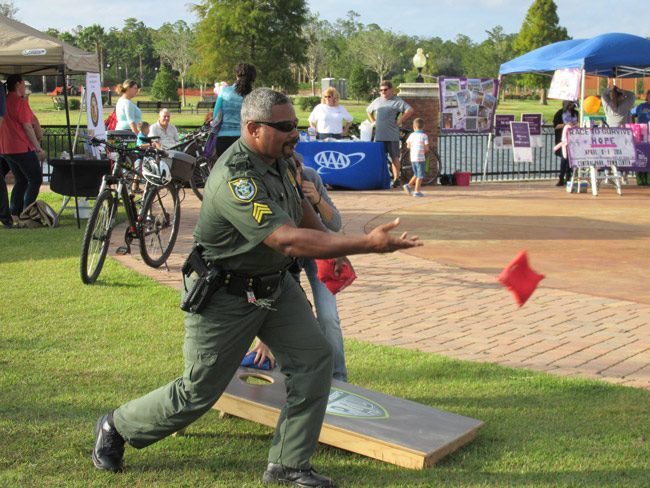 The Flagler County Sheriff's Office will be hosting National Night Out at Veterans Park in Flagler Beach, from 5 p.m. to 8 p.m. on Tuesday, Oct. 4. The free drug and crime-prevention awareness event features demonstrations, safety information, games, face painting, food and beverages, and entertainment.
Participants will receive a free bag of Halloween treats and information about candy and costume safety to make this a safe Halloween for everyone. The Flagler County Sheriff's Office, along with the Sheriff's Office Police Athletic League (PAL), is underwriting this community event.
The Flagler Beach Police Department is honored to have this event in Veterans Park, Capt. Matt Doughney said. "We'll be focusing our efforts on safety related to firearms, bicycles and skateboards," he said. "We'll be handing out free gun locks, free bicycle helmets, free bicycle lights and free skateboard helmets. The goal is to make our city safe for everyone."
"National Night Out," the organization's national website states, "enhances the relationship between neighbors and law enforcement while bringing back a true sense of community and provides a great opportunity to bring police and neighbors together under positive circumstances." This year's event, as was the case last year, takes place in the context of a larger national discussion–and debate–about the role and methods of police in local communities, and a pronounced public backlash against a perceived tendency among police to use more force than necessary. Police forces, conversely, feel under siege, misunderstood and unfairly criticized through the prism of high-profile cases of misconduct.
National Night Out is in its 33rd year. It is nationally sponsored by the National Association of Town Watch and is held in most of the country on Aug. 2. Texas and Florida have generally held the event in early October. The first year, 400 communities in 23 states participated in National Night Out, according to nationaltownwatch.org. Nationwide, 2.5 million Americans took part in 1984. Participation has grown steadily. The 28th Annual National Night Out last August involved some 16,000 communities from all 50 states, U.S. territories, Canadian cities, and military bases worldwide.
Several groups plan to participate Tuesday evening, including Flagler Beach Police offering bike safety, the Bunnell Police Department, with its K-9, presenting on pet safety, Focus on Flagler Youth Coalition, the Family Life Center, the sheriff's victims' advocate discussing "Stranger Danger" and the importance of staying in pairs, and police explorers discussing traffic safety, and others. The Palm Coast Fire Department, which participated last year in Palm Coast, is not among the participants according to the sheriff's list.
The Flagler County Sheriff's Office plans to have its Mobile Command, SWAT and other units displayed. The Sheriff's Office PAL is an independent nonprofit corporation committed to "Cops Helping Kids'' and includes hundreds of children.