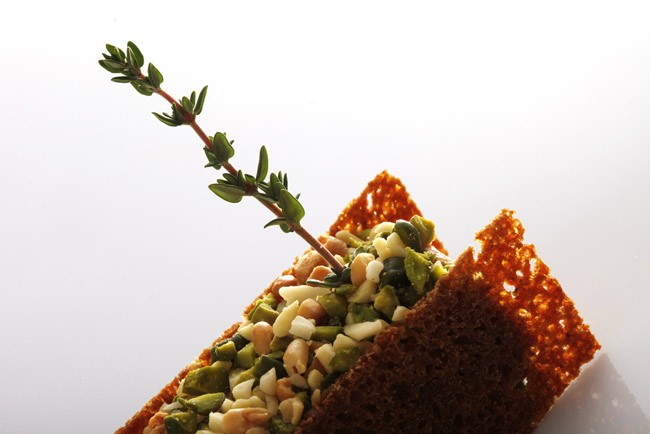 Today: high in mid-90s, heat index between 102 and 106, low in mid-70s. Details here.
Today's fire danger is low. Flagler County's Drought Index is at 155 (-46).
Today's document from the National Archives.
The OED's Word of the Day: White Lady, n..
The Live Community Calendar
Today's jail bookings.
Today's Briefing: Quick Links

Note: all government meetings noticed below are free and open to the public unless otherwise indicated. Many can be heard or seen live through each agency's website.
The Flagler County Airport Advisory Board meets at 4 p.m. at 120 Airport Road. The agenda is routine. It is here.
The Flagler Beach City Commission meets at 5:30 p.m. at City Hall. The commission will again discuss the process for hiring a new city manager, based on the number of applications received so far. It will hear a proposal from the chairman of the city's economic development task force to "sunset," or eliminate, that task force. And it will again vote on a proposal to charge rent for private parties on the Flagler Beach pier. The full agenda is here.
Flagler Restaurant Week begins today: From fine dining to beach burgers, twenty participating restaurants will feature special and discounted menu items from September 11 to 18. During this time, diners can explore some of the county's newest restaurants, revisit their old favorites, and try somewhere new in the quest to become the ultimate #FlaglerFoodie. Restaurant Week is, after all, a reminder that Flagler County is a community and destination that offers diverse dining experiences, beautiful scenery and plenty of reason to celebrate all things gastronomic.

In Trial Day 2, Case Against Publix Falters Over Credibility and Tempers of 2 Main Witnesses: Starting on Tuesday with plaintiff Robert Barry on the stand and getting worse on Wednesday with Barry then Henry Toro on the stand–the two men had claimed that a co-worker had been subjected to sexual harassment by their supervisor–the two men's claims to veracity unraveled, and often during their testimony to Barry's own lawyer, who made several tactical mistakes—whether by reading at too many lengths unflattering sections of depositions about Barry, or delving into the causes of Toro's firing, which then opened the way for the Publix attorneys to plunder Toro's credibility.
County Rejects One Jumbo Cell Tower, Approves Another and Hedges On Third: The proposed 320-foot lattice tower on John Anderson Highway in Flagler Beach was rejected, with Commissioners Barbara Revels, Charlie Ericksen and George Hanns voting to reject, and Frank meeker and Nate McLaughlin voting to approve. The proposed 345-foot guyed tower at Espanola was approved unanimously. And the proposed 320-foot guyed tower proposed in the area of Cody's Corner, off County Road 305, denied by the planning board, was rejected by the commission, again on a 3-2 vote, but pending possible further negotiations with area property owners.
County Declares Dangerous Dog That Bit 8-Year-Old Boy, Rejecting More Clement Recommendation: The commission's 4-1 vote went against the recommendation of a hearing officer, who found that the dog was acting in defense of its owners' home and was reacting to what amounted to a trespassing, uninvited person walking into the house.
Palm Coast considers easing land development code requirements: "Charlie Faulkner, of the Flagler County Association for Responsible Development, told the council that the disparity between the size of a building a business could put in a Palm Coast lot versus a lot in another city is a major concern in the business community," the Observer reports.
Citing "Thousands" Of Untested Rape Kits, Bondi Seeks More Money For Crime Labs: The Florida Department of Law Enforcement is expected to request an additional $35 million in funding during the 2016 legislative session, including $7.76 million to raise the base salaries of people working in crime labs.
Embry-Riddle's Torrey Barnes, 23, Is Killed in Motorcycle Wreck in Daytona Beach: Barnes was riding a 2008 Yamaha on Midway Avenue around 1 a.m. Saturday (Sept. 5) when he failed to negotiate a turn west of Catalina Drive, striking a curb instead and ejecting him from the motorcycle. He later died at Halifax hospital.
Opelka's Pro Career Begins as Junior Circuit Days End With Loss in 3rd Round of U.S. Open: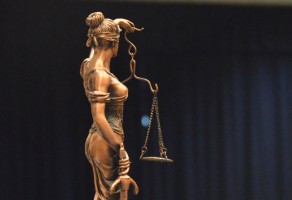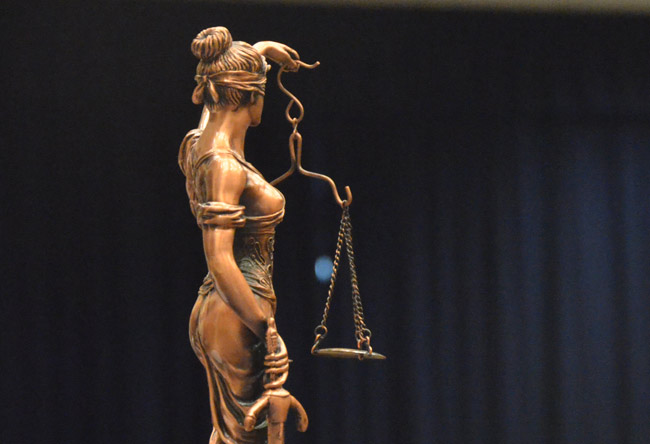 The civil trial of Robert Barry v. Palm Coast continues this morning before Circuit Judge Michael Orfinger and a jury of five women and two men (including alternates), in Courtroom 301, starting at 9 a.m. Robert Barry, a six-year Publix employee fired from its Palm Coast Town Center store in 2010, is suing over a claim of wrongful termination, claiming he was fired after flagging a case of sexual harassment involving a colleague. Publix says he fabricated the sex harassment issue and lied on his job application. See the first day's story here and the second day's story here. Judge J. David Walsh is in drug court this morning in Courtroom 401. At 1:30 p.m., he hears a possible plea from William Pedersen, accused of lwed or lascivious molestation of a minor and sexual assault on a child younger than 12.
The Florida Supreme Court releases opinions at 11 a.m.

Note: Most proceedings below can be followed live on the Florida Channel.

A panel of lawmakers, state Chief Financial Officer Jeff Atwater and Agriculture Commissioner Adam Putnam are expected to take part in the Florida Association of Health Plans annual conference. A tentative schedule says the legislative panel is expected to include House Health & Human Services Chairman Jason Brodeur, R-Sanford; House Insurance & Banking Chairman John Wood, R-Winter Haven; House Health Care Appropriations Chairman Matt Hudson, R-Naples; Senate Health and Human Services Appropriations Chairman Rene Garcia, R-Hialeah; and Senate Health Policy Chairman Aaron Bean, R-Fernandina Beach. (11 a.m., Atwater at noon and Putnam at 5:30 p.m., Hilton Orlando Bonnet Creek, 14100 Bonnet Creek Resort Lane, Orlando.)
The state Office of Greenways and Trails will continue a series of meetings across the state to seek public input about "opportunity maps" for the state's network of trails. (4 p.m., Broward College, North Campus, 1000 Coconut Creek Blvd., Coconut Creek.)
Campaign finance reports due: State political candidates and committees face a Thursday deadline for filing reports showing campaign-finance activity through Aug. 31.
–Compiled by the News Service of Florida and FlaglerLive

In Coming Days in Palm Coast and Flagler:
Click on the links for more details:
Friday, Sept. 11: The Palm Coast Arts Foundation Presents Big Band Night (and more) with The Chris Thomas Band of Jacksonville, in the Ballroom of Halifax Plantation, 4000 Old Dixie Highway, Ormond Beach. Dinner and dancing is all part of the ticket price ($50 PCAF members; $60 general public).  Click here for details.
Run or walk into fall at Palm Coast's Autumn Trails 5K Run/Walk, to be held Sept. 12 at 7:45 a.m. (the Kids Fun Run will begin at 8:45 a.m.) The Autumn Trails 5K will begin at the Palm Coast Community Center. Click here for entry fees and details.
What happens to your Facebook page when you die? The Estate Planning Council of the Fun Coast hosts a seminar entitled "Estate Planning for Digital Assets and Social Media" on September 16 from 8 a.m. to 10 a.m. at the Hilton Garden Inn in Palm Coast. Cost: 20. Reservations required. Email

[email protected]

or call 386/586-4214.
Sept. 18:County Judge Melissa Moore-Stens on the 8th Amendment and Flagler's Pre-Trail Release Program: Mark the 228th anniversary of the birthday of the U.S. Constitution with the Flagler County Friends of the Library at 1:30 p.m. as the Friends sponsor "A Look at the 8th Amendment," presented by Judge Melissa Moore Stens. The program will be in the meeting room of the Library, 2500 Palm Coast Pkwy NW. The topic for discussion will be the pre-trial release program, funded by the County Commissioners in 2014.
Sept. 19: Volusia and Flagler Parent Magazines Host 6th Annual Ultimate Baby Shower and Toddler's Expo from 10 a.m. to 5 p.m. at Mainland High School in Daytona Beach.
Sept. 21: Flagler Beach Police Captain Matthew Doughney and 7-Eleven host "Doughnuts with Doughney": The Flagler Beach Police Department and the city's 7-Eleven have partnered to host "Doughnuts with Doughney" on Monday, September 21, from 8 a.m. to 10 a.m. at 408 South Oceanshore Boulevard.
Sept. 28: Bunnell's State of the Art Water Treatment Facility Grand Opening and Ribbon Cutting at 100 Utility Drive (directly across the street from the Flagler County Government Services Building), from 4 to 6 p.m.
Oct. 6: The Flagler County School Board holds a town hall meeting at the Government Services Building.
Flagler County is now accepting applications for the Fall 2015 Citizens Academy. Classes will be held on Thursday evenings from 5 to 8 p.m. beginning September 10 for nine weeks. For more information, click this link or go to flaglercounty.org/academy.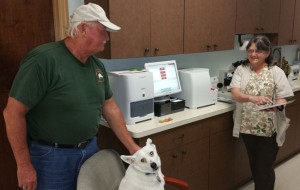 Dixie Commons Animal Hospital Adds New Equipment: Dixie Commons Animal Hospital is pleased to announce that they have added two new machines; a new state-of-the-art hematology analyzer machine called IDEXX LaserCyte® DX, and a Catalyst One™ chemistry analyzer. "The new machines help improve our surgeries, diagnoses, and customer service," said owner Dr. Janet Brown. "They have been an amazing addition to the care we offer our patients." The total investment of the two machines is approximately $40,000. The new Catalyst One™ analyzer is one of the first in the state of Florida, and in the country. When combined with the LaserCyte® they receive the blood work results in eight minutes. The results report is then sent to a staff's iPhone, iPad and computer in minutes. The LaserCyte® tests HCT, RBC, HGB, MCV, RDW, PLT blood counts and more. Dr. Janet Brown and the staff of Dixie Commons Animal Hospital are committed to providing the highest quality healthcare for all pets. They strive to obtain the latest education on new procedures and health recommendations for pets to remain at the technological forefront of veterinary care. They offer affordable dog and cat vaccination packages, bathing, behavioral medicine, boarding, dental care, fully stocked pharmacy, grooming, hospice and euthanasia services, house calls, micro-chipping, nutritional counseling, pain management, parasite prevention and control, pet sitting, radiology services, surgery, vaccinations, wellness exams and more. They are located at 32 Caroline St. in Bunnell, west of I-95 off Old Dixie Rd. They are open Monday through Tuesday from 9:00 a.m. to 6:00 p.m., Wednesday from 9:00 a.m. to 1:00 p.m., Thursday from 10:00 a.m. to 7:00 p.m., Friday from 9:00 a.m. to 6:00 p.m., and Saturday from 9:00 a.m. until 1:00 p.m. They can be found via telephone at 386-437-6075, or online at https://www.facebook.com/DixieCommonsAnimalHospital or http://www.dixiecommonsvet.com.
FCAR hosts Smart Growth of the 21st Century Event: Flagler County Association of Realtors will be hosting the event "Smart Growth for the 21st Century" on September 29 from 9 a.m. to 1 p.m. at the FCAR location. This class will teach attendees state of the art community planning concepts that will add value and convenience to their relationships within the community. These strategies will allow their local area to flourish due to its detailed objectives and traits. Including, but not limited to, strengthening of communities, creating housing opportunities and taking advantage of compact building design. Elizabeth Schilling, the instructor, has over twenty years' experience developing policies to shape sustainable community growth and development. Her commitment to establishing innovative, pragmatic and opportunistic approaches to sustainable growth allows for development at local, regional, state and federal levels.  Interested FCAR Members, Business Partners, city and county staff are all invited and will need to RSVP to [email protected] as soon as possible. For more information regarding this event, please contact [email protected] or call (386) 437-0095.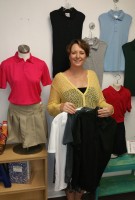 School Uniform Shop Moves, Changes Names: Julia Fuentes is pleased to announce that she has moved and expanded her company formerly know as Serendipity Living LLC. The new name of her company is TheUniform.Company. "A lot of exciting things have happened since we originally launched last August," said Julia, owner of TheUniform.Company. "We have deepened our partnerships in the local community and refocused and rebranded our model of giving back." Julia called herself 'a frustrated mom' when she launched her uniform company in August of 2014. "We are not a large corporation and I didn't want to give my money to the big box stores when purchasing school uniforms for my daughter, knowing that the money did not stay in our local economy or help our local schools," Julia said.   TheUniform.Company prides themselves on helping to raise money for organizations in need. Fuentes said at least 10% goes back to local charities in Flagler County. The company carries cotton Polo shirts, moisture wicking Polo shirts, long sleeve Polo shirts, scooters, jumpers, shorts, and pants. They also carry $7 backpacks – with $3 going to charity – alcohol-free hand sanitizers, Chloe & Isabel Jewelry, handmade and local Artisan items, and DoTerra Essential Oils. Julia prides herself on getting creative when raising money for Flagler Schools and has partnered with other local businesses to help. For example, last year through the local charity Christmas Come True, 52 uniforms were paid for through donations. This year, TheUniform.Company implemented pre-loaded cards that people can purchase at a discounted rate and donate. Prior to the start of school, donors purchased school uniforms at Christmas Come True and they were distributed to students in need. People can also purchase school uniforms for the S.T.U.F.F. bus – a surplus school bus transformed into a mobile store for "Supplying Things U Find Fundamental" for school children that cannot afford uniforms or supplies. The family that suffered the house fire in Flagler Beach this past May also received school supplies from someone that purchased a pre-loaded card. As a smaller company, TheUniform.Company is a boutique company and does not always have all items in stock, however, they are able to order it and have it within two weeks. TheUniform.Company is located at 2 Office Parke Drive Ste. C, in Palm Coast, on the corner of Palm Coast Parkway and Clubhouse Drive. They are open Monday through Friday from 10:00am to 5:00pm and by appointment on Saturdays. They can be reached at 386-246-8843 or online at http://theuniform.company or https://www.facebook.com/FlaglerUniforms.

Big-Name Plan B's for Democrats Concerned About Hillary Clinton: "Vice President Joseph R. Biden Jr., Secretary of State John Kerry, Senator Elizabeth Warren, former Vice President Al Gore: Each has been discussed among party officials in recent weeks as an alternative to Mrs. Clinton if she does not regain her once-dominant standing in the 2016 presidential field and instead remains mired in the long-running email controversy, with its attendant investigations. […] It is not just Mrs. Clinton's weakness in the polls that has generated talk of other alternatives, but also the strength of Senator Bernie Sanders of Vermont, who is routinely drawing huge crowds at campaign events. That has been disconcerting to Democratic officials who believe that Mr. Sanders, a socialist, is so liberal that his presence at the top of the party's ticket in 2016 would be disastrous." From The Times.
Florida runs radio spots to recruit businesses from Kentucky: Enterprise Florida, the state's business-recruiting arm, has started running a radio ad in Kentucky as Gov. Rick Scott plans to undertake his latest "domestic economic development" mission to the Bluegrass State. The ad, released Wednesday by the governor's office and titled "Come to Florida," says Scott is "coming to Kentucky to share Florida's success story" and highlights to business owners that the Sunshine State is a "right-to-work state, with no income tax." No date has been announced for Scott's trip, with his office saying it will happen later this month. "The new ad released today continues to highlight why Florida is a better place than Kentucky to do business," Scott said in a news release Wednesday. Scott previously announced that he is targeting Kentucky's "pro-union, big government policies" as he hunts for private businesses to expand or relocate to Florida. Kentucky Gov. Steve Beshear retorted late last month that Scott's right-to-work argument "is an artificial political issue that has no real impact on job creation." Also, Beshear said, "You would think with the difficult problems facing Florida today that Gov. Rick Scott would have better things to do to keep him occupied. However, if he wants to waste his time coming to Kentucky to try and convince our businesses to come to Florida, then come ahead because he will have no success." Enterprise Florida released a similar radio spot in Connecticut prior to Scott's two-day foray into the Nutmeg State in June. Scott has made similar business-recruitment trips to Pennsylvania and California this year. News Service of Florida.

Palm Coast Construction and Development Progress Reports:
The following is an update of ongoing construction and development projects in Palm Coast, through Sept. 4: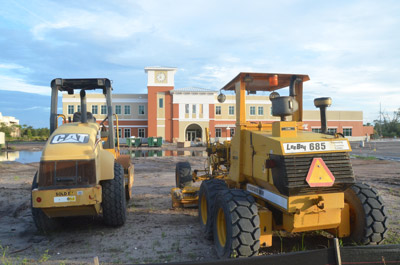 Palm Coast Parkway Six-Laning is 90 percent done: Work shifted to the median and installation of storm
drainage has begun. Landscape work continues.
Holland Park, 30 percent done: Installation of conduits for future ball field lighting continues. Excavation continues for sidewalks in the ball field areas.
Palm Coast City Hall at Town Center, 88 percent done: Floor tile installation continues; ceiling tile installation
continues; millwork installation has begun; landscape work continues; carpet tile installation has begun. Air testing on the gravity sewer is complete and the water meter/backflow and hydrants have been painted. See ongoing images of construction here.
Colechester Drive Bridge, 38 percent done: All seawall complete, caps being formed, work has begun on
bridge deck done, and demolition of slope pavement continues.
County's I-95 Interchange Matanzas Woods Reclaim Water, 25 percent done: Contractor has installed approximately 1,000 ft. of reclaim water main total installed 5,000 ft. to date.
Palm Harbor Parkway Roadway Extension, 6 percent done: The stormwater pipe installation at the intersection of Old Kings Road and Matanzas Parkway has started.
North Old Kings Road Extension to Matanzas Woods Parkway, 12 percent done: Site clearing continues at 85 percent.
Island Walk Shopping Center Phase 1, 92 percent done: The water line to Building G has been installed and has passed pressure testing.
Shops at Pine Lakes Convenience Store, 96 percent done: Pump station start-up and testing completed.
Old Kings Road Force Main – Master Pump Station, 22 percent done: Jack and Bore casing has been placed under Old Kings Road at south entrance to spray field. The 16″ Force main piping installation has started.
Grand Haven Sales Center on Colbert Lane, 35 percent done: Water and Sewer services have been installed on site.

Palm Coast Residential and Commercial Permits Issued Last Week:

Road and Interstate Construction: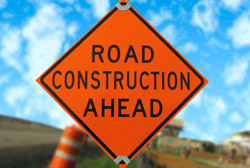 Palm Coast:
Flagler County Road 302 is Closed to all but local traffic as repaving began on June 7 and the roadway will be closed to all but local traffic. Others will be required to detour around County Road 302 using State Road 100. The roadway will be closed for 90 days, or until early September.
Palm Coast's Colechester Lane bridge to be closed July 7 through Sept. 4:  A detour will be established taking travelers over the Colorado Drive bridge instead. Signs will be posted directing motorists to the Colorado Drive bridge. The City of Palm Coast strives for safe construction zones. The City asks for the cooperation and patience of residents as this important bridge improvement project is completed. For more information, contact Palm Coast Customer Service at 386-986-2360.
Volusia: I-4 Widening from SR 44 to east of I-95, Monday and Friday, 7:00 a.m. – 5:00 p.m., Eastbound/Westbound shoulder closing. Sunday through Thursday, Eastbound and Westbound lane closures as needed from 8 p.m. to 6 a.m. Thursday, 9:00 p.m. – 5:30 a.m. EB road closure between Canal St./SR 44 and I-95 with detour at US 92 exit ramp.Motorists should be aware of traffic shifts near Canal St./SR 44.
County Road 304 Project Map and Description

Comment of the Day (From the Comment Section):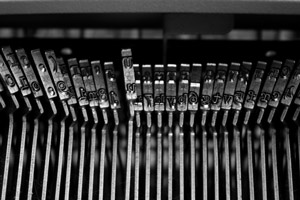 Patriot 76 in "God's Authority Has No Place in Civil Government": "This is where Americans simply lose the Constitution in translation and your comments in response to Pierre are only further proof of the misrepresentations inherent in the interpretations of the 1st Amendment. Religion does NOT have a place in government just as government does NOT have a place in religion. The idea of a secular government (separation of church and state) is essential to maintain both establishments of man – most of our founders knew this and yet we continue to debate and complicate what really is not. We also bastardized the words of others because we fail to educate ourselves on the context of the Constitution and the debate our founders had hundreds of years ago. It was a debate as they didn't all agree, but what they did agree on was a majority, democratic decision to provide a legal means for separating the organized establishment of government and church. If a politician walked into your congregation and started spewing "liberal" rhetoric – would you not feel your religious practice has been infringed?? It is the same with government – when you step into public office swearing a legal oath to uphold the laws and Constituition, you leave your practice at home and do your legal obligations. Religion drives morals and values, which drive policy (in theory). But those morals and values are vetted in a public arena by the people under God. We do not allow one person or another to speak for God – but God speaks through us when we as a collective pursue the right discourse. So please, continue to preach your hate for liberals and Obama or any other scapegoat you identify as the cause for your lack of education and ignorance. The irony here is not your lack of knowledge on the Constitution or the law, but your lack of understanding of God and determination to speak for him, rather than listen to him through others." Reply to Patriot 76 here.

Ricardo Muti Conducts the Overture to Donizetti's Don Pasquale, at La Scala, in 1994

My husband taught me assisted living is far more important than assisted dying http://t.co/nH2STOqoyZ

— Pierre Tristam (@PierreTristam) September 12, 2015