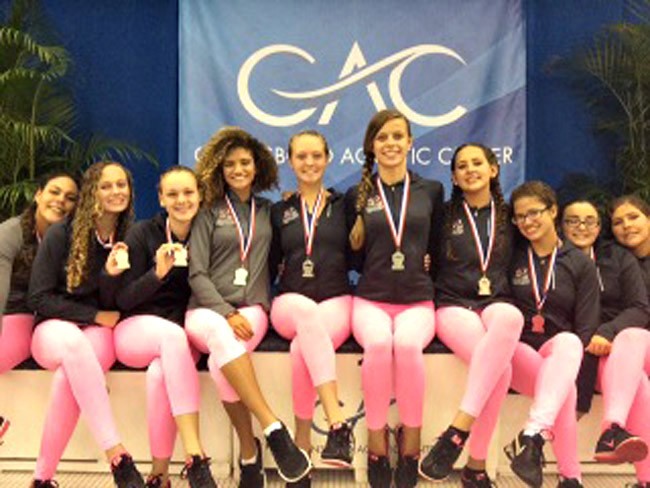 Today: global warming high of 94, low 74 Details here.
Today's fire danger is moderate. Flagler County's Drought Index is at 401.
The weather in Balykchy, Kyrgystan: high 87, low 59. Details.
Today's document from the National Archives.
The OED's Word of the Day: moonballing, n..
The Live Community Calendar
Today's jail bookings.
Today's Briefing: Quick Links

Note: all government meetings noticed below are free and open to the public unless otherwise indicated.
The Flagler County Library Board of Trustees meets in the library's Doug Cisney Room, 4:30 p.m. On the agenda: A discussion of the director's job description, with any decisions deemed appropriate to follow.

The Emergency Medical Services Advisory Board meets in the Emergency Operations Center Executive Conference Room, with one item of note on the agenda: the introduction of Registered Nurse Rose Mazzullo, a Volusia County resident who works at Florida Hospital Flagler as the Emergency Department manager, and whom the Flagler County Commission appointed to the medical board on July 6. She replaces Jody LoDolce, who took a job in Sanford. The 10-member board meets six times a year, usually briefly. The May meeting lasted five minutes. (9:30 a.m.)
The Flagler County Land Acquisition Committee meeting scheduled for 3:30 p.m. today was cancelled.
Flagler Beach's Economic Development Task Force meets from 3 to 5 p.m. at the Flagler Beach City Hall.
Flagler Beach Mayor Linda Provencher holds a town hall meeting at 5 p.m. at City Hall in Flagler Beach.

The Bunnell City Commission meets at 7 p.m. at the Bunnell City Hall's board chambers, 201 W. Moody Boulevard/S. Forsyth Street. The commission will hear the annual financial audit report of the city and Manager Larry Williams's response to the report. It will also discuss modifying the traffic pattern on Canakaris Street in anticipation of the fall opening of the new Sheriff's Headquarters. The complete agenda and background material, including the financial reports, are here.
City Repertory Theatre Auditions: CRT is holding auditions for the pop musical GODSPELL on Wednesday, July 22 at 6:30 p.m. in the theatre at 160 Cypress Point Parkway, Suite B207, Palm Coast. This will be an energetic, no holds barred production, using all aspects of the theatre space and all the talents of the 10 member, ensemble cast. See Facebook page for details.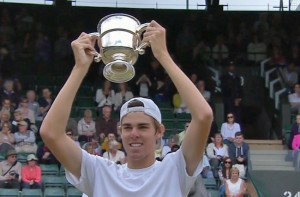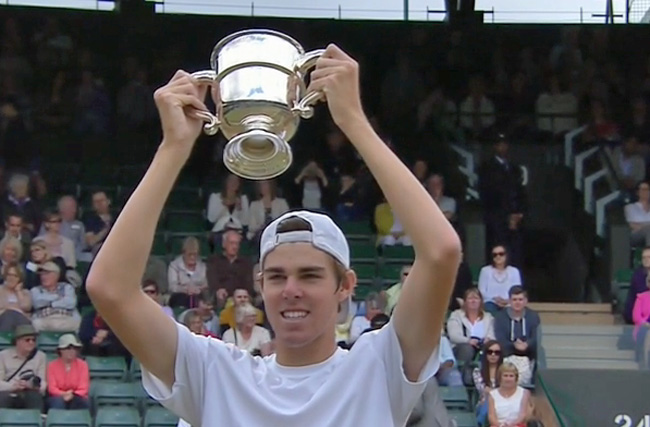 Reilly Opelka Is Wimbledon Boys Champion: For Palm Coast, a city perpetually searching for the ace in its marketing strategy, it's more than a big deal that lends itself to all sorts of possibilities, just beyond the congratulations. The 17-year-old, 6-foot-10 kid who had never been past the second round at a Grand Slam tournament until June finished off an incredible week by defeating Mikael Ymer of Sweden, 7-6 (5), 6-4 Sunday morning to grab the Wimbledon boys singles championship.
John Ruffalo, a Reagan Assemblies Leader, Affronts County Commissioner at Courthouse: That's what John Ruffalo, a founding member and current first vice president of the group known as the Ronald Reagan Republican Assemblies, allegedly called Flagler County Commissioner Charlie Ericksen a "fucking phony," outside a courtroom at the Flagler County Courthouse, prompting Ericksen–who was concerned for his safety–to report the incident to sheriff's deputies. The alleged incident took place two months after another Reagan group member, Mark Richter, resigned after sending an obscene email to local media.
In Flagler Beach, Lighter Rules for Farmers' Market and 2-Week Limit on Golf Course Buy: In a pair of decisions Thursday, the Flagler Beach City Commission voted to apply only a light regulatory hand on the city's famed farmer's market, and to start negotiations on buying the last remaining enclave in private hands at the former Ocean Palm Golf Club at the south end of town.
Greg Lynn Jewelers, Sharps Liquor and Hess in Palm Coast and Bunnell Targets of Burglaries: No entry was made into Sharps, but at the jewelry store, thieves took approximately $6,000 in jewelry. An ATM ansd cigarette cartons were stolen from the Hess on U.S. 1.
4-Year-Old Palm Coast Boy Critical After He's Found Unresponsive in Locked Van in Driveway: The boy was found in a vehicle in front of the house, and may have been there "for up to an hour," a sheriff's spokesman said. Temperatures had rose into the 90s that afternoon. Sgt. Michael Van Buren, an 18-year veteran of the force, conducted cardiopulmonary resuscitation on the child before Flagler County Fire Rescue and Palm Coast Fire Department rescuers arrived.
Former Flagler County Sheriff Don Fleming set to run again: The News-Journal's Tony Holt reports on the widely expected decision by Fleming, who lost to current Sheriff Jim Manfre in 2012, to run again in 2016 as a Republican. (Story paywall protected.)
Flagler County boaters looking for closest ocean access brave changing sands: The Matanzas Inlet is the closest ocean access for Flagler County recreational boaters, but it's not an easy navigation, and sands nearby make the job more difficult, reports News 13.
Signature Crop Loses Its Juice as Florida's Orange Production Falls to New Low: The final report of the growing season by the National Agricultural Statistics Service of the U.S. Department of Agriculture put Florida orange production for the 2014-15 season at 96.7 million boxes, a drop of 4 percent from last year.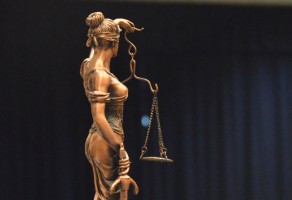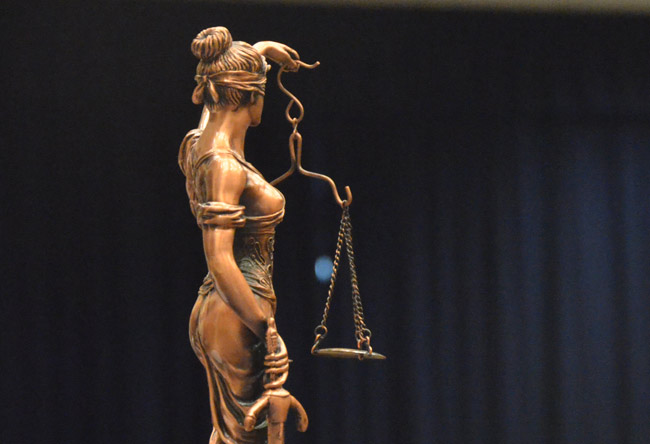 In Court:
County Judge Melissa Moore-Stens hears numerous juvenile cases starting at 9 a.m. in Courtroom 404. Circuit Judge J. David Walsh hears a possible plea from two individuals facing drug and grand theft charges at 9 a.m. in Courtroom 401. Circuit Judge Michael Orfinger has non-jury trials in Courtroom 301 starting at 8:30 a.m.
A foreclosure sale is scheduled for 11 a.m. in the civil department lobby.

Note: Most proceedings below can be followed live on the Florida Channel.

Gov. Rick Scott makes almost-daily appearances across the state to talk about job growth. But the scorecard for the state will come out Friday, as June unemployment figures are released. Also during the coming week, the 1st District Court of Appeal will hear arguments in a case about whether guns should be allowed in residence halls and other University of Florida housing.
The Veterans Florida Board of Directors meets to discuss issues such as a marketing campaign. Lawmakers last year created the program to help encourage veterans and military families to move to the state and to promote veterans' hiring and education. (8 a.m., CareerSource Okaloosa Walton, 409 Racetrack Road N.E., Fort Walton Beach.)
The Social Services Estimating Conference will analyze caseloads and expenditures in the state's welfare program. (9:30 a.m.)
The Revenue Estimating Conference considers a series of issues, including what is known as a general-revenue "outlook" after the legislative session. (1:30 p.m.)
State Chief Financial Officer Jeff Atwater is scheduled to appear at a Palm Beach County "summer social" event. (5:30 p.m., Frigates Waterfront Bar & Grill, 400 U.S. 1, North Palm Beach.)

Voting rights: A federal trials begins in North Carolina to determine whether voter-ID laws, such as photo ID requirements, shorter early voting schedules, an end to same-day registration and the scrapping of a pre-registration program for high school students were legal measures. The Republican-controlled legislature passed all those restrictions in 2013.
Wisconsin Gov. Scott Walker joins the 2016 presidential race, the 15th Republican candidate, more or less, to do so.
Tour de France: Today is a rest day. The cyclists are in Pau. The website here.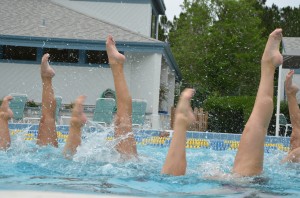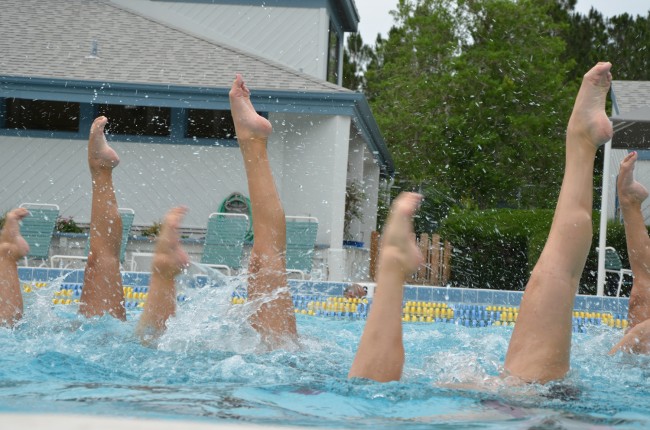 Synchro Belles Finish Strong at 2015 U.S. Junior Olympics: Nineteen members of the Flagler County Synchro Belles (FCSB) Synchronized Swim Team recently attended the 2015 U.S. Junior Olympics in Greensboro, NC. The U.S. Junior Olympics, presented by eSynchro and USA Synchro, is considered to be the premier event for synchronized swimmers across the nation. Synchronized swimmers from age groups 12 and under on up to 18 years of age can compete in team routines, duets solos and figures. The Synchro Belles had seven routines that qualified for the Junior Olympics. They competed with over 1,000 athletes from across the Nation. The 16-19 Age Group brought home a Silver Medal for the Combo Routine. Team members: Yasmin Daiha, Cassandra Gubala, Elyse Hinman, Alexandra McMillin, Paige Areizaga, Samile Daiha, Megan Lake, Chiara Longo, Alyssa Trent and Victoria Woroniecki. Cassandra Gubala and Alexandra McMillin came in fourth place with their Duet in the 16-17 Age Group. The 13-15 Age Group Team came in 8th place in the Nation; team members are Paige Areizaga, Samile Daiha, Elyse Hinman, Megan Lake, Chiara Longo, Alyssa Trent, Victoria Woroniecki, with Sophia Alverez and Grace Weed as Alternates. Victoria Woroniecki came in 7th place with her 13-15 Age Group Solo. Victoria Woroniecki and Samile Daiha placed 6th for 13-15 Age Group Duet. Paige Areizaga and Alyssa Trent placed 19th for 13-15 Age Group Duet. The 12 and Under Age Group Team came in 18th place. Team members are: Alex Alvarado, Rachel Lee, Isabella Lojewski, Sarah Morris, and Ella Steinwehr. Synchronized Swimming has been an Olympic Sport since the 1984 Summer Olympics. It is a demanding sport that requires advanced water skills, strength, endurance, flexibility, grace, artistry, precise timing and breath control. The Synchro Belles practice at Belle Terre Swim and Racquet Club in Palm Coast, the head coach, Isabella Vasconcellos, founded the team in 2000. The Belles are a nationally ranked competitive team with members ranging in age 6 to17 years of age. For more information about the Belles and upcoming Synchro Camps, contact [email protected].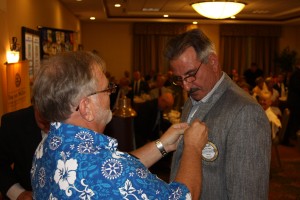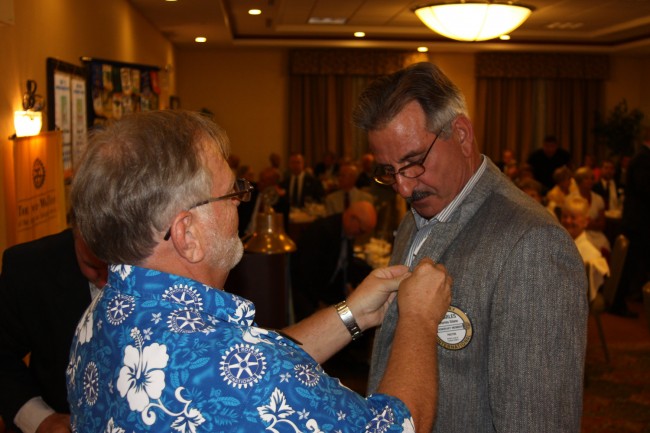 Pastor Silano to be Recognized as Outstanding Community Leader: The Northeast Florida Community Action Agency, a local nonprofit, will host its second annual Awards and Recognition Luncheon on Thursday, July 23, 2015 at noon at the Hyatt Regency Jacksonville Riverfront. The Awards and Recognition Luncheon will highlight NFCAA's positive impact on low-income communities and also pay tribute to the community partners that helped the agency accomplish its mission, publicly recognize our staff for exemplary performance and honor our customers who became self-sufficient. Pastor Charles Silano, a Flagler County resident, will receive the Outstanding Community Leadership Award. Silano is a compassionate individual dedicated to improving the lives of low-income individuals in Flagler County. In 1998, Silano founded Grace Tabernacle Ministries International. Shortly afterward, the Grace Community Food Pantry was born. The primary objective is to provide food to families and individuals in need. The pantry also provides clothing, limited financial assistance, and helps coordinate other social services. Silano's reputation for outreach led to an unplanned role in the Feed Flagler initiative. Thanks to his input, Feed Flagler was later expanded from one location to about a dozen, and hundreds of bags of groceries are now delivered directly to the homes of those in need. Silano is also a co-founder of an event called "Access Flagler," a semi-monthly event that offers free food, clothes, health screenings, haircuts and more to members of the community. Most recently, Silano created a faith-based jail-diversion and addiction-recovery program called Open Door Recovery, designed to help individuals get their lives back together after they have been convicted of or charged with a crime or released from jail, though that program has faced litigation in federal court over zoning issues in Bunnell, as the city has opposed its presence on Booe Street. Individuals interested in purchasing tickets to attend the luncheon and support Pastor Silano should contact NFCAA's corporate office at 904-398-7472 before July 17, 2015.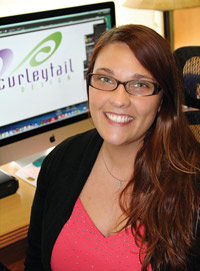 Curley Tail Design Adds Local Graphic Designer: Kim Fitzgerald, creative director and owner of Curley Tail Design Inc., announced that they have added Jessica Kilday as a Graphic Designer. "We have been in our new location for just about one year and have been busy," said Fitzgerald. "Jessica is going to be a great asset to us in continuing to provide timely and professional branding and design services by utilizing local talent," she added. Jessica studied Advertising Art at L.A. Wilson Technological Center (BOCES) in Long Island, NY. She then went on to Farmingdale State College and received a Bachelor of Technology in Visual Communications. She has 10 years of graphic design experience and likes using her creativity to create advertising/marketing/branding campaigns for clients. Jessica's duties will include creating print media and advertising designs for ads, brochures, flyers, posters, stationary, business cards, postcards, mailers, and more. Curley Tail Design is a full-service advertising agency founded in 1998. Last year, they moved into Palm Coast's Town Center and are located at 145 City Place, Suite 303, Palm Coast, FL. They can be reached via phone at 386-446-7426, or online at www.curleytaildesign.com, or www.facebook.com/curleytaildesign.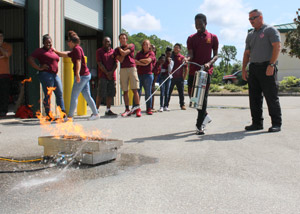 'Data Busters' visit Flagler County Fire Rescue: Local high school students participating in the Northeast Florida Community Action Agency's "Data Busters" program visited Flagler County Fire Rescue to learn about the department, and to learn how to properly use a fire extinguisher. I'm going to show you how to use these fire extinguishers and while I wouldn't discourage you from putting out a small fire, you should really call 9-1-1," Fire Marshal Joe King said on Friday. "We'd rather show up and have the fire out, leaving us nothing to do, than to have you wait until the fire is out of control before you call us." Fifteen students listened carefully to his instructions before heading outside to put their classroom knowledge into action. There are five steps (PPASS) to using a fire extinguishers: "pull" the ring or pin that prevents accidentally pulling the trigger; "purge," or test the extinguisher before walking up to the fire; "aim" starting low at the bottom of the fire; "squeeze" the trigger; and "sweep" the nozzle back and forth. "You want to be 6 to 8 feet away," King said. "Don't corner yourself and back away from the fire; never turn your back on it. If the smoke is making you cough, the fire is definitely too big to try to put out by yourself."       Patricia Cain, a family service specialist, and Donna Schwarz, her assistant, said the Data Busters program is offered through Daytona State College. During the six-week program, students have classes on Monday and Wednesday to learn the Microsoft Suite programs, including Excel and PowerPoint. The students work on Tuesdays and Thursdays, with some having jobs at the Flagler County Public Schools, Flagler County Senior Services and Career Source among other locations. "They really get some good skills in this program," Schwarz said.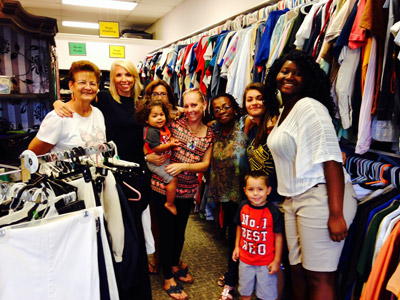 Tickets Still Available for Emmanuel's Closet 1st Annual Fundraiser: Emmanuel's Closet still have some tickets left for their first annual Flagler Fashion Show on Wednesday, July 22nd. The event will be from 6:00 p.m. to 9:00 p.m. at the Italian American Club located at 45 Old Kings Road N. in Palm Coast. The fundraising event includes dinner, dessert, raffles, a silent auction, dancing, photos and other activities. Dinner tickets are $50 and all proceeds benefit Emmanuel's Closet, a local mission that helps clothe Flagler children and families in need. Models will be wearing fashions from Chez Jacqueline of Palm Coast and from Emmanuel's Closet. "Our first fundraiser is already off to a terrific start thanks to our volunteer family and our local business owners who are showing an overwhelming amount of support for this mission" said Brandi Fowler, founder of Emmanuel's Closet. "We encourage everyone to come out to the show. Together we can make a difference in Flagler County" she added. Many local businesses are showing their support by sponsoring the show. The main event sponsors include the original family from Parkview that donated the funds to allow the mission to move to it's current permanent location, Alliance Financial Partners,  and Parkview Baptist Church.  Other local show sponsors include CurleyTail Design Co., Chez Jacqueline, Whitley Builders, Paradise Landscaping, Gerling Travel, Kohl's Cares, Brenda Bray CPA, Palm Coast Ford, Craig-Flagler Palms Funeral Home, and The Palm Coast Observer. Even local groups such as the Flagler Beach Rotary Club are coming together to show support for local children in need. One sponsor, Key Auto, is sponsoring from Jacksonville. "Model sponsorships, raffle items and silent auction items are also being offered from dozens of local business owners in our County. We are so grateful for everyone's support. It's truly a team effort." Fowler said. Tickets are still available and can be purchased by emailing [email protected]. Sponsor opportunities are also available, and range from $15 to $2,000. For more information contact [email protected] and view the event on Facebook at https://www.facebook.com/events/1416065075384168/ Emmanuel's Closet was opened in 2012. They provide free clothing and basic necessities to children ages 0-18 years of age, single mothers, families in need of a hand up, seniors, and even homeless men and women in Flagler County. Clothing is donated from local families in Flagler County and then redistributed to other local families who need a hand up. This mission assists over 13,000 people per year in our county. They're open to the public on the second and fourth Saturdays of each month from 10 a.m.-1 p.m. and by appointment only on Wednesdays. For a private appointment, or to view their calendar, please visit their website at www.emmanuelsclosetpalmcoast.com.
Halifax OBGYN Adding New Doctor to Their Team: Halifax OBGYN Associates (HOGA) is pleased to announce they are adding a new physician, Dr. Patricia Esquivel, to their team.  The office is scheduling appointments for Dr. Esquivel starting August 17th. Dr. Esquivel is a graduate of the University of South Florida College of Medicine in Tampa.  She completed her residency in Obstetrics and Gynecology at the University of Florida in Jacksonville.  After completing her residency training, she stayed on as Staff Physician and Assistant Professor, working both at University of Florida Health and Orange Park Medical Center.  Dr. Esquivel is originally from the Miami area and speaks fluent Spanish. Dr. Esquivel trained with one of HOGA's current doctors, Dr. Marjorie Bhogal.  It was Dr. Bhogal who encouraged Dr. Esquivel to join HOGA's team. Dr. Esquivel is looking forward to relocating to the Daytona Beach area.  She will be moving with her husband and her two daughters. "We are excited to add Dr. Patricia Esquivel to our HOGA family," said Dr. Pamela Carbiener. "Our practice is contiuing to grow and we look forward to providing care to women in Volusia County and beyond." Halifax OBGYN Associates is located at 1890 LPGA Blvd, Suite 160 in Daytona Beach, FL, and is open Monday through Thursday from 8:00 am – 5:00 pm, and Friday from 8:00 am – 2:30 pm. The office can be reached at 386-252-4701 or online at http://halifaxobgyn.com/ or https://www.facebook.com/HalifaxOBGYN.
17th Annual Dinner Celebration & Auction Honors Judge Joseph G. Will: The Stewart Marchman-Act Foundation held their 17th Annual Dinner Celebration and Auction fundraiser July 2nd at the Daytona 500 Club at the Daytona International Speedway, honoring  Judge Joseph G. Will. Judge Will presides over adult drug court in Daytona Beach and DeLand, and also hears Baker and Marchman Act cases. This year's theme was a "Southern Summer Picnic" and the event raised more than $137,000 net, through sponsorships, ticket sales, a live auction and a $50,000 donation from the Volusia County Sheriff's office. Auction items included fast laps with Carl Edwards, which raised $2,200, and a rag quilt handmade by the women of WARM at the Vince Carter Sanctuary, which raised $2,500. Proceeds will be used to support the future Huger Adolescent Campus Project. The goal is to raise $500,000 to fund the project. "We are responding to a clear and growing need for a full-service adolescent campus for youth in Volusia and surrounding counties," said Carolyn Sentelik, Stewart Marchman-Act Foundation Executive Director. "The Huger Adolescent Campus will provide behavioral health services, including residential treatment for substance abuse, and respite from dangerous or unhealthy home situations." The campus will also provide shelter for runaways. Before becoming a judge, Joseph G. Will was a board certified civil trial lawyer. Judge Will has an undergraduate degree from Florida State University and a Juris Doctorate from the Cumberland School of Law. Judge Will was appointed in 1991, and has presided over every division in the circuit court. The Title Sponsor was Brown & Brown Insurance and the event drew around 375. Checkered Flag Sponsors were Bright House, DEX Imaging, NASCAR, and the Volusia County Sheriff's Office. Donations are still being accepted via their website at http://www.smafoundation.com. Stewart-Marchman-Act Foundation is a 501(c)3 corporation and is eligible for tax-exempt contributions by the US Internal Revenue Service. They accept cash donations, stocks and securities, as well as land and property. They can be found online at http://www.smafoundation.com or reached via telephone at 386-254-1136.
Daytona Beach Bandshell presents Dustin Seymour's Birthday Bash: FREE family-friendly, concert on Friday, July 17 showcasing Dustin Seymour's Birthday Bash from 8–9:30 p.m. AND Johnny Reed Foley from 7-7:45 p.m. Get ready for some Country Soul as Dustin Seymour takes the stage. Dustin has been singing since the age of 2 when he would watch his dad and his gospel group 'The Jeremiah Singers' perform at churches around the southeast. He started performing at the age of 7, and began singing professionally at the age of 10. Since then he has had the honor of singing with the likes of Alan Jackson, Dolly Parton and the Oak Ridge Boys. Following the path of artists like Ronnie Milsap, James Otto, Conway Twitty and Lee Greenwood, Dustin has become a maker and performer of what he calls Country Soul. Food, beer and beverages will be available for purchase at the Bandshell. Chairs will be available to rent, and please, no coolers allowed. Parking is available at the Ocean Center garage and surface lots. You can enter the Bandshell through the Ocean Walk Village on AIA or the overpass from the parking garage. For further information, please contact Helen Riger at 386-671-8252 or [email protected], or go to www.DaytonaBandshell.com.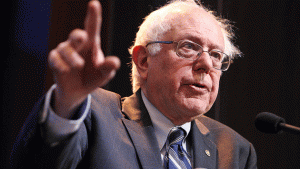 The Bernie Sanders Moment: Todd Gitlin in the Times: "In Mr. Sanders's run — and in the absence of a White House bid from Senator Elizabeth Warren — progressives have found a candidate they can support wholeheartedly. […] That is the secret of Mr. Sanders's style of politics, once called "municipal socialism." It's the '60s reformist impulse without countercultural baggage. It's the kind of square that needed time to become hip. It's a moralistic politics that takes seriously the democratic proposition that elected officials must deliver results. […] Is he a generational candidate, then, seizing the spotlight to vindicate fellow '60s-era radicals who may have felt their moment was gone? Yes and no. His enthusiasts cut across age lines. Tim Ashe, a Vermont state senator who got his political start working for Mr. Sanders, is 38. He has met 20-somethings and 40-somethings who say they moved to Vermont because of Mr. Sanders's appeal — not in order to vote for him, but to live in a place that would elect him. The Howard Dean of 2004, a far more moderate Vermont immigrant, was for some a first hurrah in national politics. Now Mr. Sanders is the purer vintage."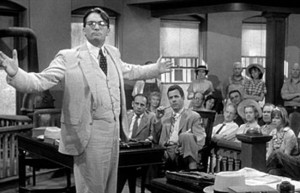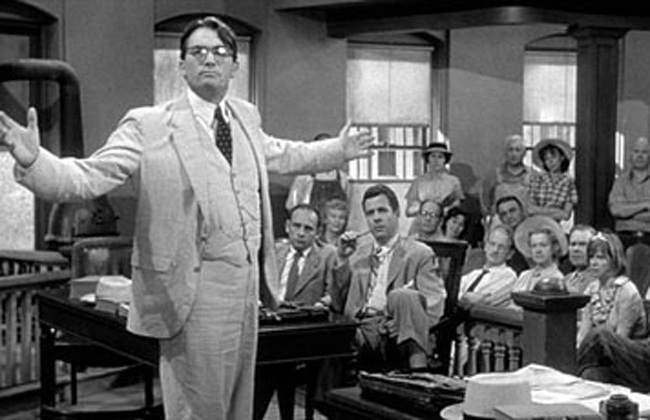 While Some Are Shocked by 'Go Set a Watchman,' Others Find Nuance in a Bigoted Atticus Finch: "Atticus Finch — the crusading lawyer of "To Kill a Mockingbird," whose principled fight against racism and inequality inspired generations of readers — is depicted in "Watchman" as an aging racist who has attended a Ku Klux Klan meeting, holds negative views about African-Americans and denounces desegregation efforts. "Do you want Negroes by the carload in our schools and churches and theaters? Do you want them in our world?" Atticus asks his daughter, Jean Louise (the adult Scout), in "Watchman." The revelation will probably alter readers' views of "Mockingbird," a beloved book that has sold more than 40 million copies globally and has become a staple of high school curriculums. It could also reshape Ms. Lee's legacy, which until now has hinged entirely on the outsize success of her only novel, published 55 years ago. […] " 'Go Set a Watchman' is much more forcefully about civil rights. It's much more political, but that tells us what was in front of Harper Lee's brain at the time," said Mary McDonagh Murphy, a filmmaker who recently released a new version of "Hey, Boo," her documentary about Harper Lee. When she submitted the novel nearly 60 years ago, Ms. Lee was told to rewrite the book from young Scout's perspective and to turn it into a coming-of-age story. "My editor, who was taken by the flashbacks to Scout's childhood, persuaded me to write a novel from the point of view of the young Scout," Ms. Lee said in a statement. "I was a first-time writer, so I did as I was told," Ms. Lee said in a statement that was released by her publisher in February. Ms. Lee wrote "Watchman" when, like Jean Louise, she was living in New York and occasionally traveling home to Alabama to visit her aging father, the lawyer A. C. Lee, who is commonly cited as the model for Atticus in "Mockingbird." In letters she wrote at the time to a friend in New York, she describes feeling unmoored by his physical decline and impending death ("I found myself staring at his handsome old face, and a sudden wave of panic flashed through me"). […] Ms. Lee's publisher, HarperCollins, said there was never a discussion of toning down Atticus's racist remarks to preserve his moral image. "Harper Lee wanted to have the novel published exactly as it was written, without editorial intervention," Jonathan Burnham, the publisher of the HarperCollins imprint Harper, wrote in an email message. "By confronting these challenging and complex issues at the height of the civil rights movement, the young Harper Lee demonstrated an honesty and bravery that makes this work both a powerful document of its time and a compelling piece of literature." Karla FC Holloway, a professor of English and law at Duke University who teaches a class on law, race and literature, said that the new version of Atticus may lead people to reread "Mockingbird" more closely." From The Times.
Florida ports dig deep to draw bigger ships and create jobs: "Port Everglades just got approval — 18 years in the making — for a federally funded dredging project. PortMiami already has dug its harbor down to 50 feet to attract a new generation of super-sized cargo ships. The Port Of Palm Beach also plans to expand. But the port has run into fierce opposition from nearby residents and environmentalists who fear the impact of a dredging project that would bring more and bigger ships through the Lake Worth Inlet. All of Florida's ports hope to benefit from increased trade, as a growing middle class in emerging nations demands more imported goods. […] Florida's 15 deepwater seaports are economic engines for the state. Last year, they handled $86.8 billion in trade, or close to 100 million tons of goods, from bananas to clothes to gas — roughly 190 tons per minute. The ports also handled 15.6 million cruise passengers. Their operations supported 680,000 jobs, according to a May report from the Florida Ports Council. Labor strikes at ports along the West Coast this year already have prompted some shippers to shift routes to the East Coast through the Panama Canal." From the Orlando Sentinel.

Palm Coast Construction and Development Progress Reports:
The following is an update of ongoing construction and development projects in Palm Coast, through July 10:
Palm Coast Parkway Six-Laning is 82 percent done: Widening on the north side of the parkway continues and some paving and concrete curbing was completed. Landscape irrigation work continues. Utility connection tie-ins continues. Signage installation has begun. All the new water mains have now been installed and flushed. All pressure testing has passed and is ready for chlorination. Florida Department of Environmental Protection (FDEP) has accepted and has placed into service the 193 feet of new 12″ water main connecting to the new 16″ water main just west of Wendy's.
Royal Palms Parkway Improvements: Completed.
Holland Park, 22 percent done: Installation of storm water pipe continues.
Palm Coast City Hall at Town Center, 70 percent done: Installation of drywall on interior walls, mechanical duct work and VAV damper installation, electrical conduit rough-in and fire sprinkler piping are all 95% complete. Painting of exterior
walls continues. Paving of parking area started. Installation of wall tile in bathrooms is complete and floor tile in bathrooms
has begun. The sewer system has been televised and the concrete slab under the 4″ water meter and 6″ fire backflow assemblies has been placed.See ongoing images of construction here.
Colechester at College Waterway Bridge Rehabilitation Construction, 17 percent done: Outside bents and pilings have been repaired & painted. Sheet piles were delivered. Demolition on east side seawall and sidewalk continues.
County's I-95 Interchange Matanzas Woods Reclaim Water, 20 percent done: A storm structure crossing the road was completed on the east side of I-95. Fill dirt continues being hauled in to raise the overpass and ramp areas. The city's portion of the project is also 20 percent done.
Palm Harbor Parkway Roadway Extension, 6 percent done: Contractor working on submittals and coordinating utility work with FPL & ATT.
Island Walk Shopping Center Phase 1, 90 percent done: A manhole was installed in front of the Island Doctors building. A 6″ fire line with backflow preventer was installed behind building on west end of project.
Shops at Pine Lakes Convenience Store, 88 percent done: Work on parking and drive thru areas continues. Water meters and backflows have been installed.
Walmart Addition, 30 percent done: A new Grease Interceptor has been installed replacing the old one outside the new building addition.
Old Kings Road Utilities Work, 85 percent done: Pressure testing of new water main has passed.

Road and Interstate Construction: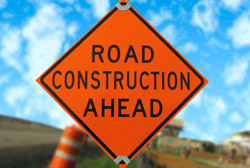 Palm Coast:
Matanzas Woods Parkway closed: Matanzas Woods Parkway is closed until early August for construction of the Interstate 95 interchange. The portion of Matanzas Woods Parkway that spans I-95 will be reconstructed to accommodate four single-lane ramps for on and off access to the interstate. Other improvements include the widening of the interstate to accommodate new acceleration and deceleration lanes, wet detention ponds adjacent to the roadway, sidewalks, lighting, overhead signs and landscaping. Project details are available and regularly updated at http://www.matanzas95interchange.com. The detour map is available here.
Palm Coast Parkway between Cypress Point Parkway and Florida Park Drive. IMPACTS: Lane shifts and closures will occur and this may cause traffic congestion on this already busy roadway. Most construction work will occur between 9 p.m. and 7 a.m. though weather and unforeseen issues may adjust the schedules. This project will be complete by December 2015."
Flagler County Road 302 is Closed to all but local traffic as repaving began on June 7 and the roadway will be closed to all but local traffic. Others will be required to detour around County Road 302 using State Road 100. The roadway will be closed for 90 days, or until early September.
Palm Coast's Colechester Lane bridge to be closed July 7 through Sept. 4: Palm Coast – Motorists and other travelers are advised that the Colechester Lane bridge will be closed to all traffic from July 7 through Sept. 4 while the bridge is rebuilt. A detour will be established taking travelers over the Colorado Drive bridge instead. Signs will be posted directing motorists to the Colorado Drive bridge. The City of Palm Coast strives for safe construction zones. The City asks for the cooperation and patience of residents as this important bridge improvement project is completed. For more information, contact Palm Coast Customer Service at 386-986-2360.
Volusia: I-4 Widening from SR 44 to east of I-95, Monday and Friday, 7:00 a.m. – 5:00 p.m., Eastbound/Westbound shoulder closing. Sunday through Thursday, Eastbound and Westbound lane closures as needed from 8 p.m. to 6 a.m. Thursday, 9:00 p.m. – 5:30 a.m. EB road closure between Canal St./SR 44 and I-95 with detour at US 92 exit ramp.Motorists should be aware of traffic shifts near Canal St./SR 44.
County Road 304 Project Map and Description

Click on the links for more details:
All Summer: Free Breakfast and Lunch for All Flagler County Children Through Seamless Summer Freeding
All Summer: Flagler Sheriff's Police Athletic League (P.A.L.) Offers Free Summer Activities for Youth .
July 15: Ribbon-cutting to mark the opening of new camp sites at Gamble Rogers Memorial State Recreation Area at Flagler Beach, 10 a.m.
July 17: Daytona Beach Bandshell presents Dustin Seymour's Birthday Bash: Free family-friendly concert on showcasing Dustin Seymour's Birthday Bash from 8–9:30 p.m. and Johnny Reed Foley from 7-7:45 p.m.
July 18: Gargiulo Art Foundation and Salvo Art presents Art in Public Places: from 7 p.m., with musical guest Jake Cox. Featuring open studios and new works by Andy Sovia, Karlene McDonnell, Vanessa B. Cruz, and Violet Skipp Haffner. Live music, wine and hors d'oeuvres. $10 entry fee. Kiddos free. Salvo Art at Nature Scapes, 313 Old Brick Road, Bunnell. Parking available at Marvin's Garden in the back right corner with bridge access to the gallery.
July 22: Emmanuel's Closet Fund-Raising Dinner and Fashion Show, from 6 to 9 p.m. at the Italian American Club at 45 Old Kings Road N. in Palm Coast. Includes dinner, dessert, raffles, a silent auction, dancing, photos and other activities.
July 23: Pastor Charles Silano will be recognized as Outstanding Community Leader at the Northeast Florida Community Action Agency, a local nonprofit, in a luncheon at noon at the Hyatt Regency Jacksonville Riverfront.

Comment of the Day (From the Comment Section):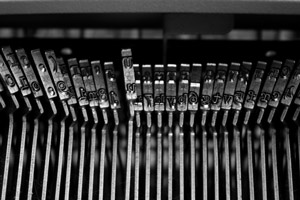 Brad W, in "In Flagler Beach, Lighter Rules for Farmers' Market and 2-Week Limit on Golf Course Buy": "The golf course is an interesting situation that I doubt will turn into what those Council Members are thinking will happen. It is not the same as leasing the pier restaurant building. If they are expecting a company to come in a create a golf course there (which is what needs to happen after all this time has past), that's very expensive and very risky and much more risky than a restaurant with an ocean view. I agree that the City should purchase, own, and protect the land; but I don't think they are going to see someone creating a golf course on a parcel of land they don't own. Now that being owned by someone and set up as a 9-hole executive for regular golf and foot golf with a driving range has potential. But I wouldn't do it if I didn't own the land." Reply to Brad W here.

Cultural Coda: