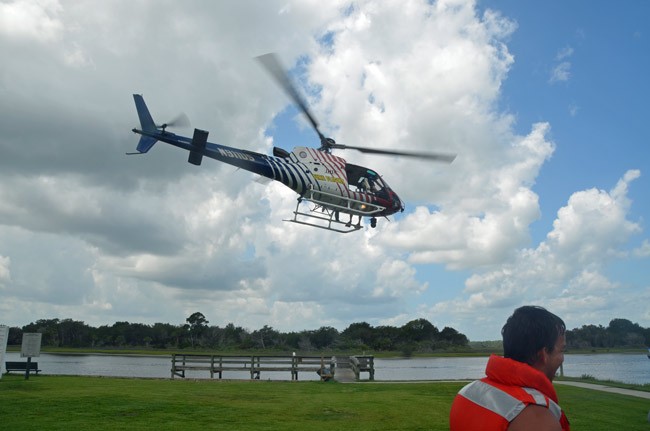 Today's weather: Cloudy, high in upper 70s, low 65. Details here.
Today's fire danger is Moderate. Flagler County's Drought Index is at 309
The weather in Vientiane, Laos: foggy, in the upper 70s, low of 69. Details.
The Live Community Calendar
Today's jail bookings.
In Flagler and Palm Coast:
Spring Break: Flagler County schools are closed for students this week.
Friends of A1A Scenic and Historic Coastal Byway are meeting today for their monthly meeting to discuss an upcoming environmental education fair and volunteer opportunities at a series of coming events. The group is chaired by Danielle Anderson. The agenda is available here.
Center for the Visually Impaired: Members of the Palm Coast City Council and other local elected officials have been invited to attend a tour provided by the Center for the Visually Impaired. This tour will be held at the Palm Coast Community Center and is open to the public. The Community Center is located at 305 Palm Coast Pkwy. NE. "The Center for the Visually Impaired is a wonderful organization that truly changes the lives of people who are blind," Jessica Melakian, Outreach Coordinator for the Center of the Visually Impaired says. "CVI has been around for 25 years in this area and we have helped thousands of people change their lives. We teach them to overcome vision loss and help them to become happy and productive again. This year we began serving blind children. We work with the Flagler County school system to provide training to blind children. We also serve senior citizens as well as working age adults with vision loss." The CVI has started conducting community outreach "tours" of its organization. The tour is 45 minutes, and attendees will hear amazing stories from their clients. "Please set aside less than an hour of your time to join us and learn about our services for the residents of Flagler," Melakian said. For more information, please call Cindi Lane, Communications & Marketing Manager, at 386-986-3708. (11 a.m., Palm Coast Community Center.)
Flagler County Fire Rescue: Flagler County Fire Rescue's marine rescue team will be practicing ocean rescue techniques on Thursday at Malacompra Road (north of 16th Road) at the beach. A Wednesday session was cancelled. A dozen rescuers will take part in the practice utilizing both the county's jet ski and FireFlight helicopter. "Rescue swimmers will deploy from the helicopter and will be assisted by the Fire Rescue water craft creating both dynamic and realistic training," said Fire Rescue Chief Don Petito. "The water is cold and rough, and the team will continue to train even if it's raining. We've made rescues in this type of weather before." The marine rescue team formed five years ago. Twenty-seven members of Flagler County Fire Rescue are certified for the team.
The Flagler County Commission, or a majority of its members, are heading to Tallahassee this week for Thursday's Legislative Day hosted by the Florida Association of Counties. Commissioners George Hanns, Nate McLaughlin and Barbara Revels will attend as well as Deputy County Administrator Sally Sherman. The Florida Association of Counties hosts Legislative Day each year during the height of the Legislative Session. Despite the title, the event is held Wednesday through Friday. Commissioners and staff will lobby for Flagler County's top legislative priorities: drainage of the Malacompra Basin, more money for the Florida Agricultural Museum, money for the old courthouse renovation, shore protection or renourishment, a Westside Drainage Master Plan, and help contending with the decrepit Plantation Bay Utility. More information about the 2015 Legislative Priorities is available here.
In Court:
Foreclosure sale: The Flagler County Clerk is holding a foreclosure sale, with six properties on the block, at 11 a.m. in the civil department's lobby.
At the Florida Legislature:
Budget: The Senate Appropriations Committee takes up the Senate's proposed $80.4 billion budget for the fiscal year starting July 1. The budget, with any changes made by the committee, will then be prepared to go to the Senate floor. (9 a.m.)
–Compiled in part with contributions from the News Service of Florida

Road and Interstate Construction:
Flagler County: County Road 305 between CR 2006 and Tangerine. IMPACTS: Closure in force 3/17/2015 for the 2nd box culvert replacement. Detours detour via CR 110 to CR 95 to CR 2006. Truck Detour via Bunnell (SR 100 – SR 11)
Palm Coast: Palm Coast Parkway between Cypress Point Parkway and Florida Park Drive. IMPACTS: Lane shifts and closures will occur and this may cause traffic congestion on this already busy roadway. Most construction work will occur between 9 p.m. and 7 a.m. though weather and unforeseen issues may adjust the schedules. This project will be complete by December 2015.
I-4 in Volusia: I-4 Widening from SR 44 to east of I-95, Monday & Friday 7 a.m. to 5 p.m., EB/WB outside shoulder closures from SR 44 to I-95. Monday – Thursday 8 p.m. – 6 a.m. EB/WB intermittent lane closures.
I-95 in Volusia: I-95 widening from SR 406 to SR 44, Monday through Friday 7 a.m. to 4 p.m. EB/WB single lane closures on Maytown Road and Indian River Blvd./SR 442 at I-95 overpass.
County Road 304 Project Map and Description

In the Press:
Poll confirms Florida up for grabs in 2016 presidential contest: "The numbers show Florida effectively is tied between Clinton and former Gov. Jeb Bush or U.S. Sen. Marco Rubio if they're the Republican nominees. Public Policy Polling said Clinton would receive 47 percent and Bush 44 percent. In a Clinton-Rubio matchup, she'd get 48 percent and he'd get 46 percent in Florida. The survey of 923 registered Florida voters from March 19 to 22 has a margin of error of plus or minus 3 percentage points — which means Clinton and the Republicans effectively are tied. […] Public Policy Polling leans Democratic and doesn't use live callers, which are the gold standard in polling, for its surveys. It relies mostly on automated calls, which don't reach the increasing number of people who don't have landline phones. In the latest survey, PPP got 80 percent of the results from phone calls and 20 percent over the Internet to get cell-only respondents." From the Sun-Sentinel.
Florida education leaders raise more testing concerns: "In a draft document circulating through district offices, the Florida Association for District School Superintendents raises six "serious concerns" that it wants state leaders to consider. The issues coincide with some of the validity questions discussed by national experts in the aftermath of students' widespread problems logging in and finishing the Florida Standards Assessment exam. […] A Collier School Board member, who's treasurer of the fledgling conservative Florida Coalition of School Board Members, issued a white paper on Tuesday suggesting that lawmakers need to go further than what's currently proposed." Read the paper. From the Tampa Bay Times.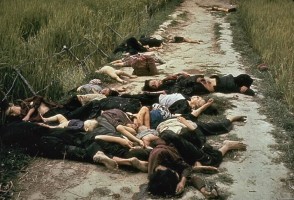 The Scene of the Crime: Seymour Hersch Returns to the Site of the My Lai Massacre: "Tere is a long ditch in the village of My Lai. On the morning of March 16, 1968, it was crowded with the bodies of the dead—dozens of women, children, and old people, all gunned down by young American soldiers. Now, forty-seven years later, the ditch at My Lai seems wider than I remember from the news photographs of the slaughter: erosion and time doing their work. During the Vietnam War, there was a rice paddy nearby, but it has been paved over to make My Lai more accessible to the thousands of tourists who come each year to wander past the modest markers describing the terrible event. The My Lai massacre was a pivotal moment in that misbegotten war: an American contingent of about a hundred soldiers, known as Charlie Company, having received poor intelligence, and thinking that they would encounter Vietcong troops or sympathizers, discovered only a peaceful village at breakfast. Nevertheless, the soldiers of Charlie Company raped women, burned houses, and turned their M-16s on the unarmed civilians of My Lai. Among the leaders of the assault was Lieutenant William L. Calley, a junior-college dropout from Miami. […] In testimony before an Army inquiry, some of the soldiers acknowledged being at the ditch but claimed that they had disobeyed Calley, who was ordering them to kill. They said that one of the main shooters, along with Calley himself, had been Private First Class Paul Meadlo. The truth remains elusive, but one G.I. described to me a moment that most of his fellow-soldiers, I later learned, remembered vividly. At Calley's order, Meadlo and others had fired round after round into the ditch and tossed in a few grenades. Then came a high-pitched whining, which grew louder as a two- or three-year-old boy, covered with mud and blood, crawled his way among the bodies and scrambled toward the rice paddy. His mother had likely protected him with her body. Calley saw what was happening and, according to the witnesses, ran after the child, dragged him back to the ditch, threw him in, and shot him. […] The [My Lai] museum's count, no longer in dispute, is five hundred and four victims, from two hundred and forty-seven families. Twenty-four families were obliterated—–three generations murdered, with no survivors. Among the dead were a hundred and eighty-two women, seventeen of them pregnant. A hundred and seventy-three children were executed, including fifty-six infants. Sixty older men died." From The New Yorker.