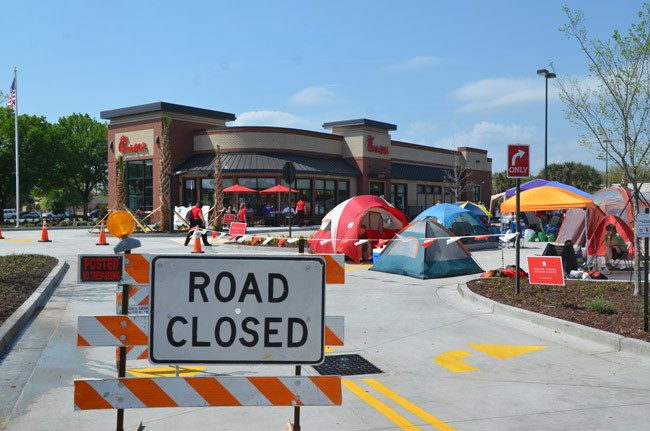 Today's weather: mild, cloudy, high of 77, overnight low of 63. Details here.
Today's weather in Vladivostok, Russia: high of 32.
Today's bookings at the Flagler County jail.
Flagler and Palm Coast:
The Flagler County Economic Opportunity Council holds its monthly meeting this morning. The nine-member council chaired by County Commissioner Barbara Revels will hear presentations from Matt Dunn, who heads the county's tourism operations through the county chamber of commerce, and Jason DeLorenzo, the Palm Coast City Council member, though DeLorenzo will be addressing the council in his role as the government affairs director of the Flagler Home Builders Association. (9 a.m. at the Government Services Building.)
The Palm Coast Civil War Round Table, meeting since January 2014, is holding a round table tonight, as it does every third Thursday of the month. It is the 11th Civil War Round Table in Florida. Talks address a wide range of topics relating to the Civil War in Florida and the Civil War in general. This months' speaker will be collector and editor Jeff Toalson of Williamsburg, Va., who since 2003 has been collecting "the 'voices' of farmers, housewives, privates, chaplains, nurses, clerks, nuns & riverboatmen to tell the story of 1864-1865 in the Confederacy," as he notes on his website. (6:30 p.m. at the Palm Coast Community Center. For information, email Grant Atkinson.)
In Court:
Circuit Judge J. David Walsh faces a full docket in drug court this morning–33 cases starting at 9:30 a.m. (see the docket here). Ten plea hearings will be held before Walsh at 1:30 p.m. and 24 plea hearings will be held before County Judge Melissa Moore-Stens starting at 1:30 p.m. (Walsh's courtroom is 401, Moore-Stens's is 404, at the Justice Center in Bunnell.)
At the Legislature:
Numerous education-related issues will go before several committees today.  The House Appropriations Committee coonsiders HB 19 (Rep. Greg Steube, R-Sarasota), that could allow designated people to carry weapons on public-school campuses. Those people could be current or former law enforcement officers or current or former members of the military. They would have to pass background checks, take school-safety courses and have concealed-weapons licenses. (3 p.m.) The House Education Committee will consider House Bill 665 (by Rep. George Moraitis, R-Fort Lauderdale), that would revise penalties for schools that fail to meet class-size requirements. (8 a.m.) The Senate Education Appropriations Subcommittee takes up SB 616 (Sen. John Legg, R-Lutz) that rolls back the number of exams students take in public schools. (9:30 a.m.).
Anti-Obama memorial:  The House State Affairs Committee will consider a memorial (HM 727), sponsored by Rep. Manny Diaz Jr., R-Hialeah, and Rep. Jeanette Nunez, R-Miami, that expresses disagreement with a move by President Obama to restore diplomatic relations with Cuba. (12:30 p.m.)
Abortion waiting period: The House Judiciary Committee takes up HB 633 (filed by Rep. Jennifer Sullivan, R-Mount Dora), that would require a 24-hour waiting period before women could have abortions. (12:30 p.m.)
–Based on News Service of Florida compilations.
The Florida Supreme Court releases opinions today at 11 a.m.

In the Press:
From coastlines to the Everglades, researchers tackle sea level rise: "Under the streets of Miami Beach, seeping up through the limestone, water creeps into storm drains and pours into the streets. It happens once a year when the sun and moon align in such a way that gravity pulls at Earth's water. The phenomenon is known as King Tide. It is the highest of high tides, and every year, it puts Miami Beach at risk of major flooding. FIU researchers were on-site during the latest King Tide event to collect and assess data. The efforts are part of a university-wide initiative to study, better understand and develop solutions for sea level rise. Plans are under way to create an institute dedicated to the interdisciplinary work being done at FIU, which includes collaboration among researchers from Arts & Sciences, Architecture and the Arts, Business, Law, Public Health and Social Work, Engineering, Hospitality and Tourism Management, as well as Journalism and Mass Communication. South Florida ranks as the world's most vulnerable urban region in terms of assets exposed to the effects of sea level rise. FIU's research is dedicated to developing and implementing solutions for the major environmental and economic challenges created by the rising seas. When King Tide arrived in October of 2014, all eyes were on Miami Beach and a new pump system that helped to keep the water off the streets—this time. But the manner in which the water traditionally invades is a stark reminder that when it comes to sea level rise, there is more to be concerned about than just the shoreline. The hidden danger is largely the water within. In South Florida's case, that means the Everglades." From phys.org.
Democrats seen, not heard, in Florida House: "Even though their numbers give them a third of the seats in the House, the Democrats are marginalized even further because of the super-majority that Republicans secured in November by flipping six seats. That's best represented by the number of bills Democrats are getting heard in committees. According to the office of Democratic Policy Chair Rep. Evan Jenne, D-Hollywood, only 41 Democratic bills have had a hearing, or 8.9 percent of the total 462 bills through the third week. Republicans have had 406 bills heard, or 87.9 percent. About 3.2 percent, or 15 of the bills, have been bi-partisan. Only one Democrat, Rep. Lori Berman of Lantana, has had any real success." From Michael Van Sickler at the Tampa Bay Times's Buzz.
Florida Film Festival in Orlando, April 10-19: 177 films in 10 days: "The 24th annual event will showcase 20 films with Florida connections, according to the lineup announced Wednesday at the Enzian theater in Maitland. Director Marc Silver's documentary "3 1/2 Minutes" examines the 2012 killing of a black teenager by a white man over loud music at a Jacksonville gas station. The film, which also studies Florida's "stand your ground" laws, won a special jury award at this year's Sundance Film Festival. […] The 177-film festival — with 57 features and 120 shorts — runs through April 19 at the Enzian and the Regal Cinema in Winter Park Village. Of those 57 features, 22 are documentaries. Fifty-five of the movies are directed by women, and 100 filmmakers will attend the event." From the Orlando Sentinel.
Let vile Netanyahu reign, just give us bread and circuses: Roy Isacowiitz writes in Haaretz: "It's hard to deny the justice of it all. Elephants don't fly, and a right-wing country doesn't elect a progressive and enlightened government. A government lead by Isaac Herzog would have been an aberration, but another Netanyahu administration certainly isn't. Democracy is when the majority of people get the government they want – and that is undeniably the case here. Israel will get the government it sees when it looks in the mirror every morning: ugly but familiar; tribal yet cosmopolitan; intolerant of others but extraordinarily self-forgiving; over-emotional, irascible and sanctimonious. A rational, reformist government was never on the cards – and it hasn't been for decades. The fact that so many of us allowed ourselves to be tempted into hope by the wayward polls says a lot more about human nature and Bibi-exhaustion than it does about an electorate that voted consistently. We should have known better. The best thing that can be said about the next government is that it won't be an unknown quantity. There will be no doubt regarding what Israel is and who is leading it. We have seen it all before." From Haaretz.