Today's Live Wire: Quick Links


Al jazeera America launches its all-news channel in the United States on Tuesday, Aug. 20, on DirecTV Channel 358 and DISH Channel 215. (Check local availability here. This is not the Al_Jazeera broadcasting in the Middle East, but a network specifically targeted at American audiences. From the Denver Post: "Journalists are excited, but some of the viewing public is more than a little wary of the latest entry in the field. Here comes a network with virtually unlimited resources, buying its way into the American TV news market, hiring award-winning journalists to fill its newsrooms, opening a dozen bureaus around the country, and launching with access to nearly 50 million cable/satellite households. And it's owned by Qatar. Al Jazeera, the network which paid $500 million to buy Current TV and land a place on American cable channels, is a mystery to many potential viewers. […] The goal is not to mimic CNN, MSNBC and Fox News (which reach 100 million households), but to offer more news and fewer shouting matches. Those of us who have streamed Al Jazeera English, a reliable online source during breaking-news stories, are eager to see what Al Jazeera America offers. (The staff call it AJAM to avoid confusion with Al Jazeera Arabic.)" And from The Times: "Fourteen hours of straight news every day. Hard-hitting documentaries. Correspondents in oft-overlooked corners of the country. And fewer commercials than any other news channel. It sounds like something a journalism professor would imagine. In actuality, it is Al Jazeera America, the culmination of a long-held dream among the leaders of Qatar, the Middle Eastern emirate that already reaches most of the rest of the world with its Arabic- and English-language news channels. The new channel, created specifically for consumers in the United States, will join cable and satellite lineups on Tuesday afternoon. Al Jazeera America is the most ambitious American television news venture since Rupert Murdoch and Roger Ailes started the Fox News Channel in 1996. It faces some of the same obstacles that Fox eventually glided over — including blanket skepticism about whether distributors, advertisers and viewers will give it a chance. But that is where the parallels to other channels end, because Al Jazeera America is going against the grain of seemingly every trend in television news. "Viewers will see a news channel unlike the others, as our programming proves Al Jazeera America will air fact-based, unbiased and in-depth news," said Ehab Al Shihabi, the channel's acting chief executive, on a news conference call last week. He was explicit about what will be different, saying, "There will be less opinion, less yelling and fewer celebrity sightings.""
See Also:

Juveniles Riot at Polk County Prison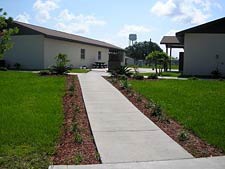 From The Ledger: "A riot broke out at an all-male Florida Department of Juvenile Justice facility in Avon Park on Saturday night that left 18 buildings damaged and caused hundreds of thousands of dollars in damage, according to the Polk County Sheriff's Office. The Avon Park Youth Academy is on 36 acres in unincorporated Polk County at the Avon Park Air Force Range off state Road 64 East. Officials said 138 boys between 16 and 18 years old were being housed at the academy. None escaped during the commotion. Seven boys were taken to Florida Hospital in Sebring with mostly minor injuries, including cuts, bruises and a concussion. […] The facility is maintained by the state Department of Juvenile Justice but the security employees are contracted through G4S, a private security company headquartered in Jupiter. By rule at the facility, none of the security personnel are allowed to carry any specialty equipment like pepper spray, according to the DJJ. […] About 8:30 p.m. Saturday, a group of five boys from St. Petersburg and a group of five boys from Orlando wagered three Cup O' Noodles soups on a basketball game. The team from St. Petersburg lost the game but then refused to pay. A fight broke out between the teams and other boys joined the conflict as it escalated into a riot, according to the Sheriff's Office. […] The rioters were subdued and restrained with plastic handcuffs as more than 150 law enforcement officers arrived at the academy. The damage was done though. Clothes and trash littered the streets of the complex, windows were smashed out, and the medical center was raided in an apparent search for drugs, according to the Sheriff's Office. Computers and refrigerators were turned into ruins. An office building that housed juvenile records was set on fire during the riot. [T]his was the first conflict of this scale at the academy, which opened in July 2003. She said it is one of the largest juvenile justice facilities in the state." The full story.
See Also:

A Shortage of Lethal Drugs for Executions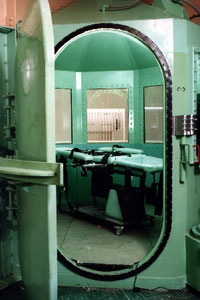 From the Times: "With manufacturers now refusing to supply corrections departments with the drugs they had been using for executions, some states, like Georgia, have been resorting to obtaining drugs from unregulated compounding pharmacies — specialty drugmakers — which death penalty opponents say lack the proper quality control. Other states, as they run low on their old stock of drugs and are unable to replace them, are turning to new, untried methods like propofol or simply announcing that they are searching for a solution. In the beginning, it was relatively simple and uniform. Several dozen states adopted the three-drug cocktail for executions first used by Texas three decades ago — a sedative (usually sodium thiopental) was mixed with a paralytic agent (pancuronium bromide) followed by a drug inducing cardiac arrest (potassium chloride). The idea was to provide a quick, painless method to replace the electric chair, gas chamber and firing squad. But a shortage of pancuronium bromide a few years ago led some states to switch to a single-drug method, often simply administering enough sodium thiopental to cause death. The manufacturer of that drug, however, the Illinois-based Hospira, stopped providing it to corrections departments after workers at its Italian plant, and European officials, objected to the use of the drug for executions. Many state corrections departments switched to pentobarbital, another powerful sedative, in their three-drug cocktail. But when its manufacturer, the Danish-based Lundbeck, learned that its product was being used in death penalty cases, it refused to sell any more to corrections departments and insisted that its American distributors also refuse to supply the drug. Then, just last month, a federal judge in Washington ruled that sodium thiopental could not be imported into the country at all, because it had never been approved by the federal Food and Drug Administration. (It had been introduced before such F.D.A. approvals began.) […] "This drug issue is a temporary problem that is entirely fixable," [said Kent Scheidegger, legal director of the Criminal Justice Legal Foundation, which supports the death penalty.] "It is not a long-term impediment to the resumption of capital punishment." Death penalty opponents, however, feel that the rejection of one drug after another will inevitably limit capital punishment. The full story.
See Also:

Gov. Rick Scott's Pay to Play Administration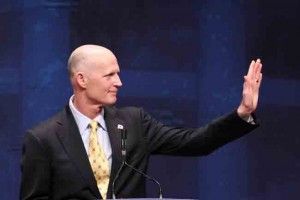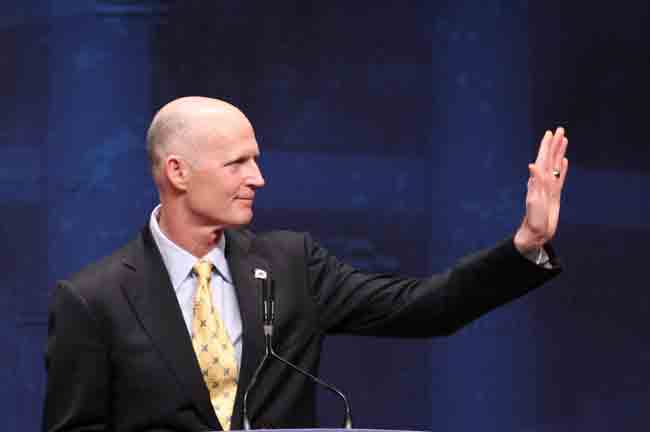 From a Tampa Bay Times editorial: "How do you turn a budget turkey into a peacock? Contributing at least $210,000 to Gov. Rick Scott's re-election effort does wonders. That's how much cash the governor received between vetoing state money for a Sarasota rowing center in 2011 and approving millions for the boondoggle he celebrated last week. The rowing center symbolizes Scott's transformation from a candidate who paid for his campaign himself to an incumbent who embraces Tallahassee's pay-to-play culture. […] Over the last two years, Scott has allowed $10 million in taxpayer money to flow to the rowing center. During the same period, Scott's "Let's Get To Work" committee received $125,000 in donations from Benderson Development, which owns the land for the rowing center. […] In addition to the $10 million in state money, the rowing center has received $19.5 million from Sarasota County and $1.5 million from Manatee County. Private donations are expected to make up the balance of the $40 million price tag. But Tampa Bay already has a venue for rowing teams from around the world to train and practice — along the banks of the Hillsborough River near the University of Tampa campus. And it is free. Scott spent more than $70 million of his own money to become governor, campaigning against the special interests and pledging to be different. It turns out he is not different at all. His political committee just collects bigger checks." The full editorial.
See Also:

Richard Ford's Top 10 Bits of Advice to Writers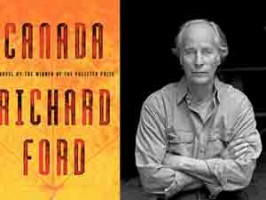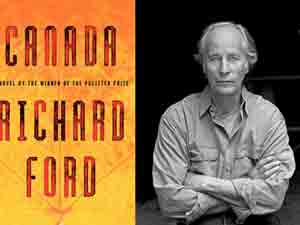 From the Guardian:
1 Marry somebody you love and who thinks you being a writer's a good idea.
2 Don't have children.
3 Don't read your reviews.
4 Don't write reviews. (Your judgment's always tainted.)
5 Don't have arguments with your wife in the morning, or late at night.
6 Don't drink and write at the same time.
7 Don't write letters to the editor. (No one cares.)
8 Don't wish ill on your colleagues.
9 Try to think of others' good luck as encouragement to yourself.
10 Don't take any shit if you can ­possibly help it.

Conserving Alexander Calder's Circus
From the Whitney Museum: "In this video, Whitney conservators Carol Mancusi-Ungaro and Eleonora Nagy, archivist Anita Duquette, and art historian Joan Simon describe the process of restoring one of the most beloved works in the Whitney's collection, Alexander Calder's Circus. The research team enlivens the character of the Circus through contemporary associations and offers a new look at conserving the inherent fragility of the figures that have delighted Whitney audiences for generations."
See Also:

Video: A Rare Phenomenon in Skies Over Scotland
From NASA's Astronomy Picture of the Day: Why would the sky still glow after sunset? Besides stars and the band of our Milky Way galaxy, the sky might glow because it contains either noctilucent clouds or aurora. Rare individually, both are visible in the above time lapse movie taken over Caithness, Scotland, UK taken during a single night earlier this month. First noted in 1885, many noctilucent clouds are known to correlate with atmospheric meteor trails, although details and the origins of others remain a topic of research. These meandering bright filaments of sunlight-reflecting ice crystals are the highest clouds in the Earth's atmosphere. The above video captures not only a variety of noctilucent clouds, but also how their structure varies over minutes. Lower clouds typically appear dark or fast moving. About halfway through the video the clouds are joined by aurora. At times, low clouds, noctilucent clouds, and aurora are all visible simultaneously, each doing their own separate dance, and once — see if you can find it — even with the Big Dipper rotating across the background." Watch:
See Also: