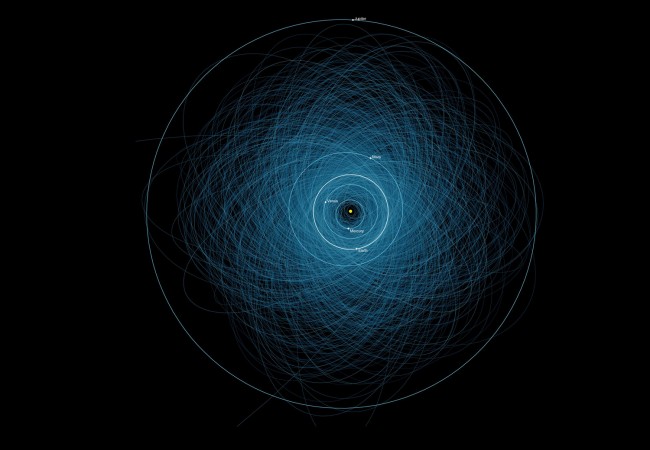 Today's Live Wire: Quick Links

Stop and Frisk Ruled Unconstitutional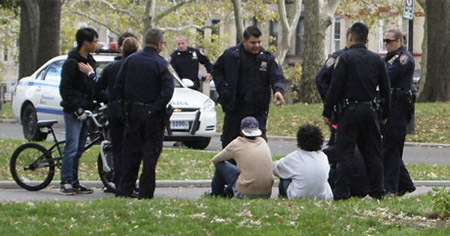 From the Times: "In a repudiation of a major element in the Bloomberg administration's crime-fighting legacy, a federal judge has found that the stop-and-frisk tactics of the New York Police Department violated the constitutional rights of minorities in New York, and called for a federal monitor to oversee broad reforms. In a blistering decision issued on Monday, the judge, Shira A. Scheindlin, found that the Police Department had "adopted a policy of indirect racial profiling" that targeted young minority men for stops. Mayor Michael R. Bloomberg said the city would appeal the ruling, angrily denouncing the judge for deliberately not giving the city "a fair trial." The mayor cited the benefits of stop-and-frisk, crediting the tactic for making the city safer and for ridding the streets of thousands of illegal guns. But in her ruling, Judge Scheindlin found that in doing so, the police systematically stopped innocent people in the street without any objective reason to suspect them of wrongdoing. The stops, which soared in number over the last decade as crime continued to decline, demonstrated a widespread disregard for the Fourth Amendment, which protects against unreasonable searches and seizures by the government, as well as the 14th Amendment's equal protection clause, according to the 195-page decision. Judge Scheindlin's criticism extended beyond the conduct of police officers; in holding the city liable for a battery of constitutional violations, the judge found that top police officials acted with deliberate indifference. She said that police commanders were content to dismiss allegations of racial profiling as "a myth created by the media." […] "I also conclude that the city's highest officials have turned a blind eye to the evidence that officers are conducting stops in a racially discriminatory manner," she wrote. […] The Supreme Court had long ago ruled that stop-and-frisks were constitutionally permissible under certain conditions, and Judge Scheindlin stressed that she was "not ordering an end to the practice." But she said that changes were needed to ensure that the street stops were carried out in a manner that "protects the rights and liberties of all New Yorkers, while still providing much needed police protection." The judge found that the New York police were too quick to deem as suspicious behavior that was perfectly innocent, in effect watering down the legal standard required for a stop. "Blacks are likely targeted for stops based on a lesser degree of objectively founded suspicion than whites," she wrote." The full story. About which one commenter, David Wiles, wrote: "I'm fascinated by the thinking of commenters who've attacked the judges opinion without addressing the Constitutional issues she raises. Is your position that the Constitution doesn't matter or is it that certain groups of people don't deserve its protection? The question that was posed in this case was whether or not the 4th and 14th Amendments were violated, not whether crime rates dropped. Crime rates in the old Soviet Union were quite low as well.
Judge Shira A. Scheindlin's Ruling on Stop and Frisk

How Does It Feel to Be Stopped and Frisked?
See Also:

Florida Children on Steroids, With Parents' Approval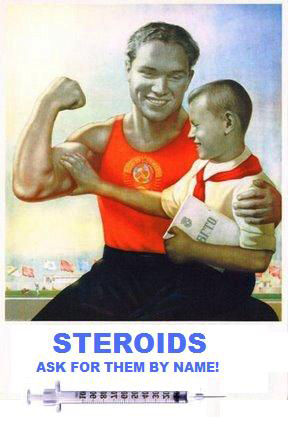 From the Florida Sun-Sentinel: "As sports officials fight to end the use of performance-enhancing drugs by big-name athletes, they face a new foe in South Florida: Parents seeking the dangerous chemicals to help their teens fulfill athletic dreams, a Sun Sentinel investigation has found. The parents want the same substances — human growth hormone and anabolic steroids — that New York Yankees slugger Alex Rodriguez was accused of obtaining from a South Florida clinic by Major League Baseball last week, the newspaper learned. Physicians from Miami to Vero Beach said parents have requested prescription-only drugs to make their young athletes bigger and stronger even when the children display no medical need for them. […] More than six dozen South Florida high school students or recent graduates interviewed by the newspaper said they used hormones or steroids for strength-building, or knew others who had. […] Several local coaches and trainers said parents told them they were seeking performance-enhancing substances to give their young athletes an edge. […] Local coaches said the quest for performance-enhancing chemicals, which are illegal without a prescription, is the logical next step for some ambitious families who spend thousands of dollars on private coaches, personal trainers, sports psychologists and personal recruiters in the hope of ensuring their children's athletic success or a coveted scholarship. […] Doctors these days have more latitude to prescribe human growth hormone to minors than in the past. In 2003, the Food and Drug Administration approved the use of HGH for youngsters of extremely short stature, even when the cause of their stunted growth is unexplained. Prior to that, the drug was FDA-approved only for children suffering from a natural deficiency of the hormone or specific diseases. Since then, doctors and sports officials told the Sun Sentinel, an increasing number of parents of youth and teen soccer, tennis, basketball and baseball players have been asking for the drug, often justifying their requests by saying their children are talented athletes but undersized compared to their peers." The full story (subscription required).
See Also:

Jeb Bush's School Reform Agenda Goes Splat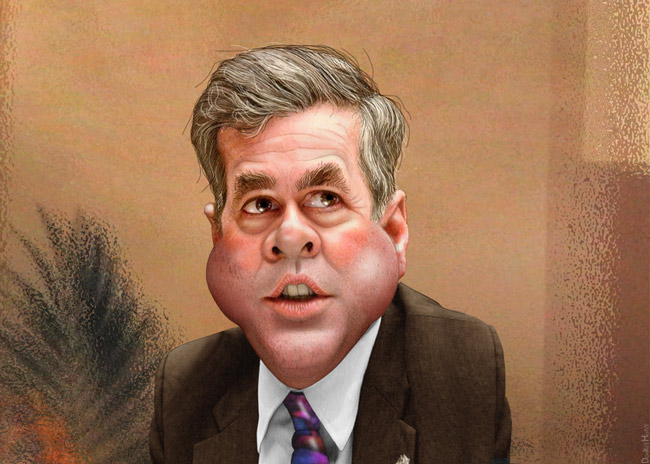 From the Tampa Bay Times: "[Jeb] Bush played a key role in recruiting Bennett from Indiana and was among his most ardent supporters — even after Bennett became entangled in an alleged grade-fixing flap. When Bennett stepped down on Aug. 1, it was the latest in a string of setbacks for Bush, who has spent the last five years pushing an ambitious education reform agenda across the country. Earlier this summer, Bush's signature model of grading schools on an A-to-F scale came under attack in Florida. Then came a crushing wave of criticism from tea party groups, which oppose the new national standards Bush is promoting. The political fallout could be significant. Many observers believe Bush is using his role as national education reformer to position himself for a run at the presidency in 2016. That hinges partly on success in Florida, where Bush created his template for school reform. […] As governor from 1999 to 2007, Bush introduced the A-to-F system of grading schools and oversaw the rapid expansion of school choice options, including magnet, virtual and charter schools. He set up a national education foundation after leaving office, and used it to spread similar policies to at least three dozen states. Bush's influence has remained strong in Florida. But there is evidence that he may be losing clout. This spring, Bush and the Foundation for Florida's Future were unable to pass the parent trigger bill, which would have allowed parents to demand changes at low-performing schools. They suffered another defeat last month, when the state Board of Education approved a "safety net" to prevent school grades from dropping dramatically in the wake of new, more challenging student state exams. The foundation had argued that artificial inflation would undermine the grading system. […] Bennett informed Bush of his resignation plans before he notified Gov. Rick Scott, emails obtained by the Times/Herald show. He also made it clear he was working to further Bush's legacy. […] Bush stood by Bennett after the resignation, writing in an op-ed in the Miami Herald that "those who stooped to nasty political tactics to undermine Tony should be ashamed." But Diane Ravitch, a national critic of school grades, called the scandal a "huge embarrassment" for Bush. "There is no individual more associated with the Bush education idea than Bennett other than Jeb himself," she said." The full story.
See Also:

The Deepwater Horizon Oil Spill of the Prairie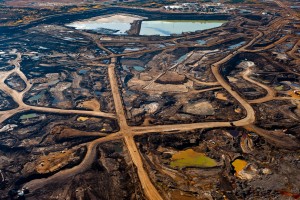 Why aren't we hearing more about this disaster from Canada's horrific tar sands country? Graham Thompson in the Calgary Herald: "When it comes to describing the accident at the Canadian Natural Resources' oilsands operation near Cold Lake, "leak" doesn't do it justice. Neither does "spill." A "leak" can be plugged. A "spill" implies a one-time event. What's happening at CNRL's project is neither. For the last three months, 7,300 barrels of bitumen have uncontrollably bubbled to the surface from deep underground and seeped into muskeg and water on four sites at the company's operations, creating an ecological mess, killing wildlife and damaging the reputation of CNRL in particular and the oilsands industry in general. The company has cut down trees, hauled away tons of oily muskeg and put containment booms on a contaminated lake. But the bitumen keeps coming, seeping out of the ground through long, narrow fissures. Not only has CNRL been unable to stop it, the company doesn't know for sure why it keeps coming. The Pembina Institute based in Calgary disturbingly describes the leak as an "uncontrolled blowout in an oil reservoir deep underground." […] The affected area is not only remote, it is on the Cold Lake Air Weapons range, which means it is out of bounds to civilians. Its inaccessibility has made the story all the more intriguing to journalists, not only in Canada but around the world. […] The problem seems to be related to the company's in situ process for recovering bitumen. In what's called "high-pressure cyclic steam stimulation," CNRL injects steam into deep wells to melt the bitumen. After weeks of injection, the process is reversed and bitumen pumped to the surface. CNRL officials think the leak was caused by an old well bore that couldn't withstand the massive underground pressure and they say the problem should improve as the underground pressure decreases. […] It would also be a much larger problem for the oilsands industry that is moving away from open pit mining to in situ methods designed to be less environmentally disruptive. The CNRL incident is raising troubling questions and providing ammunition for environmental groups to once again attack the industry. Also troubling is the fact this is the second CNRL leak in the same area. In 2009, 5,600 barrels seeped into the environment. […] It doesn't matter if you call it a leak or a spill or an underground blowout — we need to know what caused it and what it means to the integrity of the oilsands industry." The full column.
Watch:
See Also: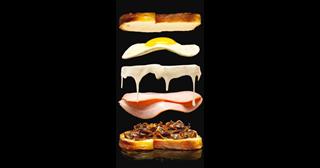 It's not nearly as counter-intuitive as you might think. From the UK Telegraph: "Jean-Michel Cohen believes he has the cure for obesity. As I chatted to the French diet doctor recently in his large, modernist apartment on the outskirts of Paris, Cohen told me the answer was far simpler than anyone seemed to think. If we want to lose weight, Cohen said, we should cook more meals. Cook more meals? And lose weight? Absolutely, said Cohen, whose book, The Parisian Diet, has sold more than two million copies. Societies that cook more meals are slimmer and healthier. Like the French, for instance. Only 16.9 per cent of the French population is obese, compared to 22.7 per cent of people in the UK, who cook far less than the French, and 33.9 per cent of Americans, who cook even less than us.
Of course, as Cohen points out, it helps if what you cook is healthy, with lots of fresh vegetables and high-quality protein. But what if cooking, in and of itself, promotes healthy eating? What if cooking, like a good recipe, adds up to more than the sum of its parts? When you cook, you have to think about ingredients, buy them, chop them up, heat them, watch as they transform into a meal, and clean up afterwards. All the time, you are in control. Psychologically speaking, cooking from raw ingredients is nothing like eating fast food, or processed food; it's the opposite of eating sandwiches at your desk, or bagels on the train. […] And yet, we're doing less and less of it. According to Pollan, "the amount of time spent preparing meals in American households has fallen by half since the mid-Sixties" when it was just under an hour a day. Now it's 27 minutes. […] the French snack less – only 10 per cent of their calories come from snacks, as opposed to 20 per cent of the calories consumed in the US. […] On the other hand, curiously, we're spending more time watching television programmes about cooking. […] In essence, cooking made us human. And for thousands of years, every advance in cooking made us healthier. But there was a point, says Pollan, when "cooking took its fatefully wrong turn: when civilisation began processing food in such a way as to make it less nutritious rather than more". So what, exactly, went wrong? […] Michael Pollan […] believes the rot set in a century ago, when bread-making became industrialised. Steel mills found a way of removing the outer layer of bran and the endosperm – the bits that contain "the dietary fibre, the vitamin E, the folic acid, phytic acid, iron, zinc, manganese and magnesium". That was good for the food processors – the inert starch they were left with had many qualities they liked. It was stable, consistent, and it didn't go off. And people wanted more of it, because, when you ate it, this refined starch was swiftly turned into glucose in your blood – what we now call a blood-sugar spike. When the spike is followed by the inevitable crash, you want more white bread. […] But there are other more profound reasons to reclaim the act of cooking. As Jean-Michel Cohen told me, cooking is directly linked to the pleasure we take in eating. This is the happiness that comes from creating something delicious from scratch and more often than not, sharing it. "There's a tradition in France to enjoy food," Cohen added. "In many other countries, people just eat to fill themselves up."" The full story.
See Also:

A Tennessee Judge's Messiah Complex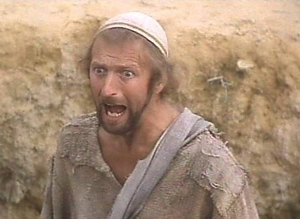 From the Tennesseean: "Child support magistrate Lu Ann Bellew of Cocke County Chancery Court ordered Jaleesa Martin to change her son's name from "Messiah" to "Martin" last week. "The word Messiah is a title and it's a title that has only been earned by one person and that one person is Jesus Christ," Judge Ballew told the baby's parents. Weinberg said that Judge Ballew is free to hold religious beliefs. But that faith should remain private. "She does not have the right to impose that faith on others," said [Hedy Weinberg, executive director of the ACLU of Tennessee]. "And that is what she did." Martin is appealing the judge's order. Weinberg said that ACLU staff are reaching out to Martin to offer assistance. "A parents are has the right to choose their child's name," she said. "In this case, the judge is creating a culture where she is imposing her religious beliefs on others. And that is unacceptable."" From USA Today: "According to the Social Security Administration's database of popular baby names, the name Messiah has grown in popularity since 2005 when it was ranked 904th. It was 387th in 2012. Ballew said it was the first time she has ordered a first name change. She said the decision is best for the child, especially while growing up in a county with a large Christian population."
Watch two different perspectives:
Better yet:
See Also:

Texting and Death: Werner Herzog's "From One Second to Next"
From Slate: ""From One Second to the Next," the rather unlikely film below, came together when AT&T approached the legendary German filmmaker Werner Herzog and asked if he would direct a series of short films warning people about the dangers of texting while driving. "What AT&T proposed immediately clicked and connected inside of me," Herzog told the AP. "There's a completely new culture out there. I'm not a participant of texting and driving—or texting at all—but I see there's something going on in civilization which is coming with great vehemence at us." The result is haunting. It focuses on four accidents, some of them fatal, and Herzog aims his camera squarely at the faces of both victims and perpetrators, asking them to describe in detail what happened and the aftermath. Herzog emphasizes the change in civilization he perceives in part by examining an accident in which an Amish family was killed and another in which a horse-shoer's truck was involved."
Watch the full film:
See Also:

After Herzog, we need a little David:
See Also: