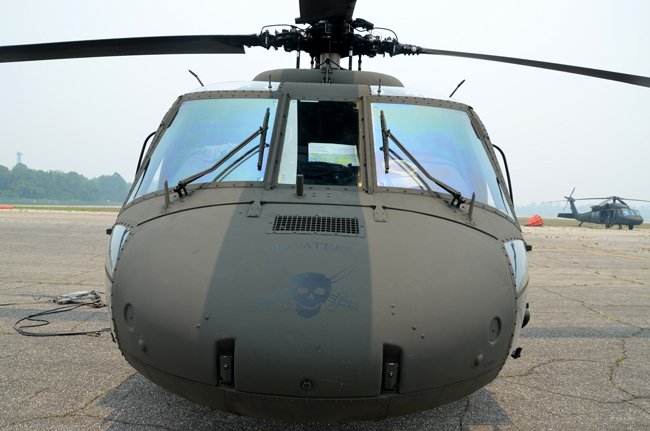 You're welcome to send your Live Wire news tips or suggestions to [email protected].
Today's Live Wire: Quick Links


Rick Scott, America's Least Popular Governor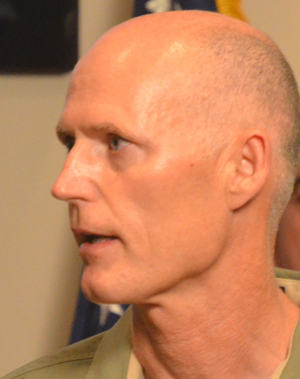 From Time: "But Scott seems to go out of his way to make Floridians forget about the positive aspects of his tenure. When a candidate wins a gubernatorial election with less than half the vote, as Scott did last November, he usually extends a hand to the majority of the electorate that picked someone else. Scott, a former healthcare CEO and Republican political novice who spent almost $75 million of his personal fortune on his campaign, estranged those voters by striding into Tallahassee, thumb on nose, as if he carried a mandate to enact sweeping change. "He really seemed to be rubbing it in that he was not financially dependent on anyone and therefore the only voters he needed to please were his Tea Party base," says political scientist Aubrey Jewett of the University of Central Florida in Orlando. "He had no policy mandate except to get the state's economy going again." […] Scott, who had vowed to renounce all stimulus money, looked hypocritical when it was discovered that he actually kept $370 million of the federal money in this year's $69 billion state budget. The budget itself, which would have been harder to balance if the GOP-controlled legislature hadn't blocked Scott's bid to slash Florida's already low corporate tax rate, drew more voter raspberries. That's largely because Scott and other conservatives seemed obsessed with ramming through legislation like bills that would require welfare recipients to take drug tests. His record $615 million in budget vetoes, some of which cut real pork but many of which gutted programs like food pantries for the poor, didn't endear him to citizens either." The full post.
Click On:

From JJ Graham of Palm Coast's Hollingsworth Gallery: "People often ask me if I believe in angels, because they so often appear in my work. The answer is yes. This is why. As humans after a certain point in life we enter a constant state of deterioration. The world slowly decays. But if science holds true than therein that statement an opposite is brought to light. There must be a being(s) who exists in a constant state of regeneration…from a place that is constantly regenerating. Thus I embrace the concept of heaven not through books alone but through quiet contemplation. When we create we go against the very grain of the minds propensity for degeneration and commit a sacred act. I have spent more hours than I could count in front of a canvas, if time would permit I would so gladly turn those hours into eons. Of all myths the one of the phoenix is the one I wish to embody. All of this is possible because it exists in my imagination which exits in nature. J.J. Graham A.KA. J.J. Handy."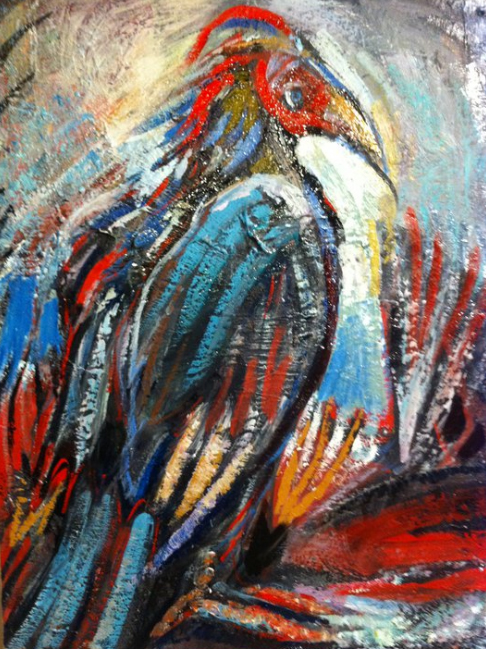 See Also: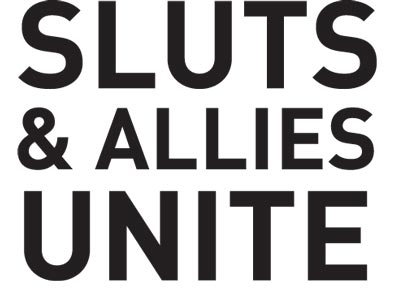 From the Washington Post: "More than 40 years after feminists tossed their bras and high heels into a trash can at the 1968 Miss America pageant — kicking off the bra-burning myth that will never die — some young women are taking to the streets to protest sexual assault, wearing not much more than what their foremothers once dubbed "objects of female oppression" in marches called SlutWalks. It's a controversial name, which is in part why the organizers picked it. It's also why many of the SlutWalk protesters are wearing so little (though some are sweatpants-clad, too). Thousands of women — and men — are demonstrating to fight the idea that what women wear, what they drink or how they behave can make them a target for rape. SlutWalks started with a local march organized by five women in Toronto and have gone viral, with events planned in more than 75 cities in countries from the United States and Canada to Sweden and South Africa. In just a few months, SlutWalks have become the most successful feminist action of the past 20 years. […] The marches are mostly organized by younger women who don't apologize for their in-your-face tactics, making the events much more effective in garnering media attention and participant interest than the actions of well-established (and better funded) feminist organizations. […] The idea that women's clothing has some bearing on whether they will be raped is a dangerous myth feminists have tried to debunk for decades. Despite all the activism and research, however, the cultural misconception prevails. After an 11-year-old girl in Texas was gang-raped, the New York Times ran a widely criticized story this spring that included a description of how the girl dressed "older than her age" and wore makeup — as if either was relevant to the culpability of the 18 men accused of raping her. […] And that's the real reason SlutWalks have struck me as the future of feminism. Not because an entire generation of women will organize under the word "slut" or because these marches will completely eradicate the damaging tendency of law enforcement and the media to blame sexual assault victims (though I think they'll certainly put a dent in it). But the success of SlutWalks does herald a new day in feminist organizing. One when women's anger begins online but takes to the street, when a local step makes global waves and when one feminist action can spark debate, controversy and activism that will have lasting effects on the movement." The full essay.
See Also:

From the Jacksonville Times-Union: "In January 2009, the Florida Department of Transportation began handing 2,094 state-owned trees over to a politically connected billboard company. It's spent a lot of time since making sure no one knows it happened. Over five months and with the help of former transportation secretary Stephanie Kopelousos, now Clay County's manager, and former Rep. Greg Evers, who at the time was chairman of the House Transportation Committee, Panhandle-based Bill Salter Advertising was given approval to ax the trees to make room for billboards without paying costly mitigation fees, or up to $2 million in fines that should have later been levied. Contrary to established department policy, the company was also allowed to keep roughly $4 million in billboards that a former department official says should have been taken down. When environmental advocates and reporters began asking questions, the department withheld information from public records requests and denied holding meetings about the issue." Read the full investigation.
See Also:

Peanuts: Florida Education Spending
From the Census: "Funding public education in the United States is a joint effort between federal, state and local governments—and is the single largest category of state and local government spending. It's vital for government leaders, school officials, policy makers and organizations that support education to understand how we are funding and operating our public school systems. Of the money received by public school systems, 91 percent came from state and local sources; 9 percent came from the federal government. The $591 billion in total funding in 2009 works out to about $10,499 per pupil, a 2 percent increase from 2008. Public schools in New York spent more than any other state or state equivalent, with $18,126 per pupil in 2009. The District of Columbia ($16,408), New Jersey ($16,271), Alaska ($15,552) and Vermont ($15,175) had the next-highest spending. Public Education Finance: 2009 provides the most recent and complete picture of how taxpayer money is being spent on education. For information on your state's public school spending, click here."
See Also: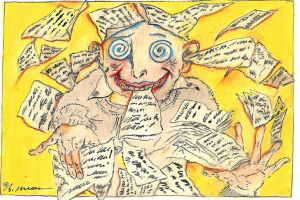 From the Chronicle of Higher Education: "I want to argue that incoherence, distraction, and defiance are necessary precursors to originality. Many students, not just the geniuses, need the time and space and freedom to be full of it. My thesis is not new, but it seems especially urgent right now, because it flies in the face of two powerful prevailing winds. On the one hand, there is the current crude reductionism of education to a financial transaction, masked by the pseudoscientific jargon of "outcomes assessment" and "value added." On the other hand, faculty are obliged to have a heightened reactivity to any whiffs of crazy—the hard-won lesson of incidents like the Virginia Tech rampage. Still, let us remember that it has not been the regimentation of American higher education or the homogeneity of its "product" that has made it the envy of the world, and that for many of the world's geniuses, the road to conquering crystal peaks has passed inevitably through the slough of dung. […] What, then, are we to do when a student hands in crap? Particularly when it comes from a student who we are convinced has a lot cooking upstairs. And not just crap, but work that's so far out in left field it needs a different ZIP code, when its outcome defies assessment, when its value-added quotient is in the negative double digits, when it seems the author could not have read, or else must be consciously spitting in the face of, the assignment." The full case.

Arizona's Wildfires Dwarf Flagler's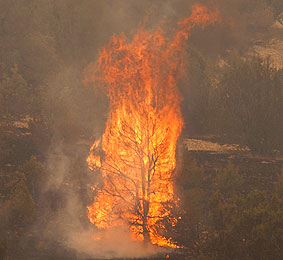 From the Arizona Republic: Fire crews needed residents to leave so they could get trucks and other equipment into the area to protect as many structures as possible, said William Bishop, a spokesman for the Eastern Arizona Incident Management Team. Authorities said the evacuation was not mandatory, but they were strongly advising people to leave the area. Also evacuated was the community of South Fork. Residents in nearby Springerville, which has been on a pre-evacuation alert, were waiting to see if they must follow suit. The blaze, already the second largest in state history, is zero percent contained and threatens to consume more than the 311,000 acres already charred. […] From 1990 to 2010, only eight fires in Arizona exceeded 50,000 acres burned, and only three of those burned more than 100,000 acres. In the 2011 fire season, there are already three fires that have burned more than 50,000 acres, two of which have burned more than 100,000 acres. The Wallow Fire has grown so big and so complex that the management of the blaze will now be divided into three federal incident teams. […] The Horseshoe Two fire has raged for nearly a month, burning more than 104,000 acres, injuring seven and costing more than $29.2 million to fight. Nearly 900 personnel are combating the flames, with seven helicopters, 31 engines and three bulldozers assisting.
Six structures have been destroyed by the fire, and 65 other structures are in danger. While overshadowed by the much larger Wallow and Horseshow Two fires, the Murphy Fire has burned more than 50,000 acres since it began on May 30. It is now the 11th largest fire in Arizona history. There are about 470 people fighting the fire that has cost approximately $2.1 million to fight. They had 25 percent containment on the blaze as of Tuesday morning." The full story.
See Also:

Patrick Leigh Fermor: The Humanist in the Foxhole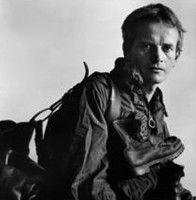 Patrick Leigh Fermor died last week at 96. Robert Kaplan in The Times: "Unlike the young Winston Churchill in Sudan or the Prussian general Helmuth von Moltke journeying through the Ottoman Empire, Fermor and his friends refused to reduce the world to questions of strategy and national interest: they were more taken by culture and landscape, which in fact made them more valuable than most intelligence agents. […] Because America's own security will rest in a world where tribes matter as much as Twitter, Fermor is an icon of the kind of soldier, diplomat or intelligence expert we will need: someone who can seamlessly move from any one of these jobs to another, who is equally at home reading a terrain map as he is reciting the poetry of the people with whom he is dealing. The more depth and rarity of knowledge we can implant in our officials, the less likely they are to serve up the wrong options in a crisis. […] The British Empire lasted as long as it did partly because it produced soldier-aesthetes like Fermor, who could talk about medieval Greece as easily as he could the Italian Renaissance, for comparison is necessary for all serious scholarship. America needs men and women like Fermor if it is to maintain its current position in the world." The full column.
See Also:

Rush Limbaugh, Sean Hannity, Glenn Beck Sell Endorsements to Conservative Groups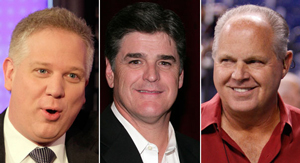 From Politico: "[I]f you're a fan of Mark Levin's radio show, you'd have just as much cause to believe that Americans for Prosperity, a FreedomWorks rival, was the most effective conservative advocacy group. And, if Rush Limbaugh or Sean Hannity are who you listen to, you'd be hear a steady stream of entreaties to support the important work of the Heritage Foundation. That's not coincidence. In search of donations and influence, the three prominent conservative groups are paying hefty sponsorship fees to the popular talk show hosts. Those fees buy them a variety of promotional tie-ins, as well as regular on-air plugs – praising or sometimes defending the groups, while urging listeners to donate – often woven seamlessly into programming in ways that do not seem like paid advertising. The Heritage Foundation pays about $2 million to sponsor Limbaugh's show and about $1.3 million to do the same with Hannity's – and considers it money well spent. […] Heritage estimates that it in each of the past two years, its sponsorships with Limbaugh and Hannity brought in more than 40,000 new memberships starting at the $25 level, while FreedomWorks said that in the three months after its Beck sponsorship started in April 2010, the group saw a huge spike in traffic to its website (which featured a photo of Beck linked to a fundraising appeal), resulting in 50,000 new email sign-ups." The full story.
See Also:

Fifth Grade Graduation? Seriously?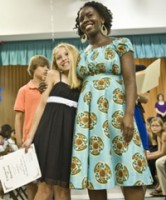 From the Post: "Each year at this time, thousands of younger-than-high-school students in the area celebrate what some critics — and maybe a few restless parents — call graduation inflation, the growth of full-fledged processional ceremonies to mark the end of elementary school. Although principals say they try to avoid the overt trappings of high school and college ceremonies, graduation vendors say grade schools are increasingly a growth market. "It's the fastest growing area of our business," said Richard Spear, owner of American Cap and Gown in New Jersey. Sales of the smallest caps and the shortest gowns to elementary schools and kindergartens account for nearly half of his nearly $1 million in annual revenue, he said. […] Almost every elementary school in the Washington area holds some kind of promotion ceremony. The events range from simple daytime assemblies to pizza parties to elaborate evenings with marches and choral music." The full story.

No More Standardized Spelling?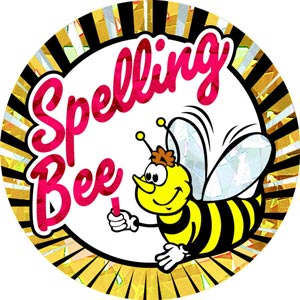 Erin McKean in The Post: "There are plenty of folks today who would like to see a world without spelling — or at least without what they see as the quixotic, inconsistent spelling of modern English. Spelling reformers have pointed out the illogic, ambiguity, overcomplication and general messiness of English orthography for nearly 500 years, and their lack of progress in solving any of these issues has not dissuaded them from trying. The last person to have any significant effect on the spelling of standard English was probably Noah Webster, who in 1806's Compendious Dictionary of the English Language managed to shift "mould" to "mold" and "masque" to "mask" — though he lost the fight on "women" vs. "wimmen" and "ache" vs. "ake." […] Without a recognized system of standard spelling, elementary education would be turned upside down. No more spelling books, spelling tests or "points off for spelling," and perhaps a decline in sales of red pens and pencils. Children would learn the simplest possible spellings, such as "Goodnite Moon" instead of "Goodnight Moon." In place of spelling bees, perhaps we'd see contests for the most creative, beautiful or evocative formulations of words, turning spelling from a chore into an art form. Making ambigrams — words that read the same right side up or upside down; they take center stage in Dan Brown's "Angels and Demons" — and palindromes would be much easier, too, and English would have even more onomatopoeic words such as "oink" and "meow." […] But a world without spelling would also rob us of the pleasure we get from mastering the complicated, illogical English language. There's a certain satisfaction to sticking the landing on a difficult word such as "silhouette" or "subpoena" or "surreptitious."" The full column.
See Also: