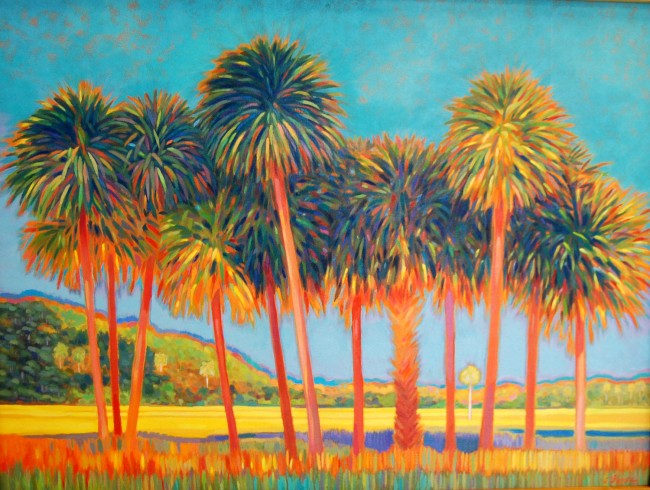 You're welcome to send your Live Wire news tips or suggestions to [email protected].
Today's Live Wire: Quick Links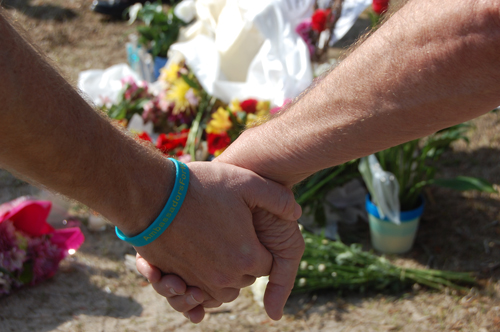 Almost two weeks ago Jigme Norbu, the nephew of nthe Dalai Lama and a leading activist for Tibet, was killed on the first day of his Walk for Tibet Florida, in the Hammock on A1A. Supporters several days later resumed the walk in his honor. The walk reached Palm Beach this weekend. From the Walk for Tibet Blog: "Walk for Tibet Florida reaches the final leg of its 300 mile journey today, moving south from Juno Beach, through John D. MacArther Park to Singer Island, then bypassing massive construction will resume the walk at Bradley Park Palm Beach, head south along S.County Road and back west across the Royal Palm (middle bridge) ending today at Palm Beach Atlantic fountains." The final-mile walk was scheduled for Saturday, Feb. 26, to the Ann Norton Sculpture Gardens. Also from the blog: "I had the chance to know Jigme Norbu, as many who encountered him did, as a simple man who Walked his Talk. He exuded kindness and joviality- I rarely laughed as much as when discussing serious issues with him. He was also a man of dogged determination & conviction. He was increasingly funneling his energy & efforts as an Ambassador for World Peace, staging Walks for Tibet around the world. He tirelessly put in the miles, step by step, hoping….knowing….it would make a difference."
See Also: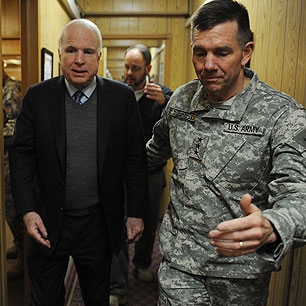 Michael Hastings in Rolling Stone: "The U.S. Army illegally ordered a team of soldiers specializing in "psychological operations" to manipulate visiting American senators into providing more troops and funding for the war, Rolling Stone has learned – and when an officer tried to stop the operation, he was railroaded by military investigators. The orders came from the command of Lt. Gen. William Caldwell, a three-star general in charge of training Afghan troops – the linchpin of U.S. strategy in the war. Over a four-month period last year, a military cell devoted to what is known as "information operations" at Camp Eggers in Kabul was repeatedly pressured to target visiting senators and other VIPs who met with Caldwell. When the unit resisted the order, arguing that it violated U.S. laws prohibiting the use of propaganda against American citizens, it was subjected to a campaign of retaliation. "My job in psy-ops is to play with people's heads, to get the enemy to behave the way we want them to behave," says Lt. Colonel Michael Holmes, the leader of the IO unit, who received an official reprimand after bucking orders. […] Those singled out in the campaign included senators John McCain, Joe Lieberman, Jack Reed, Al Franken and Carl Levin; Rep. Steve Israel of the House Appropriations Committee; Adm. Mike Mullen of the Joint Chiefs of Staff; the Czech ambassador to Afghanistan; the German interior minister, and a host of influential think-tank analysts. […] According to the Defense Department's own definition, psy-ops – the use of propaganda and psychological tactics to influence emotions and behaviors – are supposed to be used exclusively on "hostile foreign groups." Federal law forbids the military from practicing psy-ops on Americans, and each defense authorization bill comes with a "propaganda rider" that also prohibits such manipulation. […] According to experts on intelligence policy, asking a psy-ops team to direct its expertise against visiting dignitaries would be like the president asking the CIA to put together background dossiers on congressional opponents. […] it cost American taxpayers roughly $6 million to deploy Holmes and his team in Afghanistan for a year. But Caldwell seemed more eager to advance his own career than to defeat the Taliban." The full story.
See Also:

Business, Labor and Favorability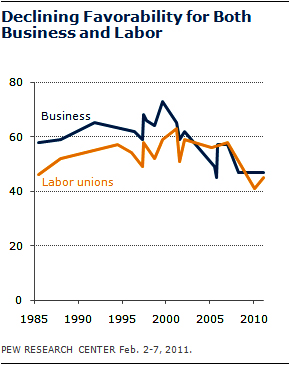 From Pew: "The favorability ratings for labor unions remain at nearly their lowest level in a quarter century with 45% expressing a positive view. Yet the public expresses similar opinions about business corporations – 47% have a favorable impression – and this rating is also near a historic low. Americans express mixed views of the impact of labor unions on salaries and working conditions, international competitiveness, job availability and productivity. About half (53%) say unions have had a positive effect on the salaries and benefits of union workers, while just 17% say they have had a negative effect. Views are similar about the impact of unions on working conditions for all workers (51% positive, 17% negative). […] About half (48%) say they have a favorable opinion of unions that represent workers at private companies, while 37% have an unfavorable view. The figures are nearly identical for unions that represent people who work for state or local governments – 48% have a favorable impression of these unions while 40% have an unfavorable opinion. […] In general, Americans do not believe that union agreements give union workers unfair advantages over other workers. Slightly more than half (55%) say that labor agreements ensure that union workers are treated fairly, while only about a third (34%) say the agreements give union workers unfair advantages. Government data show that labor unions have become less of a factor in the overall U.S. economy in recent decades – most notably in the private sector. According to the U.S. Bureau of Labor Statistics (BLS), 11.9% of wage and salary workers in the United States belonged to unions in 2010. That is down slightly from the 12.3% in 2009, but much lower than the 20.1% that belonged to unions in 1983." The full analysis.
See Also:

Conservative and Liberal America
From Gallup: "Mississippi is home to the largest percentage of conservatives among U.S. states, with a slim majority identifying their political views as conservative. Several other states, including Idaho, Alabama, Wyoming, and Utah approach 50% conservative identification. Vermont, Rhode Island, and the District of Columbia have the greatest percentages of self-identified liberals. Mississippi is the first state to exceed 50% conservative identifiers in the three years Gallup has compiled ideological identification at the state level. The top 10 rankings make clear that conservative identification is much more common than liberal identification, with each of the top 10 conservative states at or above 45% identification and only the District of Columbia exceeding 31% liberal identification. In the nation as a whole, Americans are about twice as likely to identify as conservative as they are to identify as liberal, a pattern that has persisted for many years. Americans are also more likely to say they are conservative than moderate. Not surprisingly, then, conservatives outnumber liberals in every U.S. state. Only in the District of Columbia do liberal identifiers exceed conservative identifiers (41% to 18%). Vermont (30.7% conservative to 30.5% liberal), Rhode Island (29.9% to 29.3%), and Massachusetts (29.9% to 28.0%) have the closest state-level division between conservatives and liberals." The full numbers.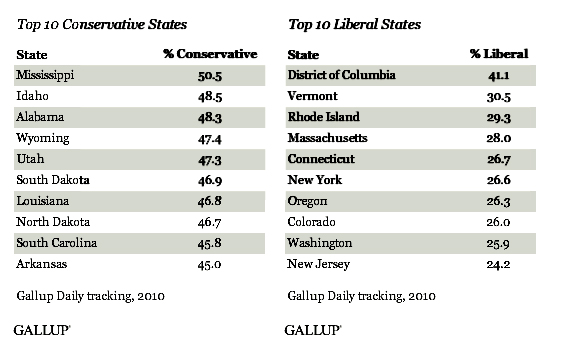 See Also: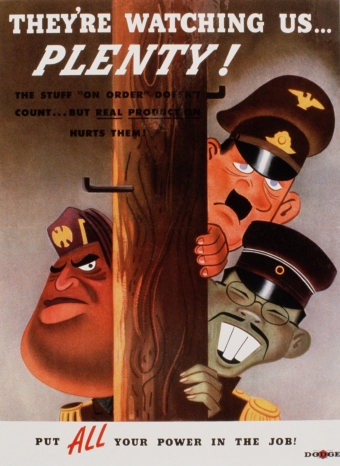 From the National Interest: "A PROMINENT British government minister, Baroness Warsi, herself a Muslim, claimed just recently that Islamophobia has "passed the dinner-table test" in Britain and is seen by many as normal and uncontroversial. She warned of growing intolerance, prejudice and bigotry toward the Muslim faith and its adherents. In reply, some religious and social commentators have suggested that growing numbers of Muslims in Britain give rise to legitimate concerns. They have asked whether strict adherence to the Islamic faith is compatible with the values of Western democracies. Even to pose such a question, people object, is to engage in a covert form of racism. However, the claims continue. It is further asserted that the advocacy of sharia law, disregard for women's rights and opposition to all forms of assimilation into Western society by some Islamists justify doubts about compatibility. The controversy over the place of Islam in British society is inextricably linked with the additional concern about homespun Islamic terrorism in light of the evidence that the 2005 al-Qaeda bombings in London were perpetrated by young Muslims who had grown up in the UK, and whose deadly actions were apparently and worryingly supported by a minority among the Muslim population. […] YET, HOWEVER warranted the concern that Europe is once again on the brink of a new fascist moment, this does not seem likely to happen. To say this is not to ignore the existence of neofascist and racist movements in most European countries, or the ways in which anti-immigrant feeling can be stirred and, at times, whipped up by parties claiming to stand for an authentic "national" voice in politics. But only in a few cases are such movements sizable.
See Also: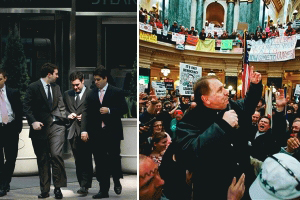 David Sirota in Salon: "As the latest showdown to dominate American politics, the battle between Wisconsin's governor and public employees carries many unspoken messages. It tells us, for instance, that Republicans do not see collective bargaining as a fundamental human right. It also suggests that Democrats are willing — finally! — to draw a line in the sand. But most important of all, it shows what government really sees as its top priority. Recall that in recent years, we've witnessed two separate debates over two types of taxpayer-subsidized laborers. First, we saw a brief argument over how much taxpayer money should pay government-sponsored bankers on Wall Street. Now, we're having a more prolonged discussion about how much taxpayer money should pay public employees in our schools, police departments, fire departments and infrastructure agencies. The first set of workers, underwritten by ongoing multitrillion-dollar Treasury and Federal Reserve bailouts, mostly cannibalize wealth through foreclosures and speculation. The second set of workers, by contrast, primarily create and protect wealth through educating kids, preventing fires and crimes, and building public assets. […] In this view, $500,000 isn't nearly enough taxpayer cash to retain government-funded bankers, but $48,000 (the average teacher salary in Wisconsin) is too much to pay educators. In this view, the government is "there to serve the banks," as the new chairman of Congress' Financial Services Committee said, but police and firefighters are expected to serve the population, even as those police officers and firefighters are berated for receiving middle-class wages." The full piece.
See Also:

Norton Wisdon's (and Bach's) Hyphenated Man
From the L.A. Times music blog: This video features Norton Wisdon, the Irish painter, listening to "Hyphenated-Man," Mike Watt's opera, while working. "If you've got 15 minutes to see something beautiful while you drink your morning coffee, you probably won't regret it. (Note: the backing music for this clip isn't from "Hyphenated-Man," but one of Bach's "Goldberg Variations.")"
See Also:

Gay, Lesbian, Transgender Youth–and Homeless
Something you won't see in your neighborhood paper as much as on your streets. From the Center for American Progress:
See Also: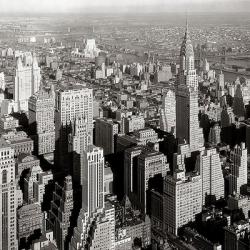 From the New Republic, a review of several books on urban renewal and New York Mayors Ed Koch and John Lindsay: "Cities have long enabled economic productivity and innovation, creating opportunity for the less fortunate and the cultural achievements that define civilization. Alone, humans are weak creatures, but when we collaborate and learn from each other in cities, we are capable of miracles. Yet the massing of humanity in dense areas can also have negative consequences. If I am physically close enough to watch your eyes or hand you a book, I am also close enough to rob you or infect you with some airborne virus. Cities need government to fight the great urban scourges of crime, congestion, and disease, which is why, in the nineteenth century, when the federal government was a pygmy, New York City already had a giant public sector. In 1900, municipal governments spent more on providing clean water than the Federal government spent on everything except for the army and the postal service. It makes perfect sense that New Yorkers today are far more enthusiastic about big government than the residents of Idaho: New York's density requires far more public management. […] The change from Lindsay to Koch was not a switch from liberal to conservative—both of them were liberals; it was a change from one eclectic approach to managing America's most difficult city to another. […] These new volumes invite us to re-examine New York's post-war battle against its demons. Samuel Zipp's book provides a superb account of four massive building projects, from the United Nations to East Harlem. All reflected the belief that new structures could solve old social problems." The full review.
See Also:

Rostropovich plays Shostakovich
Rostropovich plays Shostakovich's Cello Concerto No. 2, first movement:
See Also:

Onion Special: Al-Qaeda's Piglet Attack
See Also: