You're welcome to send your Live Wire news tips or suggestions to [email protected].
Today's Live Wire: Quick Links


Don't Ask, Do Tell, Don't Worry
From The Times: "The Pentagon has concluded that allowing gay men and women to serve openly in the United States armed forces presents a low risk to the military's effectiveness, even at a time of war, and that 70 percent of service members believe that the impact of repealing the "don't ask, don't tell" law would be either positive, mixed or of no consequence at all. In an exhaustive nine-month study on the effects of repealing "don't ask, don't tell," the 17-year-old policy that requires gay service members to keep their sexual orientation secret or face discharge, the authors concluded that while in the short run a repeal would most likely bring about "some limited and isolated disruption to unit cohesion and retention," it could be mitigated by effective leadership. The report, by Jeh C. Johnson, the Pentagon's chief counsel, and Gen. Carter F. Ham, the commander of the United States Army in Europe, also found that much of the concern in the armed forces about openly gay service members was driven by misperceptions and stereotypes. Leaving aside those with moral and religious objections to homosexuality, the authors said that the concerns were "exaggerated and not consistent with the reported experiences of many service members." The full story.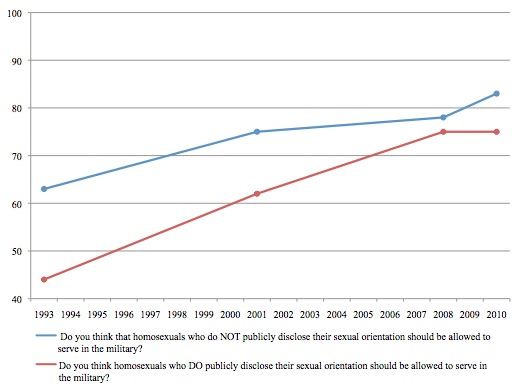 See Also:

How Your Employer Spies on You
From Florida Today: "Earlier this month, three Brevard County Mosquito Control workers were fired and a dozen others placed on probation after GPS tracking devices in their work vehicles helped reveal that the employees loafed on the job and went to unauthorized locations, among other infractions. The news led some to label the county's use of the GPS transmitters — which drivers knew were on the vehicles — as being like Big Brother. In the private sector, the use of global positioning systems in company vehicles and even in work-issued cell phones has been around for years — and it's growing as the cost for new and improved tracking technologies falls and companies look to maximize efficiency and control spending. […] But the broader question remains whether systems are too intrusive on employees. That an employer can fire a worker for accessing inappropriate material on a workplace computer is pretty standard these days. But let's say if a worker, on his or her own time, goes to a strip club and carries a GPS-equipped work cell phone. Maybe that wouldn't be a firing offense, but how would that employee fare at an annual job review?" The full article\.
See Also:

From the New York Sun: "Part way through our afternoon's reading in the latest document dump from Wikileaks the thought occurred to us that maybe Julian Assange is an American agent. We don't have anything to suggest such a thing, other than the thought that when one digs through all the chaff here there's not much that makes America look bad. There are, however, number of things that seem destined, when they start percolating into the diplomatic dialogue, to work to our advantage. For starters, [the dump] feature the disclosure that the Arabs want an attack on Iran's nuclear program. Heretofore this point has been getting only vague focus. Via Wikileaks, however, this is put into sharp relief, with the disclosure of what the Jerusalem Post called a secret diplomatic cable from the American embassy at Riyadh about a meeting in 2008 between the Saudi king, Abdullah, and the American ambassador, Ryan Crocker, and General Petraeus. According to the Post, the cable quotes a former Saudi envoy in the U.S., Abdel al-Jubeir, as recalling "the King's frequent exhortations to the US to attack Iran and so put an end to its nuclear weapons program." Quoth the king, according to Wikileaks document dump: "Cut off the head of the snake." Ordinarily it would be awkward for America to get this kind of diplomatic cable traffic out in public. Now we have Mr. Assange to the rescue.
"[…] No doubt it is ridiculous to imagine that Mr. Assange is an American agent; a month ago there was brief speculation along these lines in the Iranian press. But if one were trying to put into the field someone to pose as an enemy of America, who would more clearly fit the part than the earnest Australian? The key question is that old poser of forensics, "Who benefits?" The tip-off is that everyone from President Obama to Secretary of State Clinton to Defense Secretary Gates has denounced what Mr. Assange has been doing. But neither Mr. Obama, Mrs. Clinton, nor Mr. Gates has done anything about it." The full article.
Assange on his sources:
See Also:

Why Frontline will always be more compelling than 60 Minutes: earlier this year, the signature PBS program ran one of its most remrkable reports, an hour-long documentary it termed "The Sucide Tourist." This from Culturekiosk: ""I am dying. … There is no sense in trying to deny that fact," 59-year-old Craig Ewert says of his rapid deterioration just months after being diagnosed with ALS, a motor neuron disorder often referred to as Lou Gehrig's disease. "I'm not tired of living," explains Ewert, a retired computer science professor. "I'm tired of the disease, but I'm not tired of living. And I still enjoy it enough that I'd like to continue. But the thing is that I really can't." The right-to-die movement and the debate over physician-assisted suicide are decades old in secular Europe. Although documented since the 1980s in the United States, both the movement and the debate in predominantly reactionary Christian America are, nevertheless, an entirely different matter. Tonight, the Public Broadcasting Service's (PBS) public affairs series, Frontline, examines this issue and that of assisted sucide. Entitled The Suicide Tourist and directed by John Zaritsky, the film is a portrait of Craig Ewert's final days, as the Chicago native and his wife pursue a physician-assisted suicide in the one place where it's legal for foreigners to go to end their lives: Switzerland. With unique access to Dignitas, the Swiss nonprofit [that charges 10,000 Swiss francs ($10.500) for the procedure], has helped more than 1,000 people die since 1998, The Suicide Tourist follows Ewert as he debates the morality — and confronts the reality — of choosing to die before his disease further ravages his body and he loses the option to die without unbearable suffering. […] As Ewert journeys through Switzerland and is wheeled into the Zurich apartment rented by Dignitas, where he will drink the lethal sedative that will end his life, his wife, Mary, stands by his side. She is there to kiss him goodbye and wish him a "safe journey" as the medication takes hold and his eyes close for the final time."
You can watch the full program here.
Watch an excerpt:
See Also:

From Philip Roth's Patrimony, his great memoir 1991 of his father: "I tiptoed back into the bedroom where he was asleep, still breathing, still living, still with me—yet another setback outlasted by this man whom I had known unendingly as my father. I felt awful about his heroic, hapless struggle to cleanse himself before
I had got up to the bathroom and about the shame of it, the disgrace he felt himself to be, and yet now that it was over and he was so deep in sleep, I thought I couldn't have asked anything more for myself before be died—this, too, was right and as it should be. You clean up your father's shit because it has to be
cleaned up, but in the aftermath of cleaning it up, everything that's there to feel is felt as it never was before. It wasn't the first time that I'd understood this either: once you sidestep disgust and ignore nausea and plunge past those phobias that are fortified like taboos, there's an awful lot of life to cherish.
"Though maybe once is enough, I added, addressing myself mentally to the sleeping brain squeezed in by the cartilaginous tumor; if I have to do this every day, I may not wind up feeling quite so thrilled.
"I carried the stinking pillowcase downstairs and put it into a black garbage bag which I tied shut, and I carried the bag out to the car and dumped it in the
trunk to take to the laundry. And why this was right and as it should be couldn't have been plainer to me, now that the job was done. So that was the patrimony.
And not because cleaning it up was symbolic of something else but because it wasn't, because it was nothing less or more than the lived reality that it was. There was my patrimony: not the money, not the tefillin, not the shaving mug, but the shit."

Robert Frost's Disused Graveyard
In a Disused Graveyard (1923)
The living come with grassy tread
To read the gravestones on the hill;
The graveyard draws the living still,
But never anymore the dead.
The verses in it say and say:
"The ones who living come today
To read the stones and go away
Tomorrow dead will come to stay."
So sure of death the marbles rhyme,
Yet can't help marking all the time
How no one dead will seem to come.
What is it men are shrinking from?
It would be easy to be clever
And tell the stones: Men hate to die
And have stopped dying now forever.
I think they would believe the lie.

See Also:

In Hollywood, of course–where else? (though it originally opened in a San Diego mortuary). Reopened on Hollywood Boulevard, and for a $15 admission charge, visitors can see–according to the museum's website, whose English, use of capitals and misplaced or absent apostrophes leave a lot to be desired–"the worlds largest collection of Serial Murderer Artwork, Photos of the Charles Manson Crime Scenes, the Guillotined Severed Head of the Blue Beard of Paris, Henri Landru, Original Crime Scene and Morgue Photos from the Grisly BLACK DAHLIA MURDERS, a Body Bag and Coffin collection, replicas of Full Size Execution Devices, Mortician and Autopsy Instruments, Pet Death Taxidermy, and much much more!" And this: "There is not an age limit for for the Museum of Death because WE ALL DIE but we STRONGLY recommend MATURE AUDIENCES !! There have been a number of Falling Down Ovations (people passing out) at the Museum (mostly Men) so we stress being prepared for a good dose of reality!" (The exclamation marks alone are lethal.)
Why was the thing started by owners Cathee Shultz and JD Healy? "It is difficult to make a living with an art gallery especially in San Diego," Shultz tells the website Fatally Yours. "After doing the gallery for 7 years we wanted to branch out and move forward and we thought a museum was the next best thing."
See Also:

Alice's Restaurant Illustrated
Part 1:
Part 2:
See Also:

Sherwin Nuland on Health, Aging and Death
Sherwin Nuland won the National Book Award for his wonderful How We Die (1994). Here he is in conversation with Charlie Rose on The Art of Aging.

George Carlin on The Final Call
See Also: