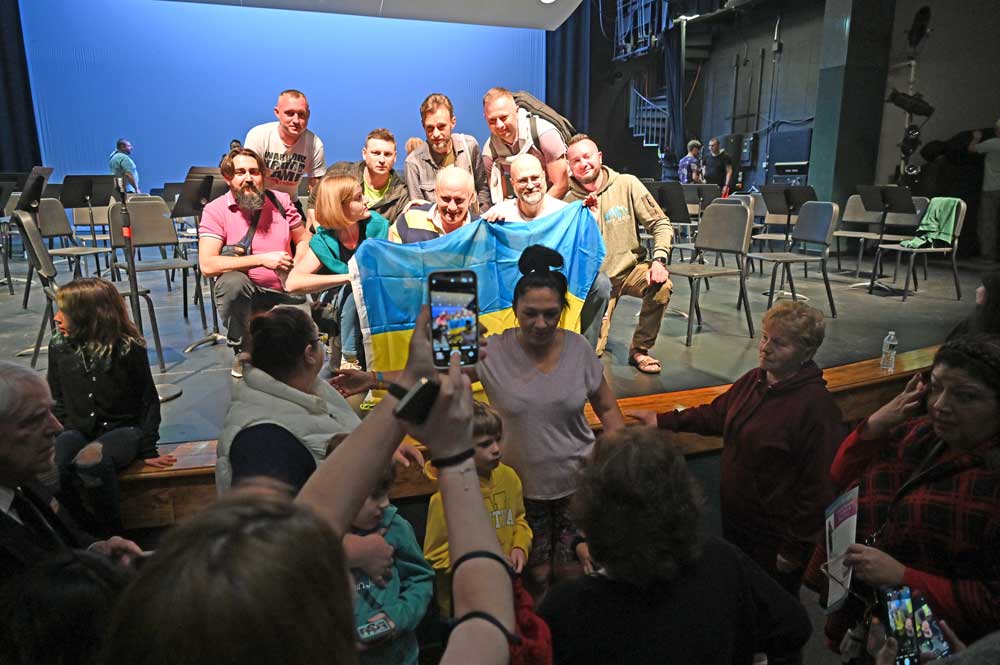 Before dawn Wednesday morning the 68 musicians of the Lviv National Philharmonic Orchestra of Ukraine left their war-torn home and landed in Warsaw. They then took a 12-hour flight to Miami, then hopped a pair of buses for a six-hour drive to Palm Coast.
At dusk Thursday, there they all were, travel-weary, jet-lagged, in jeans and t-shirts to take every advantage of balmy air their Ukrainian blood isn't used to in the middle of January, settling in for a two-hour rehearsal at the Flagler Auditorium. It was their first rehearsal on America soil in preparation for their 37-concert, 20-state tour over the next six weeks, including Carnegie Hall on Feb. 15. (Its 70 people are spending four nights at Palm Coast's Best Western.)
How did this storied orchestra with a 120-year history, hundreds of recordings to its credit, and a illustrious roster of performers over the years that have included pianist Sviatoslav Richter, cellist Mstyslav Rostropovich, violinist Gidon Kremer and the copiously recorded Conductor Theodore Kuchar end up choosing for its rehearsals the Flagler Auditorium, where it's not even performing a concert?
It was a coup: Credit the collaboration between Auditorium Director Amelia Fulmer and Kuchar, an American-Ukrainian who bought property in Palm Coast a few months ago and plans to build a house here.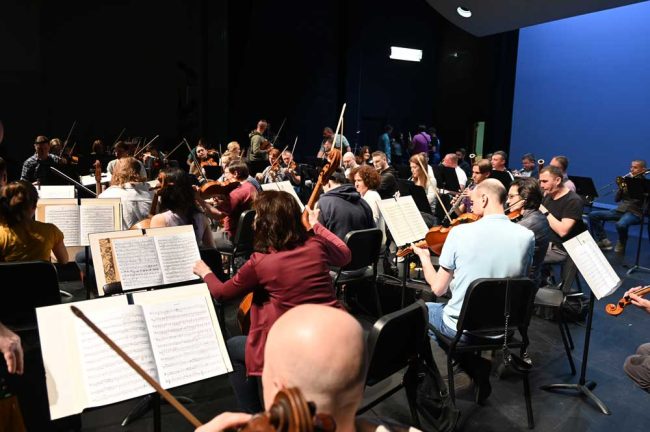 "Palm Coast is my beloved city in Florida," Kuchar told an invited audience of some 170 Flagler Youth Orchestra students and families and a smattering of local arts leaders just before starting the rehearsal. He spoke from the conductor's podium on the Auditorium stage, his musicians warmed up and ready to tackle a Ukrainian folk song.
"I've always been aware of this wonderful facility when I've driven through," he continued, "when I've gone to Flagler Beach, when I've gone to breathe the humidity or to look at the wonderful greenery, and I'm also a fanatic fisherman, and I love going inland a little bit. But I know this area very well from a non-musical point of view. And when we arranged that the orchestras base for the first few evenings would be here in Palm Coast, Mrs. Fulmer was very kind to accept my request."
Kuchar, who's been the artistic director and principal conductor of the Lviv orchestra since 1994, among a long list of similar affiliations, contacted Fulmer on Jan. 4 by email, looking for space.
"When you're a conductor and you know you need a rehearsal, where are you going to go with 68 people? And he thought of the auditorium," Fulmer said. "So we just seized the day, took the opportunity. That's sometimes how it goes. And luckily I have a staff that supports me, volunteers also."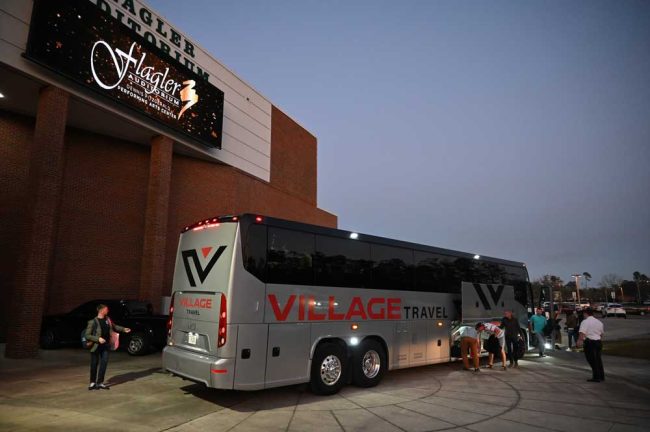 The orchestra's first concert is tonight in Vero Beach, then Saturday at the Peabody Auditorium in Daytona Beach, as part of the The Daytona Beach Symphony Society's season. Kuchar and the orchestra needed to work out "some materials which we haven't covered that intensively until now," he said.
Kuchar was willing to have an open rehearsal, which major orchestras allow from time to time. Fulmer didn't want to step on the Symphony Society's reach though, providing what would amount to a free performance and discouraging people from attending the Jan. 14 concert. "So immediately I said, Well, what about the Flagler Youth Orchestra and all of our music students?" Fulmer said. "And of course he immediately said Sure, that'd be great. And to me, that's always been my argument, why we should have a symphony orchestra here. And I've always been sad that we have students in orchestra and they don't get to see a professional orchestra. They have to leave town and pay a high ticket price to see it in all of its glory of a professional orchestra and what that means and what that sounds like."
Fulmer had been so impressed with FYO students' etiquette at a previous concert at the Auditorium that she videotaped them in their quietness, and thought they'd certainly follow rehearsal etiquette at a Philharmonic rehearsal. They did, applauding only on a couple of occasions–as anybody would have–as when Kuchar first came out, at the end of the performance of the final, rousing movement of Beethoven's Seventh Symphony, and of course long applause–and a standing ovation–when the orchestra finished its work.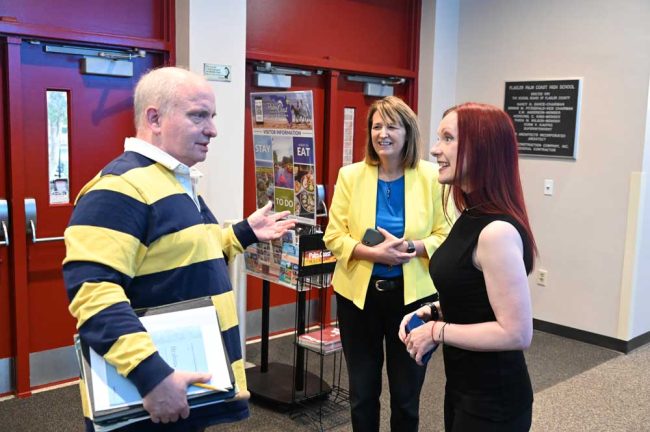 Fulmer contacted Cheryl Tristam, the Youth Orchestra's executive director, who put out the word to her students and families, and got a much larger response than she'd expected. "If Amelia brings an orchestra to Flagler County," Tristam said, "my main objective will be to work on our families to make them understand that a well rounded music education includes participation and experiencing hearing the instruments that their students are studying. We talk about that a lot: it's not just about coming to FYO two days a week and putting in those those hours with us. It's about listening to the music that you're being asked to perform and listening to your instruments being used in other genres. And live performance we know is extremely inspiring. We know at an FYO concert that our beginner students are extremely inspired by hearing the more advanced students play. So you can imagine them hearing professionals perform these instruments. Just get the orchestra here and I'll do whatever I can."
The students got to see that rarity of rarities: a famed conductor in full rehearsal mode with his orchestra, and a charismatic one at that. Leopold Stokowski, Arturo Toscanini, Leonard Bernstein were not above losing their temper, yelling at their musicians, calling them names in some cases. None of that for Kuchar, a very physical, vocal conductor who danced, stomped, directed with a voice as big as his gestures but seemed always jovial and genial.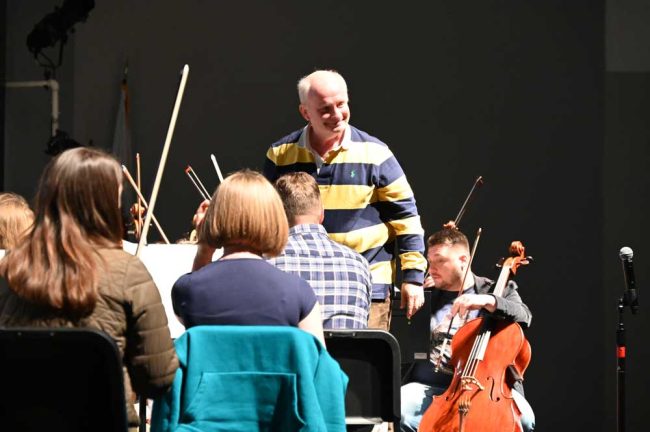 "You never tell the same joke twice," he told the audience at one point, uncharacteristically interrupting the folk song he was working on with the orchestra–for an encore at eventual concerts–to translate what he'd been telling musicians: "What I'm telling them is play eight bars like this, then play eight bars like this." He conducted in Ukrainian throughout, commanding utter silence from the performers but for their music. No one questioned him, no one made objections.
For Evan Hernandez, a graduate of FYO now in her senior year at Stetson, where she is studying music and is the university orchestra's second violins' second chair, it was an unparalleled experience. "I don't think I've ever been this close to a professional orchestra," Hernandez said, as the orchestra was working through the torrential third movement of Brahms's piano concerto (without soloist Stanislav Khristenko). "I'm assuming this is one of the best orchestras in the world. It's right here. It's definitely crazy to go from being in the FYO to being at Stetson, and feeling that huge gap in skill level, and then again to see these guys, and there's just another unimaginable skill level gap. It's like, maybe I'll be there someday, but boy, there's a long way to go still. Also knowing maybe I might not get there, but some of my friends will."
Hernandez and her friends, six of them who were supposed to be in sectional rehearsals Thursday evenings, changed their rehearsal time and all drove over to witness the Lviv orchestra in person. It's a unique opportunity for musicians in the audience: "I'm also paying attention to how responsive the players are, knowing some of this music they may be looking at for the first time," Hernandez said, "how little instruction he has to give them and how quickly they're able to, as a whole section, respond to that with just even one word of instruction. To keep the rehearsal moving is extremely impressive and shows just how flexible you have to be."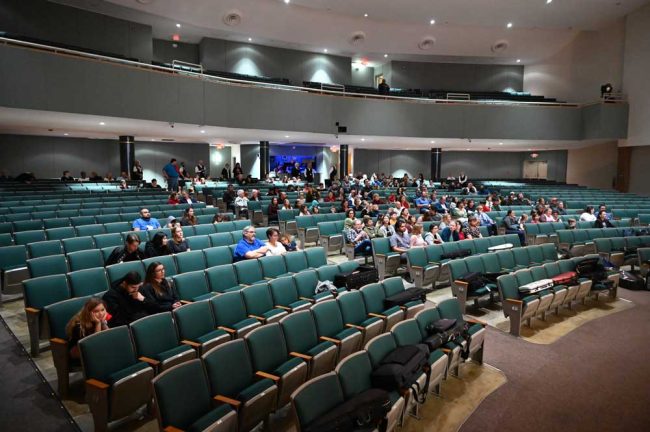 Kuchar did keep it moving–A Dvorak Slavonic dance (the Op. 72, Number 4), the third and fourth movements of Sibelius's fourth symphony, the Brahms, that Ukrainian folk piece by Kos-Anatolsky. You'd have never thought he'd arrived in Palm Coast in the middle of the previous night, or that his orchestra only hours before was working in unimaginable conditions, fitting in rehearsals between power cuts and always on alert for the next missile attack.
"For many of us here, living without electricity or electricity rationed four hours per day, limited to heat conditions where most of these people have families, they must carry on normal existences–it's been an extremely stressful existence," Kuchar said, "especially not knowing if rockets or missiles are going to come and have a bearing on your existence or if in fact, you will meet your colleagues the next day."
But that's also what it's touring for, says Mariana Husiak, who's managing the orchestra on tour. "They feel like they have a mission here. This is why they're here every minute," Husiak says, speaking in Ukrainian through the translation of Irina Strutynskyy, a Ukrainian now living in Palm Coast who'd turned out to see the orchestra. "Everybody of course feels for and is thinking every minute for their family members who are back there. But they feel it's really important for them, like it's their mission to be here too, so they're not sick of being asked about the war. They want people to know what's going on. It's getting tired emotionally. But they want everybody to know what's going on."
Back home as on the road, the Lviv National Philharmonic Orchestra has powered on, working its usual six days a week schedule and performing in concerts. But if it could fill its 600-seat venue before the war, it's had to reduce the number of seats since the war, if for no other reason than to ensure that every person in attendance can fit in a bomb shelter if and when missiles fly.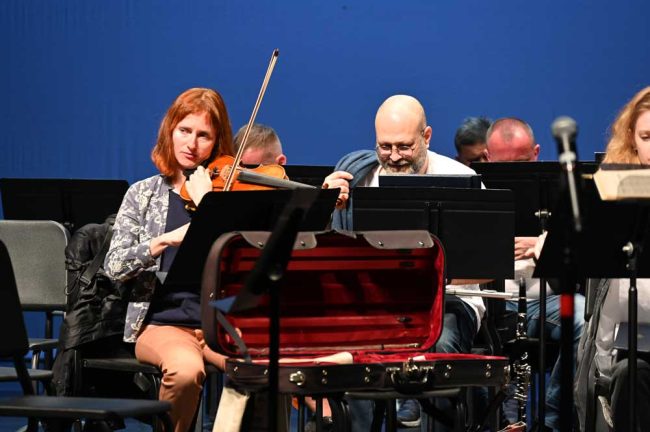 "Even though there is war, people are even more interested to attend this type of concert," she said. "They mentally need some kind of relief from the pressures. Even sometimes when they're performing and there's not enough seats, and there is no sirens or anything, they're standing and listening outside."
After the rehearsal, and that cheer from the audience, Kuchar and members of the orchestra posed for pictures, stretching a big Ukrainian flag Strutynskyy and a friend had brought. Fulmer, the Auditorium director, had dressed in the national colors, too.
No wonder a child near the front of the Auditorium yelled out, just before the first note of the rehearsal, in Ukrainian, "Slava Ukraine!" ("Glory to Ukraine"), to the orchestra's great appreciation.

The Lviv National Philharmonic Orchestra of Ukraine is in performance at 7 p.m. at the Peabody Auditorium, 600 Auditorium Boulevard, Daytona Beach, Saturday, January 14, a presentation of the Daytona Symphony Society. The concert will feature Brahms's Tragic Overture, Sibelius's Second Symphony, and Brahms's Piano Concerto No. 1, with Ukrainian-born pianist Stanislav Khristenko. Tickets are $28 and up, but students may get $10 tickets.
Disclosure: Cheryl Tristam is married to FlaglerLive Editor Pierre Tristam.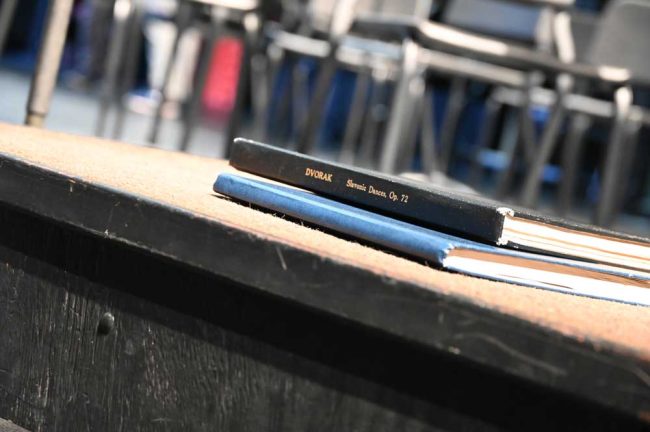 Reader Interactions