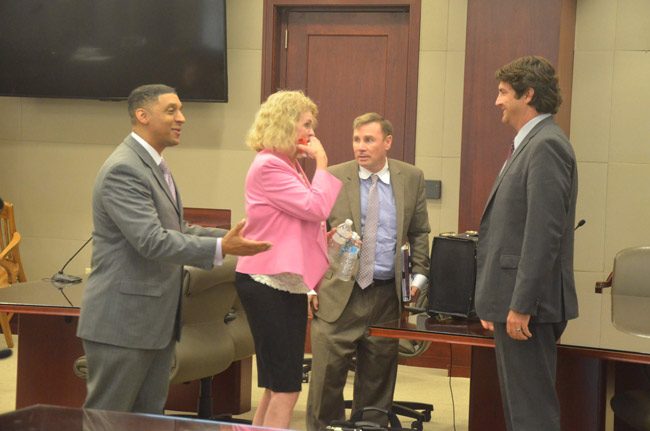 It was a sunny afternoon that January 12 in Palm Coast's Grand Haven five years ago. Lucille Horton, 65 at the time, and her husband Richard Resnicoff, 68, had not been getting along. The extent of their argument is in dispute. She claims he was being violent toward her. A neighbor had heard her scream that morning, telling him "get off me." Authorities noted no obvious signs of violence on her.
But that afternoon Horton got in her car and drove away from the couple's house—and Resnicoff jumped on the trunk of the car as if to keep her from driving off. She drove off anyway, accelerating brusquely according to two witnesses who heard and saw part of the incident from across the road, though the car didn't speed off to the point of making tire marks on the road. Whether Horton intended to get her husband off the car violently or not—that too is in dispute—Resnicoff fell, hit his head on the pavement, and died.
What had started as a wrongful death civil suit several years ago in 2016 led to Horton being charged with vehicular homicide, a second degree felony that exposed Horton to up to 15 years in prison—likely nowhere near that much had she been found guilty, but prison time nonetheless.
And until late this afternoon, when it looked as if night was falling as a severe storm was gathering outside, Horton had no idea what the verdict would be in a trial that had begun this morning before Circuit Judge Dennis Craig.
Craig found her not guilty.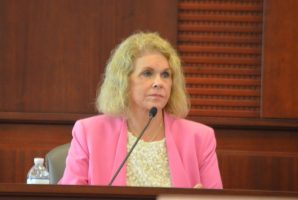 The prosecution and the defense had agreed to a bench trial—a non-jury one-day trial, so the verdict rested with Craig.
He'd all but telegraphed it in mid-afternoon when the prosecution rested and the defense made the usual motion for acquittal, as defense lawyers always do at that stage. The motion is usually as pro forma as the judge's denial. Not this time. After Doug Williams, one of the three defense attorneys, argued the motion, Craig seemed ready to grant it. The only reason he didn't is because he was compelled to rule in a light most favorable to the prosecution.
"We're at the JOA stage," the judge said, using the acronym for Judgment of Acquittal, "I need to give every reasonable inference to the [state] in this circumstance. I'm not so sure that the evidence of what we do know happened, that is, he's on the trunk of the car. Well, the evidence would indicate that she had knowledge that he was on the trunk of the car, accelerated with a quick change in velocity, which caused him to fall off the back of the car, striking his head. I'm not going to say that as a matter of law that can't be reckless, because I can't say as a matter of law it can't be reckless. I'll go ahead and find you've made your prima facie case and I'll deny the motion for judgment of acquittal."
It was as good as saying that the prosecution—Assistant State Attorney Melissa Clark, with Michael Stover in second chair—barely had a case, even though from all reasonable perspectives, even the judge's, Horton had unquestionably caused Resnicoff to fall off her car, she had told two people, including a state trooper, that she knew he was on the trunk of the car, she had accelerated, and the fall had caused her husband's death.
But she was charged with vehicular homicide. For that to stick, the state had to prove that she drove recklessly as she pulled away from the couple's home. This, Craig ruled, the state did not do. And that's all it took to overcome the charge.
It was obviously an enormous victory for Horton, who hugged her three attorneys in turn—Marc Dwyer, who'd led the case, Williams, who'd been second chair when it started, and Ron Hertel. She was then surrounded by a half dozen friends who'd attended the full day's trial, sitting behind her in the audience. Resnicoff's son, Zachary, had also attended, sitting on the other side of the aisle.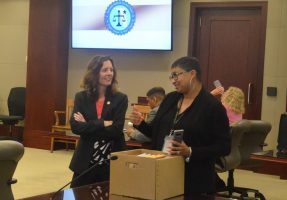 It was also a big victory for the team of attorneys from Chiumento Dwyer Hertel Grant and Kistemaker, the Palm Coast firm that had included Williams until he moved to a different firm.
There was some smoke, legal smoke, but they couldn't prove the fire, basically. It's obviously the right verdict," Dwyer said. "There is nothing criminal in what she did. If anything, and we're not going to pile on Mr. Resnicoff, but I think the facts are clear that if anyone was committing a criminal act, he was in the commission. If we ever reach the place where you have to be careful how you try to get away from an attacker, we'd be in a lot of trouble."
The defense had moved for a stand-your-ground case in a hearing last July, arguing that Horton had been escaping Resnicoff after he'd assaulted her in the house and attempted to keep her from leaving. Craig denied the motion (if he hadn't, the case wouldn't have come this far). But the hearing served in part to demolish Horton's claim that she was unaware that her husband was on her car as she was trying to get away, because the stand-your-ground defense was predicated on showing that the reason she purposefully got him off the car by accelerating was in self-defense.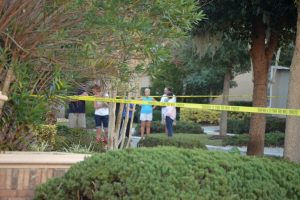 On the stand today—on two occasions—Horton did not make the most convincing impression, claiming repeatedly that she did not remember seeing him on her car as she was driving away, and that she was merely trying to "escape." But whether she was credible or not about that proved irrelevant. Her driving manner became the central issue. She had pulled away from the house slowly, then accelerated. Two neighbors who were coming out of their house at the time testified to hearing, not seeing, Resnicoff fall off the car (one witness described the sound of him hitting the pavement as the vehicle "vroomed" away). But since neither had actually seen the moment of Resnicoff's impact against the pavement, nor actually seen Horton's car zooming off, the state could not use that testimony—however seemingly reasonable—to prove that reckless driving had taken place.
It came down to the judge reasoning that while Horton did all the things described that led to Resnicoff's death, a reasonable person, Craig said, would not think that a vehicle going that slowly would cause a man's death, even if he fell. "Everything had to come together" for it to happen that way, he said. The fact that it did cannot be held against Horton.
Clark was left incredulous by the judge's position. "If you have someone sitting on the back of your car and you accelerate, that's going to knock him off the car," she said, and that's most likely going to cause serious bodily hard and possibly death—as it did in Resnicoff's case.
"Why should this be enough for reckless driving?" Craig said.
"You accelerate that car, he is going to go flying off the back of the car," the prosecutor said.
Craig didn't buy the "flying off" metaphor.
It's not over for Horton. Resnicoff's son Zachary filed a wrongful death civil suit reportedly asking for $1 million in damages. Hertel is defending Horton in that suit, now three years old. Its last hearing was last October. The next hearing has yet to be scheduled.