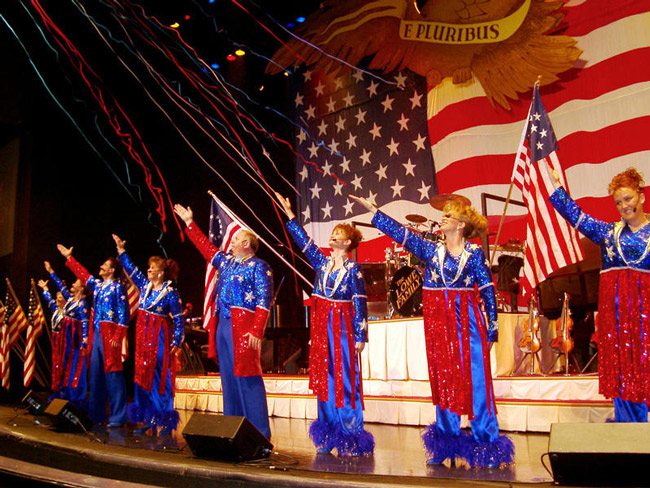 "I knew when they were young that they were unusually gifted," says Robert Lowe, 60, the patriarch of the Lowe Family National Tour: The children will bring a measure of their prodigious and collective musical gifts to the Flagler Auditorium, Thursday (Jan. 24). The show represents something more important than talent, he says: family. Nevertheless, to call it a family show, which it is, would be an understatement, although the Lowe family is just that, Robert says—a normal American family.
That's a bit of an ironic understatement. There's little of the usual about the Lowe family. Their show, described on their website as "colossal," is a "blend of show-stopping classical, Broadway, Irish, Jazz, blue grass, old-time favorites, spectacular dance, six-part harmony, gospel, and more."
"Let me put it this way," Robert says. "The most common thing people say when they come up after the show to shake our hand is, 'that's not fair, all that talent in one family.'" (Imagine what they'd have told J.S. Bach and his two dozen musical children.) So Robert responds: "I say, you can do it, too. Every family has talent. Some are cursed with academia, others sports. Our family has music." It's been a journey with little doubt along the way, though like everyone else, Robert admits that success has been hindered by the lousy economy.
"Of course, you can't see the end from the beginning, but I said right away that one day the world would see them," Robert says of his seven children. "And now they've been all over the world." The children's talent has taken them from their humble Utah
Beginning, where they started playing in front of little mic stands with cheap side speakers on the walls, to theaters with million-dollar lighting and sound systems: China, three times, Rio, and Russia. They even performed for the equivalent of Chinese MTV for New Year's in Hong Kong.
The Lowe story began when Robert met LeeAndra at Brigham Young University's young ambassadors' program. Both, in their own way always had a stake and interest in music. Robert played the lead trumpet in the college's jazz group. LeeAndra had grown up in California, where her father worked for Howard Hughes, the eccentric aviator, business man, and film maker, allowing her the chance to grow up around the stage. They got married. And soon it began raining babies: First Kysha, now 38; then Korinne, 37; Doug, 36; Kendra, 35; Kara, 28; then Kayil, 24. Robert, 60, works on the business side of the Lowe family operation, while LeeAndra, 62, works the production side.
"People ask us all the time if they forced us to do it," says Kara of her parents, "but all we kids naturally gravitated towards musical instruments." The children's talent surfaced when the oldest sisters, as young children, harmonized together. "One would sing a note and then another sister would sing one directly above it, forming a perfect chord."
From that point, Robert and LeeAndra decided it was time to start their children with lessons. Malcolm Gladwell's famous "Outliers" theory posits that great minds (artists, creators, engineers) don't flourish as we know them before logging some 10,000 hours of hard labor at their vocation. The Lowe children seem to have exceeded that, with a combined 250,000 hours of practicing between them. Most of the siblings started on the violin as the common family instrument before each augmented that with different instruments unique to them.
"Sure, there were times we didn't want to do it but we were always very disciplined—in a good way. It's the most rewarding life-style we could've asked for," Kara says. They're better equipped to deal with it because they've been there their whole lives, unlike a lot of Disney-manufactured and other kid stars thrown into that life, only to implode soon after. Judy Garland comes to mind. The Lowes try to give that passion and dedication back, teaching music lessons by Skype even while on tour, and then giving hours of personal lessons while they are home.
The Lowes launch their show with a modern-day opening section before delving into a 60s period act, an Irish music-themed section, Kara's favorite, which features Irish hardshoe and step-dancing—as well as one of the show's most poignant moments—a trumpet solo of "Danny Boy," played by Robert. (Here's Ben Webster's divine version, to whet your appetite.) This piece memorializes another of the Lowe siblings, Kendall, who never got to make it on stage like the rest of them, as he died in infancy. He would've been 26 now. The show then turns classical, from there moving into blue grass and then to a closing patriotic number in which the group poses with an American flag, somewhat discordantly, like the soldiers at Iwo Jima.
"It's very intense because of how fast paced it actually is," says Kara. "People tell us they don't have time to breathe. They don't want us to slow down but at the same time they do, just so they have time to clap." You might miss the abrupt transitions between acts, which require a rushed change of detailed costumes.
But it all remains about family. "We want to send someone home a better person and to let them know they have something to live for," Kara says. "People who come from broken homes, it gives them so much hope to see a whole family be able to work things out and come together and put on an amazing show like this. It tells them that it may be difficult but it is possible. If you work hard and want it bad enough, you can achieve it, in your family and those families around you."
One time last year, she says, a couple approached them after the show and the woman started, "I just want to hug you." She then confided to the Lowes that she and her husband had recently decided to end their marriage, that they'd given up. But then, she thanked the Lowes for what they had done that night, saying that after seeing their family do what they do, she and her husband had decided to give it one last go.    "To know that my family and I can have that type of influence on the world, especially a world, so broken is amazing. If we can give back even in this small way, it will have a ripple effect on everything else. To us, family is the center of the universe." (There's no word on whether the pledge outlasted the next fight.)

The Lowe Family National Tour, at the Flagler Auditorium for one night only, Thursday, Jan. 24, at 7:30 p.m. Tickets are $29 for adults, $18 for youths.  Call the Auditorium box office at 386-437-7547 or visit the Auditorium's website.