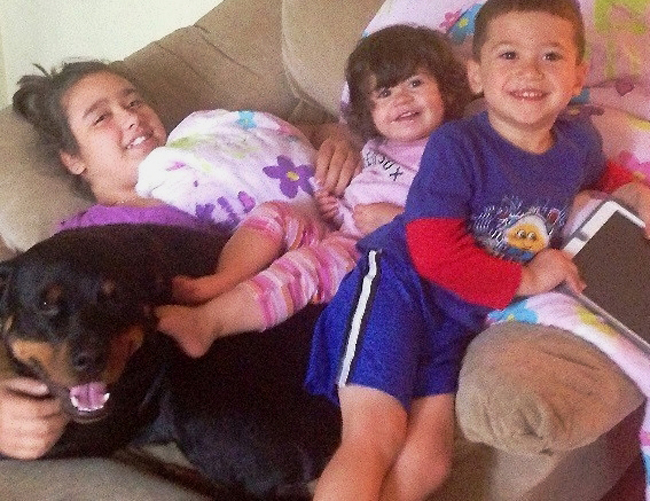 A young female Rottweiler named Kayenne was back home Thursday and in good health after being on the loose since Christmas eve. Kayenne was recovered and returned home thanks in part to the efforts of a few Flagler County Sheriff's Office investigators.
Early Thursday morning, detective Diego Morales spotted a stray dog walking along the shoulder of
I-95 in Flagler County. When Morales got to work he learned that a dog had been reported missing
by its owner following a motor vehicle crash on the Interstate the day before Christmas. That same
day, the driver of a fuel tanker truck lost his life in a fiery early morning crash with a semi-tractor trailer on the Interstate two miles north of Palm Coast Parkway.
Sgt. Mike Van Buren, who had investigated the crash, later sent an e-mail and photo of Kayenne to
other deputies, letting them know of the missing dog, and to call Christian MacDonald, Kayenne's
owner, if the dog was found.
Upon learning about the missing dog, Morales returned to the Interstate with another detective and began a search for Kayenne. Morales and his partner searched the area but were unable to locate the dog.
Around midday Thursday, detective Annie Conrad became involved in the case and began her own search along a two-mile stretch of I-95. Unable to locate the dog, Conrad went back to her office, but not before letting Florida Highway Patrol troopers patrolling along that section of the Interstate know that a dog had been spotted in the area.
Not easily discouraged, Conrad returned to I-95 before heading home for the evening and started to
look again for Kayenne. As she slowly drove along the shoulder of the roadway, Conrad saw two
cars pull up behind her. Conrad got out of her car and approached the occupants of the two vehicles.
She then learned that a relative of MacDonald, Diane Spinale of Palm Coast, who refers to herself as
Kayenne's "Nana," was part of the group that had returned to the area to look for the dog.
A short while later, one of the searchers walked to the edge of the wood line, and there lying quietly in the brush was Kayenne.
MacDonald broke down in tears when he heard that Kayenne was found. MacDonald later told Conrad that he had been praying on his knees ever since Kayenne ran off that she would be found. Conrad later received a text from MacDonald saying, "Our child is coming home, I love cops."