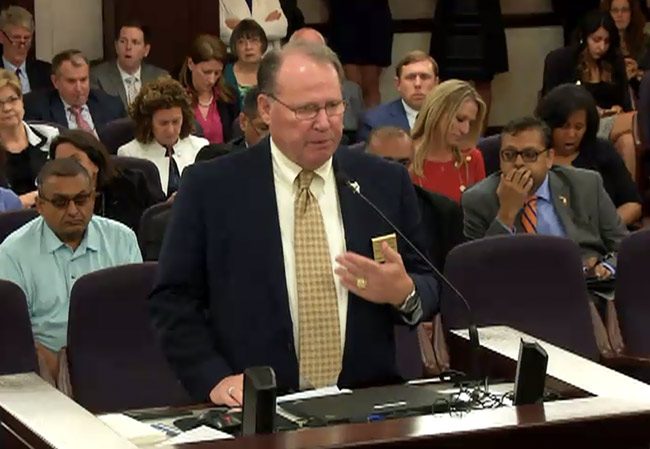 Last year after a tense and at times snippy hearing an uncomfortable-looking Sen. Travis Hutson, who had chaired the meeting, was among the three dissenters in a 7-3 vote scaling back regulation of vacation rentals. Hutson said his vote reflected Flagler County government's opposition to the measure. But he was clearly half-hearted about it.
A much more chipper and relaxed Hutson today was in the majority of a more lopsided 9-1 vote as his committee cleared a vacation-rental bill that goes much further than last year's measure to disarm local government regulations and extend special protections to vacation rentals, essentially making them as sacrosanct as private residential homes and removing them from the regulatory scheme that controls public lodging establishments. Only a state agency, Florida's Department of Business and Professional Regulation, would inspect and regulate vacation rentals, lightly so, with only up to 1 percent of homes potentially inspected each year.
A grandfather clause allowing local governments that passed vacation-rental regulations before 2011 survived, which will benefit Flagler Beach, whose more restrictive ordinance dates to 2008. The Flagler Beach City Commission had become so concerned about losing that regulatory authority that Jane Mealy, who chairs the commission, took the rare step of issuing an open letter to residents urging them to pressure Tallahassee against removing home rule. She won half of what she was asking for.
But Flagler County government has been battling to preserve the 2014 law enacted mostly at its behest, and giving it and other local governments the authority to regulate vacation rentals to some degree. Today's vote of Hutson's Regulated Industries Committee, like the vote last week by the Senate Community Affairs Committee, wipes that out.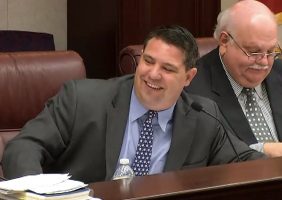 "A defeat? Yes," said Al Hadeed, the county attorney who crafted Flagler County's 2014 ordinance, which became a template for dozens like it around the state—and the reason the vacation-rental industry mobilized to wipe them off the books. "We were not happy at the outcome." Hadeed had traveled to Tallahassee, as he had repeatedly last year, to oppose the bill. With him today was Greg Hansen, chairman of the county commission. Hansen spoke to Hutson's committee, but he and Hadeed knew beforehand that they'd already lost Hutson.
Hutson had justified his vote by framing it in the amendment to the bill he submitted, and that the committee approved, by carving out a special exception for homeowner associations, known as HOAs, enabling them to regulate or outright ban vacation rentals if they so choose. Hutson's amendment, in other words, provides for HOAs the very authority that the bill denies county and city governments, though local governments have not sought to ban vacation rentals, only regulate them. Hutson spoke of his amendment as if it addressed most of his constituents' previous concerns. As Hansen noted, it did not.
Hansen acknowledged the HOA amendment "goes a long way to make this a better bill," but he said it remains important for the county to regulate single-family homes that aren't occupied by homeowners but are let for vacation rentals. The distinction is with owner-occupied vacation rentals used for such things as Airbnb, which the county has no issue with.
"In Flagler County we have regulations where we go in and inspect and they get a certificate of occupancy from us, and we only look at the state building code and fire prevention code. So we want to make sure that the home is safe for renters to occupy," Hansen said. "When we first started our program, 80 percent of our short-term rental places failed the inspection. We worked with them, and now they're all in compliance, and we've not had a violation since that time." The 2014 law enabling local regulations helped Flagler, he said, because between 2011 and 2014, the county was receiving "several complaints about nuisances, and it got to where we were getting one a week." The 2014 legislation, he said, solved the issue, with no complaint filed since then.
While Flagler County authorizes short-term rentals in all its zoning areas, only 120 homes fall under the local ordinance that require them to be inspected.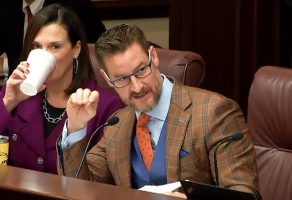 Sen. Greg Steube, the Sarasota Republican and chief sponsor of the bill scaling back local regulatory authority (now referred to clunkily as CS/SBs 1400 and 1640) ostensibly preserves local authority in some forms. "This bill allows county and cities anything they want to do to regulate noise," Steube said, "to regulate traffic, to regulate parking, to regulate trash, to regulate how many people you want in a home, so if you want to limit occupancy, if you want to limit how big the houses are in a certain community, you can do that, you just have to pass the law so that it applies uniformly to the entire jurisdiction in that ordinance. So there's still a lot of flexibility here for the local governments to do the type of things they want to do."
Steube was referring to the provisions of his bill that give local governments authority to regulate vacation rentals only to the extent that rentals are regulated exactly as private homes would be. A government would be prohibited from applying certain regulations only to vacation rentals, as is the case now with Flagler County's 120 homes. It could not, for example, require those 120 homeowners to file for a certificate, to let the local government know who is operating the vacation rental, to leave a contact number in case of trouble—unless the local government were imposing the same requirement on all other residential dwellings.
But that, in effect, amounts to a ban on such regulation, Hadeed said, simply because no local government, including Flagler, could possibly regulate all of its residential dwellings homes just to be able to target its vacation rentals. The numbers show why. There may only be 120 vacation rental homes. But after a check with the property appraiser, the number of residential dwellings in unincorporated Flagler County totals more than 8,500. "There is no way to upscale and create a bureaucracy that would supervise 8,500 homes," Hadeed said. Yet there are valid reasons why vacation rentals should be regulated differently, he said, starting with fire and safety codes.
The bill drew what at first sounded like significant opposition from at least three members of the Regulated Industries Committee—Sens. Audrey Gibson, whose district in the past briefly included a sliver of Flagler, Perry Thurston and Oscar Branyon, all three Democrats, all three black, all three raising concerns with the lack of discrimination-protection in the proposed bill, but two of the three (Gibson and Thurston) also speaking very favorably of idea behind vacation rentals: they allow families that can't afford expensive hotel rooms a chance to travel, see the country and enjoy vacations at lesser prices. For that reason, they said, they'd support the bill. Steube stressed that very point in his closing. It was all a reflection of the vacation-rental industry's sophisticated marketing arm, which has honed its evolving talking points since last year's failed attempt to change the 2014 law.
Only Dorothy Hukill, the vice chair of the committee and a Volusia County Republican, opposed the bill in the end. She had been absent from the hearing last year, so there's no recorded vote then. She explained her opposition today. "I am concerned that we have move back and forth on this," she said. "I really have concerns about how this affects city codes and county codes also, and what the powers that they retain if this bill were to pass. Inspections—there's so many issues still for me, so unfortunately at this point I'm not going to be able to support the bill."
Hutson spoke of his role as the original architects of the 2014 law, saying what prompted it had been a long meeting in Flagler about what had been going on in the community. He said it was "specifically within their HOAs"—an exaggeration: HOAs at the time were free to ban or restrict vacation rentals, as they still are now, and the concern in those meetings was as much from residents outside of HOAs as from HOAs worried that they would lose the ability to restrict rentals.
"I think Sen. Steube is actually taking the right approach here of pre-empting everything to the state in the sense of instead of giving everything back and let's see what is wrong and try and fix it from the state levels," Hutson said, "let's take everything to the state, and locals as we go forward through this process, tell us more of what you want us do." He then took an odd swipe at local governments that have been pressing the safety angle, which would include Flagler, when he said: "I'm confident that not only on the complaint but some of the commercial used space that the state is going to go in there and inspect for some of these fire codes and some of these problems that locals may see. But I will say that I think some of it is kind of gotcha politics, because I've not heard from anybody being severely hurt in a vacation rental because of structural or code type issues. So Sen. Steube, thank you for bringing this forward. Thank you for allowing me to put that additional language to protect some of my locals back home."