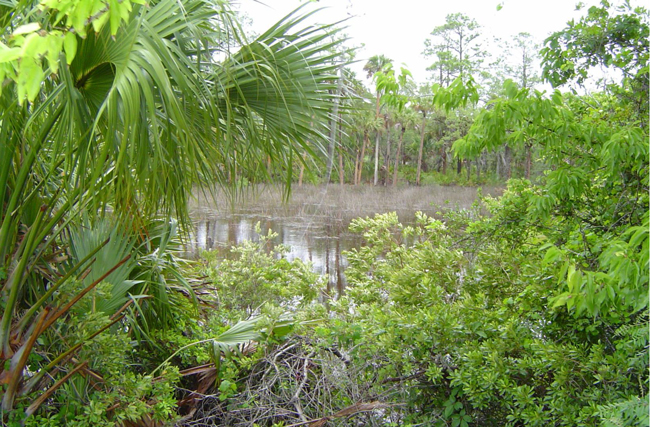 Tuesday's public groundbreaking ceremony planned for Long Creek Nature Preserve construction is being postponed, due to cold weather, to Jan. 14 at 8:30 a.m. Tuesday, Jan. 14. Construction was originally due to begin in October.
The 9-acre Long Creek Nature Preserve connects to the 225-acre Long Creek Basin. The nature preserve property was purchased in 2008 for $4.5 million. Half the money came from Flagler County's Environmentally Sensitive Lands program (that revenue is generated by a property surtax and has been approved overwhelmingly by voters every time they've seen it on a ballot), and half by the now depleted Florida Community Trust fund. The Long Creek Basin property was donated to the City. (See an overview below.)
Phase I construction, beginning soon, will include construction of a path and boardwalk to new canoe/kayak launches into Long Creek and College Waterway, installation of shoreline stabilization along College Waterway, construction of a fishing pier along College Waterway with floating dock for boat mooring, and an entrance to the site with a parking area. That will take six months and cost $1.46 million, funded by the city and the Florida Inland Navigation District. The contractor is Saboungi Construction Inc.
The groundbreaking at the Long Creek Nature Preserve site is on Palm Harbor Parkway, adjacent to the College Waterway Bridge. Attendees are asked to park at the Palm Coast Yacht Club, 1 Yacht Club Drive, on the other side of the College Waterway Bridge. A shuttle across the bridge will be provided. The event will include remarks by Mayor Jon Netts, Archeologist and Project Consultant Dana Ste.Claire, and Palm Coast Senior Environmental Planner Denise Bevan. Light refreshments will be served.
Located in the northeast part of the city, between neighborhoods that border Long Creek and Big Mulberry Branch Creek natural corridors, the project will provide access to the Palm Coast's saltwater canal system, and eventually facilitate access to the Pellicer Creek Aquatic Preserve and other regional attractions. Its natural beauty will serve as a living laboratory for environmental education programs. The preserve is already being used in a limited way by the Children Helping in Resource Protection – or CHIRP – program, offered by Palm Coast for Flagler schoolchildren.
A major archeological resource, the Hernandez Landing Site relates to the early 1800s Plantation Period in Florida and is located just east of the project site. That area is slated for enhancements in a later phase of the project, and its interpretation will convey the history of the landing site and its importance in regional and statewide history. Palm Coast also plans to build an Environmental Education Center at the preserve in the future.
On Jan. 14, a Palm Coast City Council workshop will follow the groundbreaking ceremony, but at the city's offices at City Marketplace.