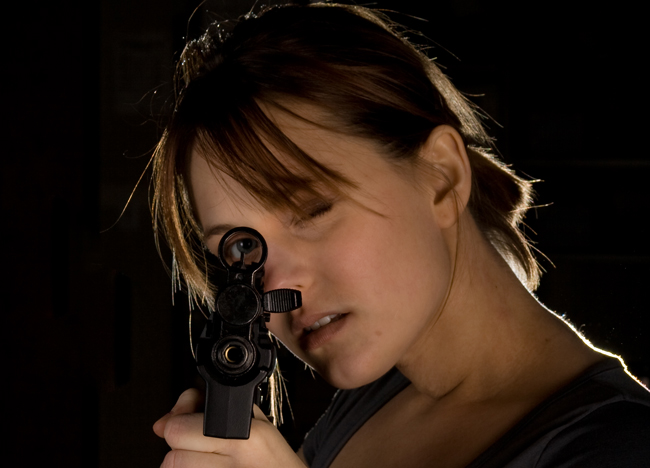 About a month ago, Sandy Dziak and her husband were riding horses on their 20-acre property in Lake County when they were jolted by an explosion.
"We heard what sounded like a cannon," Dziak said. "And then we heard rounds whizzing over our heads."
Their neighbor was doing some target shooting on his property. But because bullets travel thousands of feet, the rounds were were flying onto and over the Dziak's property.
"We approached the shooter," Dziak remembers, "and asked him, 'Are you trying to kill us?' "
The man told them that he was within his rights and that there was nothing they could do about it. Dziak called police — only to find out that the man was right.
Her neighbor was violating previously established Lake County firearms and noise ordinances, but police told Dziak that because of a new state law, they could not impose any restrictions on him.
"The officer told me that he could be fined $5,000 and lose his job if he gave the guy a citation," Dziak said.
It's part of recently passed HB 45, signed into law in July by Gov. Rick Scott and put into effect Oct. 1 as part of Florida Statute 790.33. The intent of HB 45 was to make it easier for gun owners to carry weapons from one jurisdiction to another. It forcefully reasserted the 1987 law that reserved the right to set gun policy strictly to the state, making all local gun laws or rules "null and void." And it threatened any local official who tried to enforce a local gun ordinance with a $5,000 fine and removal from office.
Only state law applies when it comes to guns. The problem is that, unlike local ordinances that impose noise and safety limits, state laws — heavily-influenced by National Rifle Association lobbying — focus more on gun rights than gun limits and things such as noise restrictions.
Dziak herself is no anti-gun zealot. She owns three guns and chats with amazing familiarity about things such as NRA standards for berms and backstops.
But she also doesn't want to be forced into a foxhole on her own property.
"It's a life-threatening situation," she said. "And it isn't just the bullets.  It's also the noise. I had a horse rear up and fall back on one of our trainers. Another horse bolted on me."
Her neighbor continued his free-wheeling shooting, spooking clients and $100,000 horses at her million-dollar equestrian center.
So Dziak continued to call the police. And they told her that if she kept calling, they'd have to arrest her for harassing her neighbor.
"I feel like I've entered the Twilight Zone," she said.
Dziak contacted her state senator, Alan Hays, who told her that he voted for HB 45 because he believed it only pertained to issues of possession, not discharging, of firearms.
It's not the first time that liberalizing gun laws has had unintended consequences in Florida. Part of the far-reaching overhaul of gun laws in 1987 had a loophole in it that allowed people to openly carry guns in public. People — some with notorious reputations – started walking South Florida streets with six-shooters on their hips. Six months later, lawmakers, who had gotten an earful from nervous constituents, closed the loophole.
Dziak said Hays promised to address the issue in Tallahassee, but she has not yet heard back from him. She also contacted former County Commissioner Linda Stewart, who replied with a mass e-mail urging folks to contact state lawmakers and complain about the new law.
"I am a gun owner and gun lover," Stewart wrote. "I defend my right to bear arms very strongly.  My family has hunted for generations.  My son is a member of the NRA, but neither he nor I agree with this legislation.  It is irresponsible."
In September, Atty. Gen. Pam Bondi's office was contacted by concerned officials from Santa Rosa County and she responded:
"Particularly in light of its recent reaffirmation by the Legislature, section 790.33, Florida Statutes, provides a clear answer to your principal question: a county may not regulate the recreational discharge of firearms in residentially zoned areas when the discharge is not on a 'shooting range,' but merely recreational shooting on private property."
Bondi cited a previous opinion that prohibited an Indian River County ordinance that forbade the discharge of firearms within 300 yards of a building or public road.
With the threat of removal from office hanging over them, local politicians throughout the state began undoing decades of gun restrictions. In Palm Beach County, commissioners had to do away with ordinances banning guns in child care centers. Boca Raton had to remove the "No guns allowed" sign from City Hall. In Orange County, workers removed "No firearms" signs from county parks. Groveland had to rescind an ordinance prohibiting the firing of guns into the air.
"It is the Wild West here in Palm Beach County," said County Commissioner Burt Aaronson.
And Dziak had to start trying to figure out when her neighbor was away at work so she could schedule the training and exercising of her horses during those moments of peace.
"What the intent of the law was and what it's actually done are two different things," Dziak said. "What they've created is a situation where it's a living hell for any person who lives next to somebody who has a gun."
But there is one exception. State law doesn't allow guns in meetings of elected officials.
–Ralph De La Cruz, Florida Center for Investigative Reporting