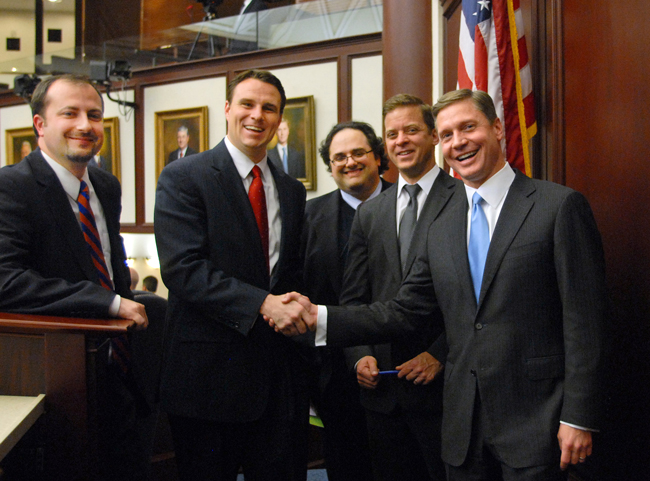 Lobbyists collected at least $120 million to represent businesses and other clients before the Florida Legislature in 2012, with companies such as AT&T and the gambling industry spending heavily, according to reports filed with the state.
Some lobbying firms earned millions of dollars as they represented sprawling rosters of clients before the House and Senate. At least 51 companies, groups and government agencies spent $250,000 or more on lobbyists during the past year.
The telecommunications giant AT&T appeared to spend the most, at about $1.35 million, according to a compilation of lobbyist financial information posted on a state website Friday.
Lobbyists faced a deadline this week for submitting reports about the sources and amounts of their compensation during the final three months of 2012. Numbers on the website likely will change as information continues to trickle in and be updated.
Like AT&T, some of the other companies and groups that spent heavily on lobbyists are prominent names and have huge business interests in Florida. As examples, United States Sugar Corp. spent about $855,000, while Florida Power & Light spent about $590,000, according to the website.
But other big-spending firms are not so well-known, at least not outside the Capitol. For instance, a firm called Bayfront 2011 Development LLC, which is an offshoot of the international casino company Genting, spent about $1 million on lobbying. Genting has helped lead an effort to allow resort casinos in Florida.
Similarly, a firm called International Internet Technologies, which has fought efforts to close down Internet cafes, spent at least $740,000 on lobbyists, according to the state website. Internet cafes have become controversial in recent years, with critics saying they offer games that are akin to slot machines.
Lobbying firms are required to file reports quarterly that list their clients and information about how much they get paid. Most of the reports list the compensation amounts in ranges — for example, a lobbying firm will report receiving between $10,000 and $19,999 during a quarter from a particular client — but exact amounts are required for payments topping $50,000.
At least three lobbying firms, Ballard Partners, Ronald L. Book PA and Southern Strategy Group, reported bringing in at least $1 million in each quarter of the year. Those firms represent dozens of clients and, in some cases, receive fees that can top $100,000.
As an example, Ballard Partners reported receiving $315,000 from Automated HealthCare Solutions, a firm that has been embroiled in a long-running legislative debate about how much money doctors charge for dispensing medications to workers-compensation insurance patients. Automated HealthCare Solutions provides technology that doctors use in dispensing drugs.
Other firms also reported collecting big money from individual clients. Among them was the lobbying firm Tsamoutales Strategies, which reported receiving $459,000 from the Harris Corp., a major technology firm based in Melbourne. Similarly, another technology firm, Honeywell International, paid about $436,000 to Tsamoutales Strategies, according to the records.
–Jim Saunders, News Service of Florida