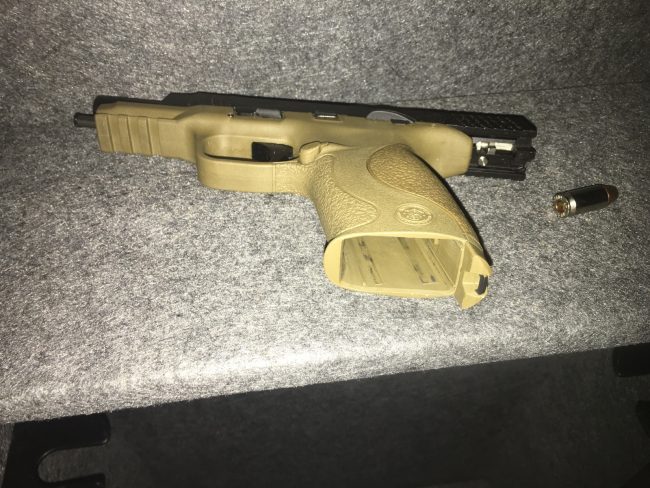 Last Updated: 8:18 p.m.
A 14-year-old boy was arrested at Buddy Taylor Middle School in possession of a loaded gun shortly after noon during his fifth-period math class today.
The incident took place in the school's second floor of Building 9. "A student was somehow made aware that this boy might have a gun in his backpack," Brittany Kershaw, a sheriff's spokesperson who had just been to the school, said, "alerted the teacher, the teacher alerted the school resource deputy who's on the BTMS campus," that was Cory Petty, who would be joined by Dean Millette, "and he went to the classroom and asked to speak with the boy. He pretty much knew immediately what they were there for."
The student, Dewuan Brinson, had shown the gun to a girl and possibly others in teacher Kelley Barrigar's class, according to his arrest report: "Ms. Kelley noticed several students in her class seemed to be upset," the report states. The teacher "asked the girls what was wrong. Several of the girls informed Ms. Kelley that suspect Dewuan Brinson had a gun on campus but the gun did not have a magazine." (See the arrest report in full.)
Classes were not disrupted and continued through dismissal at 1:40 p.m., district spokesman Jason Wheeler said.
The semi-automatic .45-caliber gun, is a Smith and Wesson M&P.45 caliber handgun, serial number HST5697. "It should be noted that this firearm can be fired with a run in the chamber and no magazines in the chamber (stamped on side of the
gun," the arrest report states. The gun had one bullet chambered, and no magazine or other bullets in the student's possession. The gun had been reported stolen on April 18 from an unlocked car on Point Pleasant Drive in Palm Coast, belonging to home-owner Richard Friese, 70, according to a sheriff's incident report obtained by FlaglerLive.
Brinson, whose parents were immediately notified and reported to the school, was cooperative throughout. He appears to have explained the reason for the gun being in his possession, but those reasons were redacted from the arrest report released by the sheriff's office, as self-incriminating statements by suspects are in such reports. Later, a detective met with the student's parents at their house on Ponce DeLeon Drive in Palm Coast and got permission from them to get the ammunition and magazine from the house.
Brinson had been arrested in November 2017 after placing a teenage girl in a chokehold and robbing her outside Pine Lakes Apartments on Pine Lakes Parkway. The victim identified him the next day at Indian Trails Middle School, where Brinson was a student, he was arrested and charged with sudden snatching. The Department of Juvenile Justice released him to his parents and the State Attorney's Office later dropped the charge after putting Brinson through teen court, a diversionary program with significant success.
It appears not to have been successful in Brinson's case.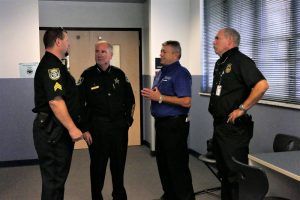 "We don't know yet why he did that," Sheriff Rick Staly said of the gun possession today. "What we do know is this is a troubled kid we've had dealings with before on a serious felony, and this is a kid that needs to have some discipline and be seriously dealt with by the juvenile justice system. The last case we had on him, they sent him to teen court and obviously that didn't work. What this case does show though is that the systems we have in place worked, not to prevent the gun from being on campus, we don't have a system for that if the student brings it in, but we have educated the students in the community and in the classroom–if you see something, say something, that's what happened in this case."
Brinson was detrained in the school's offices–he was still there in mid-afternoon, being questioned by detectives–and was to be turned over to the juvenile justice system. "He never made any threats to anyone that he was going to do anything," Kershaw said, "he didn't threaten a specific person or the school or anything, but he did have a firearm on campus."
Brinson faces three felony charges: possession of firearm by minor, poss of a firearm on a school campus, and possession of stolen property. "And I hope this time DJJ will keep him in detention. I'm not going to hold my breath," the sheriff said.
The sheriff was just as vehement about responsible–or irresponsible–gun ownership. An ardent defender of gun rights, he said irresponsible gun ownership can have disastrous consequences.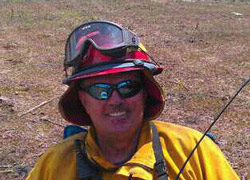 On April 18, Friese reported to deputies that his .45-caliber semi-automatic was stolen from his unlocked pick-up truck in front of 58 Point Pleasant Drive. He'd kept the gun in a bag under the driver's seat. The gun had 10 rounds in the magazine, and one in the chamber, when it was stolen. (Friese, a former volunteer with the now-defunct Bunnell fire department, was informed by sheriff's deputies of the gun being recovered. He did not answer his phone after two calls this afternoon. See the stolen-gun report in full.)
"This is another prime example of why you have to lock your car doors in your driveways, because here's a gun that was stolen from an unlocked car that ended up in a school in the hands of a 14-year-old, and it could have had a disastrous outcome," Staly said. Imagining the worst, he said, "I'm sure that this owner would have been sued and been liable that way, but that doesn't bring back a child that may have been killed or an adult that may have been killed or injured because of the negligence of the owner of this gun."
The incident at the school developed "rather quickly so there was no opportunity to do any code change, the student was identified rather quickly," Wheeler said, explaining why the security status at the school never changed. "There was no disruption to learning."
A robocall went out to Buddy Taylor Middle School Parents around the time of dismissal, explaining the incident. "I want to point out the 'see something, say something' campaign works," Superintendent Jim Tager was quoted as saying in a release issued by the sheriff's office this afternoon. "I commend that, combined with the quick actions of our School Resource Deputies, to bringing a quick resolution to this incident."