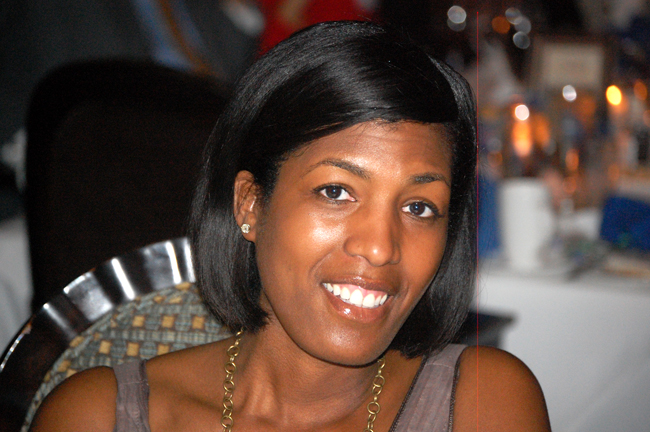 It's no longer Livingston & Wolverton. The Palm Coast law firm on State Road 100, near the county airport, is now Livingston, Wolverton & Sword as Raven Sword, whose public profile was burnished this year through her campaign for the Flagler County School Board, joined the firm Jay Livingston and Jim Wolverton founded less than two years ago. Sword will be a partner.
"We were really impressed by her candidacy for school board," Wolverton said Thursday afternoon, shortly after the announcement. "She ran an excellent campaign. We were really shocked that she didn't win. We think the momentum that she built up in that campaign can be a real benefit to us." Sword lost to John Fischer, who took 58 percent of the vote to fill the seat vacated by Evie Shellenberger, who retired.
Sword, a graduate of the University of Michigan and George Washington Law School, has been practicing law in Palm Coast and Daytona Beach since 2006 with Rice & Rose, a Daytona Beach-based firm with a satellite office in the same block as Livingston & Wolverton's.
Livingston & Wolverton had specialized in land use, real estate, estate planning, and small business law. With Sword's addition, the firm's practice will expand into bankruptcy, criminal and family law. One-attorney practices aside, there are fewer than a dozen law firms in the county. Ironically, with Sword's addition, "we're now one of the larger firms in the area with three attorneys," Wolverton said, matching the number of attorneys (but not quite the years of experience yet) of Chiumento & Guntharp.
"We've been around for a year and a half now and we've been able to grow, which I think is a testament to our service. That's the cool part," Wolverton said. Not many businesses are growing in this area.
"Joining the firm as partner and starting this new chapter is an opportunity for me to grow my business along with the growth of the Palm Coast community," Sword said in a press release (she was in Jacksonville on a case on Thursday). "The firm's focus on client service and its fresh approach to the legal business attracted me to want to join forces with them. I am reinvigorated and excited for this new challenge."
Sword is married, has two young children and an additional, intimate relationship with Michigan football. Her 100 hours a year of volunteer work with Community Legal Services of Mid-Florida, which continues, earned her the 2010 Florida Bar Pro Bono Award for the Seventh Judicial Circuit which includes Volusia, Flagler, Putnam and St. Johns counties.
The law firm also added Allan Milledge in an "Of Counsel" role earlier this year (which is to say that Milledge serves on a consultant basis rather than as a partner or an attorney on staff). He practiced law in South Florida for over 50 years. He received his law degree from Harvard Law School and served as Chair of the South Florida Water Management District and the Environmental Land Management Study Committee, which played an integral role in seminal growth management legislation. He and his family recently moved to the Flagler County area. He's represented developers, landowners, corporate media interests, and local governments for decades. In addition, he has provided legal and pro bono services to significant not-for-profit organizations including the Seafarers' House at Port Everglades, Ft. Lauderdale and Seacamp, a marine educational center in Big Pine Key, Monroe County. Locally, Mr. Milledge assisted landowners in the Old Kings Road redevelopment project in Palm Coast.