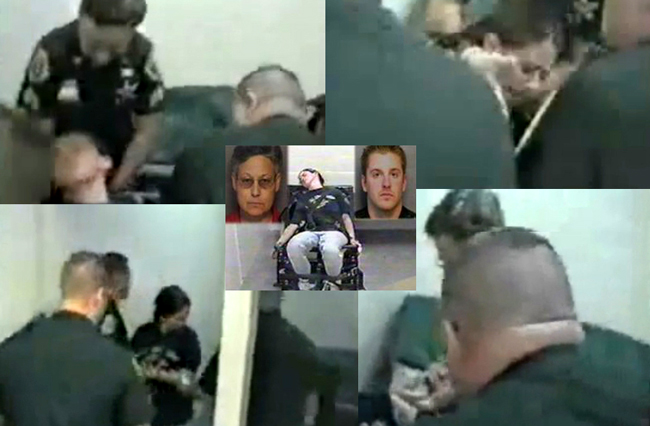 "Grim and shocking," is how a grand jury summed up its reaction to Lisa Tanner's treatment the night she was held in restraints, twice, at the Flagler County Jail five years ago, when she was 28.
"Crusading" and abusing his power on behalf of his spoiled daughter, is how the sheriff's office reacted to John Tanner's charges against the office when Tanner, Lisa's father, was the State Attorney at the time. Tanner would go on to lose his re-election bid against R.J. Larizza in 2008, in part as a result of the bad publicity over his daughter's case.
---
Excerpt from the Lisa Tanner Jail Video[media id=96 width=300 height=250]
For all the politics, the claims and counter-claims and the theatrics involved, there were some undisputed facts, and there was a 67-minute video documenting Tanner's ordeal at the jail. One of the undisputed facts is that Lisa Tanner had been arrested in March 2005 on bogus charges by Nathaniel Juratovac, then a Flagler Beach police officer whose romantic interests for her she'd rebuffed. So she was innocent all along when she was taken to the Flagler County jail. (Those charges were dropped.)
As the News-Journal wrote when the brutality came to light in 2006, Lisa Tanner "was innocent when she was denied the small measure of privacy she requested to use the bathroom; innocent when she was ordered to follow a series of seemingly inane and increasingly controlling commands by jail deputies; and innocent when she was strapped twice into a restraining chair in the space of an hour, the second time violently and with the needless additional torture of a truncheon beneath her thighs. What annoyances she inflicted on her guards – a little banging on her cell's window as she asked for privacy and some sass when she was being commanded about – were either minor or justified, especially for an innocent person feeling wronged.
"What wasn't justified those three hours in the early morning of March 24, besides the arrest that started it all by a Flagler Beach police officer (whose conduct on the job has led to at least two lawsuits), was the violence and humiliation inflicted on her by her jailers. It should therefore surprise no one that a grand jury found her treatment at deputies' hands 'grim and shocking,' and indicted two Flagler County sheriff's deputies on various charges adding up to unnecessary force."
The two deputies–Betty Lavictoire and Brian Pasquariello, both still sergeants with the sheriff's office–have now each written letters of apology to Lisa Tanner. "I want to take responsibility for my actions and involvement on March 25, 2005 surrounding your detention," Pasquariello wrote on Oct. 18. He addressed Lisa as "Dear Ms. Tanner." "I hope that you will accept my apology and we both can put this matter behind us."
Lavictoire, who now works the front desk at the sheriff's office and makes $63,251, went beyond the standard apology: "I trust that if we ever have the opportunity to meet again that the experience will prove to be more positive for both of us," Lavictoire wrote. (See both letters.) The News-Journal obtained both letters from the State Attorney's office for the 10th Circuit, in Polk County, and reported the apology in today's editions. The 10th district took over the case from the 4th district, which had taken it over from the 7th (which includes Flagler), to avoid conflicts of interest.
The apologies were not prompted by a change of heart, but as a conditional legal maneuver: in exchange for the apology, Tanner would drop the charges against the two deputies (false imprisonment, battery and culpable negligence for Lavictoire, false imprisonment and culpable negligence for Pasquariello). The pair would also agree to complete training on use of force (presumably the sort of training every jail guard and deputy would, or should, periodically complete) and be suspended without pay for 10 days.
Lisa Tanner now lives in Hawaii.