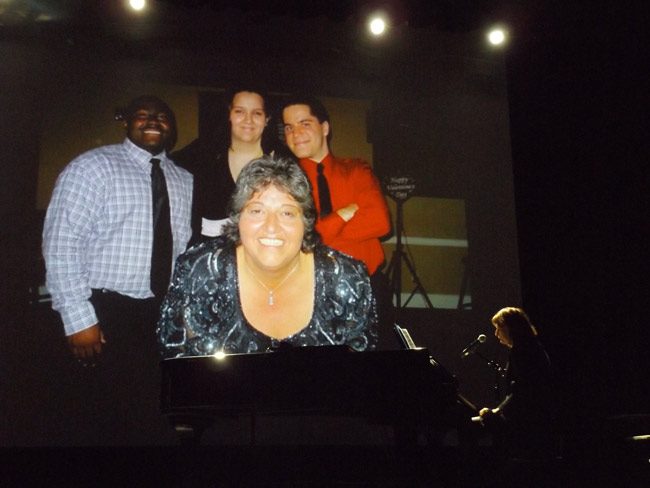 As some 300 people gathered at the Flagler Auditorium Saturday evening (Feb. 2) for a celebration of life for Lisa McDevitt, the venue's late executive director,  a giant video screen shuffled through heartwarming photos of McDevitt with family and friends while pianist Alana Fitzgerald played a gentle prelude.
Then the Brass Quintet of Flagler Palm Coast High School, which is home to and partner with the auditorium and its arts in education mission, performed Pachelbel's elegiac Canon.
McDevitt's friend Allen Whetsell, a former member of the auditorium's governing board, provided the evening's opening remarks: "Everybody knows this is not a service where we're going to mourn Lisa a lot because that's not what Lisa wanted. She wanted a service of celebration. And if you thought the opening numbers were good, you haven't seen anything yet."
The chorus of Flagler Palm Coast High School took the stage and — with choral director Amy Fulmer encouraging the audience to punctuate the refrain with raucous shouts of "Ooggh!" — the ensemble performed "It's a Grand Night for Singing," that Rodgers and Hammerstein chestnut from the 1945 film musical "State Fair."
But some tears did mix with joyous memories as McDevitt's adult children, friends, several performers, and members of the local education and arts communities recalled the life and legacy of the single mother who many students knew as "Mama Lisa," and some as "Mama Bear."
McDevitt died Jan. 21 at age 58 after a months-long struggle with cancer.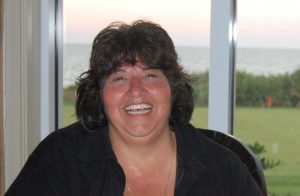 For the past 16 years she had served as executive director of Flagler Auditorium, deftly not just balancing but fulfilling the venue's dual mission as a performing arts center for big-name touring performers, and as a venue for performances and events by local schools and community organizations.
In November 2017, McDevitt noted that the auditorium hosts "about 130 events a year between school, community and pro," meaningprofessional touring entertainment acts. "We're rockin' and rolling."
The 1,000-seat venue, created by a public bond issue in 1991, has staged performances by Debbie Reynolds, Ben Vereen, the London Symphony Orchestra, rocker Dave Mason, touring Broadway shows and other big-name musicians and professional entertainers. The venue also is home to numerous Flagler County school activities, including play performances by FPC's thespians, Fulmer's choral group, John Seth's and many other bands and band competitions, dance recitals, plus a trio of annual concerts by the Flagler Youth Orchestra.
The proscenium is rarely dark, rarely silent, as it certainly was not Saturday.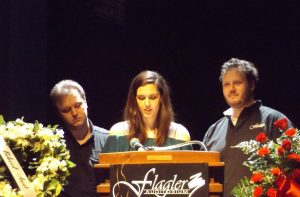 Three of McDevitt's four adult children attended the celebration, with daughter Jackie addressing attendees: "A lot of you have watched us grow up, so you know how special our relationship is with our mom. No matter what she had going on at the theater, she was always a mom first. She never missed any event that we kids were involved in, along with all of her adopted kids she picked up throughout the years.
"Mama Lisa was what she was known by. She had a way of making people feel comfortable and was always a shoulder to cry on. We are grateful to the Flagler Auditorium and to the school district for all the opportunities they have given us and her throughout the years. I mean, how cool is it we can say our mom is the director of a state-of-the-art performing arts center?
"The amount of people we met and memories we've made can never be taken away. The auditorium has always been our second home and we wouldn't want it any other way. From the entire McDevitt family, we want to say thank you. Thank you all for your kind words. Thank you for your love and support. It means the world. Now sit back, relax and enjoy the celebration of Mama Lisa."
Colleen Conklin, a member of the Flagler County School Board, told the assembly that she asked McDevitt's coworkers, friends and students for their remembrances, and they responded by variously describing her as "passionate, kind, caring, funny, tenacious, giving, bold, intelligent, curious, an advocate, a role model, a workaholic, a mentor, a friend, a daughter, a sister, an aunt and a fierce mama bear.
"It wasn't uncommon for her to arrive at the office at 7 a.m. and be the last to leave at the end of a show after logging 14-plus hour days. Her kindness and compassion were some of her greatest attributes, and they made her a great boss. She was always willing to work around our strenuous and tricky high school schedules, yet she demanded out of us a work ethic to match her own."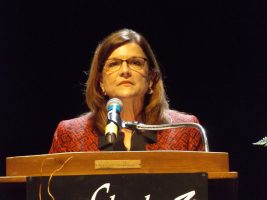 Laurie Alter, incoming president of the Flagler Auditorium Governing Board, noted the venue "has always been a unique performing arts center" because it "falls under the leadership of a governing board representing the general community, and the school board which represents the educational community. I have always marveled at Lisa's ability to coordinate and work with so many entities. Not only did she work with the governing board and the school board, but she also worked with schools, agents, producers, community groups.
"She was a great unifier. She put as much energy and passion into ensuring children of all ages had access to the arts as she did to bringing professional entertainers and shows to our community. She was as comfortable working with an elementary school performance as she was working with Debbie Reynolds or Ed Asner."
McDevitt created the auditorium's arts in education fund, Alter said, which provides scholarships for students in the arts, including the venue's tech, theater and box office internship programs.
"The governing board has already established a scholarship in her name," Alter said. "She has always lived up to the board's mission, and that is to enrich lives through inspirational and educational cultural experiences."
Lynette Shott, executive director of Student and Community Engagement for Flagler County Schools, also recalled the dedication McDevitt had for the arts in education. And, her voice breaking up occasionally, Shott also recalled the time her friend and colleague described herself as "a gypsy at heart."
"I return to that conversation repeatedly," Shott said, adding that she refuses to speak of her friend in the past tense. "It encompasses a vision of a people free-spirited, passionate and fierce. If that doesn't describe our Lisa, I don't know what does. Her free spirit makes her fearless to be innovative and try new ideas. Her passion drives the development, growth and longevity of this dream we call the Flagler Auditorium, this dream of a unique partnership between a community and a school system. And her fierceness keeps her pushing through any barriers to help the organization, but more importantly to help people, especially our youth.
"Arts in education has always been a driving force in her vision. This isn't just a term or a side product of a performing arts center's mission. For us in Flagler, it's a life-changer for our students."
Members of the Ten Tenors, an Australian singing ensemble and a perennial favorite at the auditorium, gave tributes to McDevitt in video-taped segments shown on the large screen above the stage. So did actor-comedian Steve Solomon, who performed his show "My Mother's Italian, My Father's Jewish & I'm in Therapy," as well as its spin-offs, at the auditorium over the years. "Lisa was a great lady in a very, very tough business," Solomon said. "She cared about everyone she worked with and she mostly cared about her family. We will miss her. Our prayers are with you. God bless."
Like Solomon, virtually every speaker remarked on McDevitt's love for and devotion to her children and family.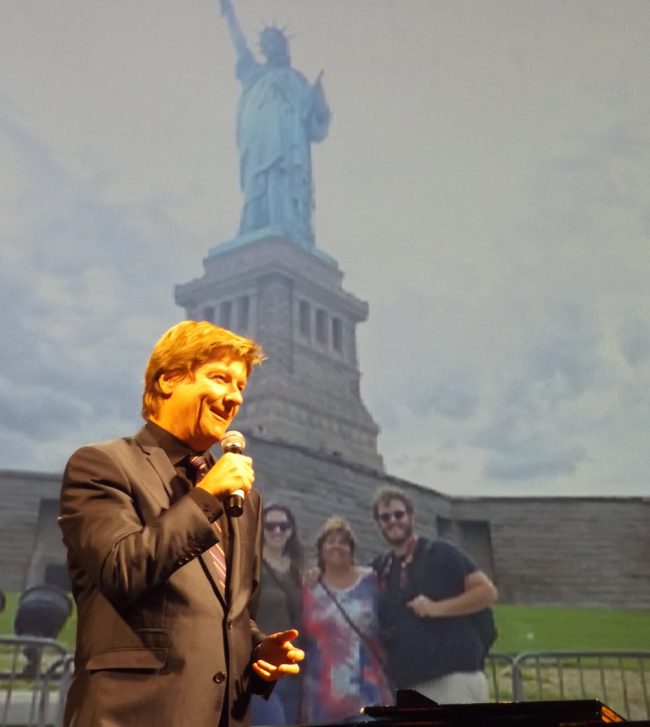 Singer Andy Cooney, who has performed at the auditorium as part of Irish music variety shows and as a member of the New York Tenors, took the stage to sing "You Raise Me Up" as videos of a smiling McDevitt with family and friends scrolled across the video screen.
Fulmer, the choral director at the high school, sang and performed "The Wind Beneath My Wings" on piano. The high school's chorus performed "Somewhere Over the Rainbow."
Alter, the incoming president of the Flagler Auditorium Governing Board, remarked with a smile that McDevitt also "was always dreaming and scheming." It was McDevitt, she said, who spearheaded the current renovations to the auditorium which began in early 2018. Funded by a $500,000 state grant matched by the auditorium's governing board, those renovations include the addition of more offices, a conference room, a kitchen, seven female restrooms and a unisex restroom, as well as renovation of the male restroom.
"Lisa wanted to make this place bigger and better," Alter said. "This current renovation is just the beginning of her vision. She always believed the show must go on, and go on it will. She will always be a port of this place. We will continue to bring fantastic shows for our community. We will continue to provide educational opportunities for our children. We will continue Lisa's legacy."