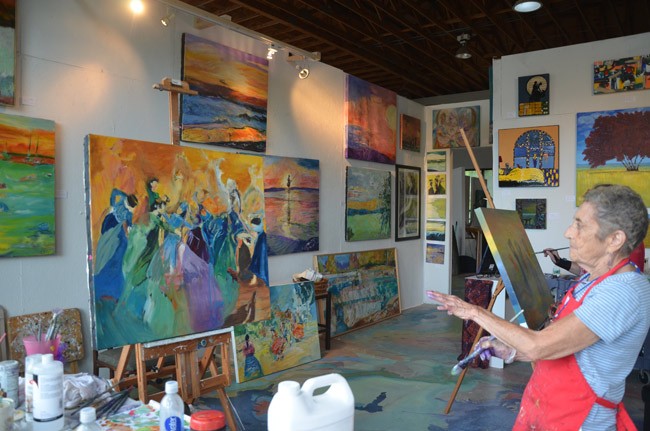 "O body swayed to music, O brightening glance,
How can we know the dancer from the dance?"
— William Butler Yeats, "Among School Children"
Palm Coast artist Linda Solomon loved dance.
She painted ecstatic Sufis ("Whirling Dervish"), ballroom celebrants ("Dancers in the Light"), Pagan ritualists ("Fire Dance") and rural folks cavorting upon the land beside a windswept forest ("Mountain Dance").
And she and her partner Sh'mal Ellenberg, whom she considered her soulmate, also frequently attended Dances of Universal Peace at Unity of Daytona Beach, a church in Holly Hill. There Solomon and Ellenberg would smile and joyously pace themselves through gentle, pan-cultural, pan-spiritual dances that organizer Jemila Felisko called a form of "moving meditation."
Whether through dance, painting or her sheer presence, which, as friends and colleagues well knew, radiated a force field of serenity and command over her circumstances, Solomon continued dancing and painting dancers, musicians, mystical landscapes and more, throughout much of her years-long battle with ovarian cancer, which finally took her life on March 7. She was 74.
A memorial for Solomon will be held at 11 a.m. Wednesday March 9 at Unity of Daytona Beach, 908 Ridgewood Ave., Holly Hill. The gathering is open to the public.
"Linda was always, as far as I've known her, a very spiritual being," said JJ Graham, the co-founder of Salvo Art Project in Bunnell, the gallery where Solomon had a studio. "That was always at the forefront of her art and it was reflected in her art. She was a great artist and a great friend."
Solomon's website, paintingsthroughlinda.com, prominently features her mantra: "Painting is my prayer."
"When I paint, I get in touch with the Higher Power within myself," Solomon wrote on the site. "This power guides me to my center, which is related to all centers of the One Universe.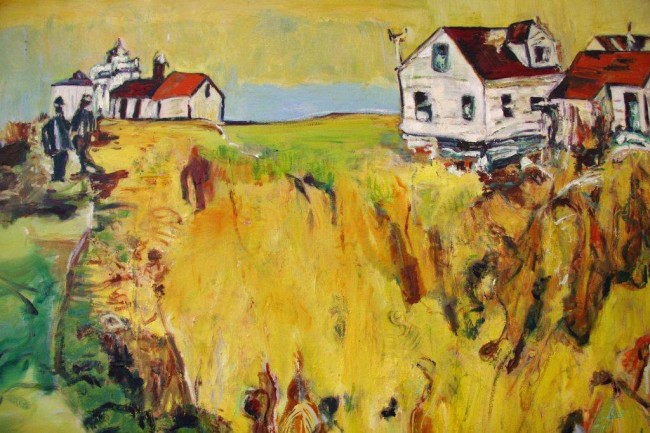 "Art is an integral part of me, like breathing, exercising or dreaming. I have always done it with full body, mind and spirit. My dad was a visionary artist, and my mother a dancer. I as a painter use this creative process to reach out and gain a sense of oneness with the world, and connect with those who turn their eyes towards my work."
Oil works featured on her website vibrate with color-rich scenes of dancers, musicians and landscapes that seem reverent yet celebratory. Some of her works combine her passions, as with her painting "Cloud Dancer."
Solomon had a particular fondness for depicting dance, and an expressionist/post-impressionist style — with echoes of Van Gogh, Gauguin and Jack B. Yeats – that was masterfully suited for capturing the rhythms and joie de vivre of movement.
Artist Michele Napier-Berg met Solomon in 2013 and they "just clicked immediately," Napier-Berg said. "I actually sought her out because I loved her art so much. – the color and the flow of color, the movement. If you look at Linda's art there's so much movement and vibrancy in the color.
"I had changed careers at that point and had gone back to art, and I was seeking out someone whose art really, really spoke to me, and Linda's was the one."
The two artists also clicked on a spiritual level.
"I think her spirituality and how I feel about that kind of thing – we were on the same wavelength," Napier-Berg said. "We started to paint together and we started going to Dances of Universal Peace together. We prayed together, we ate together. We became such fast and strong friends. She was of course a huge inspiration to me. I learned a lot from her. She was a very encouraging person. She became a mentor to me as well as a friend."
It was Solomon who suggested they share a studio at Salvo, and soon the two artist friends began seeking inspiration together.
"We'd go and watch the sunrise together on the beach because that gave us inspiration to paint," Napier-Berg said. "It was just such a spiritual thing seeing the sunrise each morning, and then we'd walk on the beach and take photographs. We'd go back home and use sand that we had taken from Flagler Beach and mix it into the paint. Then we'd put up the photographs we liked the most and they'd inspire us and we'd paint."
Solomon was named Flagler County Artist of the Year in 2004 by the Gargiulo Art Foundation.
She was "one of the artistic treasures" of Flagler County, Graham said. "Anybody who knows anything about art and appreciates art knows her name, and has been inspired by her work. That includes me.
"I was able to see her being creative all the way up to the end of her life. She was painting all the way up until she couldn't hold a brush anymore. If I can do that in my own life, then hopefully I can achieve the peace and dignity I saw in her."