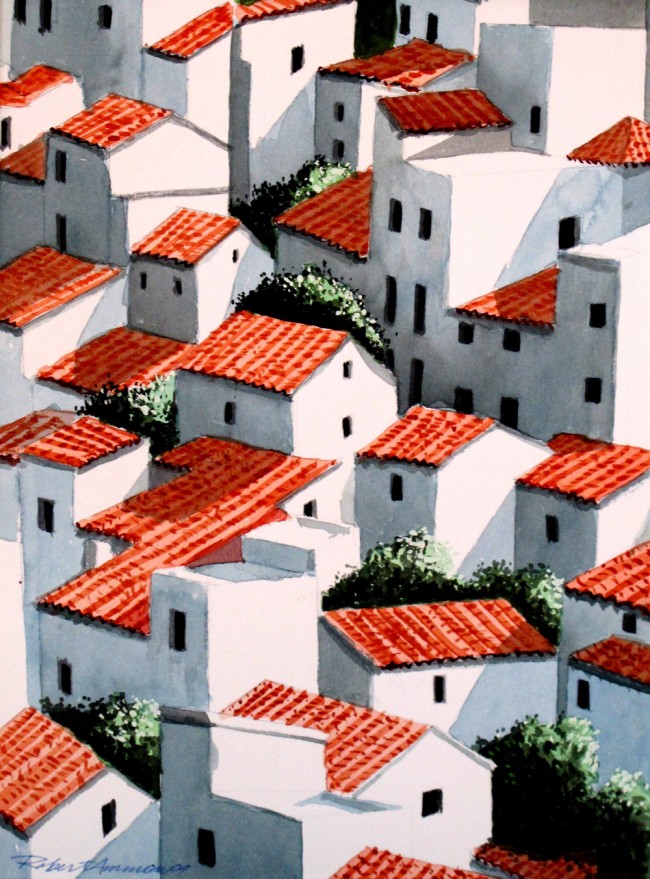 At the risk of sounding dangerously close to a recent campaign slogan, there seems to be only one direction for the growing Palm Coast art scene: forward.
This is evident in tonight's Second Saturday openings at the two neighboring art galleries at City Marketplace: Hollingsworth and the Flagler County Art League. For the art league, it's the second annual Art & Poetry Show, free and open to the public, with a wine and cheese reception that runs 6 to 9 p.m. For Hollingsworth, it's the fourth annual Members' Show.
The theme of the art league's show is "All About Light." With it comes a poetry contest reflecting the same theme. "Last year's combined poetry and art show was such a great success we just had to do it again," says the league's Bob Ammon. Winning poetry will be presented in readings by the authors beginning at 6:30 p.m., and art awards will be presented at 7:30. "If last year was any indication, be prepared to be moved not only by the art but most certainly by the amazing poetry," Ammon says.
Judy Barnewolt-Jones, a well known water colorist from St. Augustine, has three pieces in this show. Although she's entered a show specifically about light, her work usually shines anyway. "I love to paint light. Most of my paintings show light on something." It's not just about being pretty, she says. "Light is usually symbolic for different things in life. It represents hope. There's spiritual and emotional meaning. When an artist creates the illusion of light, he or she is hoping to pull you in and have you experience what the painting wants you to see, what the light's showing you. Its presence is important."
One of her pieces called "In Storage," is part of a larger series of paintings called "Remnants of a Past Life." The focus of the series is symbolic of things we've tucked away for one reason or another. In this particular image, two boat hulls are shut away in storage. Certain parts of the boat are pulled out of the dusky dark through shafts of light coming in from a window. Ironically, although Jones didn't enter any poetry in the show, she does have writing to go with the work, which she says is typical for her. "It allows for a deeper look into the painting." The first line: "I've saved some things along the way, some for what they are, some for what they represent, a place, a person, a time so precious, remnants of a past life."
When it comes to the poetry competition portion of the show, B.J. Alligood—one of three accomplished poets who judged this event—says the subject, whether it's light or something else, is not her primary focus. "I look at the creativity—how the writers word things, and that they're staying away from the pedantic. There's a lot of poetry out there that doesn't make any sense. When I read a poem, I want to understand it. There has to be some flow from the beginning to end. Does it emote feeling from you?"
The poem taking first place, written by Rosemary Volz of Ponce Inlet, is simply called "Light." It's a story poem in free verse about a woman who runs into a friend at the supermarket, someone she hasn't seen for a while who's been ravaged by cancer. The literal light enters the picture when the sick woman turns her healthy friend's face into the store's florescent light, admiring her loveliness. "What's amazing about this poem is the way she imparts knowledge so plainly, while not being common or banal," Alligood says. She cites by way of example a description of the cancer as that "big, mutilating women's disease."
"We all know exactly what she's talking about, but who would've thought to call it that? I wouldn't. Most people can relate, to the theme of self-worth here, in that, you don't have to have had a terrible childhood, to feel moments of loneliness," Alligood says.
The other two judges were Palm Coast's Gene Murphy and Port Orange's Dan Pels. All three poets are award-winning members of the Florida State Poets Association.
J.J Graham, in the midst of teaching his art Nabis class, uses the word "evolved" to describe Hollingsworth's show opening. As usual, he was worried it wouldn't come together in time and that he wouldn't have enough pieces. But his approach is similar to Lorne Michaels's, the Saturday Night Live producer, who's famously said that "we don;t go on because we're ready. We go on because it's 11:30." So Graham will go on because it's 6.
"It's hard to get it all together because I'm not retired and living on a pension," he says, a veiled reference to the bulk of the art league's demographics. As usual, he was relieved that everything would come together in the end, that the work pushes the edgy feel that Graham always strives for in his gallery, which incidentally, sports a floor yet again splatter-painted over, making the work on the walls seem that much more vibrant. "Sometimes people come in and would rather look at the floor than the art," he says. The floor can be more gentle on the eyes, less challenging of sensibilities.
While the fourth annual members' show isn't themed, the direction of the work isn't entirely different than that of the art league.
"There are parallels, I think," Graham says. "There are some pieces that are a little dark in the show, but to show darkness you need to show light, too—if you remove all the light it gets a little morbid—though that hasn't necessarily stopped in the past if the name Richard Schreiner rings a bell." Rachel Schiff, one of the artists showing, is very much inspired by William Blake, the poet and artist famous for luminosity in his mystical works.
One of her pieces in the show, reminiscent of the style of Blake, depicts a male lion. She painted the jungle cat onto a door through what can be described as a "artially subtractive process," which she says is a Native American concept. "I like to be an artist who exposes rather than imposes," Schiff says. "I let the wood grain tell me what the lion will be doing." She got the idea, when staring at the door, she noticed the grain was curling up in the middle, repeating itself.
Somehow she saw, while staring at the pattern, the roof of the mouth of a roaring lion. She began painting around the repeating grain, exactly as she originally saw it. She painted the lion's mane blue and yellow so it'd look like it was flaming. "I thought he'd be hugely mean but he looks like he's laughing. So, I named him Uproarious."
Betty-Jo Sanseury, an assistant teacher for Graham's art class for home-schooled children who's been with the gallery since its founding, has work in the show that is both representative and conceptual, moving more in the contemporary direction Graham likes. One piece is a linoleum print depicting the figure of a woman who's been cut from a sponge and is now surrounded by sand, Sanseury says. "I call it 'Thirst,'" she says, "because it reminds me of when I'm really thirsty and there's nothing around to drink—intellectually. I'm looking for something but there's nothing there. Thankfully, that's not my mindset all the time." And Hollingsworth gallery probably plays a role there.
Christine Sullivan, another Hollingsworth veteran who works in a studio on the premises, has already entered the Hollingsworth members' show three times. "J.J. was my first instructor," the mostly self-taught artist says. "I stumbled into his class and my world changed." One of her pieces in this show is called "Possessing Nature," a vase of yellow flowers growing out of themselves and reaching skyward. The spare bits of yellow on the flowers, while pale, stand out as virtually the only hue, other than some contrasting neutrals, creating an abstract impression of light in the room.
"Usually, when man tries to capture nature, it looks dead to me, like when ladies usually try and paint flowers they look dead to me because they're not moving," Sullivan says. "They're either just on a window sill or still on a lawn or something. Typically, when you see nature there is some kind of movement, some breeze at least. What I'm trying to say is we can't possess nature. Nature has an energy all its own."
She could have been making a parallel with the Palm Coast Art Scene.

Flagler County Art League's "All About Light" poetry and art show, opening reception, 6- 9 p.m. (poetry readings at 6:30), Saturday, Feb. 9, at the league's City Marketplace gallery.
Hollingsworth Gallery Members Show, Saturday, Feb. 9, also starting at 6 p.m. The two galleries are a few doors away from each other, so visitors can attend both events. Wine and refreshments are available at each.