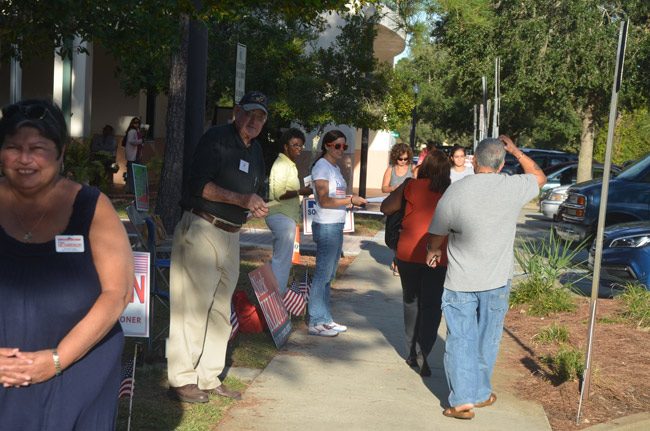 Flagler County Library Director Holly Albanese knew this year's election would turn the library parking lot into something like a running rush-hour crunch for two weeks. So she directed her staff and asked the Friends of the Library to cancel—or at least not schedule—any extra activities at the library for the two weeks of early voting, leading up to Election Day. They did, and it likely helped, but not enough.
No one had banked on Hurricane Matthew adding a county recovery center to the library's services, followed by the Federal Emergency Management Agency's recovery center, which set up shop there. That, plus regular library users, plus voters, plus some of those campaign signs that at times take on a life of their own, combined to turn the library parking lot into jam sessions. Some library users complained about the gauntlet of campaign solicitors they had to walk through, or the lack of ready parking. Some candidates or their campaigns complained about restrictions on their own modes of expression.
There was no crisis, and certainly nothing like the tensions and disagreements of two years ago between then-Supervisor of Elections Kimberle Weeks and library staff, who battled over parking spot allocations and the proper way to designate those reserved for voters. But this year's larger election again underscored what the Library Board of Trustees had been discussing for a while before the election in attempts to resolve the issue—how to balance the right of campaigns to express themselves with the rights of library patrons not to be too inconvenienced, all the while ensuring that the library remains a central voting location.
For now, there's no answer: the library board was going to take up the parking issue again at its monthly meeting this afternoon, but decided to drop that discussion from its agenda and shift the responsibility to the county commission in hopes that the commission follow through on a county-wide parking ordinance that could address part of the matter.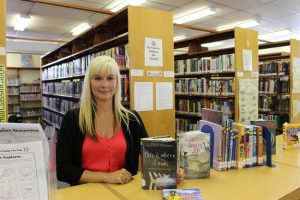 "That extends outside the library's four walls, and it may affect other county properties," Albanese said today, "and other than the county commissioners buying into a policy I don't think it would hold water."
But the election again underscored the central issue: there's not always enough parking at the county library on Palm Coast Parkway, while demands on the library keep growing.
"The library sits on 19 acres, so it's not unreasonable to think we could add parking," Albanese said. "The problem is it could take money and time so I'm not really sure we're looking at that right now." The library system is also planning an expansion, both at that location and at a location off of State Road 100, near the government complex. So any parking plans may have to wait until that expansion breaks ground.
A parking ordinance could deal with a recurring problem or at least issue (depending on your perspective) at election time: the transformation of cars and trucks into immovable billboards that take up space after space, without anyone at the wheel. Albanese would see it every morning early: the campaigns would send in their vehicles to take up prime spots, park there, then not drive them off until after the polls had closed. The practice thus condemned several parking spots a day that would otherwise be used either by library patrons or, ironically, by voters. There were several instances of voters going to the library first to vote, finding the lot full, and driving off—some to vote at the supervisor of elections' office, and some, quite likely, not to vote at all.
The vehicles' parking arrogance also goes against the spirit—though not quite the letter—of the county's sign policy, which forbids the panting of political signs in public ground. By papering a vehicle over with signs, the signs aren't "planted," and even though they're unattended, it's just like any other unattended vehicle in the parking lot.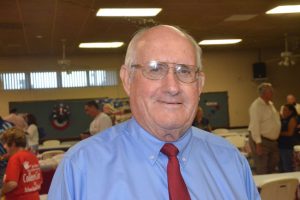 Campaigns are restricted from having more than one volunteer at each end of the library, theoretically with one sign, which may be leaned, propped or held, but not pressed into the ground or left unattended. Albanese calls that her "happy medium" between free expression and not cluttering up the library grounds, in keeping with the sign ordinance. Even so, she's had to frequently pluck signs up that were violating the rule and put them in back of the library for campaigns to recover.
"The reason why campaign or other signs cannot be installed into the ground is it creates a potential tripping hazard," Al Hadeed, the county attorney, said. "It's fixed, it's planted. It doesn't give way. A tripping injury, even a soft tissue injury, may make taxpayers potentially liable for such injuries on the theory we are not controlling our land and are not assuring that public pathways are unobstructed and safe to use."
There was grumbling from some candidates, but acceptance was more often the case.
"The rules the library has make some sense given that if there were no rules there'd be even worse chaos than there is now," says Dave Sullivan, who campaigned almost every day during early voting at the library–and won election to the county commission. (He may end up serving as the liaison to the library board, now that George Hanns, who was filling that role, lost his re-election bid.) Sullivan said he saw some instances where the busy parking lot and the number of people on foot created hazardous conditions. But he says the problem starts with the design of the lot, which creates the narrow paths.
"We also have 15 days of early voting day now, that's more than we had before, therefore you have that thing, "Sullivan said. "Maybe not using the library as an early voting site might solve the problem. I think the early voting is when the problem was really big." As for the restrictions on signs, he doesn't consider them necessary. "If they're out of the way and not causing any traffic problem I don't see anything wrong with that," he said. "Up at St. Augustine branch library off Route 1, they also have a sheriff's office there, it seems to work, they don't remove signs."
Sullivan says Palm Coast and the county should get together and promulgate the same rules, perhaps designing spaces where signs can be displayed at election time. "I live in Grand Haven and we can't put signs there at all. And it's a freed speech issue there too," he said.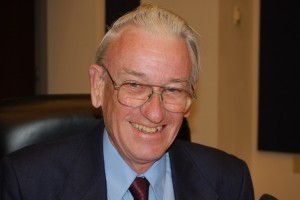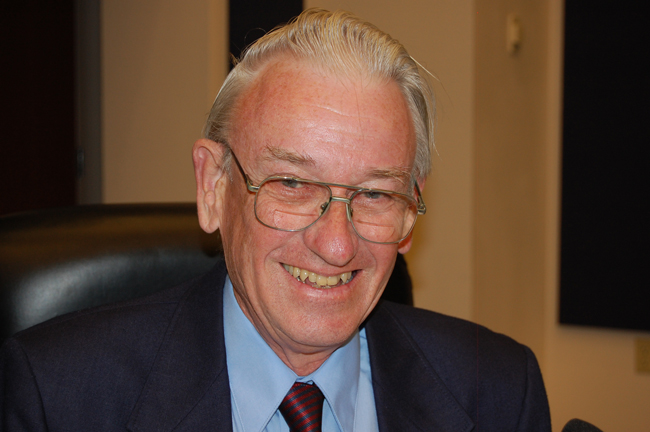 Alan Peterson, a former county commissioner and Palm Coast council member who now sits on the library board of trustees, says the parking issue is only rarely an inconvenience. "Work has to be done but it's not a major priority and I don't think it's a major inconvenience," Peterson said, noting that the county attorney had been tasked with crafting a parking ordinance in the recent past, which may address the problem. (Hadeed said he's not received such a directive since 2014, though he'd been asked about it previously.)
Peterson is less comfortable with the restrictions on campaign volunteers or candidates holding signs. "I don't know how you enforce it because again it's freedom of speech, and I'm definitely against ordinances or regulations you can't enforce," Peterson said. "It has been reasonably followed. But it's the vans and the trucks and big signs that take up spaces,  that can really chew up parking. So it's more related to parking than it is the placement of signs."
As for planting signs on library grounds, he doesn't see it as a problem—at least not from an expression point of view, except as "clutter." Beyond that, he continued, "I think it's detrimental because when you have too many signs you don't see any of them. That was the case early on in the primary when the candidates had a whole row of signs on Belle Terre, which was in violation of the city ordinance and removed. But I wouldn't have a particular problem with that. I think it's counterproductive but I wouldn't have a problem with it. A candidate standing and handing out a brochure or holding a sign, I think that's much more effective."