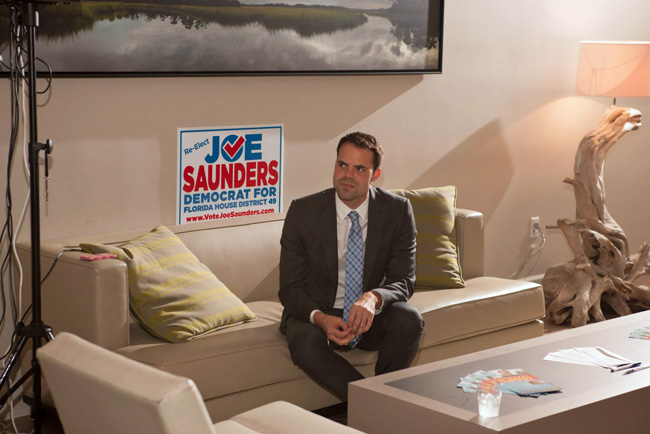 The 2014 election wasn't a good one for Florida's lesbian, gay, bisexual and transgender community.
LGBT organizations supported Democrats Charlie Crist for governor and George Sheldon for attorney general, but both lost. So did state Rep. Joe Saunders, D-Orlando, one of the first two openly gay members of the Legislature, elected in 2012.
But despite those losses, some supporters are hoping for movement on a bill, the Florida Competitive Workforce Act, that would ban discrimination in the workplace based on sexual orientation. It was Saunders' bill, but now it will be sponsored by a Republican lawmaker, Rep. Holly Raschein of Key Largo.
"It's my hope that my colleagues will see it as a bipartisan issue," Raschien told The News Service of Florida on Monday. "I never look at equality as a partisan issue, personally. Being a Republican is about freedom and liberty. This is quite a conservative principle, if you ask me."
But John Stemberger, president of the Florida Family Policy Council, which helped lead efforts to pass a 2008 constitutional amendment banning same-sex marriage, called the bill "dead on arrival."
"There's no way, in this climate, they're going to get any oxygen at all now," he said.
The Florida House is even more Republican after this year's elections, which gave the GOP a veto-proof majority in the chamber. Gov. Rick Scott and Attorney General Pam Bondi, who support "traditional marriage" between a man and a woman, were both re-elected.
But LGBT organizers said even so, this election wasn't as searing as 2008, when Floridians passed the "Florida Marriage Protection Act" — the ban on same-sex marriage spearheaded by Stemberger.
"I cried, pretty much for three days straight," said activist Susan Gage. "It was enormously painful to have your life, your relationship put onto the ballot and have people cast a vote on whether you get to stay in or off the island."
Andy Janecek, president of the Capital City Gay, Lesbian, Bisexual, Transgender and Allies Democratic Caucus, said groups like his had redoubled their efforts after the amendment passed.
"Our community really rallied after that point," he said. "We elected openly LGBT representatives to state government. We elected local county commissioners, city commissioners. We really worked to advance folks who were going to advance equality and not keep it on the backburner."
And in 2012, Saunders and Rep. David Richardson, D-Miami Beach, were the first openly gay Floridians elected to the Florida Legislature.
"It was, 'At long last somebody who really represents me is going to be in the chamber,'" Gage said. "'And it's going to be an awful lot more difficult for these people to say the ugly things that I used to hear them say about gay people — on the floor.'"
Saunders said Monday that Tallahassee traditionally had been "a hostile environment" for LGBT people, but it is less so now. He pointed to the fact that with a Republican governor and GOP majorities in both chambers, his workplace anti-discrimination bill drew 11 Republican co-sponsors.
"And while I do think the path to marriage equality in the state and comprehensive non-discrimination protections would be quicker in a Tallahassee that has more Democratic energy, I think we also have to point out that some of the largest contributors to Gov. Scott's campaign were the same people who are now leading this coalition calling for comprehensive non-discrimination protections in the LGBT community," Saunders said.
Last week, the Florida Businesses for a Competitive Workforce Coalition, which supports the anti-discrimination legislation, announced the hiring of a bipartisan team of professionals to oversee the initiative for the 2015 legislative session. They include Ashley Walker of Mercury Florida, Towson Fraser of Southern Strategy Group, Ann Herberger of The Woods Herberger Group and Christina Johnson of On 3 Public Relations.
So far this year, 19 major Florida employers, including CSX Corp., Darden Restaurants Inc., Florida Blue, Haskell, Home Shopping Network, Marriott, Tech Data Corp., Walt Disney World Resort, Wells Fargo and Winn Dixie have joined the coalition.
Wednesday afternoon, the Miami-Dade County Commission's Public Safety and Animal Services Committee passed a proposal to amend the County's Human Rights Ordinance to include protections for people who are transgender.
The proposed legislation would amend the County's Human Rights Ordinance – which protects against discrimination in employment, family leave, public accommodations, credit and financial practices, and housing – to also prohibit discrimination against people based on gender identity or expression.
"This is an important step forward for the thousands of transgender individuals living in Miami-Dade County," ACLU of Florida Executive Director Howard Simon said. "People should be entitled to compete for jobs or apply for services based on their skills and their abilities, not based on who they are or how they're born. This is idea that the human rights ordinance was created to protect: that people should be judged on their merits, not their biology.
"The scene at today's meeting reminded me of the battle in 1998 to amend the Human Rights Ordinance to protect gay and lesbian people in Miami from discrimination. We were pleased that today the committee members rejected the same notion that there is a religious right to discriminate that the Commissioners rejected in the historic 1998 vote to protect gays and lesbians in our county."
"I don't think it's a social issue," Raschien said. "We're the jobs party. This is about people's jobs. We want to recruit the best and the brightest to Florida, and I think this sends a strong message to that community."
Stemberger called the workplace discrimination bill "particularly odious." He raised the possibility that the legislation could force some business owners to violate their religious beliefs.
"When a bed-and-breakfast owner, when a baker, when a photographer or videographer refuses to photograph a wedding — I mean, where's the greater injustice? To ask the gay-identified person to go in the phone book and find one of 1,500 other vendors? Or to ask one person to violate their conscience and to do something that they believe to be immoral, improper or violates their faith?"
Gage and Janacek say they aren't going away.
"I think it's going to be easier for (lawmakers) to contemplate and wrap their heads around actually hearing bills and bringing them to a vote,´ Gage said. "Whether or not they pass in this legislature is another question, but … it's baby steps. You have to keep moving forward."
–News Service of Florida and FlaglerLive