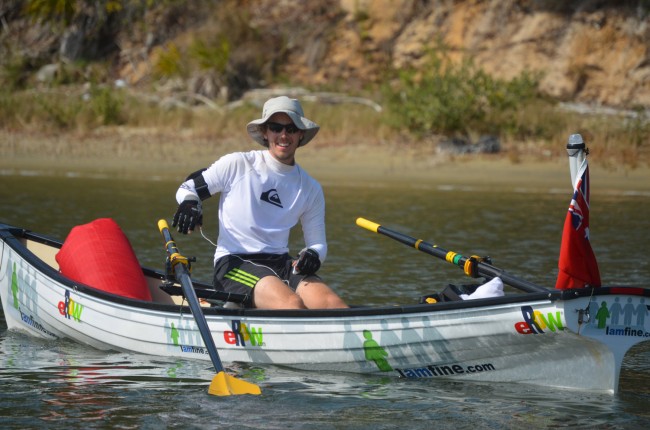 Lewis Colam's reception in Palm Coast on March 20, when he was just 17 days into his 1,400-mile trip along the Intracoastal and the Eastern Seaboard, seems bigger and sunnier than the one he got Tuesday in New York City, where Colam finally ended his heroic journey in the shadow of an aircraft carrier in New York Bay. But Colam, whose slight frame and virtual lack of experience before the trip led more than a few experienced boatmen to wonder about his chances, completed the heroic journey, raising $50,000 along the way for Alzheimer's research. ("If you were holding out on donating until I finished….the time has come," he wrote on his Facebook page Monday.)
It took 100 days. He had no rowing experience when he started. His feat now ranks him among the most experienced and daring rowers in the world. He had no sail, no engine, nothing more than a sleeping bag and a tarp for sleeping accommodations, which often found him in his boat along the way.
Judging from a brief news video from New York's Fox affiliate, only a few people gathered at dockside, under very gray skies and a dense rain, to welcome Colam, who'd left earlier in the day from his last overnight stop near the enormous Verrazano-Narrows bridge (for a time the world's longest suspension bridge), which connects Staten Island and Brooklyn. Not many more had gathered at the Palm Coast Yacht Club to welcome him in march, but enough (it appears) to beat New York's numbers, especially in stature: Palm Coast Mayor Jon Netts, a boater, was among the people welcoming Colam. New York Mayor Michael Bloomberg was busy Tuesday talking about school graduation rates in the city.
Colam's final stop was the Intrepid, the World War II aircraft carrier decommissioned in 1974, and turned into the Sea, Air, and Space Museum on the Hudson River, at the end of 46th Street in Manhattan.
"So, here we go, and finally, against all hope," Colam said in his last audio clip, "I have made it to New York City. That's something I thought I'd never say, and I'm sure you thought I'd never say either. Because I rode into today under the Verrazano Bridge and into the New York City harbor, quite a fantastic feeling to be honest. Which I guess makes this the time that I should start reflecting on the journey and on all the experiences and things I've learned. I think I'll give that a miss for the time being at least, because I've actually began to feel quite sad today, as I have been thinking a lot about just what it is I'll miss from my life in a rowing boat.
"And I guess the main thing I'll miss is the lifestyle. There's something that's incredibly intense about the constant fear and anxiety of rowing up the East Coast of America, and this intensity really makes life feel very vivid, and I think that's going to be very hard to let go of. But I'm also aware that this is probably just because I'm not beginning to romanticize the trip as a whole, and all of the bad memories melt away from my mind. And while I feel and would probably tell people that I truly would love this to continue on and on and on, I know deep down in my heart that really I'm done now. Psychologically and physically I just feel spent. I don't think there's anything more I could give. And while it's incredibly sad to be saying it and very sad to recognize it, it does seem that this episode has come to an end, and it's probably time to move on to the next thing."
See The Previous Stories:

The Fox Clip of Colam's Arrival in New York:
Meet Lewis Colam Video: