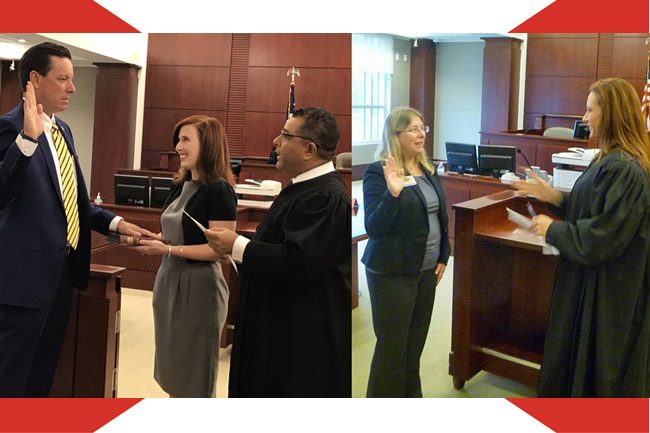 Across Florida Tuesday hundreds of constitutional officers were sworn in with ceremonies ranging from the ceremonial to the modest to the jaded. Flagler County's four constitutional officers filled the spectrum.
The attention was on Sheriff Rick Staly, who was sworn-in in front of hundreds of people with a measure of pomp common to such ceremonies in the state: sheriffs get the most attention at swearings-in as during the election. But four other constitutional officers were sworn in, more or less, the same day: Tom Bexley as the new Clerk of Court, Kaiti Lenhart as the relatively new Supervisor of Elections, and, without ceremony or so much as lifted right hand, Jay Gardner and Suzanne Johnston, who started their fourth term, again after facing no opposition for re-election.
"They just send you a piece of paper in the damn mail, and you sign it and send it back and it's done," Gardner said as he stood in the crowd after Staly's swearing in. "I did it in '05 with Judge Hammond, and I got a picture taken, and that was it. Now, we don't do it. If someone wants to, we'll go do something, but we just go back to work." Even in 2005, he just had a little family gathered around, and went to work.
Likewise with Johnston, who also attended Staly's ceremony. "I was sworn in the very first time I was elected so that would have been like January 5 of 2005," Johnston said. Only it seems like the first time you're elected are you really sworn in. I have the certificate of elections from the Supervisor of Elections that I received. Then you pay the secretary of state ten bucks, and that's it."
What little celebration Johnston had was last June when qualifying for the election ended and she emerged again without opposition. her staff got her a cake. But on Tuesday, " It was just a regular day with the line out the door. All I did was work and go to the sheriff's thing." Johnston is getting ready to open another branch office in the old Food Lion shopping center in Flagler Beach. That'll happen Feb. 1. The office will serve everyone east of I-95, adding four people to her staff as well.
There's been rumors of her retirement at the end of this term. She's not too sure about that. "I'm not 100 percent positive," Johnston said. "Today I feel old. Yesterday I felt young. If you'd asked me yesterday, I had a lot more energy than today. I don't know, I'll be 71, it just depends on how old 71 actually is. I mean, how do you know? Because I still have more energy than most 40 and 50 year olds. I'll have to wait closer to time to see." By the end of her term, she"ll have worked 50 years in Flagler County government, the first 34 in the property appraiser's office, where she was the appointed property appraiser for about a year, filling in for John Seay, who was briefly posted at the state Department of Revenue.
Staly's aside, there were two official swearing-in ceremonies Tuesday. Bexley held a modest ceremony in a courtroom with Judge Raul Zambrano swearing him in at 8 a.m., and with his wife Stacy and the court clerk's staff present. "It's one of those things where I was already in the office, I don;t need all the pomp and circumstance. We just needed to get to work," Bexley said. Last week Gail Wadsworth "transitioned herself off and I moved into the office," he said.
There was one other change: Luke Givens, the manager of records at the clerk's office, was promoted to Chief Operations Officer.
In mid-afternoon, it was Lenhart's turn. She went to County Judge Melissa Moore Stens' courtroom with family, and was sworn in. "It was a very special day, I'm honored to serve. I've been doing this for two years, and now I was sworn in, because I was elected," Lenhart said. She had been a governor's appointee two years ago, following the resignation of Kimberle Weeks. "It's just refreshing to be officially sworn in and carry on."
No off year for the elections supervisor: in March, the office will manage the municipal elections for Bunnell and Flagler Beach, precinct boundaries are being redrawn, and in April, the office takes delivery of an entirely new batch of voting machines, in line with a state requirement that new machines be in
place by 2020.