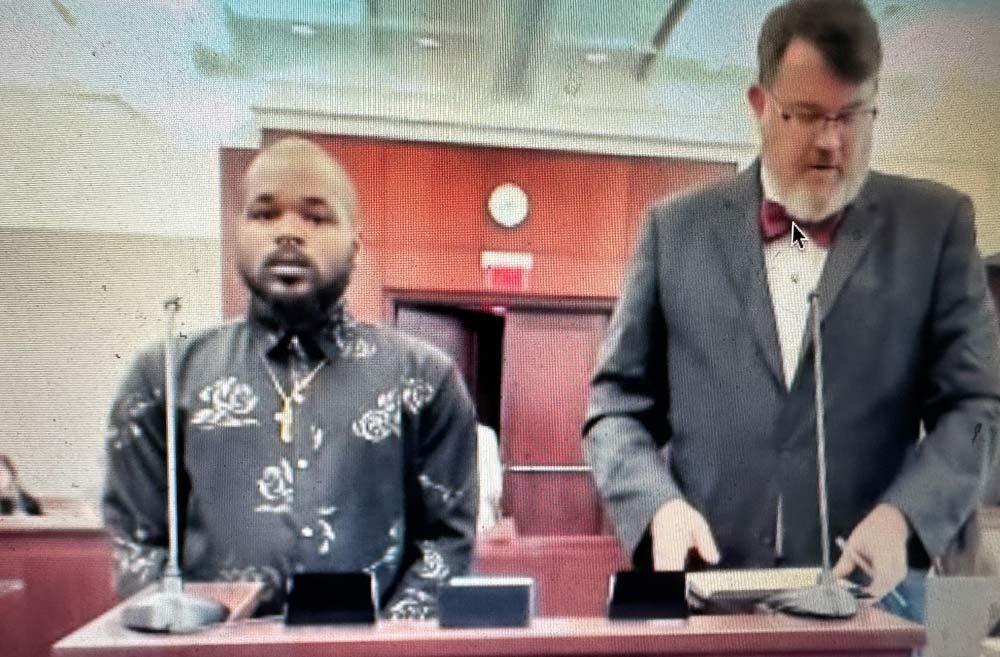 Circuit Judge Terence Perkins today sentenced Jamier Lee-Bright to 18 months in prison, 42 months on probation, and a lifetime designation as a felon and an animal abuser for shooting a dog at a house on Palm Coast's Seaman Trail East 15 months ago, and lying to police about it.
Lee-Bright, who testified today, said he'd been asleep before the incident, resting before going to a shooting range. He was woken up by his fiancee screaming and his daughter upset. He jumped up, grabbed his gun, and heard his fiancee tell him that Rocky, the dog, had bitten her. She had no visible injuries, nor was his daughter injured.




He grabbed the dog, dragged him outside, "threw him down," and shot the 1-year-old German shepherd mix in the snout with a .40 caliber Glock 27, then brought the dog into a kennel, which he locked. Lee-Bright thought the dog was dead, so he started digging a hole in the backyard. "I just know I shot him and threw him inside," he said, to get the dog away from his daughter.
Neighbors called 911 to report shots fired. Flagler County Sheriff's deputy Bryan Denker, who had previously worked two years as an animal control officer, showed up at the door at 21 Seaman Trail, only to be told that there'd been no shooting, nothing to see there. Lee-Bright was attempting to cover up the incident.
"It was my intent to get the dog away from my daughter," Lee-Bright said in his defense today. He said he would do it again. He never explained why he did not lock the dog away and call animal control or seek to turn in the animal, as he had in the past with aggressive dogs.
"It's hard to imagine a more reckless and unjustified use of deadly force and handgun in that regard," Perkins said. "It shocks the conscience. I believe that Mr. Lee-Bright responded inappropriately, maybe in a fit of anger. I don't know. I believe that from the evidence, that he had killed the dog. As to why he threw it where he did, why he did, when he did, I have no explanation for that. But I just think this is as reckless and unjustified as you can get under the circumstances." He added: "The closer you look at what actually happened, the more unjustified it gets in that regard."
Rocky survived, though had been near death.




It was about two hours before the deputy found out Rocky had been shot. Denker, an Iraq War veteran, walked into the room where Rocky had been locked up, after hearing whimpers. "I was very familiar with it being a veteran of Iraq, but there's no mistaking the smell of a lot of blood on the ground, there was a very metallic, coppery smell to the room," the deputy said. "And it was very dark in there." When the lights were turned on, deputies could see large amounts of blood, and a struggling Rocky.
Deputies immediately put him in the back seat of a patrol car to get him to an animal hospital, a ride that took five to 10 minutes. The veterinarians met the car outside and started caring for Rocky. "He was whimpering and laying his head on my lap," Denker said of the dog. He was never aggressive.
As Denker related the account, Lee-Bright, his head tilted to one side, swung slightly in his chair back and forth, at the defendant's table.
Some 10 to 15 techs and veterinarians worked on Rocky. Veterinarians operated on him. Rocky recovered, and was adopted by an analyst at the Sheriff's Office's Real Time Crime Center. "He's doing well, now," Denker said. 'He was just a happy puppy, rambunctious little puppy."
Hayden Ore, a crime analyst in the sheriff's Real Time Crime Center, was the only analyst on duty at the time of the shooting. He had one dog at the time, adopted a year before the shooting. Before long, he and his wife worked out the decision to adopt the dog, with Palm Coast Animal Control Officer Kasey Hagen facilitating the adoption.




Rocky has since been taken to the sheriff's office a couple of times, he's been to an attorney's office during a food donation, he's had training, and at no point showed aggression. Tara Libby, the assistant state attorney who prosecuted the case, elicited testimony to that effect from Orr and Denker, casting doubt on the claim that Rocky had been aggressive toward Lee-Bright's fiancee or had shown aggression toward his daughter.
"I've had dogs my who life," Orr said, as has his family. He said when a dog becomes difficult to handle, the basic principle is to take the dog back to the Humane Society. "I just can't imagine doing anything to him where I would let him suffer that amount of time," Orr said.
In his testimony, Lee-Bright spoke with not a hint of remorse or sympathy for the dog, reflecting no sense that he had ever cared for the dog. He answered the prosecutor's questions dryly and answered even his own attorney's questions with a sanctimonious tone. "Mr. Lee-Bright is still showing absolutely no remorse to the fact that what he did was wrong, it was cruel," the prosecutor told the court.
"Would you have reacted any differently if you had been put in that situation again?" Lee-Bright's attorney, Leroy Costner, asked him.
"For my daughter? No," Lee-Bright said sharply.
"Why did you not tell the police the truth?" Costner asked him.
"I don't have a lot of, well, interactions with police officers and I feel that no matter what I say, it ain't going to go that way, you know?" Lee-Bright testified.
But he eventually owned up to the shooting. "I told the officer that I know that this situation happened and I'm not trying to run from the situation," Lee-Bright said. "But I do have a family that relies on me. So being in jail, I cannot provide for them. I'm not running from jail. I'm not running from probation, or none of that. I will do whatever is given to me. But I know at the same time I do have a family that depends on me. I have two families that depend on me."
Costner had a few others testify on Lee-Bright's behalf. The business owner who has employed Lee-Bright since 2021 described him to the court as "a great team player, he's always at work, he doesn't call in, he works on his days off, we're like a family," she said, noting that it would be difficult to replace him at a time when employees are hard to find.
Libby, the prosecutor, had only one question for the employer: "Have you ever seen him around animals?"
"I have not," the employer responded.




The defense also called up Lee-Bright's best friend since elementary school to describe Lee-Bright as always loving around dogs, though he'd been asleep in his room at the time of Rocky's shooting. Lee-Bright did not tell him that the dog had been shot, either.
Libby called it a "cold, calculated callous, cruel and inhumane" act. If Lee-Bright intended to protect his daughter, "all he had to do was put the dog outside, lock the slider and tell his two year old not to go outside, and then call animal control, call somebody to come and get this dog." There would have been no case, Libby said.
She argued for 18 months in prison and five years on probation. The defense asked that he be sentenced to probation. "Everything that he did," his attorney said, was intended "to protect his daughter."
It was not clear how lying to cops, ignoring the dog after the shooting and planning to cover up the killing was in any way protective of his daughter–as opposed to making her vulnerable to the very scene played out today in court: her father getting sentenced for a crime and getting imprisoned away from her.
The judge also sentenced him to 100 hours of community service with no buy-out, no contact with animals during his probation, a mental health evaluation, anger management, and restitution to Palm Coast government of $6,931.
"There is a happy ending, at least partially," the judge, a dog owner himself, said of Rocky's survival and adoption. "So we can take some comfort in that."