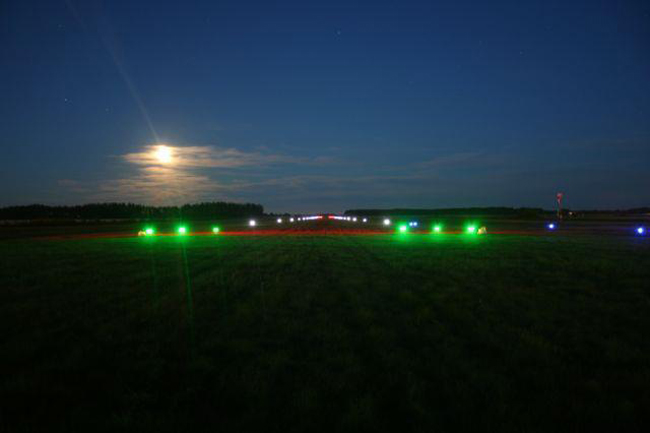 It's been called "Project Green Dream," and it's been billed as a secret, jobs-producing company  the county administration's economic development team will unveil at the Flagler County Airport Tuesday morning.
But there's not much secret about it, though Flagler County commissioners, Palm Coast City Council members and many other officials gathering at the Flagler County Airport for the 9:30 ceremonial unveiling Tuesday morning will pretend they know nothing about the company, as at a well-choreographed surprise party.
The company chief is Christian Nielsen, the company he's bringing to Palm Coast is Aveo Engineering (which may have a differently-named incarnation in Flagler: Nielsen's companies tend to variations on a similar theme) and the product it'll be manufacturing is the sort of LED lighting found on planes, helicopters, unmanned aerial vehicles and other aeronautical things, grounded or airborne.
The new company is breaking ground on a new hangar at the Flagler County Airport Tuesday, and will build an office building there as part of its $7.5 million capital investment plan to take its product "from concept to production," then distribution from the Flagler County Airport, says Helga van Eckert, Flagler's economic development chief, for whom landing Aveo Engineering is the fifth and biggest success yet.
Nielsen is pledging to create 300 high-paying jobs over three years—50 the first year, 100 the second year, and 150 the third year. The county, in exchange, is ready to throw in $150,000 in taxpayer dollars as incentives, or rewards, whichever way you want to interpret the carrot: once a job is created and retained, the company will get an annual incentive, totaling $500 per job over four years. No jobs, no incentive. The company is also receiving a much larger incentive package from Enterprise Florida, the state's economic development arm.
To qualify for the incentives, the average salary for the new jobs would have to be $43,379, or 150 percent above the county's average annual wage, exclusive of executive salaries, which can skew the overall average considerably.
Aveo Engineering isn't new, nor is it quite based in Palm Coast. Nielsen bought a Palm Coast property (in the Hammock) only recently. "AveoEngineering," his company's About page states, "is a world-leading producer of high-technology electronics solutions and innovative LED lighting products for the aviation, marine, vehicle, mining, industrial, and obstruction warning/safety markets worldwide. With extensive facilities in the USA, Czech Republic, Slovakia, United Kingdom, India and Malaysia and nonpareil internal engineering skills and experience, AveoEngineering has also been tapped by numerous leading companies worldwide to provide custom-engineered solutions and forward-looking innovations. Our contract design engineering division, Strojkov Engineering, has provided world-class engineering design and new product innovation and development for large multi-national companies for more than a decade, and we do it faster, better and cheaper than most companies can conceive due to our lean structure and low overheads."
To hear Nielsen describe it in his copious writings, it's a growing business, and aircraft manufacturers are migrating to Nielsen's "brilliantly different" model (his motto). Nielsen's style is brash, unapologetic, often in your face, and somewhere on the verge of arrogance, as signaled by his many taglines: "No brag. Just fact."
"At the end of the day, cream always rises to the top," Nielsen writes in his immodestly called "7 Wonders of Aveo Engineering Lights," "and we prefer to let our products and technology speak for themselves." Among those distinctions: the brightest such lights in the industry. (You can have a look at those lights on a Cessna at night.)
Aveo has been incorporated in Florida since 2010. It is currently operating a facility at Hargrove Grade in Palm Coast.
County officials will keep their fingers crossed as the airport operation gets under way. The county has had checkered luck getting its version of an industrial park going there, as company after company–the Ginn Corp., Cakes Across America, Microhose, Global Academy charter school, even Embry Riddle Aeronautical University–have either had buildings built for them by the county, on the promise of assuming the resulting mortgage, or have occupied county buildings on the promise of a long and happy relationship, only to bail, usually leaving the county holding the bag. In every case, the promised jobs evaporated.
Only Embry Riddle paid its way out to end its lease early. In Aero's case, it appears the county will not be out much except land, as the company will assume the costs of construction, though the details of that deal are not yet clear.