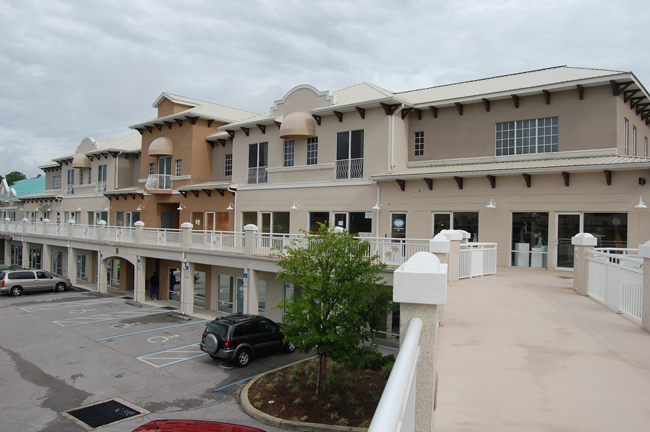 After threatening to leave City Marketplace over a proposed lease increase that would have gouged city coffers, the Palm Coast City Council on Tuesday had no objections to a new one-year lease proposing to increase rent by 10 percent, down from 57 percent in the original proposal. That means city offices will stay put at City Marketplace through next fall, when they are scheduled to move to a new city hall at Town Center, now in its design phase.
"Our current lease is $20,000 a month, or $240,000 a year, that is all includive," City Manager Jim Landon said, "and it expires August 31. We are hoping to be out of here in the August September timeframe of 2015. This proposal would be a one-year extension with a 10 percent increase, or $22,000" a month. The proposal is all-inclusive, meaning that it does not include CAM, or Common Area Maintenance, fees–nor will such fees be imposed on the city.
"I wanted to stess that here recently the tenants and actually other property owners received notice from the association that is responsible for the common area that their fees for the common area, better known as CAM fees, are going up substantially," Landon said. "We do not have CAM."
The City Marketplace property owner has imposed a CAM fee increase of 212 percent on the Flagler County Sheriff's space at City Marketplace, an increase the sheriff is contesting. Steeper CAM fees have been asked of other tenants.
Landon was recommending approval of the new lease because it would be cheaper to pay the 10 percent rent increase than to pay moving fees to temporarily relocate offices elsewhere, before the final move to Town Center.

Backing Down, City Marketplace Landlord Reduces Rent Hike on Palm Coast to 10%
June 17–No one has ever faulted City Manager Jim Landon for not being a shrewd negotiator. Either his skills paid off for the city, or John C. Bills, the City Market Place landlord, came to his senses after first proposing to raise the rent on the city's office space by $138,000 for the year. Palm Coast officials termed that proposal "unacceptable" and were ready to move out, even though they need the space for only one more year or 15 months, now that the Palm Coast City Hall at Town Center is in design and will soon be under construction.
The two sides this week have worked out a lease agreement that would raise Palm Coast's rent by $2,000 a month, to $22,000, but also reduce Palm Coast's space modestly, by 1,278 square feet, from a total of 22,200 square feet currently. That reduction in space–unit B-103–does not affect city employees or services. It's a storage unit that the city agrees to give up.
"I'm pleased to announce that we have a tentative agreement that we will present to you at your workshop next week that is just a 10 percent increase in our rent where we are today, versus the 57 percent increase that they were proposing," Landon told the city council Tuesday morning. "I think that's a very reasonable increase after being in there for I think, three years? No actually we're at the end of the sixth year, the second three-year term. So you'll be presented that with the idea that we won't have to be relocated temporarily."
The new lease would be in effect from Nov. 1 through Oct. 31, 2015. But it makes no provisions for the city needing the space after that. City Hall is scheduled to be completed sometime next fall, but it could be late fall, and possibly early winter, before the city can move in, depending on how close to the scheduled completion date the contractor can remain.
Palm Beach Gardens-based John C. Bills Properties bought City Market Place in November 2013 for $2.9 million, a few months after buying Roma Court, another troubled commercial development that was built just as the housing boom crashed, and that has strained to fill its spaces ever since. The new City Marketplace landlord then distributed new lease terms to tenants, many of whom–among them Hollingsworth Gallery and Mia Bella Dance Academy–were shocked by the requested increase in rent.
Palm Coast had considered parceling out its office spaces between its utilities offices and space it would have leased from such places as the old News-Journal bureau on State Road 100 and storefronts in a Winn-Dixie shopping plaza. Having those possibilities–and outlining them publicly and noisily during a previous city council meeting–gave the city a stronger negotiating position against Mills, who could have been left with more than 20,000 square feet of gaping space in a matter of weeks, and a dearth of tenants to fill it.
The draft lease agreement appears below.