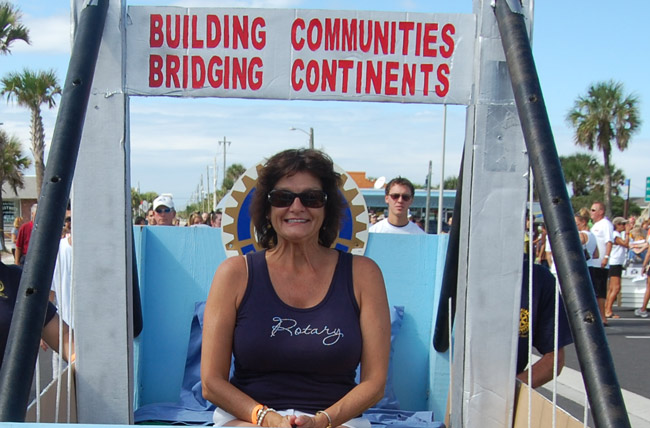 Last Updated: 5:07 p.m.
Lea Ann Stokes, a recent past chairman of the Flagler County Chamber of Commerce and a prominent member of the county's business and civic community, was arrested on a drunk driving charge in Flagler Beach Sunday evening (Feb. 3), on her way to a Super Bowl party. Stokes, 53, was booked into the Flagler County jail and posted $500 bond.
Stokes at one point attempted to avoid the arrest when she asked a police officer to summon two Flagler Beach city officials "so they could come down and assist her in putting this behind her so she could go home," according to the arrest report. The officer told Stokes that "that would not be possible."
It is Stokes's second DUI arrest in 11 years. She was charged with DUI in October 2002, and pleaded no contest. Her driver's license was revoked for six months, she was placed on probation for six months, fined just under $600 and required to serve 50 community hours. The year before, she had been arrested on disorderly conduct and obstructing an officer charges. She entered into a deferred prosecution agreement with the court.
Sunday's arrest took place at North 14th Street and North Central Avenue in Flagler Beach at a little after 8 p.m. Stokes lives on North Central Avenue.
A Flagler Beach police officer had, moments earlier, spotted a 2012 Toyota Highlander heading north on A1A and trying to make a left turn on N. 14th. "The vehicle," the report states, "turned early onto N. 14th and then went wide and across the street, almost striking a telephone pole on the northwest corner of the intersection." The vehicle then slowed down drove "with its right side tires in the grass on the property located north of N. 14th St."
After making the traffic stop, the officer reported detecting "the odor of an alcoholic beverage emitting from the driver's window." Stokes told the officer she was trying to get to a Super Bowl party on 8th street, but had gotten lost. She was reportedly confused when asked for her driver's license, registration and proof of insurance, on two occasions taking paperwork out of the glove box, going through it, putting it back into the glove box and saying she didn't have it, even though the officer would tell her that the registration was visible among the paperwork. After warning that she could be cited for not providing the registration and proof of insurance, Stokes again took out the paperwork, and the officer pointed out the registration for her, at which point she handed it over.
The officer then administered four exercises commonly administered to suspects of drunk driving by the side of the road, such as the walk-and-turn and the one leg stand, none of which she was able to accomplish in line with each exercise's requirement, according to the report. In several instances, the officer had to repeat instructions, which Stokes, apologizing, would misunderstand.
At 10:26 p.m., Stokes provided two breath-alcohol samples, one that read 0.162 percent, the second, 0.167 percent. The legal limit in Florida is 0.08 percent. "At .15 BAC you are 380 times more likely to be in a fatal crash than you are sober," according to Lifeloc Technologies, maker of breathalizer tests.
Stokes chaired the Flagler County Chamber of Commerce Board of Directors two years ago. She is still one of the chamber's five officers, and the only woman among them. Stokes, a forceful and energetic presence in government and business circles, who routinely advocates for Flagler Beach businesses and beyond. She chaired Flagler Beach's Economic Development Task Force. She was especially instrumental in the creation of a county-wide economic summit two years ago that eventually led to the creation of the county's economic development council.
Stokes is the founder and CEO of Preferred Management Services, a Flagler Beach management firm. Attempts to reach Stokes through her cell phone and at her office were not successful.