It was entirely a case of he said, they said: he being L'Darius Deandre Smith, an ex-football player at Flagler Palm Coast High School. He said he was nothing more than a caring, loving and beloved big brother to two of his nine siblings and step-siblings when he was 15 and 16. They being two girls who claim that when they were 8 and 9, Smith forced them to masturbate him, threatening to harm their mother if they refused. Or if they told.
A case that depends exclusively on the word of some people against those of others is by definition an invitation to reasonable doubt: no one's word alone is unassailable legal proof in a court of law, however proffered under oath. There is not a shred of physical evidence or documentation of the claims–no diaries, texts, social media postings. And in this case, in which both victims and Smith took the stand, all under oath of course, it is beyond question that someone was lying. Someone was perjuring himself, or themselves.
The question was who. Was it Smith, now 21, who spent the last 13 months in jail awaiting trial, copping a guilty verdict on a misdemeanor along the way for misbehaving and trying to headbut a bailiff in a previous court appearance? Or was it the girls, who told their mother, their grandmother and a best-friend of the alleged molestation, all of whom also testified to corroborate their claims?
Clouding the questions was the fact that the two girls never spoke of the allegations until more than four years after the incidents took place in their Palm Coast home, and some four years after Smith had moved out of the house he had periodically shared with them as the son of the man who was dating the girls' mother. Also clouding the questions were the sort of minor inconsistencies that accompany the retelling of any story by two or more individuals, even when that story took place hours or a day before, let alone four years earlier.
Either way, the lie is monstrous.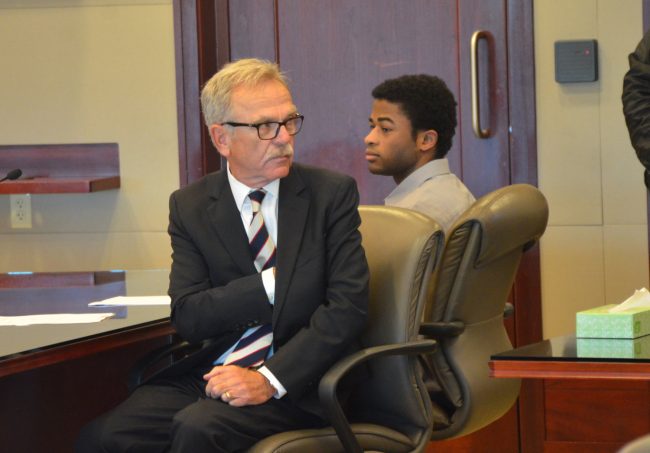 If the girls are lying, they are putting away a man for up to 15 years in prison for an act he did not commit. If Smith is lying, he is covering up sexually imposing himself on two pre-teen girls for his gratification, by threats and intimidation, at a time when he knew he was trusted and looked up to as an older-brother figure, for an act that would traumatize any child for life: one of the children has fiercely repressed the memory, the other has attempted suicide. The judge, however, said out of hearing of the jury that the suicide attempt and surrounding therapy doesn't prove anything and so could not be connected to the case at hand. So the jury didn't hear any of it.
But it did not appear to be the easiest choice for the jury, which found a way not to call the girls liars, yet to acquit Smith of the most serious charge.
Friday afternoon, after deliberating three hours, a jury of four women and two men found L'Darius Deandre Smith not guilty of lewd and lascivious molestation of two girls, instead finding him guilty of "unnatural and lascivious acts," a comparatively insignificant crime for which he will serve no more jail time. His criminal record aside–which was not spotless to start with–the verdict was, in essence, the equivalent of an acquittal.
Smith shrugged his shoulders and pursed his lips as if to say, not so bad. He stretched–and did not get up–when the jury filed out one last time. Moments later he raised both his hands in a victory sign, without looking back. He still had to go back to jail to be processed out. But he didn't walk out the side door as a bailiff escorted him. He sauntered out, without so much as looking back at his family. It does not appear that he shook his attorney's hand.
An unnatural and lascivious act sounds dire and echoes in wording the lewd and lascivious charge. But the latter is a second-degree felony with serious prison time. The unnatural acts is a second-degree misdemeanor with a maximum penalty of 60 days in jail. Though the jury did not know it–juries are never told whether the charges are felonies or misdemeanors, or what penalties the charges carry–it was essentially letting Smith off almost scot-free: he has already served 60 days. He's actually served 401 days.
The judge sentenced him to time served and fines totaling a few hundred dollars, and that was that.
Smith's attorney swiveled to face Smith's family and smiled broadly. The girls were not in the courtroom. Their mother and grandmother were, their heads shaking, their disbelief written on their faces.
The "Unnatural and lascivious act" provision in Florida law is itself an unnaturally pejorative left-over from primitive days when such things as homosexuality, anal sex and masturbation were considered legally punishable acts. Many states have cleaned up their books. Some, like Florida, have not, though the provision is never used anymore to punish those acts and has been turned into a useful tool of plea bargains for peripheral reasons–or, as in today's case, as a "lesser-included" conviction: when a jury isn't convinced that the harshest charges have been proven but isn't willing to let the defendant be entirely acquitted, the jury will opt for a lesser charge, as long as it's listed among those it can consider. This one was (as were battery and assault).
The inclusion of the "unnatural" charge is flawed though, as LeDonne hinted but did not specify in his closing argument: if Smith was found to have committed the act, then there's no question that he made the girls masturbate him, since he could not be punished for the act outside their presence. And if he'd made them masturbate him, then the jury had to find that he had committed a lewd and lascivious act, not merely an "unnatural" act. On the other hand, the finding gives the jury a way to penalize a man who was only 15 or 16 at the time of the offense, thus using the lesser charge as a pretext to punish, but to punish only within the bounds of what amounts to a more youthful indiscretion than an adult act of sexual abuse. That addresses Smith and his age.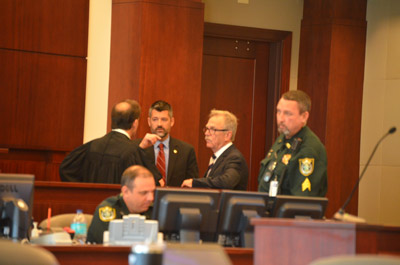 From the two victims' perspective, it does not address the trauma they endured even though the jury recognized that the trauma was real: once the jury found guilt, it was also conceding that the girls' stories were true. But it was not willing to punish Smith accordingly.That can be interpreted either as a flaw in the lesser-included charges submitted to the jury or as a flaw in the criminal justice system, which had narrowed the charges against Smith to adult charges from the outset. The intention is to harsh-up the penalty. In this case it backfired, resulting in a jury snubbing the harsher option for a far less consequential one.
The jury had telegraphed its intention to go with "unnatural acts" when it posed a question to the judge almost three hours into deliberations, wondering if, to be convicted of unnatural acts, there was an "age requirement" if the victims are less than 12 or less than 18 years old. The question was not as clear as the answer ("no"), but it revealed the jury's thinking: there was discomfort over finding Smith guilty of the harsher charge.
The case was tried over two days, not including jury selection, by Assistant State Attorney Joe Le Donne and defense attorney Peyton Quarles of Daytona Beach, before Circuit Judge Dennis Craig.
It was highlighted today by Smith's decision to testify, an unusual move for a defendant, though Smith on Thursday, less so today, projected an air of selfie-like self-confidence: he may have found a chance to control the stage irresistible. But there was nothing surprising about his testimony other than his repeated assertions that the girls' mother and her boyfriend–his father–argued constantly and did not like him particularly, or the children who hung out at the house and were not of her progeny.
"Did you ever go in the bedroom that was occupied by the girls?" Quarles asked him.
"No, I went straight to sleep because I went fishing the next morning," Smith said by way of an alibi.
He claimed, as had another witness for the defense, that until 2016 there'd never been an issue with the girls, with whom relations were always familial, happy, playful, even in 2016, when he said they came to his mother's house for sandwiches and a movie. (The two girls and their mother were brought back to court today to testify in rebuttal to that claim, saying they never went to the house or hung out with Smith in 2016: the girls' mother and Smith's father's relationship dissolved after the revelations of the the alleged abuse.)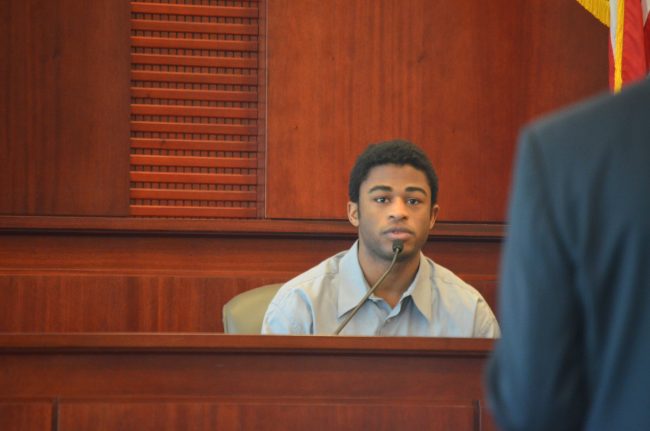 Smith leaned back in his chair and stroked his chin for much of his testimony, as he often had while sitting at the defense table and appearing more curious than implicated in the proceedings.
"Did you do any of the things that any of the girls testified that you did?" his attorney asked.
"Absolutely not," Smith said.
When it was LeDonne's turn, he raised the question of that disputed family gathering in 2016.
"They came and hugged me," Smith said.
"It's true that there was an injunction against you," LeDonne said, more as a statement of fact than a question.
"Yes," Smith said.
"You weren't supposed to be around them."
"Right."
"Including touching them."
"Right."
That was all for LeDonne's questions. He did not return to the matter of the injunction in his closing argument or even raised the matter of a third girl who'd told one of the alleged victims that Smith had forced her to masturbate him as well. (That girl denied saying so when she was questioned today.) Rather, LeDonne focused on explaining why there was no evidence but the girls' words, and why that should not sway the jury in Smith's favor: "Who feels comfortable talking about this in front of a group of strangers, in front of the offender?"
It wasn't a strong closing, though it got much stronger when he had a second chance, after Quarles made his closing argument: trial rules are such that the prosecution closes first, then the defense does, then the prosecution gets to go again, but not the defense. The reason: the burden of proof is on the prosecution.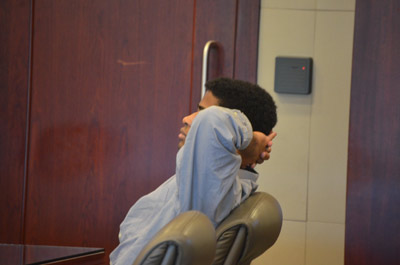 Quarles, in an unhurried, almost leisurely, aw-shucks manner, went through the various testimonies, stating several ordinary facts as if they were exculpatory evidence on their face, such as the fact that Smith didn't run away when he was first accused of the acts but not arrested ("he stayed right here"), or that "there's no incriminating statement by L'Darius, no confession" (there usually isn't when a case goes to trial). Quarles then turned the jury's attention to the various "conflicts" in the children's testimonies, calling them substantial: the older girl was said by some witnesses to be sleeping in the upper bunk, not the lower bunk, when Smith is alleged to have accosted her ("that's not minor," Quarles claimed), the younger girl never herself mentioned a gun or being hit with one (not exactly true: she mentioned what turned out to be a paint gun that she said Smith used to threaten her, though she did not speak of getting struck with it, as her mother claimed), and he held up two pictures of the younger girl happily hanging out with Smith after the time when the act is supposed to have taken place, again suggesting to the jury that the images were proof of normalcy. The girl never denied that life did not continue after the alleged acts, but said it had to, because she didn't want it known that she'd been made to touch him.
Quarles effectively tied his many disparate dots of pre-teen memories into knots of doubt about the "quality" of the children's evidence, about the "credibility in the story" of one child (as when she claims to have screamed and pinched her sleeping half-sister next to her to no avail the night Smith was molesting her) and finally about whether that left jurors with "an abiding conviction" that what they were hearing was true. It's an effective phrase liable to make anyone wonder about the validity of most things, but Quarles had one point: "Is she making stuff up or lying?" He was speaking of either girl.
LeDonne's rejoinder was far more animated, direct and punchy than his first closing as he ridiculed Quarles' attention to "ancillary details" or inconsistencies and turned the tables on the defense's claim that one of the girls didn't want to talk about the allegations because it never happened, or that neither talked about it for four years because, again, it never happened.
To the contrary, LeDonne said, his tone now a bit more indignant than the calm of his first try, that lends the girls "credibility." They had not spoken for four years because they were scared, and because one of them didn't want to deal with it, as is often the case with children victimized by sexual abuse. The shame is too much. "They kept it inside in the best years of their lives," LeDonne said, "they kept something so secret, so dark, for that long, think about that, that lends to their credibility, that doesn't go against their credibility." Yes, he said, there may have been inconsistencies as to whether one portion of the masturbation happened in the bed or the bathroom. "That's a child trying to work through a traumatic event in their mind, that's what that is, and nothing she said was inconsistent, because there was an incident in the bedroom, and there was something that happened in the bathroom. Who really cares what came first?"
It's not about who was on the top bunk or the bottom bunk, he went on (though in reality many a defendant's fate has hinged on just such "ancillary" details). "He's not on trial whether he's on the top or bottom bunk, but because he forced two girls to masturbate him three times," LeDonne said. "It's the masturbation and the force. Remember that."
As for lesser charges, LeDonne said, they may be on the allowable verdict list, but don't reflect two things: "force and threats."
It was not enough to convince the jury.