The previous crime report is available here.

Homeless, and Robbed
On Nov. 4, a deputy was flagged down at the intersection of Palm Coast Pkwy eastbound and the I-95 northbound exit ramp by Charles William Zang Jr. Zang said he'd been staying in the wooded area behind the Cracker Barrel restaurant. This is the area where he kept his belongings while he walked around town during the day and while he hung out at some of the local bars at night. Zang toldf the deputy that the previous evening he was hanging out at Smiles Bar on Old Kings Road with an individual by the name of "Cory." Zang does not know anything further about the Cory other than his first name. Zang stated he was wearing a black t-shirt, blue jeans, and sneakers, he had a scruffy beard and was approximately 30 years old. The two of them were drinking together and were going to go back to the area where he has been staying to sleep for the evening. Cory left the bar before Zang did, but Zang didn't think anything of it. Later on that evening, when Zang returned back to the area where he was staying, he observed that all of his belongings were missing. Zang stated that only Cory knew where his stuff was and that he must have taken them. Zang advised that he was now missing a black metal framed backpack with camo print. Inside of the backpack were all of his clothes and personal items. Zang was also missing a red and white Coleman cooler. Inside of the cooler were numerous miscellaneous items that included some CDs, books, and other items. Zang said he had not seen Cory since.
Another Homeless Incident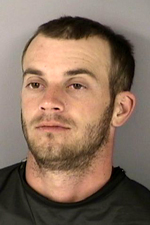 A deputy reported the following incident on Nov. 2, just before 3 a.m.: "While on patrol of the Home Depot area, I observed a while male, now known as Corey Fish, with a black in color bag, in the process of climbing onto the roof of Ruby's Tuesdays. At this time, I immediately requested a back up unit and advised FCSO Communications of my observations. As I exited my patrol vehicle, I drew my agency issued weapon (Glock 22C) and commanded Fish to climb down from his position. He complied and I promptly secured him. While being secured, Fish stated that he is currently homeless and that he was looking for a place to sleep. He also advised that he was on the roof so that he would not get bitten by bugs and/or snakes. I then transported Fish to the Flagler County Inmate Facility for processing without incident." Fish is 30 years old and a native of Orlando. He was released for time served.
Consequences of Knife-Wielding
Just before 3 p.m. on Nov. 4, a Flagler County Sheriff deputy responded to 23-A Pine Hill Lane in Palm Coast in reference to a physical disturbance. The deputy's report describes the scene: "Upon arrival I made contact with Enoch Forbes who was shaking uncontrollably. I observed several small lacerations on the right side of Enoch's neck, consistent with fingernail marks. Enoch stated that Kimberly Stollmer and he were
involved in an argument over financial problems. Enoch stated that he broke a few candles inside the residence at which point Kimberly grabbed him with one hand around his throat while Kimberly held a kitchen knife in her other hand to Enoch's throat. Enoch stated that Kimberly threatened to cut his throat and that he was in fear for his life. It should be noted that Enoch and Kimberly have a child together and that they all reside together as a family." The child, however, was at school during the disturbance.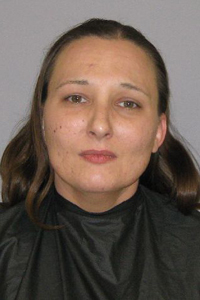 "While I was on scene," the sheriff's report continued, "Kimberly kept calling Enoch's cellular telephone. While I was on scene I had Enoch call Kimberly and place the telephone on speaker phone so I could hear the conversation. Enoch stated to Kimberly that he had some cuts on his neck from the knife that Kimberly had held up to his throat and Kimberly stated 'that knife didn't even touch you.' It should be noted that Kimberly never denied on the telephone that she was in possession of a knife during the argument. Sgt. Jones responded to the scene and took photographs of Enoch's visible injuries to his neck area."
The report goes on to describe Kimberly, at the scene, denying that a knife was involved in the argument–that it had been a verbal argument only. Kimberly stated that Enoch was breaking items inside the residence during the argument. Kimberly, the report states, "was determined to be the primary aggressor and she was placed under arrest. Kimberly eventually stated that she did pick up a knife and that it was for 'self defense.' The actual knife used in this incident was unable to be located due to it being a common kitchen knife" with several like it in the kitchen.
Kimberly had a black purse on her as she was being placed under arrest. A gold zip bag was located which contained a clear plastic baggie with a green leafy substance identified as cannabis, or marijuana, A clear bottle was located in the bag with suspected cannabis inside of it as well. So was an orange pill bottle with Kimberly Stollmer's name affixed to the label with cannabis residue located in the bottom of the pill bottle. Inside the pill bottle was a paper clip. A multicolored smoking pipe was located in the pocket on the side of the gold zip bag. Kimberly stated that the gold bag and the purse were hers but that the items located inside the gold bag were not hers. Kimberly stated that Enoch had threatened to "set me up" in the past by placing items inside Kimberly's belongings and then contacting the police. Kimberly continued to state that the narcotics located were Enoch's and that he "set me up." After Enoch consented to a search of his room, small amounts of cannabis and a digital scale were located inside the bedroom.
Enoch was issued a domestic violence pamphlet. Kimberly was transported to the Flagler County Inmate Facility without incident. The suspect cannabis field-tested presumptive positive. The clear baggie of suspect cannabis weighed approximately 13.8 grams (including the baggie) and the clear bottle weighed approximately 10 grams (including the bottle), though the combined weight of both amounts of cannabis was below 20 grams. Kimberly was charged with aggravated assault with a deadly weapon, battery and possession of cannabis under twenty grams. The Florida Department of Children and Families was also contacted.
Boat Larcenies
On November 3 at 11:23 p.m., a deputy responded to 5478 N. Ocean Shore Blvd. in reference to a larceny from two boats. The deputy made contact with Shawn Rhodes, the complainant, who reported that some time between 7:15 p.m. on Nov. 2 and 8 a.m. the following day, somebody walked on his property and climbed aboard two boats and stole a total of six speakers. It is believed that the unknown suspect came up from the water and walked onto the property barefoot as there were bare feet marks leading from the water and onto the boats. "The first victim (Mann Kraus)," the report states, "had four unknown name brand speakers stolen from the tower on his boat. The speakers were valued at $150 each for a total of $600. The four speakers were the only items missing from the boat. There were no serial numbers available for the speakers. The second victim (Shane Dennis), had two alpine speakers stolen from the center console on his boat. The speakers were valued at $100 each for a total of $200. The two speakers were the only items missing from the boat. There were no serial numbers available for the speakers. Mr. Rhodes stated that he believes that these were the only two boats that had items stolen and that he will be making contact with the owners of the boats." The deputy told Rhodes that "we could attempt to collect fingers prints if the victims want us to. He said that he would call back in if this was a option that they would like to exercise."
Malicious Burglary on Florida Park Drive
On Nov. 2 at 6 p.m., a deputy responded to 34 Florida Park Drive in reference to a burglary. The residents stated that they left their house at approximately 7:30 a.m. and returned at approximately 6 p.m. One resident stated that when she walked into her house she noticed that their 42" Sony flat screen TV was damaged and the living room was in disarray. When she walked into her kitchen she noticed that the back window was broken and open. She also noticed that a stool in the kitchen and a couch in the living room were set on fire and damaged. When she walked into her bedroom she noticed that some of her personal items were thrown around the room and a 50" Magnavox flat screen TV was damaged. She stated that a 9mm Glock 26 worth approximately $500 was missing from her bedroom and a Nintendo WII with three controllers worth approximately $450 was also missing. A black Nintendo OS worth $100 and a small black safe with $2000 dollars were reported missing from the living room. The victims could not provide any serial numbers for the items taken.
The deputy's report reads: "It appeared that the suspect broke the kitchen window to unlock it and then used a patio chair to climb into the window. The Kitchen window is located on the rear of the house. I dusted for finger prints around the kitchen window and the areas where the items were taken from and had negative results." A neighbors at 32 Florida Park Drive stated that she was in her driveway with her
husband at approximately 10 a.m. and noticed a black male in his mid twenties wearing a black shirt and dark shorts walk away from the victim's front door. The male reportedly then got into the driver's seat of a four-door maroon Buick that was parked in the driveway of 36 Florida Park Drive, a vacant home. The neighbor said the Buick appeared to be a new model, and that when she left her house the Buick was still in
there. The homeowner at 47 Florida Park Drive stated that she was home all day and did not see anything suspicious, nor did homeowner of 22 Fernwood Drive, whose house is behind the victim's house. There are no suspects at this time.
Other Burglaries, Larcenies and Lost Wallets
Patrick Hutchison of Bracken Lane in Palm Coast reported losing his wallet at McCharacter's Sports Bar on Nov. 4.
Marian Fernanda Santos of Fitzgerald Lane in Palm Coast reported losing her brown ladies wallet in the produce department of Winn Dixie's Palm Coast Parkway store on Nov. 3.
A Florida trailer's tag decals were stolen from a visitor's vehicle parked at Bulldog Drive and Town Center ahead of the Seafood Festival. The larceny was reported on Nov. 4.
A computer was reported stolen by people who'd visited at 3 Senor Place in Palm Coast on Nov. 4.
A 1996 Lincoln Mark VIII with Florida tags, which was left unlocked, was broken into at 37 Raeland Drive in Palm Coast during the night of Nov. 4, and a CD player valued at $100 stolen. Later that night, there wasa report of an attempted car break at 13 Raemond Lane by two white males with blond hair.
Inside and outside air conditioning units at 8 Bickwick Lane in Palm Coast were reported taken apart and stripped of parts. The report was filed Nov. 4.
On Nov. 1 or 2 an LCD projector belonging to the State Department of Education was stolen from a 2009 Honda Civic four door parked at the Holiday Inn Express. The car's rear left window was broken.
On Nov. 2, the passenger side window of a Toyota Camry was smashed and a purse and a GPS device were stolen. The car was parked at 60 Memorial Mdeical Parkway in Palm Coast.