The following incident and arrest information was compiled using official documents, reports and affidavits obtained from government and law enforcement agencies. This feature is not inclusive. It is a sampling of reported incidents in the Flagler County area. Note: The U.S. legal system provides the presumption of innocence to those charged with a crime until guilt is proven in a court of law.

Foreclosures' Fallout
The afternoon of Sept. 7, a deputy responded to 8 Princess Luise Ln in reference to a reported larceny. An employee for Safeguard Properties, a residential management company employed by Bank United, which owns the residence. The employee said his job was to provide care an upkeep to residences owned by the bank until they could be sold or rented. He said he was at that Luise location conducting maintenance on Aug. 16. All items on the property were accounted for. When he returned on Sept. 1, he found the air conditioning unit had been taken apart and parts stolen. he valued the missing parts at approximately $700.00 but was unable to provide an exact description of the parts that were missing, only saying it was the parts with copper. Due to policy, the employee said, he had to contact the owner of the residence and get permission prior to contacting law enforcement and reporting the theft. The sheriff's report does not specify how quickly the employee got through to the right contact at the bank. No other damage was observed to the residence and no suspect description was provided.
When Lies Are Prescription Drugs' Side Effects
On Sept. 7, a deputy responded to a reported larceny at 11 Classic Court South in Palm Coast, where Anthony Ehrisman said his prescription medication had been stolen. He accused Andrew Amidon of South Florida Park Drive in Palm Coast of stealing them. That turned out not to be the case, according to a sheriff's report. Anthony claimed Andrew was the only one in his residence recently and he believed that he had a drug problem. While the deputy was at the scene, Andrew text-messaged Anthony twice. When the deputy asked to see the texts, Anthony agreed, only to then press several buttons on the phone in what looked like an attempt to delete the messages. The messages were, in fact, deleted. Anthony became defensive when asked why he'd done so.
The deputy then made contact with Andrew at his residence. Andrew said Anthony had called him–and told him to to delete the call log from him and that law enforcement officers were on their way. Andrew's father, Richard Amidon, provided the deputy with the two prescription bottles that were in Anthony's name that he located in Andrew's bedroom. Andrew said that he was given the bottles by Anthony a few weeks ago with prescription medication in the bottles for him to use, and that he had not stolen them. He said he'd never gone to Anthony's residence. Andrew said that his father found the bottles in his room. Fearing that the bottles would be turned into law enforcement, he decided to report them stolen. Andrew completed a sworn voluntary statement.
Contact with Anthony was made again and he advised that he did not tell the truth but could not give a good reason why. Anthony then changed his story and advised that a friend who is in school with Richard overheard that he had located the prescription medication bottles. The friend then called Anthony to warn him that Richard planned on turning the prescription bottles in to law enforcement. Anthony then called law enforcement to report them as stolen. Initially, Anthony said he believed that Andrew had taken the medication due to him being in the residence–not that he received information that the prescription bottles were located in Andrew's room. Anthony was placed under arrest for making a false report to law enforcement.
Trailer Stolen
The resident of 3 Kankakee Trail in Palm Coast reported that sometime between 4:30 and 7:30 p.m. on Sept. 6, his white 2007 10-foot enclosed trailer bearing Maryland tag 40048TL was stolen from that address, while the resident was in Jacksonville. The trailer owner said that when he left the trailer had padlocks on the rear and tongue of the trailer. He reported that the tongue lock had to be cut off in order to hook the trailer to a vehicle. He said the trailer was mostly empty and only contained four tie-down straps, a wheel chock and a small scissor jack, as well as a spare tire mounted to the front end of the trailer. The exact make of the trailer is unknown.
False Imprisonment and Battery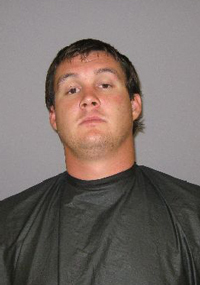 Just before 7 p.m. on Sept. 6, a Flagler County Sheriff's deputy responded to 5 Riverview Bend, Apt 312, in Palm Coast, in reference to a physical disturbance. Michael Kolehmainen, 25, was standing against a car with a broken window. His hand was covered in blood, according to a sheriff's report. Michael asked the deputy if the deputy was there to take him to jail. When asked to identify himself, Kolehmainen held up his bloody hand and said this is who I am. The deputy asked him to calm down and answer some questions. Michael said he and his wife had gotten into a fight when she came home from work. Instead of hitting her, Michael said he hit the car window with a golf club and then began punching the broken window. The deputy reported smelling alcohol from Kolehmainen's breath while talking to him. He asked him if he'd been drinking and he said that he did not remember how many he had. The deputy reported Kolehmainen to be uncooperative.
The deputy then made contact with alleged the victim, Kolehmainen's 26-year-old wife. She told the deputy that she came home from work to find her husband, Michael, drinking with family at the house down by the pool. She said that her and Michael began to argue, so she went into the house. She said that Michael followed her into the house, grabbed her arms, and pushed her while continuing to argue with her. She said that she went into their youngest child's room to get some of her things so that she could leave the residence and Michael closed the bedroom door on her and would not let her out. She said that she was pushing on the door as hard as she could and yelling at Michael to open the door but Michael would no let her out of the room. She said that she was finally able to get out of the bedroom and then she went into the kitchen. She said that Michael followed her into the kitchen and again grabbed her by the arms and pushed her against the oven while continuing to yell at her. She said that she was able to get her phone to call 911 and started to walk to her sister's house.
The deputy reported red marks on both of the alleged victim's arms and at the top of her chest just below her neck. Kolehmainen was jailed on charges of false imprisonment and battery, posted $2,000 bond and was released.
Stolen Cadillac Seville
Quincy Batts pf 121 Pine Lakes Parkway reported his 1994 black Cadillac Seville STS stolen on Sept. 6. The car, with Florida tag 735NAY, was missing from Batts' parking lot in front of his building. Batts said he'd left the keys to the car on the center console, inside the car, because he had a remote. He was not sure whether he'd actually locked the vehicle when he'd last left it. He said he bought the car from Car Time Inc. and that the company still had a lien on it. He was behind on his payments, he said. He was not sure if they had repossessed it. No repossession was reported, once officers checked. But the car had been vandalized recently, leaving distinct scratches on the trunk, the driver's side door, and one long scratch from the hood to the rear of the vehicle on the passenger side.
A Husband, a Wife, and a Proposed Cook-Out that Turns Bloody
By the time they were done, Kathy and Kevin Gadson, both 42, of Wellham Lane in Palm Coast, were both in jail on domestic battery charges–battery against each other. She had wanted to have a cookout with neighbors the afternoon of Sept. 6. He did not want to go. They'd both been drinking, according to a sheriff's report. They argued. She said he hit her. He said she fell in the house by the coffee table. A deputy noticed blood stains in the middle of the living room floor and all over the bathroom. The bedroom appeared as if people had been fighting. Clothes and other items were strewn around the house. Husband and wife were arrested and booked. They have a child. The Department of Children and Families was summoned.

Damage, but no Burglary at Florida Park Drive Home Care Pharmacy
A burglar alarm went off at Home Care Pharmacy on Florida Park Drive on Sept. 6. But while damage was reported outside the pharmacy–to the drive-through window, which looked like it'd been hit with a rock–and a blue and black backpack located to the the north side of the building, with a chisel, pick and screwdriver in it, no entry was made by whoever may have been trying to break in. The investigating deputy could not immediately view the store video: the store owner didn't know how to work it. He referred deputies to a manual. Once the directions were read, deputies discovered that a password was needed to view the video. The owner, who was not at the scene, was to view it himself subsequently.
Stolen Motorcycle
John Dougherty flagged down a deputy on Sept. 4 at Club House Drive and Palm Harbor Parkway. Dougherty said he had broken down on his motorcycle while driving on Palm Coast Pkwy. He left the motorcycle on the side of the road and was going to come back later on that day (Sept. 3) and pick it up. When he tried later that evening to push the bike back to his apartment at European Village, he was unable to do so. He said he left the motorcycle at Palm Harbor Pkwy and Palm Coast Pkwy. When he returned, it was gone. It's a 2006 blue Verucci model "Nitro 200", baring a Florida handicap tag of "WU5J", with a VIN number of LF3PCMOG56BOO658O, and a decal number of 01197836.
DUI Arrests
In 2008, an estimated 11,773 people were killed in automobile crashes involving a drunk driver (someone with a blood alcohol content level of .08 or more), according to the National Highway Traffic Safety Administration. Soon, a varying list of traffic and law enforcement agencies will begin releasing the DUI data they compiled in 2009. Whether drunk driving's annual death toll rose or fell last year, the number isn't likely to be the only acceptable one…zero. These reportedly impaired drivers were also found driving on Flagler's streets this week and were arrested.
Ryan Anthony Frezza, 23, Bunnell, Sept. 6.
Denis Demin, 38, Palm Coast, Sept. 7.
Victor Krivoshey, age unknown, Palm Coast, Sept. 8.
Trevor Yarborough, 26, Palm Coast, Sept. 10 (also charged with leaving the scene of an accident with injuries).
Antonio Cesar, 52, Kalverton Ct., Palm Coast, Sept. 12.
The previous crime report is available here.