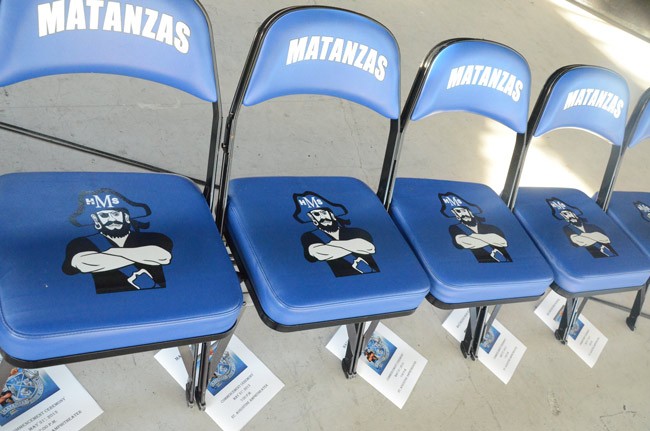 Sixteen Matanzas High School seniors did not receive their diplomas when they marched in their graduation ceremony on May 29–not because they didn;t complete their required course work, but because the company scoring results on two end-of-course exams has yet to complete the work and forward it to the Flagler district. Instead, they got a letter from the principal informing them that "as soon as the state issues the EOC scores and it is determined that you have passed the course(s) necessary for graduation, we will release your diploma for pick-up."
It's not a new issue. "We're kind of no stranger to this," Shawn Schmidly, the Flagler district's testing coordinator, said. Last year, students had to wait until June 16 to get their scores back, and their diplomas. Schmidli is hoping the testing company scoring the work–Pearson, whose contract with the state has been poorly executed, mirroring Pearson's problems worldwide–will turn it in by next week. But there's no way to tell. Pearson has a long history of delayed results in Florida.
None of Flagler Palm Coast High School's graduating seniors had their diplomas withheld for that reason, Principal Lynette Shott said. (Both schools had other seniors not receiving their diplomas, but for other reasons.)
"This is something we've always had," Chris Pryor, the principal at Matanzas–until June 30–said. "We've had a similar letter that goes out if you're waiting on an FCAT retake score. It's not anything they had done wrong. We're waiting on those scores to make sure they passed and how it affected their grades. It should not really do much to them as long as they passed."
Students' diplomas are being delayed because of two exams: biology and U.S. history. By law, those exams must account for 30 percent of the course grade. Absent those results, teachers cannot calculate a student's final grade, or his or her overall performance and GPA.
Seventh graders in the district are facing a similar delay over their Civics test that Pearson is administering. Those results, too, are delayed, holding back final grades for those seventh graders, though the district is matriculating them to 8th grade regardless when it has clear calculations that the course results themselves will not play a factor in that decision. "I don;t think it's a significant number" of students who are affected in 7th grade, Schmidli said.
Other than Pearson's delays, two other reasons contribute to the scores not being ready. For one, schools have been pushing the administration of end-of-course tests to much later in the school year, so that students are also much better prepared to take the exams, having had more weeks of instruction. In the past such exams were given in February and March, nearer the half-way point of the school year, causing more anxiety and less instructional time. This year's end-of-course exam window closed just two to three weeks ago. "We always advocate for more instructional time, by doing that you're almost playing a game of chicken, you're waiting until the end of the year," Schmidli said.
But another reason for delayed diplomas is entirely in students' hands, and it explains why none of FPC's graduating seniors had the same problem: both subjects being blamed for delayed results are usually taken by students in their 10th or 11th grade years. For whatever reason, the 16 students at Matanzas chose to take those courses in their senior year, and ended up in the delayed pool.
The problem of delayed scores could have been much broader this year, with Algebra 1, Algebra 2 and Geometry all potentially affecting some students the same way: none of those results came back to the district in time for the grades to be finalized. But in that case, Schmidli said, each of the exams, because they are new, are undergoing a validation process by an independent company. That validation process may take weeks or months, with results that could be delayed until late summer. Those exams, too, would have normally accounted for 30 percent of a student's final grade. But the state Department of Education waived that requirement this year so that the legally-required validation does not count against students' grades. Instead, students' grades were calculated based on what work they'd done in class (the old-fashioned way).
The delays with the other scores did not stop the 16 students from taking part in their graduation ceremony.