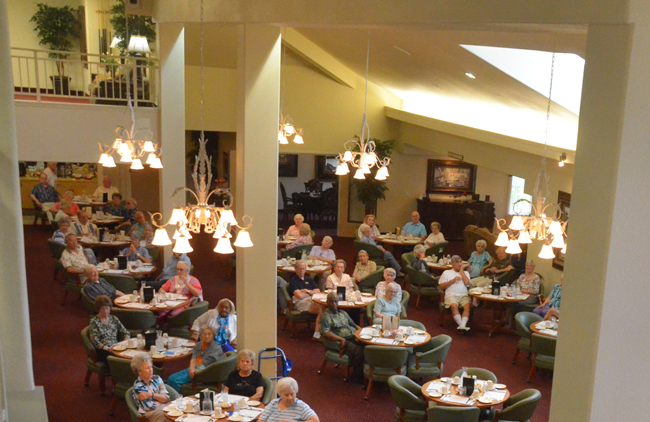 Herbert Rogge is 89. Alice Callahan is 86. Thomas Browder is 90. Inge Perkins is 82. They are all residents of Las Palmas, the Independent living facility in Palm Coast's Town Center. And they were all victims of two women, the Flagler County Sheriff's Office believes, who stole their credit cards and cash, and using their loot to shop at Walmart and in Ormond Beach.
The two women are believed to be working together.
The afternoon of July 23, Rogge reported to police that he got a call from Merrill Lynch to verify charges on his credit card for a $426.76 at the Walmart in Ormond Beach, and $423.80 at an Ormond Beach Publix, which was denied. That day Rogge noticed he was missing two credit cards. He cancelled them. He wasn't sure if the cards had gone missing when he was at Las Palmas or when he was at a doctor's office. He could not identify possible suspects. Most employees at Las Palmas have keys, and therefore access, to his room.
Callahan had a similar story. The same day, in early afternoon, someone stole her credit card and $27 in cash from her wallet. The bank that issued the visa card informed her of an attempted use of the card at an unidentified Walmart, for $450. The transaction was not processed. Callahan that day had lunch in the dining room at Las Palmas. She had her purse with her. After lunch she went to the mailboxes on the first floor, placed her purse on a table near the mailboxes and forgot to pick it up before returning to her apartment. But she quickly realized she'd left it behind. When she returned to grab it, the purse was there, but it was open.
And there was a message on her phone from PNC Bank, telling her of the fraud. purse was still there but it was open. When she returned to her apartment there was a phone message from PNC bank telling her of the attempted fraud on her card.
Las Palmas has no surveillance cameras–for good reason: the campus is a designed as close to private living quarters as possible.
For Thomas Browder, the violation took place in his room. On the same day, someone entered his room and stole $45 and a Visa, though he'd cancelled it before any suspicious charges had been logged. Browder leaves his door unlocked most of the time, as do many of the residents in the community. Browder was unsure whether an employee at the facility accessed his room or whether he lost his card and the money on his way back from Walmart the previous evening, where he'd last used the card.
Inge Perkins reported the previous day (July 22) that sometime between noon and 12:30 p.m., someone stole her black bi fold wallet from her purse. The wallet is approximately 6 inches long and 4 inches wide. The wallet included her driver license, a Visa credit card, a debit card, a health insurance card, her Medicare card, and a $100 bill. She immediately cancelled the credit cards, though one had already been flagged at a Walmart–for $800, $700 and $300. None of the transactions were processed. The thieves tried using another card at a Publix.
Perkins herself had last used the debit card on July 22 at 11:59 a.m. at Tomoka Eye Associates in Palm Coast. She does not believe she left her wallet at the business. From there, she went to the dining hall at Las Palmas and put her purse under her chair while she had lunch. It wasn't until later in the day when she was back in her apartment with her purse, when she sought to use her checkbook, that she noticed her wallet missing.
Ormond Beach Police are investigating similar incidents in their city and have produced a video showing another woman using the same stolen credit card as the Palm Coast
suspect.
Anyone who can identify these women are asked to contact the Flagler County Sheriff's Office at 386-586-4801 or Crime Stoppers at 1-888-277-8477 (TIPS). You may remain anonymous and you could be eligible for a reward of up to $1,000 for information leading to an arrest.
---
Watch surveillance video of the suspects[media id=339 width=500 height=400]