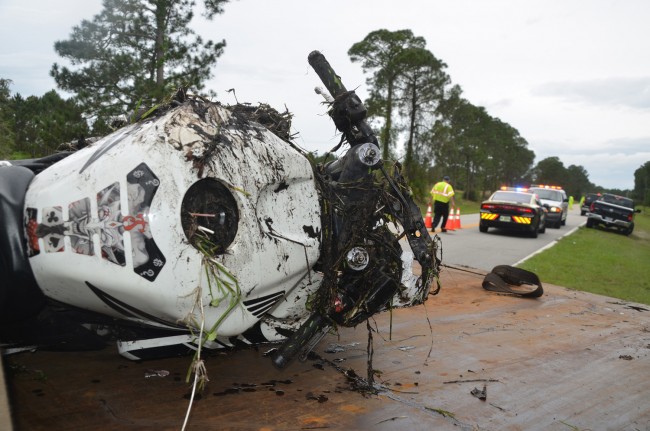 A Palm Coast teen was critically injured in a motorcycle wreck at the intersection of Lakeview Boulevard and Laramie Drive in north Palm Coast just after noon today.
Flagler County Fire Flight, the county's emergency helicopter, evacuated the teen to Halifax hospital in Daytona Beach.
The teen, whose identity was not yet available, was riding in a group of three motorcycles, going north on Lakeview, the road that a little further south turns into Belle Terre Parkway (at Matanzas Woods Parkway). The teen was making a right turn onto Laramie. "He failed to negotiate the curve," a Florida Highway Patrol investigator at the scene said.
The motorcycle scraped off the pavement at the intersection, scattering various pieces along the way, and overturned on the grassy shoulder and into the ditch, where the victim was ejected and left face down in ankle-deep water. According to the people he was riding with, he was not wearing a helmet, the FHP trooper said. No other vehicles were involved.
The Palm Coast Fire Police reduced Lakeview Boulevard to a single lane as the investigation was conducted. The Palm Coast Fire Department and Flagler County Fire Rescue responded, and Roger's Towing removed the motorcycle. The road was reopened to normal traffic at 2 p.m.