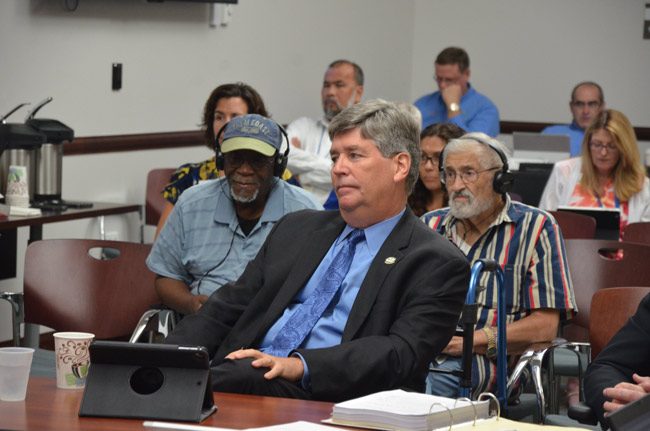 Palm Coast Mayor Milissa Holland asked Manager Jim Landon on Tuesday to make council meeting materials accessible sooner than on the day the council meets. Landon's stunning answer, a rebuke to both the council's and public's right to examine city business before meetings: don't bet on it.
Unique among local governments, Palm Coast does not post key portions of its public meetings' agenda materials on the web, for public perusal,until the meeting starts. The County Commission, Flagler Beach, Bunnell and the School Board routinely post all their agenda materials, presentations and background several days ahead of time, as do most local and even state agencies.
In Palm Coast, delaying posting the material to the day of the meeting, which previous council members had on occasion complained about (among them the late Frank Meeker, Jason DeLorenzo and Steve Nobile) has been a way for Landon to control the information and limit public reactions until he's had the time to frame the issue before the council.
Notorious for his obsessive control, Landon for the first time on Tuesday was publicly and repeatedly questioned about the method by Holland, who wants more time for herself and her colleagues to prepare ahead of meetings. Every member of the council has a full-time job in addition to council duties.
Landon proffered various excuses and mis-characterizations to explain why he could not usually accommodate council members in that regard: presentations are often completed only the day before the meeting. The council meets every week, so the "cycle" makes demands on administrative staff. "It's not practical."
Landon also repeatedly exaggerated the issue, as he is wont to do when he gets defensive: "I'm just saying if it's not ready, I can't get it to you. When you have a meeting every week, to expect staff to be two weeks ahead is not practical," Landon said.
Holland never asked for meeting material to be ready a week before the meeting date. Generally other governments give their elected officials and the public 24 to 48 hours to examine the material. On the County Commission, former Commissioner Alan Peterson–a former Palm Coast Council member–on several occasions berated the county manager for including "slip sheets," or place-holders, in place of actual background materials ahead of meetings: it was expected that the entire package should be complete and ready for commissioner and public examination.
For the public, it's a way to be alerted to such things as, say, fee increases, rule changes or coming projects, encouraging or at least alerting public participation. For elected officials, it's a way to come to the meetings prepared not only to be lectured–or manipulated–by the administration, but armed enough with information to ask questions.
Never a fan of public participation, Landon does not relish being challenged or have his staff's rehearsed presentations thrown off its steps. Keeping meeting material unpublished until the last minute preserves that element of control.
---
"You're feeling overwhelmed, well," Landon said, "it's crunch-time right now and I can't make commitments to get things to you that aren't ready."
---
"Most of the presentations you're seeing," Landon said, "lots of times they're finalized Monday, just so you know. That's why we'll say in the agenda item is that we're presenting something to you but they're not final."
Yet Landon himself expects much longer lead time on materials he wants on the agenda: "From my standpoint when I'm asked as the attorney to prepare something for the agenda packet, my deadline is like the Tuesday before the next Tuesday," in other words, a week ahead, city attorney Bill Reischmann said.
Landon, likely surprised to be counteracted by his usually pliant attorney, jumped in: "It's Thursday," he corrected (still five days ahead).
"Virginia always tells me Tuesday," Reischmann insisted, referring to the city clerk.
Presentations may not be completed until Monday because Landon's method has never been challenged before. It is also somewhat misleading to suggest that the weekly meeting schedule prevents the administration from making materials more accessible sooner: the council holds two workshops and two "business" meetings a month, but business meetings are retreads of items discussed at the workshop: except for resolutions that are usually drafted well ahead of time (note Reischmann's deadlines), business meetings are designed to ratify workshop discussions, not spring new material on council members.
"I know that each person on this council works a lot, and so I would like to see if we can get some of this in advance," Holland told Landon, speaking especially of big-ticket items like the budget or utility issues. Landon had sat on a presentation about the utility department, including a proposal to raise rates 20.6 percent over the next four years, until Tuesday morning. "I want to be able to understand and look at the issue before I get to the workshop to really be able to say how can we understand this or how can we understand that," Holland continued, "Even to be able to sit down with you and say, frankly, why are we doing this, and tell me why." She noted the importance of being able defend her actions to constituents when asked about certain items.
Council members Nick Klufas and Vincent Lyon echoed Holland. "The finance department presentation is on the website. I couldn't find any of the others," Lyon said of Tuesday's agenda, which had stretched the meeting past the four-hour mark, not counting a break for pizza. But neither council member pressed Holland's point, ultimately leaving Holland to make her case alone and letting Landon off the hook.
"I'm not talking just about me, I'm talking about everyone's time. I find time to really do my job responsibly as an elected person on this council," Holland said. She was not suggesting that the meeting schedule should be changed. "But sometimes when I walk into these I might feel very overwhelmed by everything we're seeing in a workshop. Not always. When it comes to budget items, it's a lot of information to just digests and to sit there and think about, especially I will say this utility discussion is a huge one for me. I'm trying to understand how we fund all these projects that we're talking about."
Landon doubled-down: "You're feeling overwhelmed, well, I've got staff, it's crunch-time right now and I can't make commitments to get things to you that aren't ready," he said. "Our schedule is such that it's just not very practical to get this stuff to you." Throughout the 12-minute discussion, Landon spoke as if the public's interest in accessing the same materials was non-existent. He never mentioned it.
He said all budget items were before the council weeks before the September hearings when they are expected to vote on it. But that merely clouded the matter: Landon's method applies all year to all key issues being presented to the council, budget or otherwise.
"I'm not trying to be difficult but I'm just trying to be practical," he told Holland.
"And I'm just saying as soon as you get it it would be helpful for me," Holland said.
Not hearing much more than Holland's voice, Landon did not commit to making materials more readily available ahead of meetings.