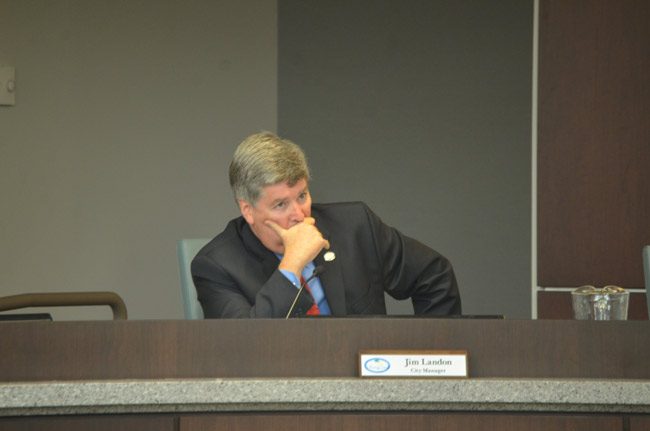 There was something of Captain Renaud in Palm Coast City Manager Jim Landon today.
Landon, who is due to retire by next year if the council doesn't get rid of him first, has just awarded his loyal second an extraordinary $15,000 raise without informing the council about it. Today, he said he was "offended" that a council member would suggest that he would hand out raises to his staff on his way out the door.
Landon and the council member, Heidi Shipley, sniped over the matter at the end of a council workshop this morning as other council members sat mostly silent, with one of them only vaguely suggesting how the problem might be avoided in future, but without clear resolution. But Shipley was not alone in finding that Landon had "misrepresented" the raise in question to the council, a word Council member Nick Klufas used to describe how Landon spoke of it—or, in fact, did not speak of the raise itself—when he announced the appointment of an assistant city manager last week.
Mayor Milissa Holland after the announcement said she had not seen it coming, either, though today she remained mostly silent on the issue.
The issue arose from Landon's misrepresentation of the appointment of Beau Falgout, which Landon described at a council meeting last week, and in a release his office issued, as the result of suggestions by the council and the facilitator hired for the charter review exercise the council went through last year. The council and the charter facilitator had suggested no such thing. The council was interested in having a designee who'd act as the manager in Landon's absence.
Landon since last year had been trying to convince the council that Falgout, one of Landon's most servile and toadying lieutenants, should succeed him as manager, a proposal all council members privately said they opposed.
At a January workshop, Landon steered the conversation to his ends—appointing an assistant city manager, and in effect restoring a position he'd eliminated in 2009. But at no point he spoke of awarding a raise. To the contrary: he repeatedly described the appointment as a formality that would change little. FlaglerLive disclosed last week that the appointment carried a $15,200 raise, resulting in a $110,000 salary for Falgout, not including benefits.
"I would like to make some kind of motion that nobody gets a raise without it coming through us," Shipley said today, other than for employees' "usual raises, only because at a time where Mr. Landon is on his way out, making a raise for somebody—not that you would—but he could give everybody a raise. Just so that we don't seem like we're taking taxpayer dollars for granted, just to put some kind of hold on that so that they know we're aware of it and we're handling it."
---
"You've interrupted me plenty of times in the last three years," a council member tells Landon.
---
Holland reminded Shipley that they were at a workshop, where motions and votes are not taken, but where issues are discussed. Holland proposed to Shipley that she could place the matter on a coming meeting's agenda. Shipley wanted to discuss the matter at the workshop.
"I would love to discuss it now because that's extremely offensive," Landon said, "to suggest that I would on my way out give everybody a huge raise—"
Shipley cut him off. "It's still something that has to be addressed," she said. "I mean, I can't worry about offending people when it comes to what I'm supposed to do for the residents of Palm Coast."
"We look at salaries all the time to make sure that we're competitive," Landon said. He never mentioned Falgout by name—no one did—but in yet another one of Landon's trademark mischaracterizations of discussion items, he placed the raise being discussed in the context of routine "annual adjustments to the pay plan" and the merit system, which he called "automatic."
Not exactly: the council at budget time approves or rejects the size of employee raises, which in 2016 averaged $700. Only the top administrative staff may be handled differently, though Landon himself in the past, when lobbying for his own raise, claimed he was seeking nothing more than what his employees were getting.
Today he said that positions where "people leave on a regular basis" may command more pay "to make sure we're competitive, and make adjustments based on salary surveys and based on our pay plan, that's my job, we take it very serious." (There was never an implication that Falgout was leaving.) "So for you all to then say you want to just put a hold on all wages, evaluations, to stop pay raises period–"
Shipley cut him off again. "No, I'm not saying to stop pay raises, just for it to come through us."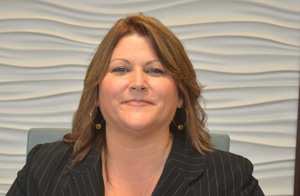 "Ma'am, may I speak without being interrupted?" Landon said.
"You've interrupted me plenty of times in the last three years," Shipley replied. "I'm just saying that what I'm looking for isn't for all raises to be stopped. Obviously I wouldn't say that. But it should be coming through us if it's something like $1,000 a month." (In Falgout's case, it's $1,267 a month.)
Council member Nobile felt "uncomfortable" about making a decision about somebody's raise, but he said there should be "a little report of raises, no names," provided the council and that indicates raises on a given week, "so if something flagrant pops up," the council can be informed. Landon provides a "week in review" report to the council every week, but it's mostly public relations materials boasting about one thing or another. It does not include matters of substance, let alone information about employee raises.
Still, Landon said, referring to wages, "it's a constant thing."
"I also felt surprised," Council member Nick Klufas said of the Falgout matter, again without naming him. "I was taken aback a little bit and felt misrepresented from the way Mr. Landon represented it at the last council meeting."
But the council left it at that.