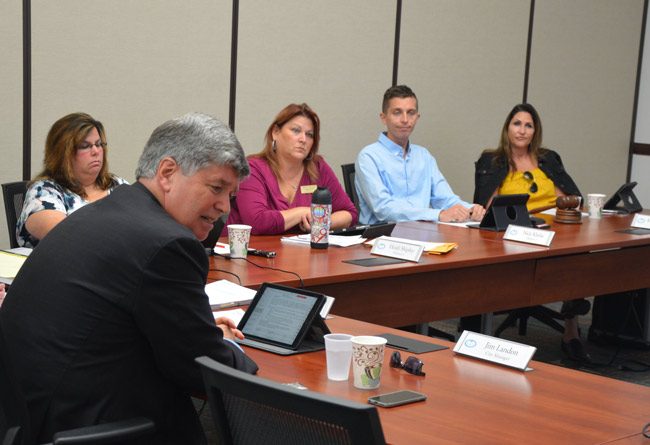 An email from Palm Coast City Manager Jim Landon to the city council about his replacement is not sitting well with Mayor Milissa Holland and other members of the council.
"I do not tell Jim how to manager his employees and I do not need him to tell me how to hire our next city manager," Holland said today, reacting to the Landon email, sent on June 27. Holland would have brought up the matter at Tuesday's workshop but was headed to a conference on entrepreneurship in Kansas City and is missing that meeting. The issue will be a subject of discussion next week.
"It was disturbing to me that our city manager took it upon himself to have conversations with the recruiting firm that the city council retained," Holland said, referring to the way Landon told the search firm the council hired on June 5 that it would not begin its work until he would decide what the timetable would be. Landon also suggested he could be part of the search firm's discussions with council members.
Not so, Holland said. "I felt he was overstepping his authority and it certainly is not his role to select or be part of the selection process of the next city manager," Holland said, in the strongest language she's used in reference to Landon to date, though Holland has been more visibly asserting her authority on the council while sidelining Landon's.
Nevertheless the outline of Landon's retirement timeline remains unchanged.
It's been a year since the council decided it's time for Landon to go, and a little less than a year since Landon took his seat at the council's table to make clear he would steer the manner and timing of his exit. The council largely let him, with two attempts to end his tenure falling short of a third vote.
Landon, now in his 12th year as manager, told the council he would be ready to retire around the time of his granddaughter's graduation from high school locally, which would be May 2019. August 2019 has also been a recurring time frame. Council members have considered firing Landon but have been held back by the cost: a severance package that, like his pay package, approaches a quarter million dollars. Knowing that, Landon has held the council hostage to his demands, whether it's the timing or the manner of his replacement.
On June 5, the council approved hiring Strategic Government Resources, a search firm, to lead the hiring process. That $28,000 contract was signed later in June. (See the full contract here.) The search firm told the council it could have a new manager in place within four to six months. That means a new manager could be in place by the new year.
Landon told SGR that would not be the case. "During his presentation to Council, SGR Senior Vice President Doug Thomas stated that the recruitment process for the City Manager is expected to take approximately 4 to 6 months from start to typically when the new Manager is on board," Landon wrote council members on June 27. "Accordingly, SGR will not start the recruitment process until my future retirement date is finalized and within the recruitment timeframe. I plan to discuss my retirement plans with my family over the coming months and coordinate with City Council and SGR in early 2019 on a transition plan."
That was news to council members who thought Landon's retirement plans were not in question. "It was my understanding that it was the graduation of his granddaughter, so my recollection was that that's when his retirement would occur, he said that very clearly on the record," Holland said.
Council member Heidi Shipley was not surprised by the email. "He's going to run the show. I'm not even sure he's going to leave in August '19," Shipley said. "He has nobody opposing anything he does, nobody saying, hey, wait a minute, this isn't the way it's supposed to go." Shipley said she first heard of the August 2019 retirement date from Bill Reischmann, the council's attorney. "I think he's going to go at a time he feels comfortable with, not a time we feel comfortable with. It pretty much says it in that email, he's going to let us know, we're not going to let him know."
Shipley had supported firing Landon previously and doubts the mayor's intentions now. "I would stand up and applaud her if she would stand up to him," Shipley said of Holland, "but she's strong willed on her own, maybe she wants him there. But I know they're not going to make any major decisions with me there, it's going to be after November. They'll have Jon Netts there, and hopefully [John] Tipton, because I think Tipton is good."
Shipley opted not to run again for her seat, which is being contested by former Palm Coast Mayor Jon Netts—who was among the council members who hired Landon in 2007 and approved his contract—and Jack Howell, the retired Marine and leader of Teens in Flight, the flight school. Nobile resigned his seat in May. Palm Coast attorney Vincent Lyon was appointed in his place but Lyon will step down after the election.
In his June 27 email, Landon said Thomas, the SGR vice president, wanted to have conversations with council members "to discuss the process and to become more familiar with your thoughts on the ideal candidate," conversations that will be updated with returning and any new Council Members following the upcoming city election when SGR formally commences the search process." In other words, Landon does not see the recruiting company starting the search until after the November election, if not even later: searches don't generally begin during the ho9liday season. That pushes the process to January.
"Obviously the plan is to try to coordinate it with Jim Landon's retirement," Council member Bob Cuff said this afternoon, "but as I think I've said in the past I don't consider that a blank check or whatever you want to call it, for things to drag on indefinitely." Cuff sees the next few months as time to set the parameters of the search with the search firm. "I expect that will take some time but I don't think it will take 12 months, and I would like to talk to them about what they think is a reasonable length of time."
Cuff said he was picturing "a mid-year transition" in 2019—with the stated intent to avoid paying Landon severance. "Since he'd announced he was planning to retire anyway it seems to me we can save the city that expense," Cuff said. "I want to hear more from him about his plans I don't think that necessarily dictates what we do but if his goals are compatible with our goals which is to find the best replacement possible, to me that's the best way to do it. If there's foot-dragging or whatever you want to call it, then we'd have to reconsider it, because we do have a search firm now."
Another concern: Waiting so long that an ideal candidate might be snapped up by another city before Palm Coast gets its chance—which is what just happened during Bunnell's search for a city manager: the city had to possibly settle for a lesser choice when its top choice took a job elsewhere. But the Landon email keeps all matters of timing in his hands.
"This email definitely threw me for a loop," Holland said. "We're going to have to discuss with the council on how to proceed to move forward."