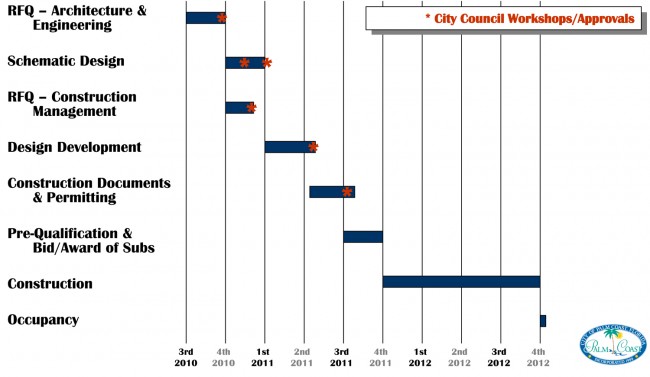 There was a bit of backtracking over the proposed $10 million city hall at the Palm Coast City Council Tuesday as City Manager Jim Landon tried to explain why bidding out architectural services two months ago, bidding out construction services this month, shifting the money to the city's capital budget and sticking by a timeline that would have actual construction beginning in summer—for late 2012 occupancy—doesn't mean the project is a done deal.
But even as Landon strained to distance himself and the council from the timeline his administration was enacting, he used words and qualifiers that made his intentions clear: while city residents are still not convinced that a new city hall right now is not the way to go, that opposition is itself not a done deal, and Landon's aim is to continue wearing it down, as he attempted to do in a series of town hall meetings leading up to the New Year.
"I know I'm not convinced the community is ready for it," Landon said, "and I think there's still going to have to be a lot of work out there to make sure the community—you're never going to make everybody like any project we do, and this one in particular, but I do think there has to be a lot more work, education, discussion out in the community before this community would be ready for it if they ever get ready for it."
In interviews with Mayor Jon Netts and council members Frank Meeker and Bill Lewis last week, none of them was aware that the city had advertised a request for qualifications for construction management services, though by then they were aware of the bidding for architectural services. They did not equate the bid process with their decision-making, saying that until a contract was signed, they were not yet officially favoring the new city hall. All three still favor building one with more or less conviction: Lewis is for it (though he hadn't included a new city hall on his list of priorities at the city's goal-setting session last year). Netts wants more information. Meeker isn't sure Town Center, the proposed site for the structure, is the ideal place, now that the city is spreading north and west.
Landon's repositioning Tuesday was prompted by a question by Meeker—a question whose answer seemed well prepared in advance: council and manager do much of their talking behind closed doors before meetings. "My understanding," Meeker said, "is that is not the intent of what we're doing here, we're trying to get the information that the mayor and the rest of the council asked for."
"I agree with you," Landon said, eliciting laughter from the council members: Landon either seldom agrees with Meeker or has much patience for him. ("Mark this date," Netts suggested to Meeker.)
"If you recall, we put together this conceptual idea, there really wasn't any meat on those bones at all, just conceptual idea, went out and talked to the community," Landon said. "A lot of questions about real cost, a lot of questions of capital costs, what the building is going to cost, operation maintenance compared to this facility, and what kind of impact it would have on our operating costs year in and year out, a lot of details as far as what size we need, and those types of questions."
Most of those questions were actually answered: 40,000 square feet, $10 million cost, all of it financed in cash by using various internal accounts and calling in a "loan" to a different segment of the government's accounts (the Town Center community redevelopment agency, which would then borrow nearly the same sum at commercial rates to stay afloat). The design phase's cost was put at $1.2 million. That's what the figure advertised in the request for qualifications from architectural firms, which landed Orlando-based C.T. Hsu and Associates. All those steps and details were outlined in Landon's presentation, many times repeated around town, to the council last year.
The council never formally approved the timeline in the presentation, nor the concept, for that matter: it was careful never to vote one way or the other, thus purposefully creating the gray area that's allowed Landon to proceed as if it had approved the "conceptual" plan without actually having to say it did. That's the blueprint being followed. The public's response hasn't focused on the details so much as on the concept, the timing and the method: if the public rejected a city hall proposal in 2005 by referendum (as it did by an 82 percent majority), why wasn't the public being asked to weigh in by referendum this time? The answer, of course, is that the proposal would likely fail again if it were submitted to a referendum, which is why the city is steering clear of that approach and while playing up the less formal "outreach" of town hall meetings, occasional discussions at the council, and willful determination behind the scenes.
Referring to Netts' request for more details, Landon's triangulations on Tuesday summed up the strategy: "You asked us to look into more of those details, and that time we talked about, well, you have to get professional help to do that, and the way you get professional help is obviously go out and hire an architect and construction management firm. In today's world, in talking to them on the side, they are willing to help with providing some of that information with little or no cost, provided they know that if the project happens, they would be the one that would get the work, and so we are going through the process as if the project will go forward, but telling everybody that city council has not approved the project but they've asked for additional information before they make a decision on the project."
The idea, Landon said, was to keep costs down. He reminded the council that staying in place—at City Market Place—would be costly to the city's budget: rent is paid out of the general fund. But the city pays a mere $240,000 a year in rent. It would take 41 years to hit the $10 million mark, by which time the conceived city hall would have run up its own costs in expansion and maintenance while depreciating in value.
At no point, once Meeker asked his question, did either Meeker or other members of the council ask follow-up questions or challenge Landon.
"Not going into this with any preconceived notion that all this is going to be an easy one because it's not," Landon concluded, "therefore anybody says it's a done deal, nobody is talking like that around our arena whatsoever."