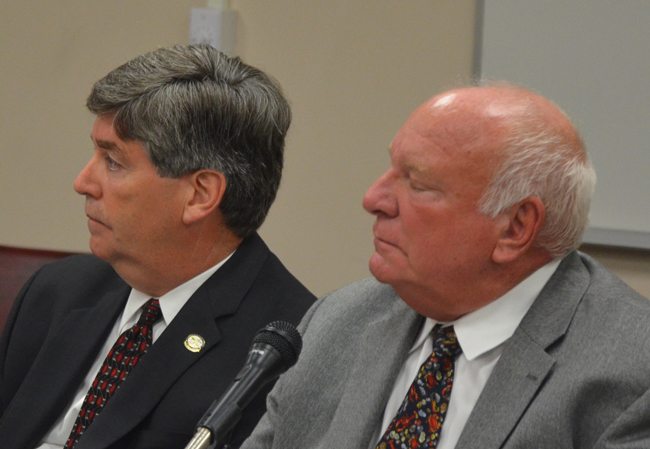 For as long as the Palm Coast City Council and its administration have been trying to build a new city hall—or at least since one such proposal failed overwhelmingly at the polls in 2005—all discussions and proposals have had one thing in common: how to  pull off the deal without asking voters' permission again.
Public opposition—and a mayor's desire for re-election—stopped a renewed push toward a city hall in 2010 and 2011, even without the idea reaching the ballot box.
Yet the council is again warming up to an old scheme repackaged as new to do just that: a big, refinancing of $11 million in loans that would immediately result in a nearly $6 million infusion of cash in the city's general fund, enabling the construction of a new building, ostensibly without raising taxes.
And without holding a referendum.
The Joys of Refinancing
Although its charter forbids the city to mortgage a capital project of any sort without voter approval (if the mortgage exceeds three years), City Manager Jim Landon is proposing to skirt that requirement by essentially shifting and refinancing an existing mortgage—a pair of loans made to the Town Center Community Redevelopment Agency. That's the special Palm Coast taxing district that is a separate taxing entity on the books, but not a politically separate one: the five members of the CRA boar are the same five members of the Palm Coast City Council, and the CRA remains a city entity. It is a separate financial entity only in so far as the tax revenue it generates for the most part stays in that district, largely to the detriment of the city's and county's general funds  (the county was denied $800,000 in revenue from the Town Center CRA last year.)
CRAs are created to spur development in particular zones. The Town Center CRA owes the city's general fund the majority of that $11 million loan, and a bank the rest. The refinancing will likely lower the CRA's overall borrowing costs. And building a new city hall would "save" the city $240,000 a year in rent payments. But building city hall would not be possible without the refinancing. And should that refinancing take place, the city will lose the $240,000 it now earns in interest payments and uses to pay rent on its current city hall. In other words, just as the city claims taxpayers will not be on the hook for a new city hall, taxpayers are not on the hook now for the rent payments on the city's offices.
And that nearly $6 million infusion of cash into the general fund, if used for a city hall, would deny use of the money for other purposes, from keeping property taxes down to building other public infrastructure or building reserves. The city is looking at that $6 million as free money it can do with what it pleases, and in effect, the city is correct: such general fund money can be used for any purpose (unlike CRA money, which, ironically, may not be used to build a city hall or any municipal building).
But the public has repeatedly recoiled at city council or administration presumptions that the money could be used to build a city hall without voter permission, no matter how solid the pledge not to raise taxes to do so. In the end, if the money is used next year to build a city hall, it would still deny the city that $6 million in a subsequent year when funds are short for other needs, and taxes must be raised then (as they likely will be this year) to pay for those needs. In other words, the pledge not to raise taxes to build a city hall depends on a share of smoke and mirrors, and short memories.
Avoiding A Referendum at All Costs
Landon defended the build-through-refinancing approach in a wide-ranging discussion with the city council on Tuesday. That discussion ended the prospects of a lease-purchase agreement for a new city hall. But it revived the scheme, under new guise, that Landon first proposed in 2010, with the CRA's repayment of the $5.8 million loan as the centerpiece of the scheme.
The discussion misstated or glossed over several issues that had arisen over the same matter in 2010 and 2011, including the public's broad rejection of the proposal back then, even in a scaled-down version that did not ask for a tax increase.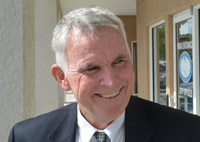 "Is the goal to perhaps to pursue this if it makes economic sense without having it put on the ballot for voter approval or voter acceptance?" council member David Ferguson, who was not on the council at the time, asked.
"The idea," Landon said, "is you put it on the ballot if you're going raise people's property taxes and have them pay for it. And if you're not going to raise their property tax, then, I've never seen anybody put something on the ballot to keep your property taxes the same. So that would be the concept."
"I think you misstate it," Palm Coast Mayor Netts told Landon. "I don't think you have to go to the voters simply because you're raising their taxes. You have to go to the voters because you're incurring unfunded debt over a period of time in excess of a certain amount of money."
That's precisely what the CRA has done, and will continue to do, though by repaying the debt it owes the general fund by shifting borrower—the CRA would replace the loan from taxpayers with a loan from a bank—it enables the city to technically separate itself from the CRA's debt, and cash in.
"If there is a way to build a city hall and not raise taxes, why haven't we already moved on it?" council member Bill McGuire asked. McGuire was elected in part because he's opposed the previous scheme to build a city hall. "Why are you guys trying to shove these taxes down my throat for a new city hall when there was a way of doing it without raising taxes? I'm going to get asked that, I absolutely guarantee it."
"In all honesty," Landon said, "because in order to do it it's complicated and nobody believes you. If you tell them that, they're going to tell you no. It's not possible."
2011 Amnesia
But Landon showcased much of the same scheme in a series of community meetings in 2011, some of which McGuire witnessed, when Landon was proposing a $10 million city hall without the use of new tax money. As McGuire described the experience, Landon  "was lucky to escape with his life."
The considerably sketchier proposal Landon put forth Tuesday was not much different, except in one essential. Landon said the city hall could be build for $6.8 million, not $10 million (with the extra $1 million coming from building permit fees the city accumulated during the boom years.)
The $6.8 million difference took Ferguson aback.
"As compared to a few years ago when a realistic number was $10 million?" Ferguson asked.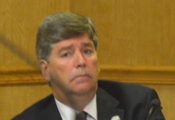 "That was a high number. I made that very clear," Landon said. " That was on the high side just to make sure that we didn't, you know, say it was going to be 6.8 and it ended up being 7.5."
Landon in community meetings, in several presentations to the city council, and in his own PowerPoint presentations never qualified the $10 million as "on the high side" in 2010 and 2011. In fact, the $10 million was itself presented as an appetizing, much lower-cost, no-frills, 40,000 square foot version of the 2005 proposal his predecessor, Dick Kelton, had made—a 70,000 square foot palace ridiculed by voters and rejected even by Netts at the time.
Suddenly, a Bigger, Cheaper Building
Another astonishing surprise Tuesday: in Landon's estimation, the $6.8 million building could yield 45,000 square feet and be built for $125 to $150 a square foot. Yet in 2010, when Landon was urging the council to go ahead with the plan then in order to take advantage of low building costs he said would vanish soon, he had set the "estimated cost" at $250 per square foot, "inclusive of building, site work, landscaping and furnishings," and exclusive of land costs. (There would be no land costs in Town Center, but there would be furnishings and the rest of it. See the 2010 numbers and presentation here.)
"Why now? I think you all know this, but timing is very important," Landon had said in 2010, citing low building and labor costs. Tuesday, he used almost the same words, this time citing the end of the city's three-year lease at its City Market Place in a little over a year.
Neither the council nor Landon kick-started the latest move for a city hall. The Gang of Six—six former council members—did in a brief presentation to the council last month. The council agreed to study the notion. Landon seized on the opportunity to refresh his previous plan, sweetening it through the refinancing idea.
The refinancing would not have been possible in 2010 because banks were still reluctant to use CRAs' base of property taxes as collateral, and the Town Center CRA was not as appealing then as it is now: it's grown enough to generate $1.4 million in annual tax revenue, thanks to the Target shopping center, the movie theater, a medical center, apartments and two assisted living facilities. The city already refinanced the CRA's bank loan, lowering the interest rate considerably. The city wants to do the same with the larger loan owed the general fund, thus cutting the CRA's long-term borrowing costs.
"It would almost be irresponsible not to do it," Netts said of the refinancing.
"You're talking about saving tax dollars, millions of dollars, long term," Landon said.
"Show Me the Money"
"I'm struggling with where this money is now," Ferguson said. "We loaned it but they bought land, or we bought land, so there's no money there, other than a loan. So where does the money come from now?"
Landon gave a brief history of the CRA and how its financing works, going back to how and why the city issued the internal loan to its own CRA.
But again, Ferguson pointedly summed up the matter, if extended to include building a city hall: "So is it more accurate to say the construction will be funded by issuing more debt or refinancing, as opposed to Town Center taxes and building fee surpluses?"
No one answered him directly.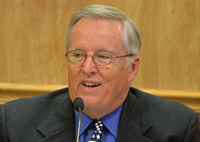 But there was clarity among council members in one regard. "The no-brainer is to refinance," Netts said. "The next step I think requires some brains." He added: "Regardless of the discussion on city hall or where that goes, it still makes good sense to do this refinancing. Does anybody on council see any reason that we shouldn't? And if you do I got some land I want to talk to you about in South Jersey."
But refinancing inevitably means a sudden $5.8 million windfall for the general fund, a huge chunk of money that equates to a quarter of the property tax revenue the fund collects a year. That money in the past was always pegged to capital projects, but not a city hall.
The council will take up the refinancing and Landon's latest city hall ideas either late this year or early next year, giving the administration time to gather its facts and—as such things go at city hall-prepare the way in one-on-one meetings with council members, out of public view. Some council members wanted the two notions packaged as one. McGuire was opposed, wanting the two discussed and voted on separately. So they will.
"Let's assume we do the refinancing," Netts said. "If you don't build the city hall, what are you going to do with that capital, those capital dollars?"
"Show me the money and I'll tell you," McGuire said.