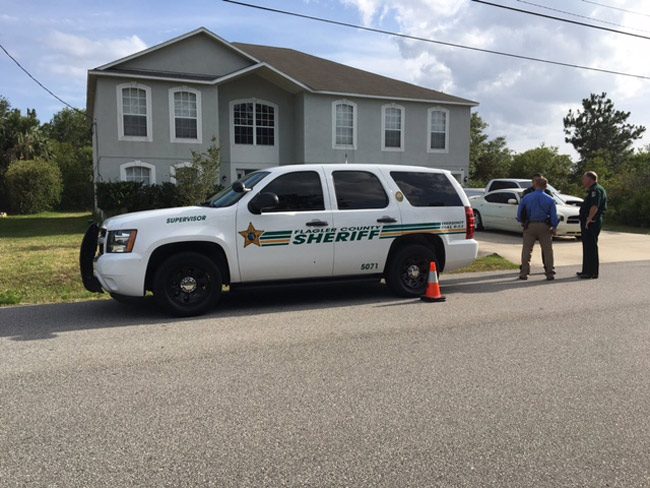 Last Updated: 11:02 p.m.
A man shot at a Flagler County Sheriff's deputy in Palm Coast's L-Section late this afternoon, then fled in his own car, crashed it, and carjacked someone else before fleeing, a sheriff's spokesman said.
Late Monday night, the Sheriff's Office identified the suspect as Phillip J. Haire, 19, who two years ago was himself the victim of a shooting in the same neighborhood. Haire is a resident of 11 London Drive.
The deputy, a sergeant, was not injured. The person who was carjacked isn't believed to have been injured. But the suspect is at large. The shooting took place around 5 p.m.
"We're interviewing witnesses, we know who the suspect is, and the full resources of the Sheriffs' Office are going after him," Sheriff Rick Staly said at the scene just before 6 p.m. "I was very fortunate I did not have a deputy shot and killed today. The same thing with residents. This started with a domestic related issued."
"A deputy was investigating a weapons case," the Sheriff's Office Mark Strobridge said, "suspect came by and shot at our deputy, he did not hit or injure our deputy. The suspect fled the area, crashed his car and carjacked somebody and fled the area." The suspect is said to have fired in a drive-by shooting.
There are reports of up to 14 shots fired before the carjacking. The carjacking was reportedly at gunpoint.
The deputy had been dispatched to the 10 block of London Drive following reports of one individual threatening another there. When the deputy arrived at the scene, the suspect–allegedly, Haire–fired.
At least two shots pierced the sergeant's patrol car on the driver's side, with one shot drilling the driver's side door and another closer to the front bumper.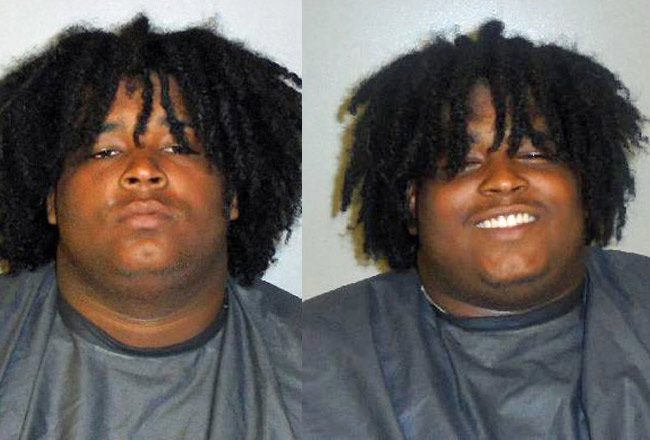 "Our sergeant is a hero because there was a lady in a wheelchair who couldn't get out of the way," Staly said. "He protected her and moved her for cover, that's why he couldn't return fire, because he was busy protecting this lady in a wheelchair. Had he returned fire at the suspect, it may have drawn his gunfire more to the lady in the wheelchair." The sheriff added emphatically: ""He made the right call of protecting the victim. I sure wish he would have shot the little shit."
Staly described the scenes: "I have two crime scenes, both of my CSI units are dealing with the two different crime scene locations, one is on London Drive, the other one is US 1, just south of Old Kings," where the suspect crashed his car.
Strobridge said Flagler County Fire Flight is assisting in the search, with help requested from St. Johns County authorities. "Hopefully we'll have a description as soon as possible."
Haire is believed to have fled by way of U.S. 1. He may be driving a 2013 Ford Fiesta, dark blue, with Florida tag EEYR82. He is considered "armed and dangerous," according to the Sheriff's Office.
"We're confident we have the suspect identified, now it's just trying to locate him," Staly said in the afternoon, before he was able to identify Haire. "We're going to work through the night to get this dirt-bag and put him in jail, where he belongs. I'm just thankful that no one was hurt and my deputy is OK."
He added: "I've already told my team my expectations. We will find him, it's just a matter of time. I hope we will apprehend him with no one being injured, including the suspect, but he's already said by his actions that he'll shoot at us, and if you shoot at our deputies, expect us to shoot back."
The report that dispatched the sergeant to the location was at 11 London Drive. Haire was the victim of a shooting on nearby Lewisdale Drive two years ago. He was shot in the stomach. Zaire Roberts, 17 at the time, was sentenced to seven years in prison last August for the shooting.
"I encourage him to turn himself in before he or someone else gets hurt," Staly was quoted as saying in the release issued late tonight. "We will find him and bring him to justice. If he shoots at one of my deputies, we will shoot back." An alert was sent out to agencies statewide to be on the lookout for Haire. Multiple agencies joined with the FCSO in tracking the suspect, including St. Johns County and Putnam County.
The release the Sheriff's Office issued tonight included a large picture of Haire taking a picture of himself before a mirror, flipping (himself?) off. The Sheriff's Office provided no context for the picture, nor did it explain who providfed it, or whether the Sheriff's Office itself took it from a social media account.
Anyone with information about this incident should call the Flagler County Sheriff's Office non-emergency line at (386) 313-4911. Or, to remain anonymous, please call Crime Stoppers of Northeast Florida at 1-888-277-8477 (TIPS). Callers may be eligible for a reward of up to $1,000.