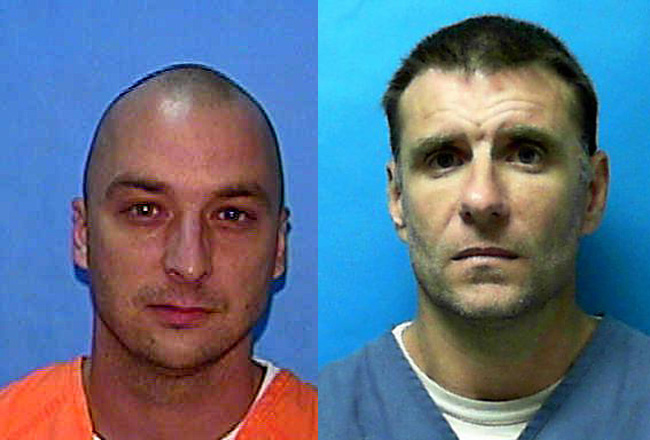 Saturday afternoon, the United States joined China, North Korea, Iran, Syria, Sudan, Libya and 29 other nations in opposing a vote at the United Nations to declare a moratorium on the death penalty. The resolution passed 113 to 36, with 34 abstentions. So far this year, 33 people have been executed in the United States, eight of them in Florida, second only to Texas, which executed 10 people.
On Monday, Gov. Rick Scott, who has signed more death warrants in a single term than any other governor, on Monday signed his 21st death warrant, tying him with Job Bush, who signed 21 death warrants in eight years as governor.
The warrant is for the execution of Johnny Shane Kormondy, 42. His killing by lethal injection is scheduled for January 15 at 6 p.m. at the state prison near Starke.
Kormondy was one of three men involved in the murder of Gary McAdams–he was shot in the back of the head execution style–and gang-rape of his wife, Cecilia McAdams (who survived), during a robbery in Pensacola on July 11, 1993.
Curtis Buffkin, 23 at the time, was "the ringleader" who "got to carry the gun" and "took total command of his cohorts," according to the prosecution. As the state's first-degree murder case weakened, the state offered a plea to Buffkin in exchange for his testimony against his two co-defendants, James Hazen, 21 at the time of the crime, and Kormondy. The plea Buffkin was sentenced to life in prison. Hazen was initially sentenced to die. The Florida Supreme Court reversed, finding him less culpable than Buffkin. He's serving a life sentence for rape and pre-meditated attempted first degree murder.
Kormondy was 21 at the time of the crime. He led police to his accomplices after his arrest, and said Buffkin shot McAdams. But Buffkin, after the plea agreement, said Kormondy accidentally shot McAdams. Cecilia McAdams also said Buffkin was not the shooter. A jury voted 8-4 to sentence Kormondy to death. Florida is the only state in the nation where a simple majority of the jury, rather than a unanimous vote, can lead to a death penalty recommendation. In Alabama, a near exception, at least 10 of the 12 votes on the jury are required for a death recommendation.
In a 2005 hearing, Buffkin and Hazen recanted their statements and Buffkin admitted to shooting McAdams by accident, and that the gun was never in Kormondy's hands at the time of the murder. He said he'd lied to "get a plea bargain" and was changing his story so "the family should really know what exactly happened." A federal district court judge in 2011 conceded that evidence pointing to Kormondy as the shooting "is not conclusive," but in an unusual shift of burden, he ruled that Kormondy had "not shown, by clear and convincing evidence, that he was not" the gunman.
Amnesty International, the human rights advocacy organization, subsequently reported that according to his clemency petition, Kormondy "accepts his responsibility in this case…, has shown remorse and has grown as a human being while being in prison." He maintains that he did not shoot McAdams or rape Cecilia McAdams. In a deposition in October 1993, the detective who had taken this statement said that during the police interview, Kormondy was remorseful and "stated to us emphatically that he was not the one who shot Mr McAdams," but was present when he was shot. Kormondy was most emphatic that he had not raped Cecilia McAdams, and willingly allowed the authorities to take blood and saliva samples. The detective stated that he "definitely believe[d]" that Kormondy and Buffkin "were present when the man was shot" and that "Hazen was in the rear assaulting Mrs McAdams at the time the shot occurred."
Kormondy exhausted all his appeals.
Since 2007 there have been four United Nations resolutions calling for a worldwide moratorium on the death penalty, with support increasing each time. Overall, the votes in favor of last Saturday's resolution increased by three since the last time a similar vote took place in 2012.
The vote, Chiara Sangiorgio, Death Penalty expert at Amnesty International, said, "confirms that more and more countries around the world are coming around to the fact that the death penalty is a human rights violation and must end. It is also a clear message to the minority of states that still execute – you are on the wrong side of history."