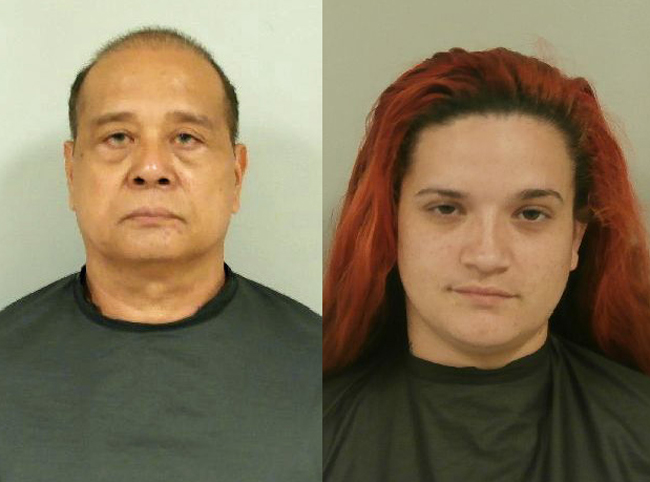 Weekend arrests highlighted by that of of James Wolfe, an English teacher at Matanzas High School, on several charges of unlawful sex with a 16-year-old student. Authorities contended with two other notable cases that led to the jailing of two individuals under somewhat bizarre circumstances.
In one case, an argument started over who was to clean the kitty litter. It ended with Avelino Garon, a 59-year-old resident of Bracken Lane in Palm Coast, in jail, where he remained late Monday afternoon.
The argument over the cat had stretched over the entire day–Saturday, Aug. 17–according to Lorna Garon, Avelino's 53-year-old wife. The argument continued into the evening.
"Avelino was becoming angrier and threatening to throw the cat against the wall," according to Avelino's arrest report. During the early morning hours of Sunday, he was walking around the house, according to the report, "and continuing to yell about the cat and blaming Lorna about problems in regards to the cat."
He then, according to the report, allegedly grabbed a knife, approached his wife, and said, "Do you want me to kill you?" His wife and her daughter, fearful, called for help.
"Avelino made a verbal statement," his arrest report states, "advising that he believes his wife is responsible for cleaning the kitty litter box and that he did no wrongdoing in threatening Lorna."
The weapopn was never recovered at the scene, the report states. Avelino Garon was arrested on a charge of aggravated assault with a deadly weapon and taken to the Flagler County jail, where he is being held on $1,000 bond.
In an unrelated incident, Christina Quintanilla, the 23-year-old mother of a young child and a resident of North Oceanshore Boulevard in the Hammock, ended up at the county jail Saturday afternoon on charges of felony battery and assault after a confrontation with another woman, whom Quintanilla accused of having sexual relations with her husband.
Her husband Tim Quintanilla and a friend, identified only as "Juice" in a police report, were having a couple of drinks at a neighbor's house–Jessica Nagledinger, 25. The two men asked the woman if she wanted to go "down by the river and have a few beers." So they did. Nagledinger had three beers, then the group went back to the Quintanillas' house.
Christina Quintanilla was there, playing with her child.
"After about three hours," the arrest report states, "Jessica had an accident and urinated herself." A friend, Kaleb Tucker, walked her to her residence so she could change.
"From that point she believes she blacked out," the report states. "She woke up to people arguing and she realized she was at her boyfriend's," Michael Smith, who made everyone leave his house. Smith argued with Nagledinger, saying others were making accusations against her–that she had oral sex with "Juice" and Tim Quintanilla.
During the argument, Christina Quintanilla burst in screaming at Nagledinger, and leveling the same accusation. She allegedly grabbed Nagledinger by the throat, "strangling her to a point where she was about to pass out," the report states. "She then proceeded to punch her about the face and arms repeatedly against her will, leaving both eyes bruised and swollen. Ms. Nagledinger also had bruises on her neck and arms."
The report concludes: "After the beating Mrs. Quintanilla told her 'she was dead meat' if she caught her walking down the street.
Quintanilla was arrested. She posted $2,500 bond. She had previously been jailed last July on a shoplifting charge on a warrant dating back 2010. She pleaded guilty and was sentenced to 45 days in jail and six months' probation, and also paid a fine and court costs of over $400.