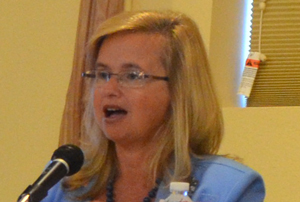 It took the Palm Coast City Council on Tuesday morning three ballots to appoint Kimble Medley to the Code Enforcement Board. Medley, a 2012 Republican candidate for Supervisor of Elections, joins the seven-member board in place of Allen Edward, who resigned earlier this year.
Medley, 54, a 10-year resident of Palm Coast and currently a resident of its L Section in the 2nd District, has been working toward a Master's in leadership at Embry Riddle Aeronautical University. Between 2006 and 2009 she worked at the clerk of court's office and the supervisor of elections' office.
Kenneth Klinkenberg, who's served four terms, was in contention with Medley, but since Klinkenberg had served more than two terms, his reappointment required at least four of the five votes on the council. He managed a maximum of three, and by the third ballot, he was down to two. He was appointed an alternate member. There are two such positions on the board. Woody Douge, who was a candidate for the city council but did not advance past the primary in August, is the other alternate.
Alternate members can attend but not vote during Code Enforcement Board meetings, unless one of the seven regular board members is absent. Alternates can then fill in and vote.
Three other members were re-appointed to the board today: Neil Copeland, Robert Branin and Gerry Chagnon, who had previously been an alternate.
Code Enforcement Board members serve three-year terms and meet once a month. The position is not paid, but it has been seen as a stepping stone to elected office. Three other members' seats are not up until 2016: Norman Mugford, Tameka McDowell and Dean Roberts.
Six candidates had applied for appointment or reappointment to the board. Stephanie Capehart, the director of client relations at Palm Coast Data, was the only applicant among the six who did not make the cut.
The Code Enforcement Board membership is now as follows: Robert Branin, Gerry Chagnon, Neil Copeland, Tameka McDowell, Kimble Medley, Norman Mugford and Dean Roberts. Alternates: Woody Douge and Kenneth Klinkenberg.